Georgia, situated in the southeastern part of the United States, is a fly-fishers paradise with abundant waterways. It is a state that provides a wealth of opportunities for anglers. Georgia is the destination if you're looking to catch some of the most sought-after freshwater game fish. With its rolling hills in the north and flat coastal plains in the south, Georgia's rivers offer a stunning backdrop. In this article, we will explore the top five rivers in Georgia for fly fishing. These rivers are stocked with fish ready to be caught. So, pack your gear, slip on your waders, and let's start fishing!
What Is Fly Fishing?
Fly fishing is a method of fishing that uses a special lightweight lure called a fly to catch fish. These flies are typically made of natural materials like feathers and fur. They are designed to mimic the insects or small creatures that fish prey on. 
Fly fishing is very different than traditional bait fishing. Bait fishing is where you toss your lure and line into the water and wait for the fish to pounce. Conversely, In fly fishing, anglers make their lure appear as much like a fly as possible. They place it near the water's surface, and hope fish will bite!
Fly fishing requires skill, patience, and a deep understanding of the water and the fish in it. Like most other outdoor sports, t is often seen as a way to connect with nature.
Chattahoochee River
The Chattahoochee River in northern Atlanta, Georgia, is famous for its brown trout population. This watershed provides unparalleled trout fishing opportunities compared to any other river system in Georgia. The state record for a brown trout weighing over 20 pounds was caught here.
Chattahoochee River has been celebrated in many songs due to its magnificence. Still, it is also famous for its year-round trout fishery, which spans 48 miles and is stocked with rainbow trout. However, the naturally reproducing brown trout, some of which can reach significant sizes, attract many fly anglers to the river. It is worth noting that there are limitations to using artificial flies in the uppermost section of the river.
Along the Chattahoochee River, archaeological findings indicate the presence of human settlements since 1000 B.C. One of the most prominent sites of these early civilizations is the Kolomoki complex. This settlement was situated near the current location of Blakely.
As the river passes through Atlanta, finding accommodation, dining, and other necessities before hitting the water is relatively easy. Boat access points along the river are well-marked since the Chattahoochee River is a popular destination.
Types Of Fish
The Chattahoochee River boasts abundant aquatic life, including bass, trout, catfish, and up to 20 other fish species. The river is stocked yearly with over one million brown and rainbow trout.
The fish found in the Chattahoochee River vary in size. In the river, you'll find small to medium-sized fish. You might even spot a large brown trout that can grow up to 20 pounds.
Best Spot For Fly Fishing
The Bowman's Island Trail is the perfect starting point for your fly fishing adventure. With easy access just below the Buford Dam, you can wade through crystal-clear water. There, you'll be able to cast your line in search of the perfect catch.
Head to Highway 20, Jones or Settles Bridge, for a bigger challenge. Island Ford is also a challenging location, offering a more secluded and tranquil fishing experience.
Etowah River
The Etowah River in northern Georgia is mostly recognized as a warm water fishery. It presents a chance for trout fishing in the upper sections for those willing to take on the challenge. The river stretches for over 164 miles and is deep enough for boat access in certain areas, making it more versatile than the shallow trout streams in the vicinity.
For the most part, the Etowah River follows the wild trout regulations and allows year-round fly fishing. Nevertheless, certain times of the year provide better fishing opportunities than others. Spring, in particular, is an excellent time to try your hand at fly fishing in this river.
Fun fact: During the Archaic Period (6000 BC – 700 AD), Native Americans constructed v-shaped rock structures, commonly known as fish weirs, all along the Etowah River. These structures were placed with their points facing downstream to funnel the fish towards an opening where a basket was placed to catch them.
Types Of Fish
The Etowah River boasts a rich and diverse fish population, including striped and spotted bass in the lower reaches and rainbow and brown trout that can be found higher up in the river's drainage. With wild trout regulations in effect year-round, there's never a bad time to cast a line in this river.
If you're looking for some small streams offering excellent fly fishing for wild trout, the wildlife area tributaries off the Etowah River are worth exploring.
As the river flows past its headwaters, the lower reaches are home to a thriving bass population. Bass are usually found upstream, spawning runs originating from Lake Allatoona.
Best Spot For Fly Fishing
If you're a fan of fly fishing and on the hunt for an excellent location to catch some fish, the wildlife management area along the Etowah River comes highly recommended. However, accessing the eight-mile section below it can be tricky, so be sure to avoid trespassing on private property in this area.
If you're up for a hike, the convergence of the tributaries with the river around Forest Service Road 28 is another excellent spot for fly fishing. With breathtaking scenery and an abundance of fish, it's definitely more than worth the trip – even if you don't manage to catch any fish! While exploring the area, don't forget to check the regulations for the other streams before casting your line.
Chattooga River
The Chattooga River, known for its abundant trout, draws fly fishing lovers from far and wide. However, it's not just fishermen who are drawn to this picturesque river, as it's also renowned for its thrilling whitewater rafting opportunities. So, even if you have non-anglers in your group, there's plenty for everyone to enjoy! Despite the remote location of this river, Chattooga is bustling with activity, as tourists, hikers, and wildlife can all be found in the area.
The Blue Ridge Mountains, which serve as the starting point for the Chattooga, are ancient beyond measure in geological terms. These mountains were once believed to be as tall as the Himalayas, but they have weathered down to a much smaller scale over time. Comprised mostly of granite, geologists speculate that the river may have undergone a directional shift at some point in its history.
The Chattooga River was a famous hunting ground for Native Americans, and three distinct Indian trails once crossed over it. Near the modern-day S.C. Highway 28 bridge, there was once a small Cherokee settlement called Chattooga Town.
Fishing from the shore or wading into the river is recommended to best enjoy fishing on the Chattooga. Fishing season is open year-round, offering anglers plenty of opportunities to cast their lines.
Types Of Fish
The Chattooga River is a great spot for sport fishing enthusiasts, boasting many different fish species. Anglers flock to this river to catch various fish, including bluegill, black bass, catfish, and sunfish. However, Chattooga's real claim to fame is its impressive brown trout and occasional brook and rainbow trout found in the river.
For those planning a fishing trip to Chattooga, it's best to schedule it between April and June, as this is when the river experiences a surge in aquatic insect hatches, which in turn attracts more fish.
Best Spot For Fly Fishing
For those seeking the best spots for fly fishing on the Chattooga River, the State Highway 28 bridge, which marks the beginning of the Delayed Harvest Section, is a great choice. This location is easy to find and a favorite among many anglers. 
Some of the best fly fishing on the Chattooga River can be found between the North Carolina state line and Burrells Road. These areas offer some of the river's most abundant and diverse fish populations, making them a prime destination for fly fishermen.
In addition to these areas, Chattahoochee National Forest lands and the Sumter National Forest, both of which the river passes through, are also great places to cast your line.
Tallulah River
The Tallulah River originates at an altitude of 5,499 feet in the North Carolina mountains. It meanders into Georgia, passing through the historic town of Tate City, which was once known for mining and logging.
Tourists have been attracted to the natural beauty of Tallulah Gorge and its waterfalls since the 1800s. And in 1882, with the construction of the Tallulah Falls Railway, the area became more accessible to visitors from Atlanta and southern Georgia. The gorge became the first major tourist attraction in North Georgia.
Numerous tributaries feed into the Tallulah River, which flows through several wildlife management areas, lakes, and states. Although some of the best fishing spots require extra effort to reach, the rewards are well worth it.
An intriguing aspect of the Tallulah River is the section that runs through Moccasin Creek State Park. Anglers under the age of 12 or over 65 are permitted to fish in this area, but those between those ages must venture beyond the park's boundaries.
Types Of Fish
The Tallulah River boasts a plethora of excellent trout fishing opportunities, with browns, rainbows, and brook trout being the most commonly caught species. Fishing is open year-round, and access is typically quite good throughout most of the river. While the brook trout are indigenous to the river, the browns and rainbows are a combination of stocked and wild.
In addition to the trout, other sought-after species found in the Tallulah River include yellow perch and largemouth bass. Anglers will find these fish to be plentiful in the river, and catching them can be a fun challenge.
Best Spot For Fly Fishing
For avid fly fishermen, the area above Moccasin Creek's waterfalls in the Tallulah River offers an exceptional opportunity to catch wild rainbow and brown trout. Another great location to try is downstream, where the stream flows through a scenic gorge in a valley. Although accessing this area requires some effort, the rewards are well worth it.
Conasauga River 
The Conasauga River is an excellent choice if you're hunting for a great hiking spot. Nestled in the Cohutta Wilderness Area, this river offers a plethora of scenic trails, but be warned: its mountainous terrain can be challenging for the average hiker.
Starting high up in the mountains of the wilderness area, the Conasauga River flows for several miles with various trailheads allowing access at different points. These trails offer a range of difficulty levels, all providing unique views of the river and surrounding landscapes.
Throughout the early 19th century and beyond, the Conasauga River served as a vital mode of transportation for people, livestock, and goods within the northwest Georgia region. Dubbed the "Slave River," it gained this name due to the significant number of enslaved individuals who worked as boatmen along its waters.
Types Of Fish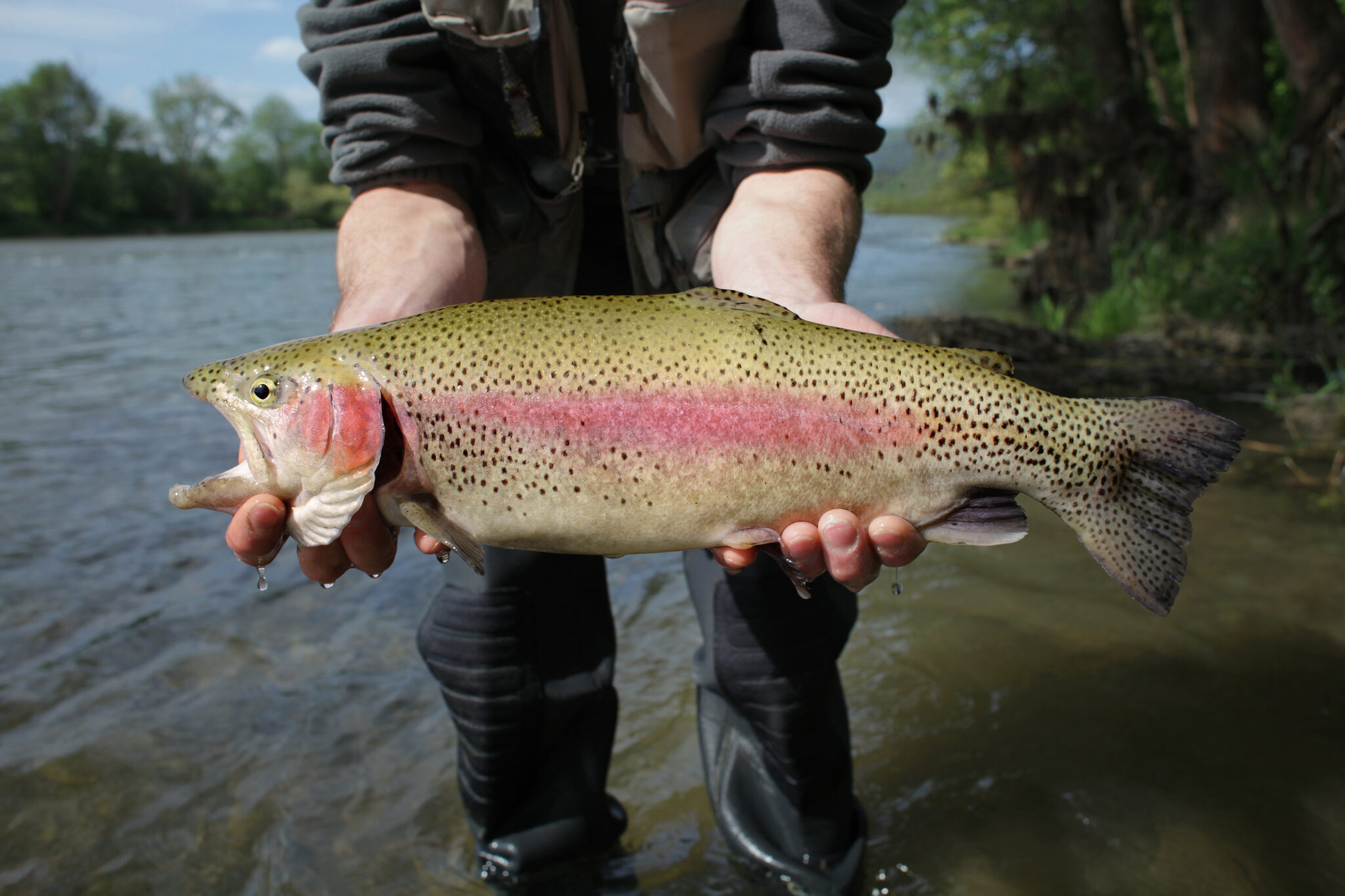 Anglers have the joy of fishing for many different fish species in the Conasauga River, including rainbow trout and brown trout. Both of these fish species have established populations throughout the river's waters. Anglers can also expect to find several other types of fish in the river, such as catfish, freshwater drum, smallmouth buffalo, carp, and various types of suckers or bottom feeders.
Best Spot For Fly Fishing
The Conasauga River is not a very crowded spot, with few visitors to the area. Backpackers and hikers are the most common visitors, with fellow anglers few and far between. This means that no matter where you choose to hike, you will likely find a great spot to cast your line.
However, fly fishermen can target trout on the Conasauga River and its tributaries upstream of the river's confluence with Little Rough Creek. This area can be found in the rugged Cohutta Wilderness Area, where the river flows through the breathtaking mountainous terrain. The beauty of the landscape alone is enough to make this spot a must-visit destination for any angler looking to escape the crowds and enjoy some peaceful fishing.
What You Need For Fly Fishing In Georgia
Before heading out to the best rivers in Georgia for fly fishing, you must ensure you have the right gear to make the most of your time in the water.
Fishing License: First and foremost, you will need a valid Georgia fishing license. You can easily purchase one online. A license is required for all anglers over the age of 16.
Fly Rod and Reel: Of course, when you're fly fishing, you need a fly rod and reel to help. For trout fishing, try a 4-6 weight rod.
Flies and Tippet: Some of the most effective patterns for flies include Adams and Pheasant Tails. Tippet material is also necessary, connecting the fly to the angler.
Waders and Boots: The last thing you want is to get yourself wet when fly fishing. To prevent this, wear a good pair of waders and boots. They will keep you dry and comfortable as you traverse through the rocky riverbeds.
Polarized Sunglasses: Having a good pair of sunnies can make a huge difference when fishing on a sunny day. The glare that reflects off the water will be reduced, making it much easier to spot fish. Plus, these sunnies will protect your eyes from harmful UV rays.
Fishing Vests: While they may not be the most fashionable piece of clothing in the world, a fishing vest is the best way to carry all of your gear. Get one with multiple pockets to keep your flies, tippets, and other essentials.
Summary Of The 5 Top Rivers In Georgia For Fly Fishing
| Rank | River | Location |
| --- | --- | --- |
| 1 | Chattahoochee River | Northern Atlanta |
| 2 | Etowah River | Northwest of Dahlonega, north of Atlanta |
| 3 | Chattooga River | Blue Ridge Mountains |
| 4 | Tallulah River | Begins in North Carolina, crosses Georgia in Towns County |
| 5 | Conasauga River | Cohutta Wilderness Area, Whitfield County |
Up Next:
More from A-Z Animals
---
The Featured Image
---