As the mercury rises and summer peaks, there's nothing quite like basking in the sun's warmth. If you're a fan of long warm days, then June is the perfect month to embark on an adventure in search of the warmest states in the U.S. Whether planning a beach vacation, a hiking expedition, or simply craving some sunshine, this guide will help you discover the warmest states across the country in June.
1. Florida
The Sunshine State is the southernmost and warmest state in the USA. In 2022, Florida had a population of about 22.24 million people.
June is the rainy season, bringing frequent rains and hot and humid weather. Florida's northern and central regions have a subtropical climate, and the central areas have a tropical environment. The average temperature in Florida in June is typically 81°F. The record is 109°F, set on June 29, 1931, in Monticello. 
The Atlantic Ocean borders Florida on one side and the Gulf of Mexico on the other, with miles of beaches. Miami is renowned for its nightlife, Latin-American cultural influence, and arts scene. The Art Deco architecture and design gleam beside the Atlantic Ocean. Orlando has several theme parks, including the renowned Walt Disney World.
As the weather heats, many wildlife species become visible and more active. For example, alligators become more active and aggressive. Florida has 46 species of snakes throughout the year, but there is more chance of encountering one or being bitten during the hot weather. In addition, bears come out of hiding and are more active during summer.
2. Louisiana
Louisiana, also known as the Pelican State, is multicultural, with a history of French, African, American, and French-Canadian cultures mirrored in its Creole and Cajun Cultures. The population in Louisiana stood at about 4.59 million in 2022.
Who has yet to hear of the colorful and fabulous New Orleans? It is the biggest city in Louisiana, known for its vibrant Mardi Gras celebrations and neo-colonial French Quarter culture. In addition, new Orleans is the home of jazz music. 
Louisiana has an average temperature in June of 90°F. The subtropical climate of Louisiana features long, hot, and muggy summers. The Gulf of Mexico's southerly winds impact the climate and bring warm, humid air to Louisiana.
Louisiana's swamps and bayous are a key part of its culture, and this essential ecosystem teems with various wildlife, such as alligators, turtles, hawks, pelicans, and many other species.  
3. Texas
The Lone Star State, Texas, is in the south-central region of the United States—the state's east side experiences sub-tropical conditions, including high precipitation and humidity. With 268,596 square miles, it is the second-largest state in the US, with a population of about 30 million in 2022. Del Rio, Brownsville, San Antonio, Austin, San Angelo, Corpus Christi, and Waco are among the warmest cities in Texas.   
As one of the warmest states in the US, Texas has average summer June temperatures ranging between 90°F to 100°F. The hottest day on record was 120°F on June 28, 1994, in Monahans. 
What are some of the top sites in Texas? In the 18th century, Roman Catholic missionaries established the Alamo, a famous Spanish mission and military complex. In the city's heart, the San Antonio River Walk is full of dining, shopping, and cultural experiences. Space Center is the premier authentic, immersive science and space exploration learning center. The official visitor center at NASA Johnson Space Center is the science and space exploration museum known as Space Center Houston.
The state has various wildlife, including nocturnal desert animals like the kit fox, coyote, mountain lion, bobcat, badger, Texas banded gecko, and about 33 species of bats. In addition, you can spot mule deer, javelinas, and black-tailed jackrabbits in the early morning or late evening when they come out during cooler temperatures.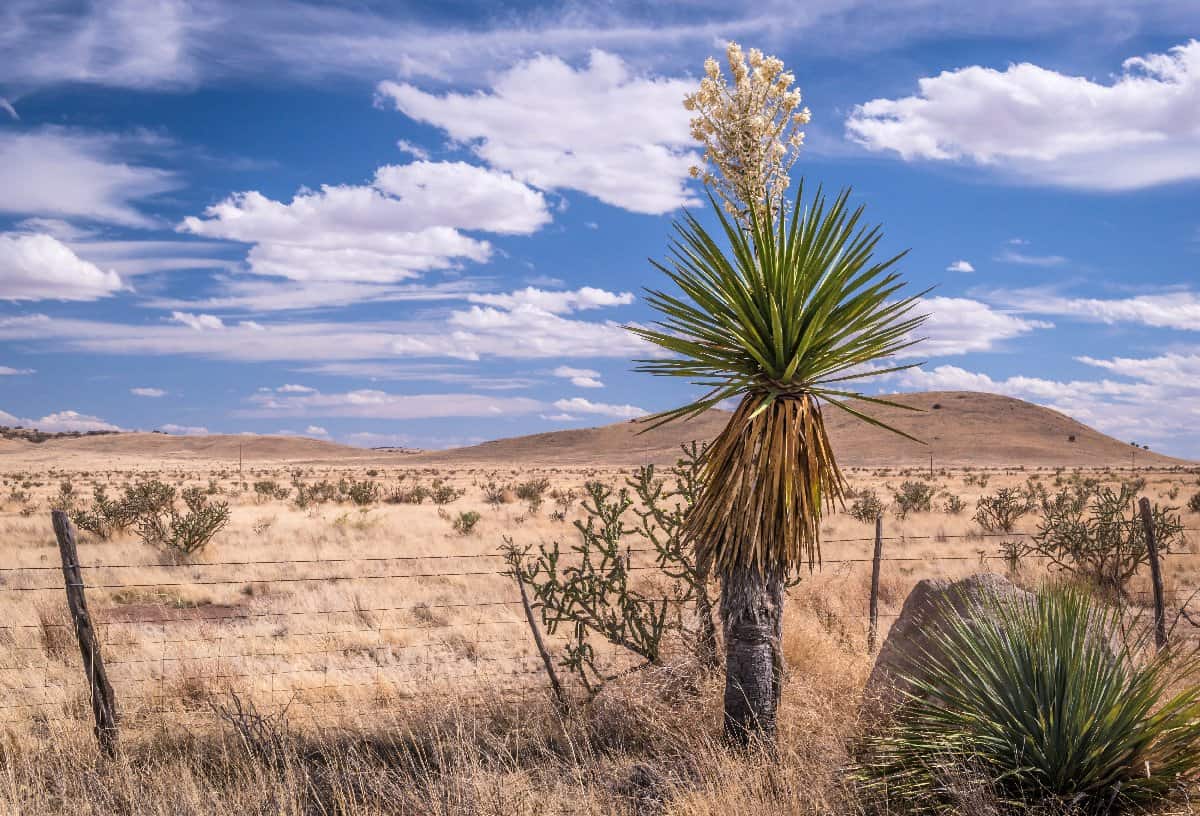 4. Georgia
Fondly known as the Peach State, Georgia is best known for its abundance of — you guessed it — peaches! In addition, Georgia is famous for its southern charm, diversity, and warm weather. As of 2022, Georgia's population is 10.91 million. 
Georgia has an average June temperature of 89°F. Summers typically consist of long spells of warm and humid weather. The Georgian terrain spans coastal beaches, farmland, and mountains. The highest recorded temperature in Georgia is 112°F and occurred on two separate occasions: 
Louisville on July 24, 1952
Greenville on August 20, 1982
A popular destination in Georgia is Stone Mountain. On the face of Stone Mountain, the world's largest sculpture is to be found with the figures of Confederate President Jefferson Davis, Generals Stonewall Jackson, and Robert E. Lee, as well as General Lee's horse. 
Did you know that Martin Luther King was born in Atlanta? It is also the home of the Martin Luther King Junior National Historic Site, dedicated to African-American leaders' lives and times. 
Some animals to note on the coastal plains are fox squirrels, quail, wild turkeys, and rabbits. In addition, the mountains host salamanders, gray foxes, bobcats, lizards, and woodchucks, to name a few.
5. Mississippi
Mississippi, often called the Magnolia State, is the birthplace of blues music, magnolias, and southern hospitality and charm. It boasts the Mississippi River, the third-longest river in the world at 2,340 miles and the second-largest river in the US. Mississippi is also the birthplace of celebrities such as Elvis Presley, Oprah Winfrey, and Britney Spears. 
Mississippi has an average June temperature of 89°F. The highest recorded temperature in Mississippi was 115°F in Holly Springs on July 29, 1930. Mississippi has a humid subtropical climate. The hottest cities are Ocean Springs, Biloxi, and Gulfport. 
The Mississippi terrain includes the Red Clay Hills and the Holly Springs National Forest. The coastal area includes Gulf Island National Seashore with 160 miles of maritime, forests, bayous, and sandy beaches. 
Fennec foxes, dung beetles, Bactrian camels, Mexican coyotes, sidewinder snakes, and thorny devil lizards are animals that thrive in the dry, hot climate of the Mississippi.
6. Alabama
Alabama is popular for its southern soul food and barbecue and even has its own White Barbecue sauce! From fresh seafood to decadent desserts, the state is every foodie's dream travel destination. 
Alabama has high mountainous ridges, deep valleys, flat coastal plains, river deltas, lakes, springs, huge cave systems, swamps, Gulf and bay coastlines, and barrier islands. The resort city of Gulf Shores is by far the warmest in Alabama.
Alabama is one of the warmest states and boasts an average June temperature of 88°F. However, the highest recorded temperature, 112°F, occurred in Centreville on September 6, 1925. 
With a population of 5.07 million in 2022, Alabama is rich in history and culture and is aptly known as the Heart of Dixie. Alabama is a significant home to the American Civil Rights Movement. The Martin Luther King Junior church and the Rosa Parks Museum are in Montgomery. The 16th Street Baptist Church, now a museum, was the protest nerve center in the 1960s. In addition, NASA has the Marshall Space Flight Center based in Huntsville.
Alabama has a great assortment of animals. Many common North American forest animals include white-tail deer, opossums, shrews, rodents, and foxes. Rabbits, snakes, and armadillos have their home in the prairie areas. Marine mammals, fish, and whales abound in the coastal waters.
Roll Tide!
7. South Carolina
You know the Palmetto State for its white sand beaches, parks, festivals, and golf. Myrtle Beach is a premier resort destination. In addition, South Carolina is renowned for its tasty barbecue and peach production and is the birthplace of sweet tea. 
South Carolina's main industry is driven by agriculture and forestry, with its 4.8 million acres of farmland and approximately 25,000 SC farms. Some main commodities are turkeys, corn, soybeans, cotton, peanuts, and tobacco. 
South Carolina has an average June temperature of 88°F. However, the highest recorded temperature in South Carolina was 113°F on June 29, 2012, in Columbia. South Carolina has a hot, humid, sub-tropical climate, with its population in 2022 estimated to be 5.28 million.
Some of the wildlife in South Carolina are bats, beavers, black bears, bobcats, coyotes, deer, and gray foxes. The state is also home to various birds, including ducks, geese, waterfowl, and pheasants. 
8. Arizona
Arizona is a cactus wonderland! The Saguaro Cactus is only found in Arizona and nowhere else in the world! The state's terrain is one-tenth forested, one-fourth woodland, and one-fourth grassland; the rest is desert shrub. 
When you think of Arizona, you can't help but think about the Grand Canyon, a mile-deep chasm formed by the Colorado River. Flagstaff is a pine-covered mountain town that is the Grand Canyon's key gateway. Because of this natural wonder, Arizona is called the Grand Canyon State.
Arizona has an average June temperature of 100°F. In Lake Havasu City, the temperature of 128°F was the highest ever recorded on June 29, 1994. In 2022, Arizona's population was recorded at 7.35 million.
Despite harsh conditions, some animals thrive in hot, desert climates. Among the animals found in Arizona are:
wild horses
wild burros
desert cottontail rabbits
black bears
Mexican coyotes
thorny devil lizards
the cardinal bird
9. Arkansas
Because of its beautiful landscape of lakes, mountains, and hot springs, and its diverse wildlife, Arkansas is referred to as the Natural State.
Arkansas' landscape varies from hilly with ridges and valleys to flat terraced plains. Arkansas' eastern border is the Mississippi River, where there is an abundant park and wilderness areas, mountains, caves, rivers, and hiking trails. Some sites are Crystal Bridges Museum of American Art, Crater of Diamonds State Park, and Hot Springs National Park.
The summer climate is typically hot and muggy, with Arkansas having an average June temperature of 88°F. The highest temperature recorded was 120°F in Ozark on August 10, 1936. As of 2022, the population is 3.04 million.
Wildlife becomes active during the summer in Arkansas, so keep your eyes peeled for hedgehogs, meerkats, toucan snakes, scorpions, coyotes, and fennec foxes.
10. Oklahoma
Did you know that the first Girl Scout Cookie ever sold was in 1917 in Muskogee, Oklahoma? Oklahoma is also known for its extreme weather—the climate ranges from semi-arid in the west to humid subtropical in the east. The state's atmospheric pressure frequently produces severe thunderstorms, often resulting in tornadoes.
Oklahoma boasts three nicknames: Native America, Land of the Red Man, and The Sooner State. The state is famous for its cowboy culture, Native American history, and beautiful nature. It is also known for its iodine production and oil and gas industry. Inventions from Oklahoma include plastic bread ties, the parking meter, and the shopping cart.
Oklahoma has an average June temperature of 88°F. The state has an all-time high temperature of 120°F, recorded on four separate occasions:
Poteau on August 10, 1936
Altus on August 12, 1936
Alva on July 18, 1936
Altus on July 19, 1936
The population of Oklahoma was 4.01 million in 2022.
Some of the animals that are sun lovers in Oklahoma are the painted turtle, garter snake, marine iguana, blackbird, African penguin, and hippopotamus.
The Warmest States in June 
The US offers a multitude of destinations that promise sun-soaked adventures and endless summer vibes. From the white sandy shores of Florida to the breathtaking deserts of Arizona, each state provides its unique charm and wide range of activities to enjoy under the hot June sun.
---