If you don't expect the second driest state in the country to have some of the best rivers for whitewater rafting, then Utah will surprise you. Although part of Utah is desert, the state is also home to mountains with incredible snowpacks. When the snow melts, it feeds some impressive canyon rivers. Utah has whitewater rafting for all ages and abilities. Whether you want a family-friendly mild ride or a wild adventure down a secluded river, Utah can deliver.
Read on for our list of Utah's 10 best rivers for whitewater rafting.
How Are Rivers Rated For Rafting?
The standard river level ranking system goes from one to six.
Class I: Easy
Class II: Novice
Class III: Beginner to Intermediate
Class IV: Advanced
Class V: Expert
Class IV: Extreme (Can be deadly, not recommended)
Colorado River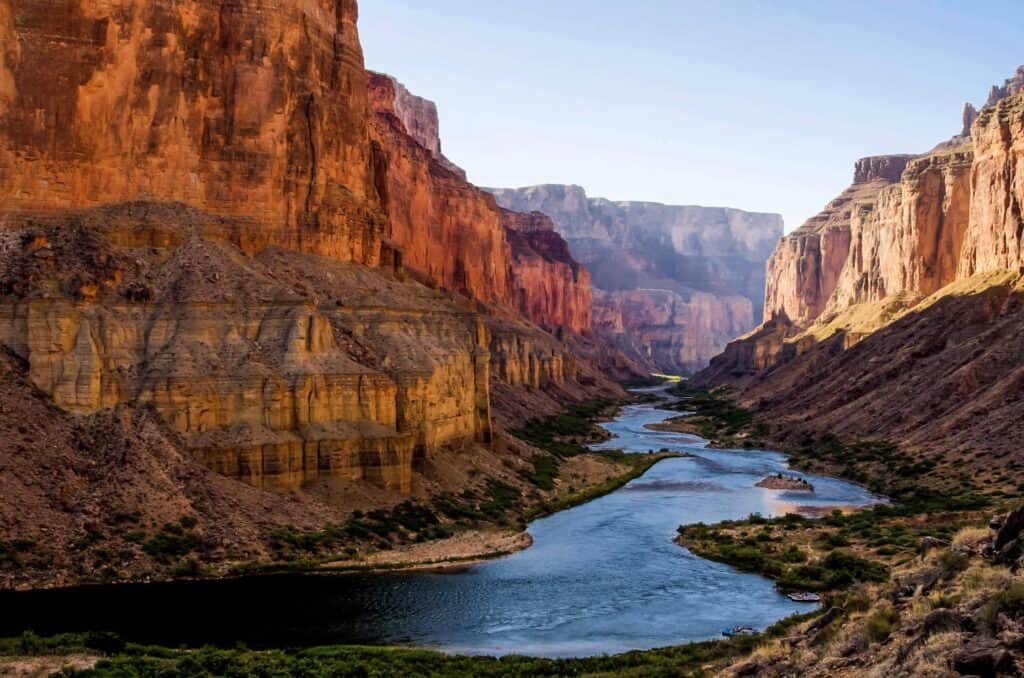 Utah's Colorado River is the most popular river for whitewater rafting. From wild rides to milder kid-friendly rafting trips, the Colorado River has it all. There are four main rafting sections along the river with different skill levels and recommended ages.
West Water Canyon
Only for experienced rafters, this 17-mile section of the Colorado River includes Class IV rapids. The river takes rafters through winding canyons with uniquely colored black rock cliffs and red sandstone walls.
Grand Canyon
Offering Class IV and some Class V rapids, the Grand Canyon offers whitewater rafting trips that can take a few days or up to 17 days. The Upper Grand Canyon stretches for 87 miles and offers 19 major rapids. While the Lower Grand Canyon has some of the most famous rapids in the world including Crystal and Lava Falls. This section requires rafters to hike into the canyon and a helicopter takes rafters out when the trip is done.
Cataract Canyon
This stretch of the Colorado River begins peacefully, but when the Green River and the Colorado River combine, things can get wild with Class III and Class IV rapids and even a few Class V levels during high water levels in the spring. Besides the thrill of rafting, when you go down this stretch of the river, you are lucky enough to get to witness 300 million years of rock history in one glance. The river has cut deep cliffs into the rock and left millions of years of rocks completely exposed.
Fisher Towers
This stretch of river is ideal for families with children. Fisher Towers offers Class I to Class II rapids, meaning it's suitable for everyone. The river is wide here and warm in the summer, perfect for taking a swim to cool off in the hot Utah sun.
Green River
A popular choice for whitewater rafting, the Green River runs from Flaming Gorge National Recreation Area to Dinosaur National Monument, finally meeting up with the Colorado River in the southeast part of the state. Some of the stretches that can be rafted include the following.
Gates of Lodor
The Lodore Canyon offers Class II to III rapids snaking through the Green River that cuts through a narrow canyon of stunning billion-year-old quartzite.
Desolation Canyon
You can only reach the take-off point for Desolation Canyon by plane. The 85-mile segment includes still waters combined with over 50 class II-III rapids. Wide sandy beaches make it an ideal camping trip as you explore the beauty of the Tavaputs Plateau.
San Juan River
The San Juan River begins along the Continental Divide in Colorado and flows through New Mexico into southeast Utah. A more "mellow" experience than some of Utah's other raging rivers, the San Juan River is ideal for families with kids and history buffs. The Upper Canyon stretch takes rafters past archeological finds such as pictographs, petroglyphs, granaries, dwellings, and ancient pottery.
The Upper San Juan (Sand Island to Mexican Hat)
The upper portion beginning at Sand Island and ending at Mexican Hat has just a few Class II rapids. It's an easy trip for beginners with amazing views of ancient ruins along the way.
The Lower San Juan (Mexican Hat to Clay Hills)
This stretch takes rafters past geological formations formed over 300 million years ago. Some attractions along the way include pools, springs, waterfalls, and grottos with hanging gardens. It's an easy-to-intermediate float with mainly Class I and II rapids and one Class III.
Escalante River
Although the Escalante River is considered Class II, its remoteness requires experienced rafters only. It's only navigable during a two to three-week period of time and only during years that have had enough snowpack.
Escalante River Trailhead to Lake Powell
This stretch of river takes you through the Glen Canyon National Recreation Area and cuts through stunning views of deep red rock canyons in the Utah desert. Floaters must be alert for debris pileups and flash flooding. The trip usually takes about six days but can vary.
Weber River
The Weber River is another good option for families with young children. With Class I and II rapids, it's an ideal river for beginners, young families, and nature lovers. With the milder waters, it's easy to spot wildlife from the boat, such as sandhill cranes, bald eagles, river otters, and possibly even a moose walking along the banks of the river. Launch sites for rafting the river are near Park City, and most tours offer full or half-day trips.
Henefer to Morgan
The stretch from Henefer to Morgan is a 7-mile run around 3 hours long and will take you through Class I, II, and some Level III rapids. As you pass through Weber Canyon, watch for the famous geological formation, the Devil's Slide.
Provo River
Less than an hour from Salt Lake City, the Provo River has mild rapids and is popular for swimming, floating, fishing, and rafting. A good choice for young children or beginners, numerous tour companies will take you out on the Provo River for a few-hour float.
Provo Canyon
The trip through Provo Canyon brings you through the spectacular scenery of the stunning canyon walls and underneath the 11,750-foot Mount Timpanogos.
Deer Creek Dam to Vivian Park
Another short trip on the Provo River is launching at the Deer Creek State Park in the Lower Provo River Area and getting out at Vivian Park. Although this is a mild river, you will come across some obstacles in the water including, low hanging branches, rocks, and bridges.
Dolores River
The headwaters of the Dolores River are in the San Juan Mountains in Colorado. The river flows southwest into Utah, where it ends as a tributary of the Colorado River. The Dolores River offers technical rapids that range from Class I to Class IV, along with stunning scenery. The wildest rapid on the river is named the Stateline Rapid. Near the border of Utah and Colorado, it's a mile-long rocky stretch that requires expert maneuvering.
Gateway
Starting at the town of Gateway, this 33-mile run mainly ranges from Class II to III rapids, but it can get up to Level IV depending on water levels. Less crowded than the more popular Colorado River, this stretch of the river offers gorgeous landscapes and side hiking and camping along the way.
Blacks Fork River
The Blacks Fork River is a 175-mile-long tributary of the Green River that flows through Utah and Wyoming. The Blacks Fork starts in Utah and has three offshoots (West, Middle, and East) before ending at the Meeks Cabin Reservoir in Wyoming.
West Fork
The West Fork run of the Blacks Fork River is a challenging 9-mile trip offering Class IV and V rapids, which include the notorious Death Trap and No Name rapids. Not for beginners, the flow varies based on snowfall and water levels and can include tight turns and steep drops.
Price River
The Price River is a 137 miles river snaking through the desert in eastern Utah. It's a tributary of the Green River, which is a tributary to the Colorado River. You can only ride the river during a small window of opportunity during the spring runoff season.
Price Canyon Recreation Area
Not for beginners, this section begins in Price Canyon Recreation Area and ends at Woodside Bridge. It's a challenging stretch with Class III to IV rapids and takes rafters through several named rapids including Three Fingers, The Squeeze, and The Ledge.
Virgin River
The 162-mile-long Virgin River has spent millions of years cutting its way through the red sandstones of Zion National Park. The river's rafting season is in late spring when the rapids are short but intense. The rapids here can range from Class III to V.
La Verkin to Hurricane
This is a good option for families that want to traverse the Virgin River. The highest levels you will see here are Class III in this 13-mile stretch.
Timpoweap Canyon
This short, 3-mile ride is best left to experts. Riders here will encounter Class IV and V rapids.
Virgin River Gorge
The Virgin River Gorge is an easier Class III in the Upper Gorge, but riding the Lower Gorge you will encounter rougher waters and Class IV ratings.
Know Before You Go
Water levels can change, and rapids can run faster or slower based on the time of year, weather, and water levels. Be sure to check river rapids before you embark. Also, some rivers are only navigable during certain times of the year, and some require permits or licenses to raft from Utah's Bureau of Land Management.
Summary of Utah's 10 Best Rivers for Whitewater Rafting
| River | Run Locations | Class Levels |
| --- | --- | --- |
| Colorado River | West Water Canyon, Grand Canyon, Cataract Canyon, Fisher Towers | Levels I to V |
| Green River | Gates of Lodor, Desolation Canyon | Levels II and III |
| San Juan River | Upper San Juan, Lower San Juan | Levels I to III |
| Escalante River | Escalante River Trailhead to Lake Powell | Level II |
| Weber River | Henefer to Morgan | Levels I to III |
| Provo River | Provo Canyon, Deer Creek Dam to Vivian Park | Levels I and II |
| Dolores River | Gateway | Levels I to IV |
| Blacks Forks River | West Fork | Levels IV and V |
| Price River | Price Canyon Recreation Area | Levels III and IV |
| Virgin River | La Verkin to Hurricane, Timpoweap Canyon, Virgin River Gorge | Levels III to V |
The photo featured at the top of this post is © Aleksandr Lupin/Shutterstock.com
---