Fall is a magical time in many parts of the United States. One notable state that provides some of the best scenic views is Minnesota! The reason leaves change color in the fall is due to certain chemicals. These four main biochemicals are chlorophyll, carotenoids, anthocyanins, and tannins. As these chemicals vary depending on certain weather conditions, plenty of different colors emerge.
Greens come from chlorophyll, carotenoids give us those yellows and oranges, while reds and purples will appear due to anthocyanins, and tannins will provide the browns you see. Keep an eye out for birch, ginkgo, shagbark hickory, American elm, maple, dogwood, and witch hazel trees, as they will provide some of the best color changes! If you're lucky enough to be in Minnesota for the fall season, this article is for you! Check out some of the best spots to see the fall foliage.
1. Lake of the Woods
Peaking in mid to late September, Lake of the Woods is one of the best places to enjoy the fall season. Known for its walleye fishing, these international waters form a natural boundary between the U.S. and Canada! The numerous trails around the sandy beaches allow you to explore deeper into these beautiful woods. You will surely see plenty of reds, oranges, and browns around the numerous green pines. The local sumac plants also turn a lovely shade of deep red!
2. Chippewa National Forest
Areas of the national forest change colors at different times. Your best bet is to visit during the last two weeks of September and possibly into early October. There are high concentrations of maple, birch, and aspen in the Marcell and Walker areas, so officials encourage visitors to spend time in those spots. With 1300 lakes in the Chippewa National Forest, you will surely find plenty of walleye, northern pike, muskie, bass, and panfish. Spending time camping during this time of year is a great way to experience the fall foliage.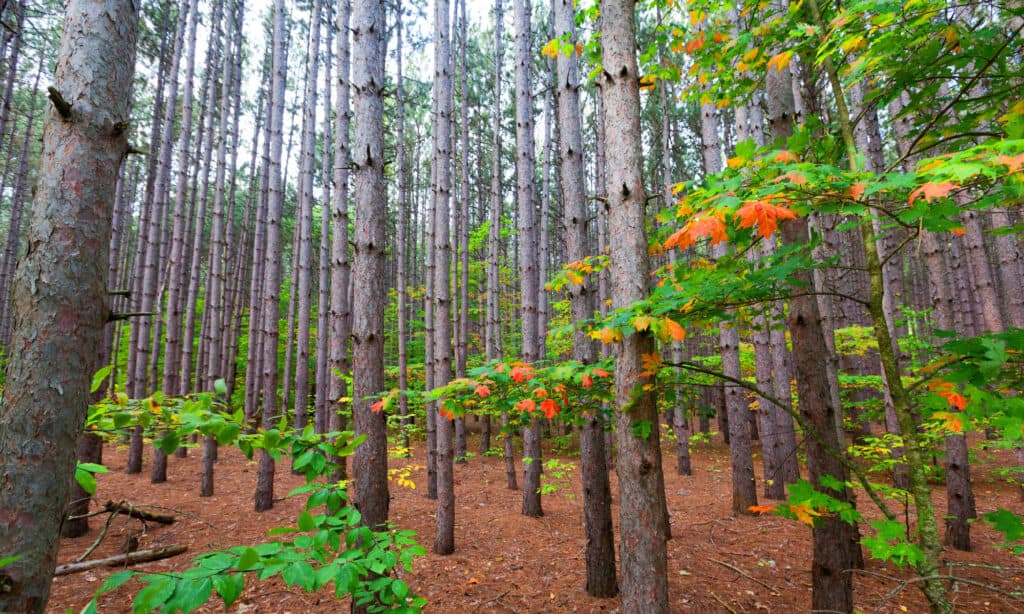 3. North Shore
The North Shore of Lake Superior is a popular spot for many visitors. You should plan on visiting in mid-September into the early weeks of October if you want to see the best colors the area offers. Many people plan trips on the North Shore Scenic Byway on Highway 61 to experience the season. Otherwise, you're welcome to follow the coastline on the Superior Hiking Trail. The dense forests display beautiful hues of red, burgundy, yellow, and gold thanks to hardwoods like maple trees and softwoods like birches, aspens, and poplars.
4. Stillwater
Do you want to visit one of the oldest towns in Minnesota? Considered the "Birthplace of Minnesota," Stillwater has a rich history. Strolling along the St. Croix River in Stillwater will give you a great view of the area. There are plenty of other spots within Stillwater to check out for fall foliage, so it's not surprising to find out this town is a hotspot for tourism. If you want to head here for the fall season, planning ahead is important!
5. Bedmidji
The birthplace of Paul Bunyan has a lot to offer visitors. Bemidji offers plenty of self-guided tours, biking trails, or even a horse-drawn covered wagon! If you can't come out to see the leaves change until later in the season, you should consider visiting Bedmidji. The leaves will begin to change around the end of September into mid-October. Lake Bemidji State Park sees plenty of visitors if you want to hike around the area, too!
Summary of 6 Beautiful Places to See Leaves Change Color in Minnesota
| Rank | Area |
| --- | --- |
| 1 | Lake of the Woods |
| 2 | Chippewa National Forest |
| 3 | North Shore |
| 4 | Stillwater |
| 5 | Bedmidji |
The photo featured at the top of this post is © / via Getty Images
---