Death in Paradise is a British-French crime drama television series that premiered in 2011. The show is set on the fictional Caribbean island of Saint Marie and follows a team of police detectives as they solve murders and other crimes on the island. Each episode typically features a whodunit-style mystery that is solved by the end of the episode. Besides murder, the storyline explores the characters' personal lives and relationships, providing viewers with a glimpse into the culture and way of life on the fictional island of Saint Marie.
So, Where is Death in Paradise filmed? Where exactly are these scene-stealing Caribbean locations that are as much a part of the show as Humphrey Goodman? Keep reading to learn where this popular television series is filmed, the best time to visit, the wildlife you can expect to encounter, and more!

Discover Where "Death in Paradise" Is Filmed: Location
Guadeloupe is a group of beautiful and vibrant islands located in the Eastern Caribbean Sea. The islands are governed by France. Consequently, Guadeloupe offers an alluring blend of European and Caribbean cultures. The two main islands of Guadeloupe are Basse-Terre and Grande-Terre, which are separated by a narrow sea channel called the Rivière Salée. The archipelago also includes several smaller islands, including Marie-Galante, La Désirade, and the Îles des Saintes. Guadeloupe is known for its beautiful beaches, lush rainforests, and vibrant Creole culture. It has a tropical climate with average temperatures ranging from 77 to 86 degrees Fahrenheit (25-30 C) year-round. The official language of Guadeloupe is French, and the local currency is the euro. The population of Guadeloupe is approx. 384,000 (as of 2020). The majority of the inhabitants are of African or mixed African and European ancestry.
The economy of Guadeloupe is heavily dependent on tourism, agriculture, and trade with mainland France. The islands are known for producing sugar, bananas, and rum.
Guadeloupe is famous for its music, dance, and cuisine. The traditional music of Guadeloupe is called Gwo Ka, which features drums, percussion, and call-and-response vocals. The cuisine of Guadeloupe is a blend of African, French, and Caribbean influences.
Precise Location Settings
Death in Paradise is primarily filmed on the archipelago of Guadeloupe in the Caribbean. The show is shot on location in various parts of the islands, including Deshaies, which is a picturesque village located on the Northwest coast of Basse-Terre Island. Deshaies serves as the main location for the show's police station, which is a converted colonial mansion known as the Honoré police station. The town's beach, Grande Anse, also features prominently in the show. Other locations on the island used in the show include the Soufrière volcano and the town of Pointe-Noire, Basse-Terre.
The production team has also built various sets and structures for the show including a replica of Saint Marie Street in the town of Sainte-Rose and a replica of the Honoré police station.
The show's filming locations in Guadeloupe provide a stunning backdrop for the series and have helped to create the unequivocal and vibrant atmosphere that has made Death in Paradise a popular television series.
Discover Where "Death in Paradise" Is Filmed: The Best Time To Go
The best time of year to visit Guadeloupe depends on your preferences and what you want to do during your trip. Peak tourist season in Guadeloupe is from December to April when the weather is dry and temperatures are comfortable, ranging from the mid-70s to mid-80s Fahrenheit (24-30°C). This is also the time when many festivals and cultural events take place on the island.
If you prefer to avoid the crowds and are looking for a more budget-friendly trip, you may consider visiting Guadeloupe during the off-peak season, which runs from May to November. During this time, the weather is warmer and more humid, with occasional rain showers, but you can still enjoy the island's beautiful beaches and cultural activities. Hurricane season in Guadeloupe runs from June to November, with the highest risk of storms occurring from August to October. While hurricanes are not common, they can affect travel plans and cause disruptions.
Discover Where "Death in Paradise" Is Filmed: Wildlife
Guadeloupe offers a rich and diverse array of wildlife for visitors to enjoy, with many opportunities to see birds, reptiles, and marine animals in their natural habitats. Some of the most notable species found on the island include:
Brown pelican: This large bird is a common sight along the coast of Guadeloupe, where it can be seen diving into the water to catch fish.
Green sea turtle: Guadeloupe is an important nesting site for green sea turtles, which can be spotted swimming in the waters around the island.
Iguana: Several species of iguanas can be found on Guadeloupe, including the green iguana and the Lesser Antillean iguana.
Antillean crested hummingbird: This is a small, brightly-colored bird with a distinctive curved bill. It is one of the most common hummingbirds found on the island.
Hummingbird: Guadeloupe is home to several species of hummingbirds, including the purple-throated Carib and the green-throated Carib.
Boa constrictor: This large snake is native to the island and can be found in the forested areas of Guadeloupe.
Whales and dolphins: Several species of whales and dolphins can be spotted off the coast of Guadeloupe, including humpback whales and spinner dolphins.
Frigatebird: This large seabird is known for its distinctive red throat pouch, which males inflate to attract mates. The magnificent frigatebird is a common sight along the coast of Guadeloupe.
Discover Where "Death in Paradise" Is Filmed: Flora
Guadeloupe is home to a diverse range of plant life, including lush tropical forests, mangroves, and a variety of flowering plants. Guadeloupe's rich and varied plant life is an important part of the island's culture and history, and visitors to the island can enjoy the beauty and fragrance of its many flowers and fruits. Some of the most notable flora found on the island include:
Coconut palms: These tall trees are a common sight along the beaches of Guadeloupe, and the coconuts they produce are used for food and other products.
Banana trees: Guadeloupe is known for its production of bananas, which are grown on plantations throughout the island.
Hibiscus: This colorful flowering plant is native to the Caribbean and can be found in gardens and parks throughout Guadeloupe.
Bougainvillea: Another popular flowering plant in Guadeloupe, bougainvillea is known for its vibrant purple, pink, and red blooms.
Frangipani: This tree produces fragrant white and yellow flowers and is a common sight in gardens and parks throughout the islands.
Sugar cane: Guadeloupe has a long history of sugar cane production, and the plant can be seen growing in fields throughout the island.
Mango trees: These trees produce delicious tropical fruit, which is a popular ingredient in many local dishes.
Guava: Another tropical fruit commonly found in Guadeloupe, guava is used in a variety of desserts and drinks.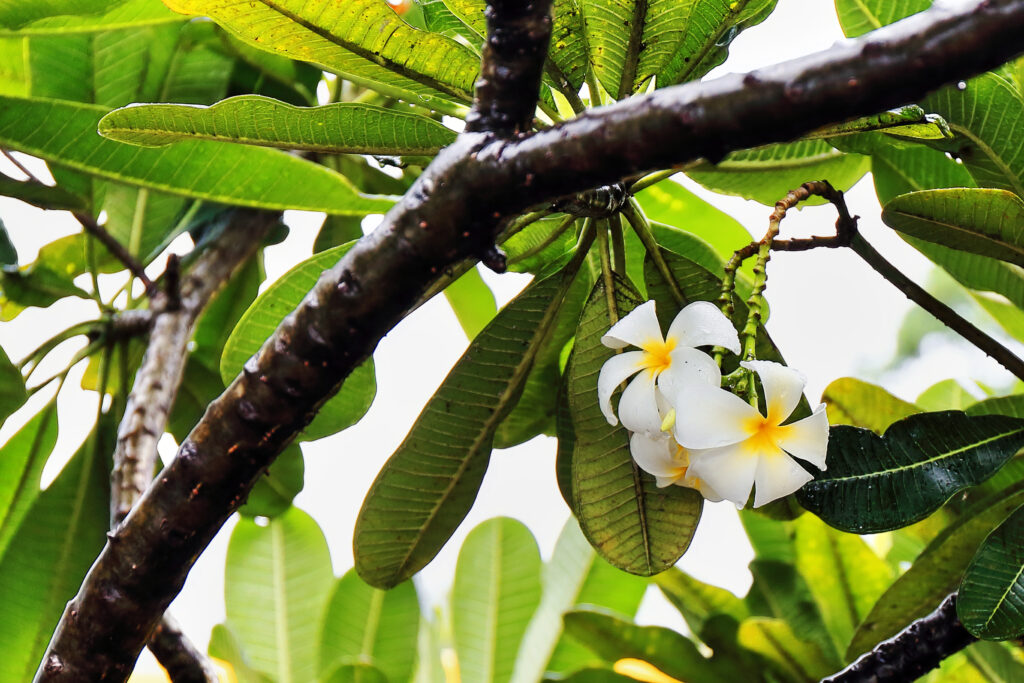 Discover Where "Death in Paradise" Is Filmed: Cuisine
The cuisine of Guadeloupe is a flavorful blend of French, African, and Caribbean influences that is sure to delight anyone who loves spicy and exotic dishes. The cuisine of Guadeloupe is created using local ingredients like seafood, plantains, yams, cassava, and fresh fruits.
One of the most popular dishes in Guadeloupe is porc-colombo. Porc-colombo is the national dish of Guadeloupe. It is a stew traditionally made with pork and flavored with a mixture of spices that include cumin, coriander, turmeric, and mustard. The dish is usually served with rice, beans, or yams.
Another popular dish is the Accra. It is a fried fritter made with codfish, flour, and spices such as garlic, onion, and scallions. It is a popular snack or appetizer in Guadeloupe.
Seafood is an important part of the cuisine of Guadeloupe. Grilled fish and seafood stews are common, and lobster is considered a delicacy. The islands are also known for their delicious seafood soups.
A popular local drink in Guadeloupe is the Ti Punch. It is made with rum, lime, and cane sugar, and is a popular aperitif. Another popular drink is coconut water, which is commonly sold on the street.
And no discussion of Guadeloupe's cuisine would be complete without mentioning its delicious desserts. The island is known for its cakes, especially the Gateau Battu, a light and fluffy cake that is similar to a sponge cake. Other popular desserts include banana fritters, coconut candy, and a variety of tropical fruit sorbets.
Discover Where "Death in Paradise" Is Filmed: Recreational Opportunities
Guadeloupe is a paradise for outdoor enthusiasts, offering a diverse range of recreational opportunities for visitors of all ages and interests. From water sports to hiking, there is something for everyone to enjoy. Some of the most popular recreational activities to do in Guadeloupe:
Water sports: With crystal-clear waters and a beautiful coastline, Guadeloupe is a paradise for water sports enthusiasts. Visitors can enjoy swimming, snorkeling, scuba diving, windsurfing, kite surfing, and stand-up paddleboarding.
Beaches: The island has a variety of beautiful beaches that are perfect for relaxing or taking a dip in the ocean. Some of the most popular beaches include Grande-Anse, Plage Caravelle, and Les Salines.
Hiking: Guadeloupe is home to lush forests and mountainous terrain, making it an ideal destination for hiking. Visitors can explore the tropical rainforest and hike up to La Soufrière, an active volcano.
Historical sites: Guadeloupe has a rich history, and visitors can explore a variety of historical sites, including Fort Louis Delgres, the Memorial ACTe Museum, and the Maison du Cacao.
Cultural experiences: Visitors can immerse themselves in the local culture by attending traditional music and dance performances, visiting local markets, and sampling the island's delicious cuisine.
National Park: Guadeloupe National Park offers opportunities for nature lovers to explore the island's wildlife and flora.
Boat tours: Visitors can take boat tours around the island, enjoying the beautiful coastline and spotting marine life such as dolphins and sea turtles.
Discover Where "Death in Paradise" Is Filmed: Ephemera
Guadeloupe's stunning natural beauty and tropical setting have made it a popular location for film and TV productions over the years. Guadeloupe has been the filming location for several other TV shows and films. In addition to "Death in Paradise," some of the other productions that have been filmed on the island include:
Pirates of the Caribbean: Dead Man's Chest: Although most of the filming for this blockbuster movie took place in the Bahamas, some scenes were shot in Guadeloupe.
A season of Survivor: All-Stars, a popular reality TV show, was filmed on the island of Guadeloupe.
The Real Housewives of Atlanta: An episode of this popular reality TV show was filmed in Guadeloupe, showcasing the island's luxury resorts and beautiful beaches.
Where is Eastern Caribbean Sea Located on a Map?
Spanning from Puerto Rico to Grenada in a graceful arc, the Eastern Caribbean region encompasses a collection of notable islands, such as Barbados, Antigua, St. Lucia, as well as the sister islands of Trinidad and Tobago, situated just a few miles off the coast of Venezuela, and the Dutch islands located further south.
Here is the Eastern Caribbean Sea on a map:
---