Mamma Mia is a movie that has made it into the hearts of many musical and travel movie fans. It's a favorite for many that feature beautiful views from three different locations in Greece. But where was Mamma Mia filmed?
Can you visit the locations?
Follow along to discover where Mamma Mia was filmed and more.
What is Mamma Mia About?
Mamma Mia follows the story of a young girl, Sophie Sheridan, who wants to find her real father. This lovely 2008 romantic comedy musical is set on the fictional Greek island of Kalokairi.
To find her father, the bride-to-be Sophie, invites three men from her mother's past whom she finds out about while reading her mother's diary. She secretly invites the three men without her mother's knowledge and attempts to find out who her father is, while also getting married.
Spoilers ahead, at the end of the movie, we never find out who Sophie's biological dad is. Instead, the three men vow to all be her dad. Instead of getting married, Sophie and her lover travel the world. Sam, Sophie's mother Donna's true love, confesses and proposes.
This heartwarming and comedic musical features many hit ABBA songs. Notable actors in the movie include Meryl Streep, Amanda Seyfried, Christine Baranski, Julie Walters, Pierce Brosnan, Colin Andrew Firth, Stellan Skarsgård, and Dominic Cooper.
Discover Where Mamma Mia Was Filmed
While the Greek island of Kalokairi is fictional, producers shot the movie in Greece. Mamma Mia was filmed in Skopelos, Skiathos, and Damouhari. Skopelos and Skiathos are quiet and picturesque Greek islands. Many of the scenes you see were in iconic places like Glysteri Beach and Kastani Beach.
The actresses sang 'Does Your Mother Know' and 'Lay All Your Love on Me' on the beach The wedding scene where Sophie and Sam are about to get married was filmed in the chapel of Agios Ioannis. The actual wedding scene with the guests though was not in the chapel. Instead, the chapel was recreated in the Pinewood Studios.
Although there weren't many scenes shot in Skiathos, you can see this lovely island's bustling city at the beginning of the movie when Sam and Harry try to catch the ferry to Kalokairi. 
Best Times to Visit Damouchari, Skopelos, and Skiathos
Greece is a heavily visited country. It sees over 7 million tourists every year. While it's not as high as 7 million, about 50,000 people visit the island of Skopelos. Summers are hot and typically packed. If you're looking to enjoy hot summer days, it's best to visit from June to September. However, to beat the crowds you can go in September and October. Skiathos is just as busy as Skopelos. It's the busiest island of the Sporades islands. Damouchari Beach isn't as popular as beaches in Santorini or Naxos, but is still well worth the visit, especially if you want to feast your eyes on where Mamma Mia was filmed!
Animals in Damouchari, Skopelos, and Skiathos
All three of these Mamma Mia filming locations have about the same animals. While visiting, you'll likely spot birds and a lot of marine life. Follow along to learn more about the animals you may see while visiting where Mamma Mia was filmed.
Southern White-Breasted Hedgehog
Southern white-breasted hedgehogs are adorable and small mammals found throughout Greece including where Mamma Mia was filmed. This small mammal is native to Eastern Europe and Southwestern Asia.
You can distinguish the southern white-breasted hedgehog from the northern variety by its white chest. In the wild, these animals can live for up to 8 years. Some southern white-breasted hedgehogs can reach 13 inches long.
They are also sometimes called white-bellied hedgehogs or white-chested hedgehogs.
Mediterranean Monk Seal
Next animal you may encounter while visiting spots where Mamma Mia was filmed is the Mediterranean monk seal. Imagine taking a swim and running into a seal! These seals are sadly endangered and considered rare. There may be as few as 700 Mediterranean monk seals left in the world. These large seals are about 8 feet long and can weigh up to 880 pounds. They live for about 20 to 45 years.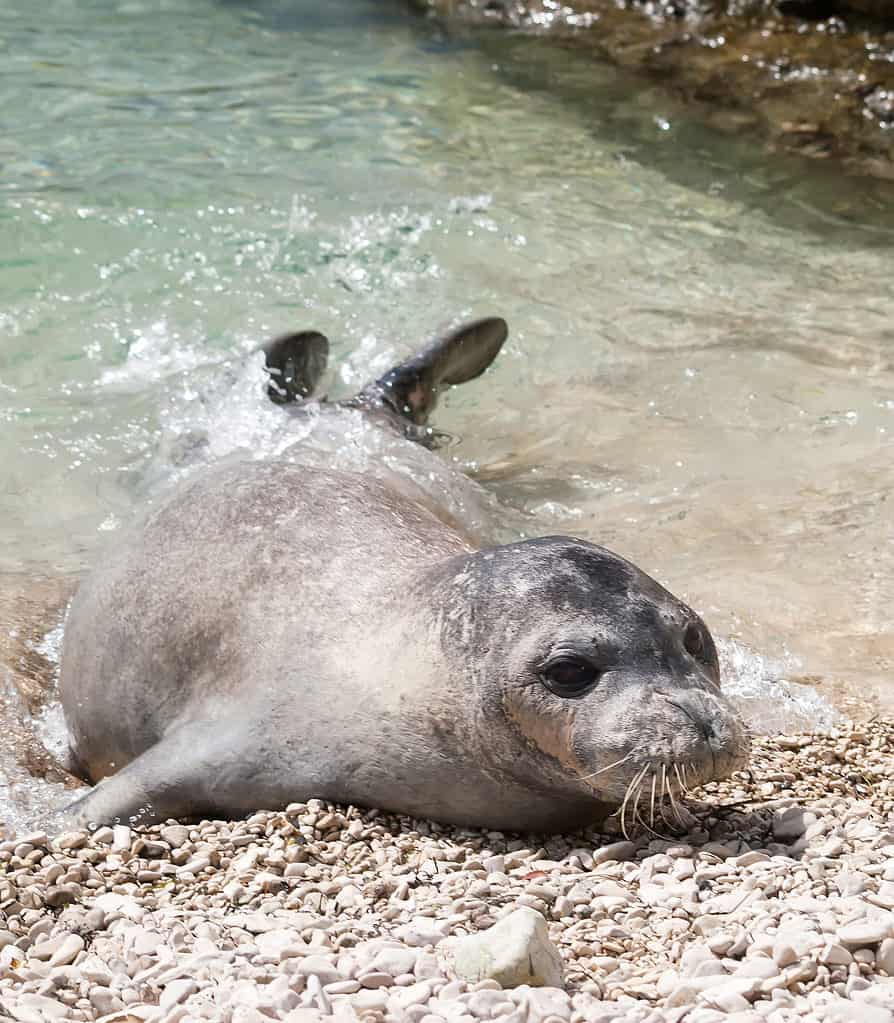 European Scops Owl
Have you ever heard of the European scops owl, also known as the Eurasian scops owl? It's an owl found throughout Europe that winters in Africa south of the Sahara. This owl species is relatively small with a large wingspan of about 19 to 21 inches. European scops owls are nocturnal and eat a variety of insects. It camouflages well against trees.
Greek Marsh Frog
The last animal on our list is the Greek marsh frog. The Greek marsh frog is native to Greece and parts of Albania, Montenegro, and Serbia. Some people still lump this species with the Marsh frog (Pelophylax ridibundus). Another name for this frog is the Balkan water frog. These tiny frogs rarely surpass 2 inches long.
Where is Kalokairi Located on a Map?
Skopelos is a Greek island found in the western part of the Aegean Sea. It's part of a group of islands called the Northern Sporades, which are located to the east of the Pelion peninsula on the mainland and north of the island of Euboea.
Here it is on a map:
---