Key Points:
Gulf Shores Beach was named the most dangerous beach in Alabama because of the frequency of surfing fatalities, hurricanes, and a lack of lifeguards on public beaches.
Despite being called the "most dangerous beach in Alabama," Gulf Shores is a family-friendly place with gorgeous beaches, great fishing, golf, nightlife, restaurants, and numerous attractions.
The famous sugar-white sand on the beaches of the Gulf Coast is composed of quartz eroded from other rocks over time.
Think of your ideal day at the beach. You may picture white sandy beaches, bright sun, blue skies, and clear ocean water. A beautiful day at the beach might include sand castles, ice cream, cold lemonade, and hours frolicking in the salty surf. Yet what these picturesque scenes do not include are the dangers of the ocean: hurricanes, strong currents that threaten to pull you out to sea, jellyfish stings, shark attacks, and surfing accidents. As millions of Americans plan their summer beach vacations, these are real dangers that should not be overlooked. To help you stay aware, this article will explore the place that experts have dubbed the most dangerous beach in Alabama.
The Most Dangerous Beach in Alabama
Travel Lens looked at the key factors, including annual fatalities, to evaluate which beaches in the U.S. are the most dangerous for visitors. Among all of the beaches in the United States, Travel Lens selected New Smyrna Beach as the deadliest in the country. However, number nine on the list of their top ten most dangerous beaches was a beach that might surprise you. This top vacation spot is not only the most dangerous beach in Alabama but also among the top most dangerous in the entire U.S.! This notorious beach is in Gulf Shores, Alabama. 
The Travel Lens experts looked at surfing fatalities, shark attacks, and hurricanes to evaluate which beaches offer the most hazards. Other factors you may want to consider when planning your own beach vacation could include crime, air pollution, water pollution and debris, rip currents, and other marine animals. Depending on which factors you prioritize, you may get a different result. In general, Gulf Shores, and many other beaches on Travel Lens' list, are still considered safe. However, before you travel, it is good to be aware of the risks. Let's dive into learning more about Gulf Shores, Alabama now.
About Gulf Shores, Alabama
Gulf Shores is a city in Alabama, which is known for its bright white sandy beaches, warm water, and relaxing resort communities. This coastal city in Baldwin County, Alabama, only has a population of about 16,000 (2021 census), but it attracts thousands more visitors each year who come to enjoy lounging by the ocean, outdoor activities, and relaxing in one of Gulf Shores' many resorts.
Safety in Gulf Shores
When the experts considered the safety of Gulf Shores, they looked at a few factors. When choosing the most dangerous beach in Alabama, Gulf Shores rose to the top of the list. This does not mean you need to avoid the area, but that you should be aware of potential dangers. First, since 2010, Gulf Shores had five surfing fatalities. Second, the area has seen three shark attacks in the same period. Lastly, Alabama has seen the sixth-most hurricanes compared to other U.S. states. While these considerations should not deter you from going on your beach trip, do consider swimming only in lifeguarded areas, checking weather conditions and warnings, and listening to expert guidance.
Other Safety Considerations at the Most Dangerous Beach in Alabama
Gulf Shores and Orange Beach feature miles upon miles of pristine sand beaches and blue-green ocean water. However, the public beaches do not have lifeguards on duty throughout much of the year. While private resort or hotel beaches may have lifeguards present and alert, and the summer months may have lifeguards watching over the beach during the peak summer months, it is wise to always check beach flags and surf conditions before going into the ocean. 
Hurricane season in Gulf Shores starts June 1st through November 30th. If visiting anywhere on the Gulf Coast during this season, stay aware of the risk of hurricanes and keep up-to-date on the weather forecast and expert recommendations for hurricane safety. Fortunately, category one hurricanes typically only hit Gulf Shores about once a decade, and category two hurricanes come about once every two decades. More powerful hurricanes are even less common. However, stay aware and prepared that the summer and early fall hurricane season could impact your vacation plans.
Where is Gulf Shores Beach Located on a Map?
Gulf Shores is a beach town on Alabama's southern border on the Gulf of Mexico. Orange Beach is to the immediate east while the city of Pensacola, Florida is located about an hour away further east. New Orleans, Louisiana is a two-hour trip west.
Geography, Geology, and Climate of Gulf Shores
Gulf Shores, Alabama is part of the Gulf Coast, a shoreline traveling along the southern part of the U.S. The Gulf Coast stretches across parts of Texas, Louisiana, Mississippi, Alabama, and Florida. These states have shorelines on the Gulf of Mexico, which is considered part of the Atlantic Ocean, although separated by the Caribbean Sea. These "gulf states" are famous for their white sand, which is composed of quartz eroded from other rocks over time. Gulf Shores and Orange Beach, Alabama, are popular tourist destinations along the Gulf Coast, along with beaches in Texas, Mississippi, and Florida such as Destin and Rosemary Beach, Florida, South Pade Island, Texas, and many other locations.
The climate of the Gulf Coast region can be tropical to sub-tropical. In fact, states on the Gulf Coast experience uncharacteristically hot and humid weather given their geographic location. Gulf Coast states, and their beaches, see the impacts of the Gulf of Mexico, the Caribbean Sea, and the Atlantic Ocean, all of which shape the climate and contribute to the high frequency of hurricanes in the region. 
Wildlife Near Gulf Shores
Reptiles
Among the many reptiles in the Gulf Coast region, the top to look out for is the alligator. You may spot American alligators hanging out around the lakes, rivers, and ponds near Gulf Shores. Alligators typically congregate together, and while they look slow and lumbering on land, these reptiles are lightning fast when swimming in their freshwater habitats.
However, this part of the country has an immense diversity of cold-blooded critters! The turtle species include yellow-bellied sliders, spiny softshell turtles, eastern box turtles, and more. There are also numerous snake species. Many are venomous, so if you see a snake, leave it alone and give it a wide berth. The snake species include cottonmouths, pygmy rattlesnakes, banded water snakes, black racer snakes, mud snakes, southeastern crowned snakes, and ribbon snakes.
Birds
Gulf Shores can be a great place for birdwatching! From brown pelicans dive-bombing into the water to catch fish to piping plovers in the sand, you may see willets, egrets, great blue herons, and many other birds in Gulf Shores. Look for gulls, terns, and shorebirds year-round, in addition to other species found across the broader U.S.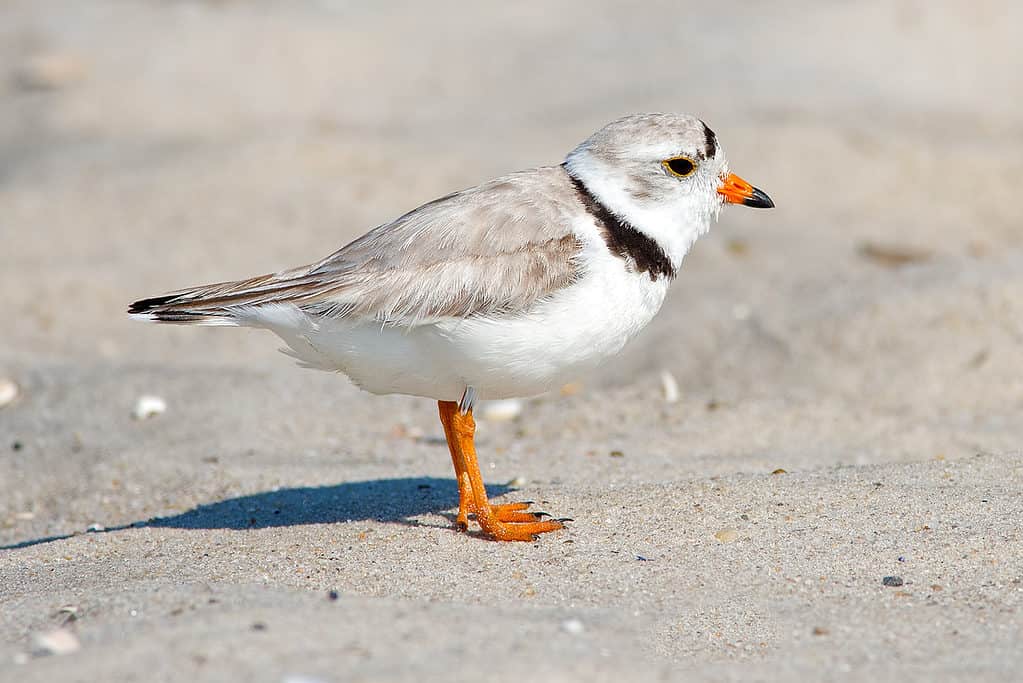 Butterflies
Migratory monarch butterflies fly south during the winter months. During the fall and winter, many butterfly species, including monarchs, move through Alabama in search of warmth. Look out for these beautiful insects with their orange and black wings!
Mammals
Numerous mammal species live in the Gulf State Park and other areas around Alabama's Gulf Coast. These include rabbits, squirrels, foxes, opossums, beavers, deer, and even bobcats.
Amphibians
Also, keep an eye out for the unique amphibian species of the Gulf Coast. For example, watch out for tree frogs, southern toads, and leopard frogs.
Marine Life Near Gulf Shores
The Gulf of Mexico has incredibly diverse ecosystems and is actually one of the most marine ecosystems in the world. You may find both freshwater and saltwater marshes, mangrove forests, coral reefs, and numerous open ocean communities. With 700 miles of tidal bay and bayou shoreline, this part of Alabama has a flowing tide and warm weather that attracts creatures. These habitats are home to numerous marine species, including some unique and unusual animals you may not see elsewhere. Here are a few animals you can watch for in Alabama's Gulf Shores.
Sea Turtles
Among the most beloved sea creatures is the sea turtle. Since sea turtles joined the endangered species list, conservation efforts have worked to hatch and protect many sea turtles along the Gulf Coast. From July to October, sea turtles hatch from their eggs in beach nests, making their way to the water. This makes these seasons a prime time to sea baby sea turtles make their way from the beach to the ocean.
Bottlenose Dolphins
If you are lucky, taking a boat or paddleboard out into the water might give you the chance to see Atlantic bottlenose dolphins playing in the bay or open ocean. LuLu's and Tacky Jacks are also two on-land locations in the Gulf Shores area where you may see dolphins while still on-land.
Stingrays
If you go swimming, watch out for stingrays! Though these creatures are usually non-aggressive, you do not want to step on the barbed stingers of these peaceful ocean creatures that swim in the Gulf water. Stingrays love the warm, shallow waters, which makes the Gulf of Mexico a perfect habitat for them. Watch out when wading into shallow parts of the ocean to avoid getting accidentally stung.
Sharks
Sharks also patrol the shallow and deep Gulf Coast waters. Though these animals have a bad reputation, don't believe the urban legends. Even though there have been a few shark attacks in the Gulf Shores area, these are still relatively rare. Most sharks just want to be left alone and have no desire to interact with humans. That said, the most common shark species near Gulf Shores are bull sharks, nurse sharks, hammerhead sharks, and thresher sharks, among others. The most aggressive species seen swimming in the area are bull sharks, mako sharks, and white tip sharks. Watch for purple and red beach closure flags, which indicate a shark spotting, avoid brackish waters, and avoid wading into shallow waters with fishing bait.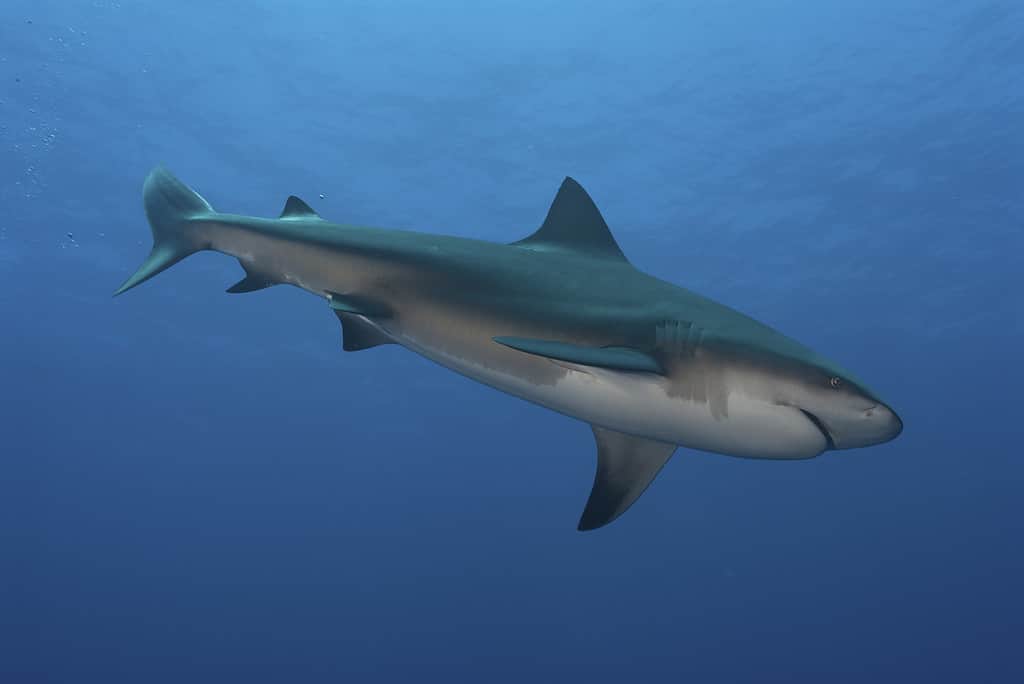 Gulf Fish
The water around Gulf Shores has many unique fish species, including several that you probably want to avoid. Though they are unlikely to attack you, these fish can deliver a painful bite or sting. Gulf fish species to know about include the hardhead catfish, lionfish, and even the aggressive hunter, the barracuda.
Jellyfish and Portuguese Man o' War
Hundreds of jellyfish species live in the Gulf of Mexico's waters. Some of the most common are the moon jellyfish, mushroom cap, and box jellyfish. Other similar species, such as the Portuguese Man o' War, are not technically jellyfish but can deliver a similarly painful sting. Avoid these while enjoying the ocean and treat a jellyfish sting promptly to avoid more serious symptoms.
Best Time to Visit Gulf Shores
Many travel experts recommend visiting Gulf Shores between March and May and September through November. These periods are generally outside of the busiest season, and allow you and your family to relax without fighting through the crowds. Do know that spring break season in March and April may bring college students to the Gulf Coast, infusing a different energy than the beaches see the rest of the year.
Things to Do in Gulf Shores
Despite being called the "most dangerous beach in Alabama," Gulf Shores is a family-friendly place for all-day fun in the sun. From gorgeous beaches to fishing, golf, nightlife, restaurants, and numerous attractions, Gulf Shores has activities for every member of the family. Whether your idea of a good time is laying on a beach or beside a pool, or getting out to experience arts and culture, museums, outdoor adventure, or ocean sports, Gulf Shores has it all.
History, Culture, and Entertainment
If you want to explore the local culture, coastal history, or art of the region, Gulf Shores has ample museums and monuments to discover. Visit the Ocean Beach History Museum, the nearby historic Bragg-Mitchell Mansion, Fort Morgan, Bellingrath Gardens and Home, GulfQuest National Maritime Museum of the Gulf of Mexico, the Swift-Coles Historic Home, or one of the many other museums and historic sites in the ara. Perhaps you find your beach vacation interrupted by a rainy day and want to spend your time indoors. In that case, try bowling at the Gulf Bowl, enjoy Fat Daddy's Arcade, or go to the Exploreum Science Center.
Outdoor Activities
For the outdoor adventurers, Gulf Shores offers ample activities. Try fishing the coastal waters on a boat or pier, biking the coastline, birding in local bird sanctuaries, or hiking the many nearby trails. You could also walk the beaches looking for beautiful and unique seashells, go on a motorcycle run, or join a group of runners to take in the early morning ocean views. Those who appreciate an expert guide can also join a tour facilitated by a local expert.
Of course, no beach vacation is complete without enjoying the sports and activities that the ocean has to offer. When you visit Gulf Shores, try boating, diving, jet skiing, kayaking, paddleboarding, parasailing, snorkeling, or simply swimming in the ocean. If you prefer to look and not experience the water first-and, try a dolphin cruise and watch the playful dolphins frolicking in the surf.
Regardless of your hobbies and vision for a vacation, Gulf Shores has something for you! Keep in mind the specific factors that led it to be called the most dangerous beach in Alabama, but do not let that keep you away from enjoying this unique part of the country.
The photo featured at the top of this post is © Pugalenthi Iniabarathi/Shutterstock.com
---