The Lone Star State is a land of contrasts, and its flora is no exception. The massive state is home to a wide variety of climates that brings in many different types of plants. While it boasts a colorful array of flora that can thrive in its warm and sunny climate, it also plays host to some of the most toxic plants you'll ever come across. Discover the 10 most dangerous plants that grow in Texas and what makes them so hazardous.
1. Texas Bull Nettle (Cnidoscolus Texanus)
The Texas bull nettle is a dangerous plant that should not be taken lightly. This perennial species has sprawled branches and a strong root system, making it a formidable presence in the landscape. Its leaves and stems are a vibrant green, providing a stark contrast to its harmful nature.
While the plant does not typically cause severe reactions, even the slightest contact with the bull nettle can result in stinging, itching, and intense pain that can persist for hours. It grows up to 3 feet tall and 3 feet wide, with a deep tap root that makes it difficult to remove once established. This plant blooms from early spring to mid-summer and produces green seed pods in about a month.
The bull nettle is primarily found in eastern Texas but is also scattered throughout other parts of the state. When humans or animals come into contact with this plant, it causes intense burning and itching that can last for days.
2. Poison Ivy (Toxicodendron Radicans)
The notorious poison Ivy is a common sight in Texas, growing in a wide variety of environments. It's well known for causing an itchy and painful rash. The rash is caused by its sap, which contains a clear liquid called Urushiol.
Despite being most abundant in the spring and summer, poison ivy is a threat year-round. Most individuals (85% of people) are highly allergic to the plant at all stages of growth, including in winter. Humans and some primates are the only animals that experience the irritative effects, so Fido is safe. That said, your pet can carry the sap on their fur and infect you.
Poison ivy is not limited to just one form. It can grow as climbing vines, shrubs, or smaller plants. To avoid the painful consequences of coming into contact with this plant, be vigilant and take preventative measures throughout the year.
3. Poison Hemlock (Conium Maculatum)
The toxic herb known as poison hemlock is also referred to as wild hemlock. It is a dangerous plant that can thrive in many different environments and can spread quickly, becoming an invasive weed. All parts of the plant, including its roots and seeds, are toxic, especially if ingested. Hemlock is an invasive species that has begun to appear all over Texas, especially in the flat plains regions. The plant can be deadly in even small doses to humans, livestock, and pets. If you notice the plant in your yard, remove it quickly.
This plant is believed to contain at least five piperidine alkaloids, all contributing to its toxicity, and is highly harmful to humans and animals. Symptoms of poisoning can appear anywhere from 20 minutes to three hours after ingesting the plant. Poison hemlock's toxin levels tend to vary, with concentrations typically higher in sunny locations.
It grows in the spring and typically lives for two years, but it can be a perennial in ideal conditions.
4. Poison Oak (Toxicodendron Diversilobum)
The Pacific poison oak, a notorious member of the Sumac family, is a shrub or vine that poses a serious threat to both humans and animals. Known for its intense rash-inducing abilities, this plant can result in itching, inflammation, and even blistering with as little as a simple touch.
Poison ivy and poison oak are similar because they both contain the same allergenic oil, urushiol, which causes an allergic reaction in most people. Poison Oak is also called a cousin of poison ivy.
However, this plant's impact goes beyond skin contact. Inhaling smoke from burning poison oak can cause a severe allergic reaction, making it difficult to breathe.
Despite its reputation, poison oak is a blooming beauty in the months of May to July. However, it remains a potential hazard year-round, so it's important to be aware of its presence and take necessary precautions.
5. Holly (Ilex)
Holly, a group of evergreen trees and shrubs, is known for its iconic red berries and glossy leaves. It is commonly used as a decorative plant during the Christmas season. However, what many may not know is that this plant can pose a dangerous threat to children, livestock, and pets. Ingesting holly berries can cause severe digestive issues, including vomiting and diarrhea. Additionally, the berries contain toxic saponin, which makes them lethal, especially to small children.
Humans should exercise caution when approaching holly plants. The leaves also typically have thorns that can cause painful scrapes.
Despite its dangerous reputation, holly is a hardy plant that can grow in a variety of conditions. Found in moist, rich soils in east Texas, it also thrives on dry acidic-soiled hillsides. During the springtime, typically between April and June, holly begins to bloom.
6. Morning Glory (Ipomoea)
The morning glory, a charming flowering plant, reaches its peak in the early hours of the day. Its vivid blooms are particularly alluring to children, so parents should be aware of potential dangers.
The seeds contain a chemical that is similar to LSD and can lead to serious health issues if ingested. Consuming a large quantity of these seeds can cause hallucinations or diarrhea and may require medical attention.
Despite its poisonous properties, morning glory is widely cultivated and can be found in many regions of Texas. One particularly beautiful native species, the beach morning glory, boasts white and yellow blooms in sandy areas along the coast.
Morning glory can be hazardous to both humans and animals, so it's best to keep them out of reach.
7. Lily of the Valley (Convallaria Majalis)
The lily of the valley plant is a beautiful woodland flower found mainly in West Texas. It is known for its delicate bell-shaped blooms and sweet fragrance. Despite its charming appearance, the plant is highly toxic, with all parts of it containing dangerous concentrations of cardiac glycosides. These toxic compounds can affect both humans and animals, with children and pets being particularly vulnerable.
In fact, the lily of the valley contains over 30 different cardiac glycosides, which can inhibit the heart's pumping ability and even lead to death in severe cases. While it may seem small and innocent-looking, this plant should not be underestimated.
Found in west Texas, the lily of the valley is a spring bloomer, gracing the woodland for a longer period of time compared to other spring perennials. It typically flowers for three to four weeks in early to mid-spring.
8. Larkspur (Delphinium)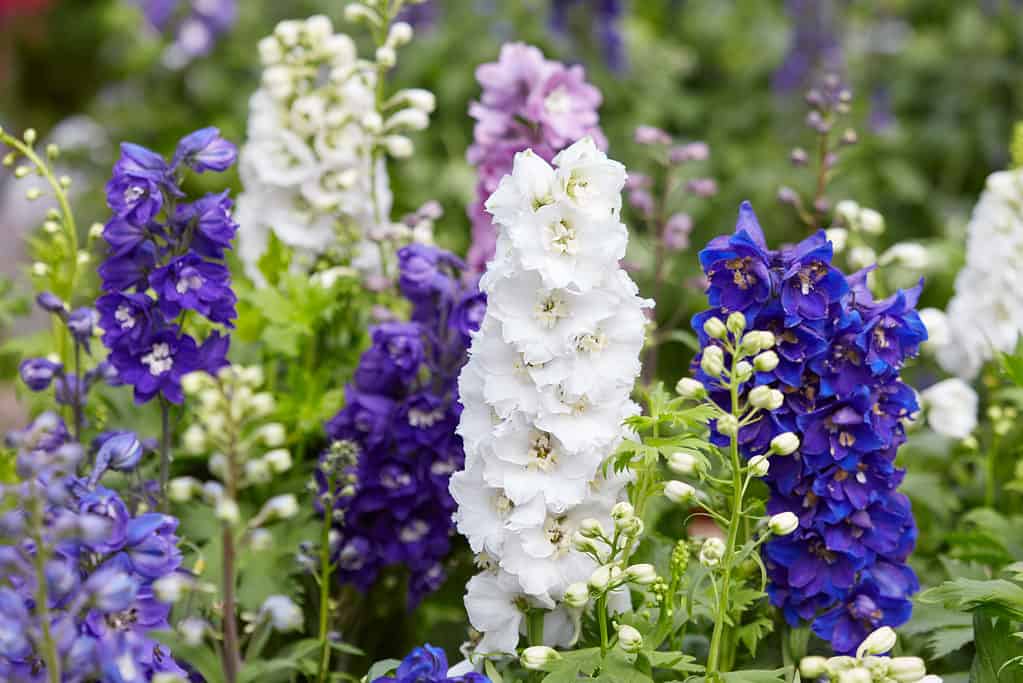 The larkspur, a member of the Ranunculaceae family, is a stunning perennial flower with a dangerous side. Its beauty belies the fact that all parts of the plant contain toxins. These chemicals cause severe digestive distress and skin irritation to both humans and livestock. In fact, tall larkspur is a notorious cause of cattle poisoning.
Found throughout Texas, larkspur boasts tall spikes of striking blue or purple flowers. There are also rarer pink, white, and double forms available. Note that the seed has a tendency to revert back to the blue or purple single form after a few years.
The toxic substances found in larkspur are a mixture of several potent alkaloids, which can vary in concentration and toxicity between individual plants, locations, and species. This plant is part of the Delphinium genus, which comprises over 400 perennials and annuals, all of which are poisonous.
9. Buttercup (Ranunculus)
The buttercup is a popular gardening flower that is a member of the Ranunculus family. This plant is a bright and cheerful flower that adds a pop of color to any garden. But, despite its charm, it's important to be aware of its potential dangers. The plant contains a chemical, protanemonin, which can cause skin irritation, pain, burning sensations, and even tongue inflammation when it comes into contact with the skin.
This toxin is present in all parts of the plant and is released when the plant is chewed or wounded. Ingestion of buttercup can result in blistering of the mouth and gastrointestinal issues, such as diarrhea and colic. In severe cases, death is possible.
The buttercup is a resilient plant that thrives in slightly damp, calcareous locations. It's very commonly cultivated in gardens and it's not uncommon to find dense yellow meadows of buttercup, which create a dazzling display in the sunshine. It typically flowers from April to October.
There are several species of buttercup in Texas, with significant populations usually found in the eastern third of the state. However, it's important to remember that all parts of the plant are toxic and should be handled cautiously.
10. Azaleas (Rhododendron)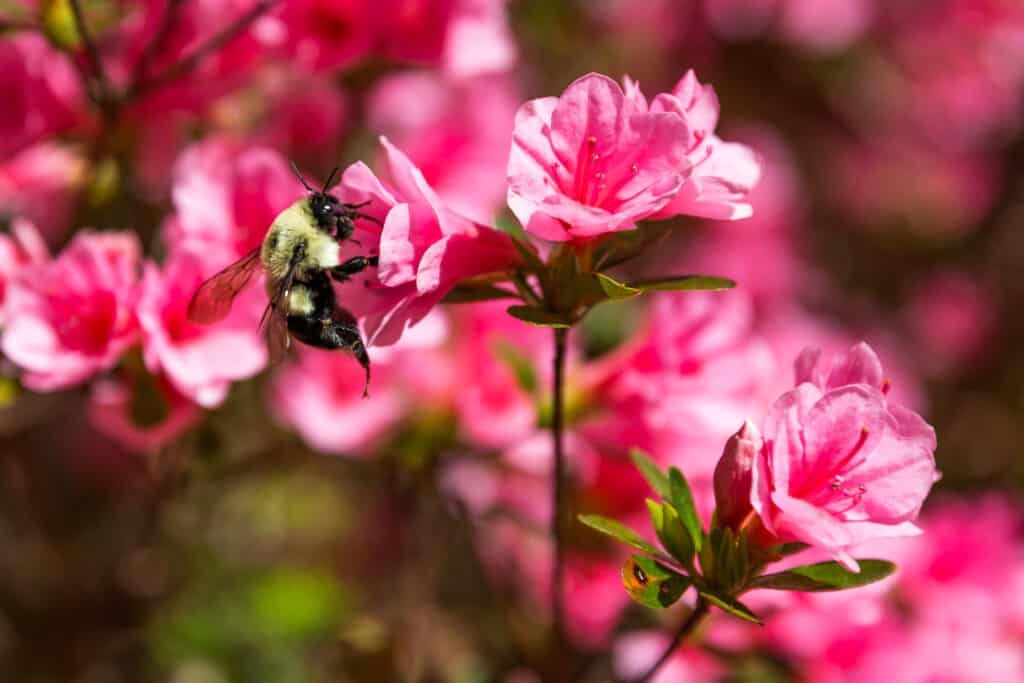 The azalea, a member of the Rhododendron genus, is a versatile shrub that can thrive in a variety of climates. During the colder months, the azalea stands out with its large, eye-catching green leaves. While it's not life-threatening to ingest a small amount of the plant, consuming large quantities can lead to serious poisoning.
All parts of the pretty pink azalea plant contain toxins called grayanotoxins and are considered poisonous. The symptoms of ingestion can vary between humans and animals and may be severe.
The Texas azalea is the most common species in Texas, typically found in boggy areas near wooded streams and in sandy soils of pine forests. It is known for its stunning blooms that flower in early to mid-April and last for several weeks.
Honorable Mention—More Dangerous Plants of Texas
Poison Sumac (Toxicondenron Vernix)—A small shrub, usually growing up to six feet tall, with white and green clusters of berries. Its leaves are compound and are smooth and glossy, varying in colors from yellow-green to dark green.
Elephant Ear—A large, leafy perennial plant with thick, heart-shaped leaves that can reach up to two feet in length. Its leaves have a waxy texture and are deep green in color.
Oleander—A hardy evergreen shrub, typically growing up to ten feet tall with long, narrow leaves. Its flowers are usually pink, white, or red and bloom in the summer months.
Mistle Toe—A small, parasitic evergreen plant, usually growing on the branches of trees or shrubs. Its leaves are dark green and oval-shaped. Its flowers are small, white, and clustered, and its fruits are yellow-green and spherical.
Hyacinth—A bulbous perennial plant with strap-like leaves and colorful, bell-shaped flowers. Its flowers can be found in shades of white, pink, blue, or purple. Its flowers are strongly fragrant and bloom in the spring.
Summary Of 10 Dangerous Plants That Grow In Texas
Here's a review of toxic plants that you should be wary of in the state of Texas.
| Rank | Dangerous Plants in Texas |
| --- | --- |
| 1 | Texas Bull Nettle (Cnidoscolus Texanus) |
| 2 | Poison Ivy (Toxicodendron Radicans) |
| 3 | Poison Hemlock (Conium Maculatum) |
| 4 | Poison Oak (Toxicodendron Diversilobum) |
| 5 | Holly (Ilex) |
| 6 | Morning Glory (Ipomoea) |
| 7 | Lily of the Valley (Convallaria Majalis) |
| 8 | Larkspur (Delphinium) |
| 9 | Buttercup (Ranunculus) |
| 10 | Azaleas (Rhododendron) |
The photo featured at the top of this post is © Tim Mainiero/Shutterstock.com
---