Given that there are over 100 cucumber varieties available around the world, you may be wondering what the differences are between English cucumber vs cucumber. How can you learn the physical differences between these two cucumber varieties so that you can tell them apart? And are they different in terms of their uses, flavor, and nutritional value?
In this article, we will compare and contrast the English cucumber with other cucumber varieties so that you can get a full understanding of how they are different. We will address their physical descriptions, their culinary uses, and what makes the English cucumber special from other varieties of cucumber. Let's get started and talk all about cucumbers now!
Comparing English Cucumber vs Cucumber
| | English Cucumber | Cucumber |
| --- | --- | --- |
| Classification | Cucumis sativus | Cucumis sativus |
| Description | Specific variety of cucumber that grows longer than others. Thinner, without large seeds, and covered in a delicate green skin. Skin can be textured with ridges but no bumps, and it is edible in raw form. Sweet flavor and lack of seeds make it ideal for many applications | Comprised of three varieties, depending on intended use; grows as an elongated, cylindrical vining plant. Found in shades of green and yellow, often with lines or stripes on the outside, and small bumps on the skin. Inside is white or cream colored, with similarly colored seeds. Tastes incredibly mild, but slightly of melon and bitterness found in the rind |
| Uses | Ideally eaten raw, with no need to peel the skin or remove the seeds. Sweet flavor makes it ideal for salads, sandwiches, and dipping. English cucumbers are often preferred over other varieties for eating in a raw form! Also known as burpless cucumbers. | Popular for its refreshing and neutral flavor; hardly ever cooked and only consumed raw. The three varieties (slicing, pickling, and burpless) serve different culinary purposes: one variety is great for making pickles, one is ideal for slicing and eating, and burpless varieties are the tastiest and least likely to cause gas! |
| Nutrition Info | Very little nutritional value besides a high water content and Vitamin K | Very little nutritional value besides a high water content and Vitamin K |
| Special Features | Skin is so delicate that it comes pre-wrapped at most supermarkets! | Originated in India over 3,000 years ago! |
Key Differences Between English Cucumber vs Cucumber
There are a number of key differences between English cucumber and cucumber. For example, English cucumbers grow longer than other varieties of cucumber. In addition, the skin of the English cucumber is much more delicate than the skin of other cucumber varieties. Finally, English cucumber has a sweeter flavor and fewer seeds compared to other cucumber varieties. 
Let's discuss all of these differences and a few others in detail now.
English Cucumber vs Cucumber: Classification
Given that all English cucumbers are technically cucumbers but not all cucumbers are English cucumbers, they are closely related. In fact, both cucumbers and English cucumbers are classified as Cucumis sativus, members of the same family and species. These two cucumber types are just different varieties, closely related and linked!
English Cucumber vs Cucumber: Description
There's a reason that the English cucumber exists separately from other cucumbers, and it may help you tell them apart physically. For example, English cucumbers are longer than the average cucumber variety, often reaching over 14 inches long. In addition, English cucumbers are more slender compared to other cucumber varieties, even though they all come in the same shades of green.
When it comes to their taste, the English cucumber is preferred over other cucumber varieties for its delicate sweetness, its lack of hard seeds, and its tender skin. This makes it easier to work with and the taste is complementary to a variety of dishes. However, some cucumber varieties are ideal in pickled form, such as gherkins, which is not what the English cucumber is typically used for.
English Cucumber vs Cucumber: Uses
Speaking of what cucumbers are typically used for, there's a variety of overlap in the uses of the English cucumber versus the uses of other cucumber varieties. For example, cucumbers of all types are preferably eaten raw, but this is especially true for the English cucumber. In addition, other cucumber varieties can be pickled, which is not something that typically happens to the English cucumber.
The English cucumber is unique in that it has delicate seeds that are much easier to digest compared to the seeds of other cucumber varieties. Affectionately known as a burpless cucumber, the English cucumber was created to cause less gas in the consumer, especially compared to other cucumber types!
English Cucumber vs Cucumber: Nutrition Information
The nutritional value of both the English cucumber and other varieties of cucumber is identical. This is because most cucumbers are primarily water, with very little nutritional value overall. However, all varieties of cucumber, including English cucumbers, have a high amount of Vitamin K, but they are otherwise negligible in terms of what they can offer you nutritionally.
English Cucumber vs Cucumber: Special Features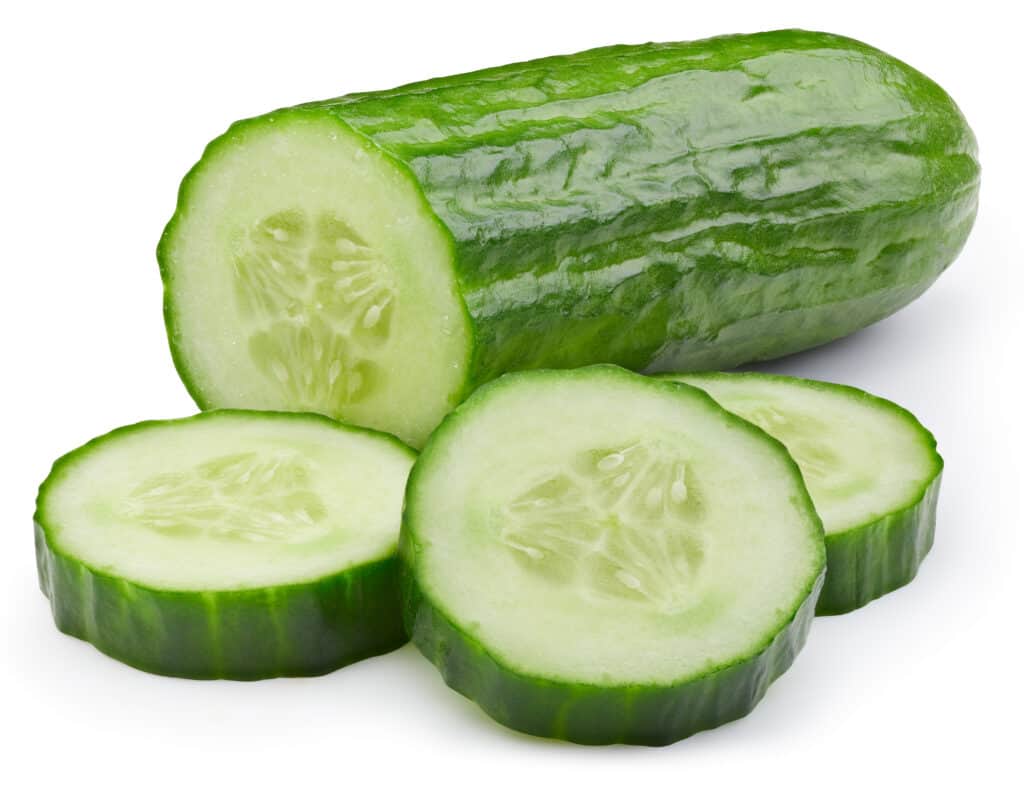 You may not know this, but cucumbers have been consumed for the past 3,000 years, if not much longer. Originating in India, cucumbers remain popular to this day, but what about the English cucumber?
While it's unclear when the English cucumber was first created, it was made for a very specific reason. The English cucumber was created for its delicate flesh and flavor. It is so sensitive that it is pre-wrapped and delivered to grocery stores with this added protection, giving you more peace of mind that your English cucumber will remain intact on the drive home!
The photo featured at the top of this post is © iStock.com/bhofack2
---