Ridgeback dogs have a unique strip of fur down the center of their backs, along their spines, that grows the opposite way of their other fur. This stripe can either be the same color as the rest of the coat or a little darker.
The three types of ridgeback dog breeds are the Rhodesian Ridgeback, Thai Ridgeback, and Phu Quoc Ridgeback.
These hunting dogs are agile, loyal, and protective. They're not the best for first-time dog guardians, but better for those with a lot of time and energy to devote to their canine companions.
In this article, we'll talk about the three ridgeback dog breeds, what makes ridgebacks so unique, and more.
What is a Ridgeback Dog Breed?
The defining characteristic of a ridgeback dog breed is the fur that grows backward along the spine. They also have lithe, muscular bodies and foreheads that wrinkle when they're focused.
The Thai and Phu Quoc ridgebacks have large, upright, triangular ears, while the Rhodesian Ridgeback has floppy ears.
Temperament of a Ridgeback Breed
When it comes to temperament, these dogs differ slightly. All were bred to hunt large game, and also frequently served as protectors of homes and farms.
Their heritage presents a few challenges, including a strong prey drive, a desire to run, and guarding instincts.
It's important that ridgeback dogs are always properly enclosed, either in a yard with a tall fence that they cannot jump or on-leash with a handler strong enough not to be dragged or let go of the leash if they try to chase.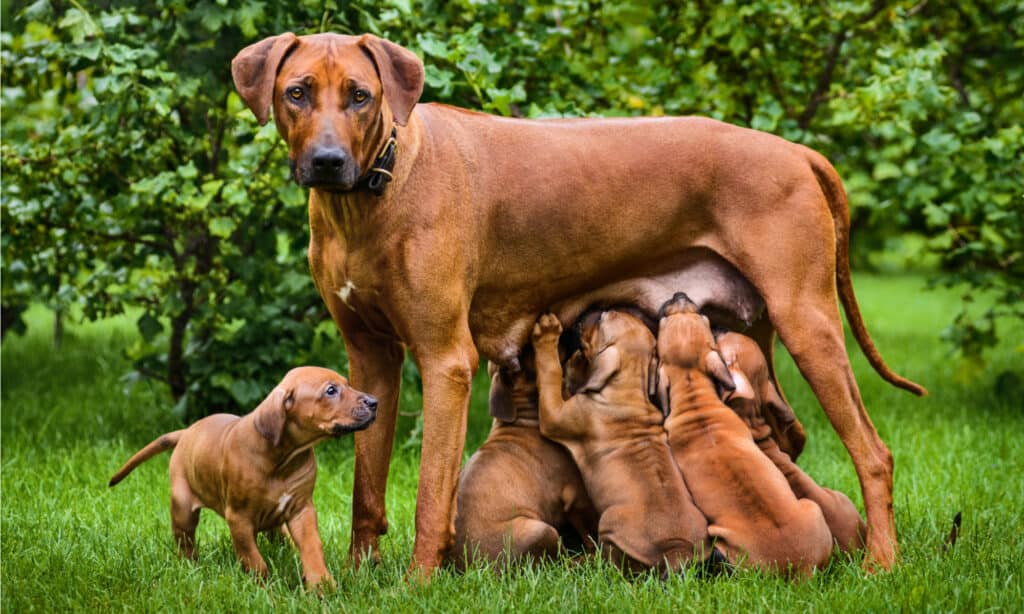 They're not the best-suited to households with smaller dogs or cats. Though some dogs will do okay, especially when raised with smaller pets from a young age, it's always a risk considering their prey drive.
Lastly, a ridgeback's guarding instincts should be taken seriously as they are large, powerful dogs. It's important to socialize them well at a young age, train them properly using force-free methods, and to have control over them, especially in settings where they might feel territorial such as someone coming onto their property.
Exercise Needs of a Ridgeback Breed
These dogs also require large amounts of exercise. They aren't the type to be happy skipping their workout on rainy days, and need to burn off both their physical and mental energy on a daily basis.
Ridgebacks are great for those who love outdoor activities like running, hiking, or even swimming! The Phu Quoc Ridgeback, in particular, loves the water.
Grooming a Ridgeback Breed
These dogs are moderate shedders with low-maintenance coats. A weekly brushing will help to reduce shed fur around the house, and also works to keep the coat healthy and sleek.
Bathe your ridgeback as needed, trim their nails at least once a month, and brush their teeth daily. Professional dental cleanings are also recommended around once a year to keep their teeth healthy and clean.
Training a Ridgeback Breed
These pups are highly independent, especially the Thai and Phu Quoc breeds. Some will say these types of dogs require an "alpha dog" leader who teaches them to be submissive, but these methods promote fearfulness and aggression.
Instead, opt for force-free training methods and avoid aversive methods and tools. Keep training sessions short and engaging.
Ridgebacks are intelligent dogs, so when done right they will grow to enjoy training. Adding in a bit of challenge at this point can help to mentally enrich your dog and stimulate their brain.
Though they can be stubborn, ridgebacks will pick up on new ideas quickly and are fast learners. The real challenge is keeping training interesting enough to keep their focus on you.
Health Concerns in Ridgeback Dogs
One of the biggest health concerns for ridgebacks is gastric dilatation-volvulus (GDV), also known as bloat. This disease is deadly in 30% of cases where the dog receives adequate medical care.
Bloat is an emergent condition and dogs with deep chests and slim waistlines, like ridgebacks, are most prone to it. When a dog has bloat, their stomach turns inside of their body, cutting off blood circulation.
It's important that you learn the signs before adoption and implement preventative measures to reduce your dog's risk.
Risk factors for bloat include eating from raised bowls, vigorous exercise too soon before or after feeding, eating or drinking too quickly, 
Symptoms of bloat include:
Swollen stomach
Retching
Excessive drooling
Restlessness
Abdominal pain
Bowing into a downward dog or prayer position
Shock
Increased heart rate
Faint pulse
Bloat progresses very quickly, and it's vital to bring your dog to an emergency veterinary clinic the moment you notice symptoms. This can be the difference between life and death.
Other health concerns in ridgebacks include hip and elbow dysplasia, eye problems, and thyroid disease.
Little is known about the health of Phu Quoc Ridgebacks in particular, since the breed is so rare.
The Three Ridgeback Dog Breeds
Rhodesian Ridgeback
Rhodesian Ridgebacks are more common in the United States than the others on our list. The breed originated in Africa, and is sometimes called the African Lion Hound. These brave pups were bred to help hunt lions and other large game.
They're known as being the quietest of the ridgeback breeds, barking only to alert. Their people tend to take their barks seriously, as they likely mean there's an intruder on the property or another threat.
This dog is more clingy than the other ridgeback breeds, and may be prone to separation anxiety. It's important to teach them to be alone for short periods, but equally important not to leave them alone too long.
These dogs do best in households where someone is home most of the day, such as if you and your partner work opposite shifts.
Luckily, they're also known for being good with children. However, every dog should be fully supervised around children. Accidents can happen and both kids and dogs are unpredictable!
When it comes to appearance, Rhodesian Ridgebacks have fur that ranges from light to red wheaten. The American Kennel Club (AKC) lists all shades under just one color, though–it's just called wheaten.
Unlike other ridgebacks, they have floppy ears. They're large, muscular dogs with bodies built to sprint. They stand 24-27 inches tall and weigh 70-85 pounds.
Thai Ridgeback
Thai Ridgebacks originated in Thailand and are rarely seen outside of their native country. However, they are found in the U.S. commonly enough to be registered with the AKC.
They tend to be independent and aren't super affectionate. While they might not be cuddle bugs, they're loyal and will go to extremes to protect their beloved families.
These dogs have large, upright ears and triangular-shaped heads. The wrinkles all ridgebacks are known for are very pronounced in this breed, and they also sometimes have dewclaws on their hind as well as their front legs.
Unlike Rhodesians, they have a variety of coat colors accepted by AKC breed standards, including yellow, red, black, and blue. They can also have other colors and patterns that aren't accepted by the AKC.
Often smaller than Rhodesian Ridgebacks, they weigh 25-75 pounds and stand 20-24 inches tall.
Phu Quoc Ridgeback
Phu Quoc Ridgebacks are the rarest on our list. They're mostly found on their native soil, an island in Vietnam where they live primarily as street dogs.
That said, they seem to adapt well to living indoors so long as they're given ample exercise. Their bark is known for being worse than their bite, meaning they're loud barkers who make better watchdogs than guard dogs.
They also tend to be eager to please, with street dogs known to perform tricks as they beg for food.
As they grow in popularity and more people learn about the breed, Phu Quoc Ridgebacks are being exported more commonly to other countries. This is an expensive endeavor that can cost $12,000 or more.
This breed is not yet recognized by the AKC. They have large, triangular ears, lithe bodies, and webbed feet perfect for swimming. 
While the above breeds may or may not enjoy this activity, these island-natives love the water! They're also known for being excellent climbers and hunters.
Though their coats can be any color, the ridge on their back must be darker than the rest of their fur. They stand around 19-22 inches tall and weigh 26-44 pounds, which makes them the smallest ridgeback on this list!
I hope you've enjoyed learning about the three ridgeback breeds. These pups are so unique with their backward-growing fur and their wrinkly foreheads!
It's important to remember though, that they're a huge responsibility. Ridgeback breeds require an experienced, dedicated dog guardian with lots of time on their hands to exercise, train, and love them.
Summary of the 3 Types of Ridgeback Dog Breeds
| | Breed | Origin and Distribution |
| --- | --- | --- |
| 1 | Rhodesian Ridgebacks | Sometimes called African Lion Hound, originated in Africa; most common ridgeback seen in U.S. |
| 2 | Thai Ridgebacks | Mostly seen in their native Thailand, but recognized by AKC |
| 3 | Phu Quoc Ridgebacks | Rare, found mostly on the island in Thailand they are named after |
Ready to discover the top 10 cutest dog breeds in the entire world?
How about the fastest dogs, the largest dogs and those that are -- quite frankly -- just the kindest dogs on the planet? Each day, AZ Animals sends out lists just like this to our thousands of email subscribers. And the best part? It's FREE. Join today by entering your email below.
---