Flags are a great way to display national heritage, culture, and important symbolism in a recognizable format. Understanding what certain symbols on a flag means isn't always the easiest, but doing so opens up a whole world of learning for any flag you see in the future! Today, we will look at one of the most common symbols used in flag design – the cross. Not all crosses are the same, and most stand for different things, making individual understanding important. Let's discover the meaning behind flags with crosses and see a few notable examples.
The Meaning of a Flag With a Cross
The cross is a common symbol that appears on many national flags worldwide. In many cases, the cross is a religious symbol that represents Christianity, but it can also have other meanings depending on the context in which it is used.
One of the most common uses of the cross on national flags is as a representation of Christianity or one of its saints. For example, the flag of England features a red St. George's cross, symbolizing the Christian faith. Similarly, the flag of Scotland features a white saltire cross, which is the country's national symbol and is closely associated with its Christian heritage.
Occasionally, a "saltire" is represented as a cross and is sometimes referred to as Saint Andrew's Cross or the crux decussata. While it is a cross in name, it can be agnostically used to split a flag into four quadrants without giving a specific religious overtone. Additionally, many officially secular countries use Christian crosses on their flags, with Norway being an example.
A Few Prominent Flags With Crosses
Flag of England
The flag of England is known as the St. George's Cross, and it features a red cross on a white background. The cross is named after Saint George, a Christian martyr and the patron saint of England. The red color of the cross is said to represent the blood of Christ, while the white background symbolizes purity.
The St. George's Cross has been a symbol of England for centuries and is often associated with English national pride and identity. It is also commonly used as a symbol of English sports teams and is often flown at sporting events. Despite its religious origins, the cross is not necessarily seen as a religious symbol today but as a representation of England's history, culture, and values.
Scandinavian Flags
Many countries in the Scandinavian region feature crosses on their national flags, including Sweden, Norway, and Denmark. In each of these cases, the cross is known as a Scandinavian cross, symbolizing the countries' shared history and culture as part of the Scandinavian region.
The colors of the crosses on the flags of these countries vary, but they are often blue or red. The meaning of the colors can also vary, but they are often associated with concepts such as purity, peace, and national pride.
In addition to being a symbol of national identity, the Scandinavian cross is also often seen as a representation of the countries' Christian heritage. However, in most cases, the cross is not necessarily seen as a religious symbol but as a cultural and historical symbol. In fact, Scandanavian countries are generally the least religious of any countries globally.
Flag of Georgia
The flag of Georgia is a red cross on a field of white with four smaller crosses in each quadrant. The flag is rectangular, with four small crosses in the corners, known as Bolnisski crosses. The large cross represents Jesus Christ, and the four smaller crosses represent the four evangelists.
Flag of Switzerland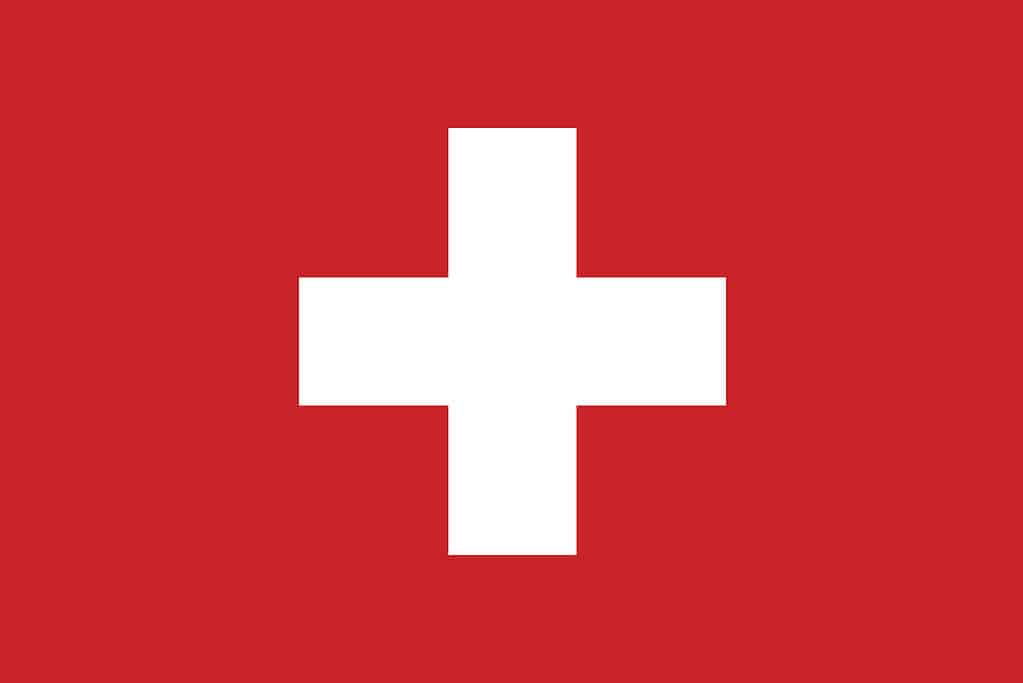 The Swiss flag is unique in that it's a perfect square. The white cross is known as the Swiss cross, and it is a symbol of the country's Christian heritage, dating back to ancient Medieval times when soldiers would stitch the cross on their armor and flags. Switzerland's cross is world-renowned and often stands for quality and surety, especially regarding products like watches and knives. Additionally, the Swiss cross can represent neutrality because of the country's geopolitical stances.
Christian Flag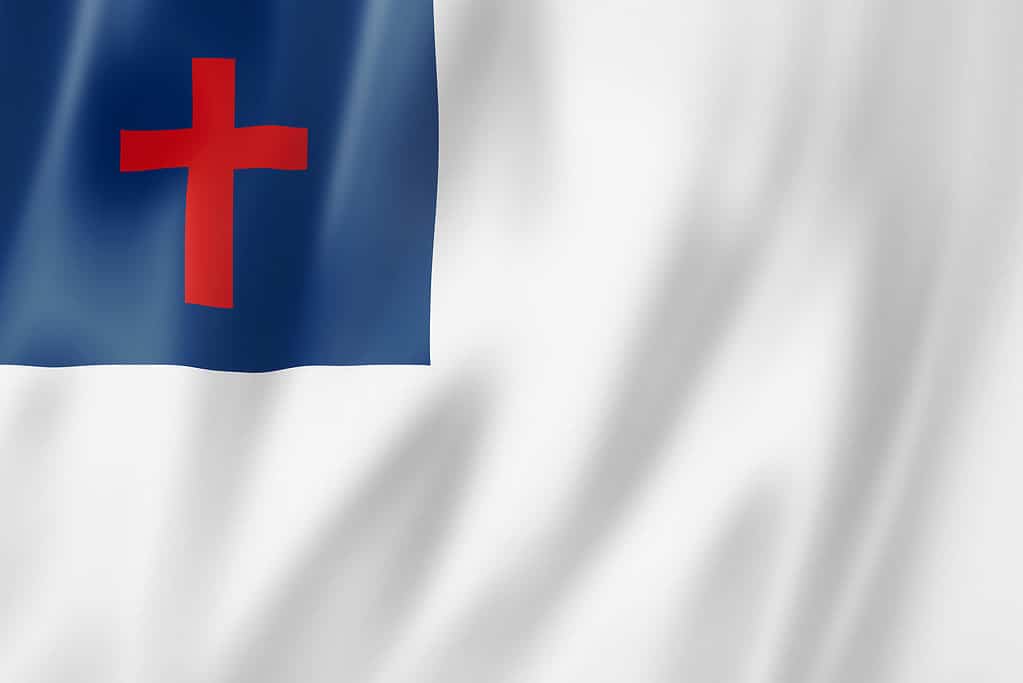 While each of the crosses mentioned so far has been perfect (uniform arms), this Christan Flag is actually the only "true" cross in that it has a longer base than it does arms to better resemble the crucifix.
The Christian Flag is a non-denominational symbol that many Christian churches and organizations use. It is often displayed in churches, schools, and other Christian institutions and is sometimes carried in religious parades and other events. It was created in the early 20th century by a Methodist minister named Charles Overton in New York City, although it's not an official flag of any country. Instead, it is recognized as a symbol of the Christian faith and used by many Christians worldwide.
Up Next:
---
The Featured Image
---