According to the Arkansas Department of Transportation, Arkansas has a large number of bridges. The state ranks 29th in the country for its bridges, when measured by square feet.
This state has several historic and scenic bridges that are worth seeing, such as the Black River Bridge and the Natural Bridge of Arkansas. However, not all bridges in Arkansas are in good condition.
Around 2,855 bridges in Arkansas do not meet federal standards and are labeled as "functionally obsolete" or "structurally deficient." Of course, some counties are worse than others. Below, we'll explore the worst areas to drive over a bridge in Arkansas.
1. Philips County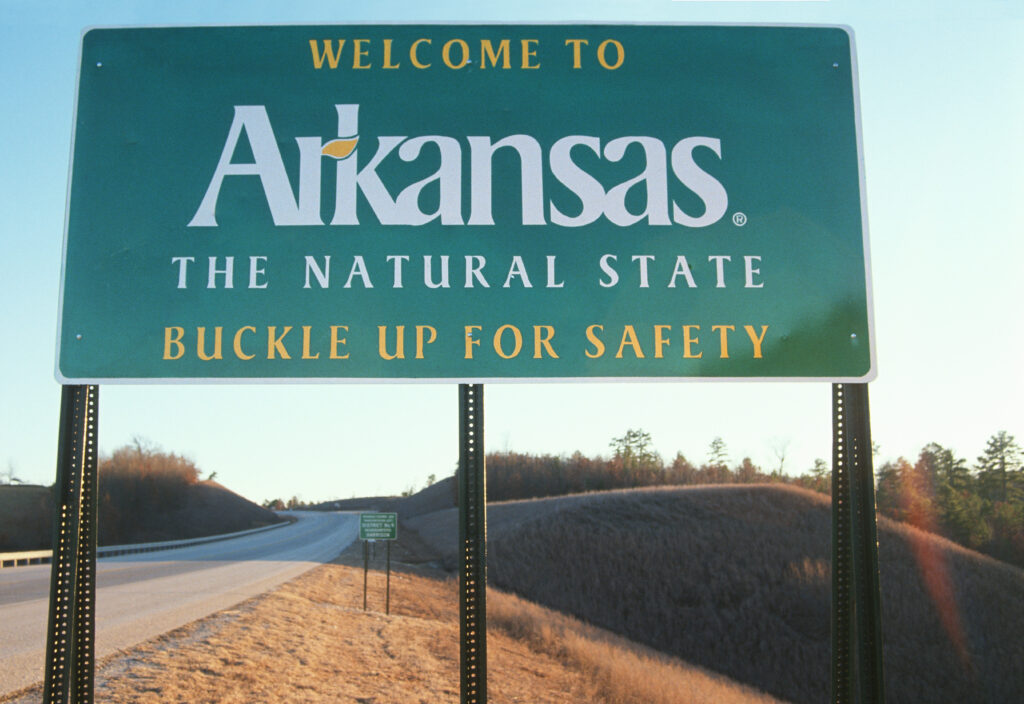 Percentage of Poor Bridges: 27.88%
Philips County has way more poor bridges than most other counties in Arkansas. It's nearly 10 percentage points away from the second-worst county, Madison County.
This county has some very old bridges. The average age for bridges in the state is 44 years old, and some in Philips County are over 100 years old! As one would expect, older bridges tend to deteriorate faster and require more maintenance.
Furthermore, the county lacks the proper funding to fix the bridges. According to Arkansas, there is a $475 million annual funding gap for highways and bridges in the state. Therefore, many counties are not getting the money they need to take care of their roads.
Philips County is also located in a flood-prone area along the Mississippi River, which increases the risk of bridge deterioration due to water damage.
2. Madison County
Percentage of Poor Bridge: 19.59%
Madison County is the second worst county in Arkansas regarding its bridges. Though the county has few bridges overall, many are classified as structurally deficient.
Many of the factors that affect Philips County also affect Madison County. For instance, the same funding gap leaves little money to properly maintain bridges. Like Philips County, Madison County has some of the oldest bridges in the state, including the War Eagle Bridge, built in 1907.
These older bridges are harder to maintain, as they often need more work and repairs.
Furthermore, Madison County is a rural area with a low population density, which may affect its ability to generate revenue for bridge projects. This county is also located in the Ozark Mountains, which pose challenges for bridge construction and maintenance due to the rugged terrain.
For more information on The Bridges of Madison County, contact Meryl Streep.
3. Poinsett County
Percentage of Poor Bridges: 14.87%
Poinsett County has several bridges categorized as poor and structurally deficient, about 14.87% of all bridges in the county. That makes this county the third worst in Arkansas in terms of bridges.
This county is home to several historic bridges, including the Old US 63 Bridge, which was built in the 1930s. This bridge requires more upkeep than other bridges and contributes to the county's low bridge rating.
Plus, this county also has little funding to pay for its bridges. The state overall has a budget gap for highways and bridges, and the county has a lower-than-average income.
Poinsett County is in the Delta region of Arkansas, which is prone to frequent flooding. This can erode bridges faster, leading to lower-quality construction.
4. Polk County
Percentage of Poor Bridges: 13.30%
About 13.30% of bridges in Polk County are poor, which puts them in the top five worst counties in the state. Mountain Folk Bridge is located in Polk County and is one of the oldest bridges in the state, built in 1915. The county is home to several other old bridges, too.
Polk County is located in the Ouachita Mountains, which creates challenges for bridge construction. It is quite difficult for work crews to complete projects on rocky terrain and in variable climate. Simply put, building bridges in the mountains is hard!
Furthermore, many bridges in the county do not receive adequate attention and resources to keep them in good shape. They have a relatively low population density, which reduces their overall tax income.
5. Izard County
Percentage of Poor Bridges: 13.13%
Like many counties on this list, Izard is also home to several old bridges. For instance, the White River Bridge was built in 1930 and is considered a historical landmark. These bridges hard to maintain bridges increase the county's percentage of poor bridges.
Furthermore, Izard County lacks proper funding to repair and replace bridges, as indicated by the state's bridge funding gap. The county also has a low population density, so its revenue for bridge projects is lower than in other areas.
Environmental factors may also be at play. Izard County is located in the Ozark Mountains, which makes construction and maintenance challenging.
6. Lawrence County
Percentage of Poor Bridges: 11.81%
Lawrence County has far fewer poor bridges than the top counties we've already discussed. However, the county is still far above most other counties in the state.
While it's impossible to predict exactly why this is, it may be that Lawrence County is home to a disproportional number of older bridges. For instance, it is home to the Black River Bridge, built in 1914 and listed on the National Register of Historic Places.
The county also suffers from the same lack of funding as the rest of the state. Plus, the county is rural and likely has a relatively low tax income compared to other parts of the state.
Lawrence County is also located in the foothills of the Ozark Mountains. As mentioned, building and caring for bridges in the mountains is tough, which may increase needed maintenance.
7. Prairie County
Percentage of Poor Bridges: 10.23%
As you'd imagine, older bridges deteriorate faster than younger bridges. Sadly, Prairie County is home to many older bridges, including the White River Bridge, built in 1924. All these older bridges take extra time and resources to maintain.
Furthermore, this county has a low population density and is pretty rural. Therefore, tax income is lower than in other counties, so there often simply isn't enough money to give the bridges the necessary attention. Over time, this leads to deterioration.
Prairie County is located in a region that floods readily, too. This excess water can make it challenging to construct bridges, as well as wear down existing bridges.
8. Cross County
Percentage of Poor Bridges: 9.45%
Cross County's bridges are just under 10% poor. That's much lower than the #1 county on this list, but it still raises concern. It means there is a one in 10 chance that a bridge doesn't meet federal standards.
Like other low-income counties in the state, Cross County doesn't receive much funding for keeping its bridges in tip-top shape, and the local government doesn't receive much tax income. Without the proper funds, bridges go into disrepair.
Cross County is also in the Delta region of Arkansas, meaning it floods often. The very flat terrain and frequent flooding can make building bridges nearly impossible. It also makes them wear down faster.
9. Chicot County
Percentage of Poor Bridges: 8.99%
Finally, we come to Chicot County. This county has newer bridges compared to the others on this list. For instance, one of its oldest bridges was built in the 1940s, which is relatively recent compared to when other state bridges were built. Therefore, its bridges may be less deteriorated than those in other counties.
With that said, this county still lacks funding, which is likely why it ended up on this list. They don't receive nearly as much tax income as other Arkansas counties. Plus, like Cross County, they're in the Delta region. Flooding is frequent, and these challenges prevent them from properly caring for their bridges.
Summary of the 9 Counties in Arkansas with the Worst Bridges
Here are the 9 Counties in Arkansas that are known for having the Worst Bridges:
| County | Percentage of Poor Bridges |
| --- | --- |
| Philips County | 27.88% |
| Madison County | 19.59% |
| Poinsett County | 14.87% |
| Polk County | 13.30% |
| Izard County | 13.13% |
| Lawrence County | 11.81% |
| Prairie County | 10.23% |
| Cross County | 9.45% |
| Chicot County | 8.99% |
---
The Featured Image
---