↓
Continue Reading To See This Amazing Video

Falcons are amazing raptors renowned for their agility and superior hunting skills. For instance, a peregrine falcon can dive for prey quicker than any other animal on Earth. There are about 40 different species of falcons in the world, and Texas is home to eight of them. Six of those can be routinely found in the state, while the other two species have only had an individual recorded respectively.
Texas, located just north of Mexico, is also directly on the migratory path of numerous bird species. So it makes sense that Texas is home to many diverse falcon species. The Lone Star State is one of the most well-known states for bird watching since it also supports thirteen species of hawks. This article will discuss the eight species of falcons in Texas, how to identify them, and where to spot them in the state.
Background on Falcons
In contrast to other raptors, falcons kill their food with their beaks rather than their talons. There are 40 different species of falcons, each of which has distinctive characteristics. Even though there are wide varieties of falcons, the family of birds is universally regarded as the fastest living creature. Their sleek bodies reveal sharp, thin wings. These birds are very agile and frequently catch their prey mid-flight. Falcons appear widespread throughout the planet, from the United States to the Tundra. 
Common Falcons in Texas
1. Peregrine Falcon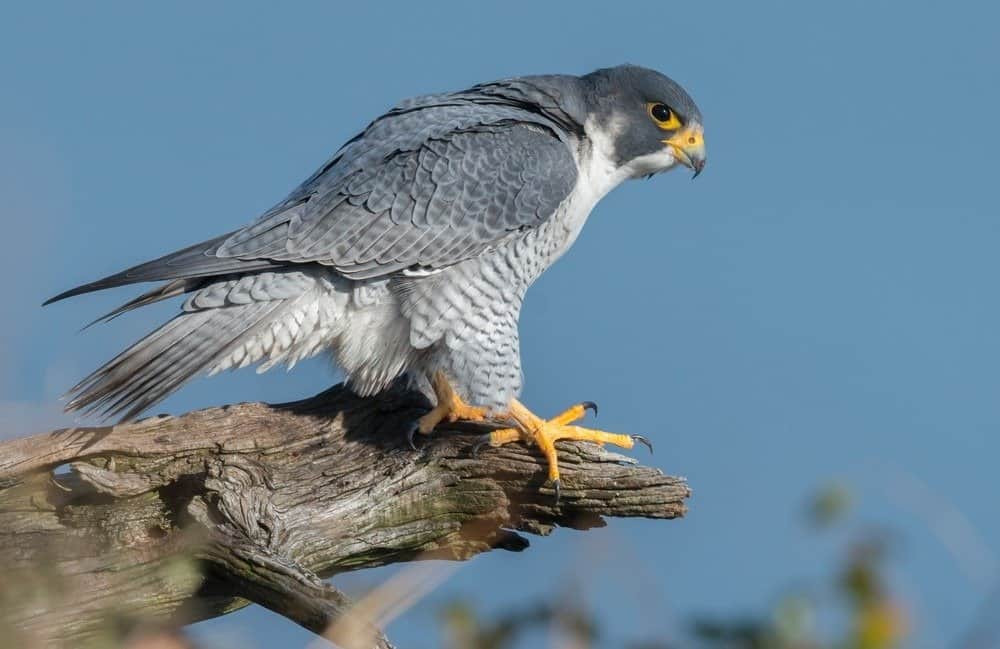 Except for Antarctica, every continent has peregrine falcons, and Texas is no exception. In western Colorado, peregrine falcons can be found year-round. They can be spotted anywhere in Texas, but during the winter, the quantity is highest along the Texas coast. These agile and quick raptors have more than enough food because of the large populations of ducks and shorebirds around.
One of the planet's most common and potent predatory birds is the peregrine falcon, sometimes known as the duck hawk in North America. On every continent, the hooked beak, dark rip marks, and gray to brown feathers characterize these birds of prey. With a body length of one to two feet and a wingspan that can extend almost four feet from tip to tip, peregrines are huge.
Adult females normally weigh a little more than males, with an average female weight of 1.8 pounds and an average male weight of 1.5 pounds. One female weighed 3.3 pounds, while the largest male measured 2.2 pounds.
These falcons are widespread in cities where they may become quite the local celebrities due to their habit of nesting on the sides of large buildings! In addition to being the fastest bird on the globe, peregrines can dive for food at speeds of well over 200 mph.
2. Prairie Falcon
The Panhandle of Texas is the best area for birders to see prairie falcons if they're in the state. The prairie falcon lives in Texas's vast spaces. A medium-sized falcon with dark brown feathers, the prairie falcon favors open prairie habitats, particularly grasslands, as the name implies. Western Texas is where you can find the prairie falcon most frequently. When cliff sides are available, they will build their nests there. If feasible, these cliff sides will be close to sizable open spaces for prey hunting.
The larger Lubbock and Amarillo areas see a good population of prairie falcons during the winter. Numerous reports include the Davis Mountains, particularly those in Balmorhea, Fort Davis, Marfa, and Valentine. Also suitable for these raptors is Dell City, which is close to the Guadalupe Mountains. They can be found all over the country's western half, including Colorado.
They can sometimes be hard to see due to their brown coloring, which does make them somewhat disguised. Prairie falcons are slightly smaller than peregrine falcons but larger than merlins. Their preferred prey includes tiny birds like sparrows and horned larks, rodents like field mice and prairie dogs, and snakes and reptiles.
3. American Kestrel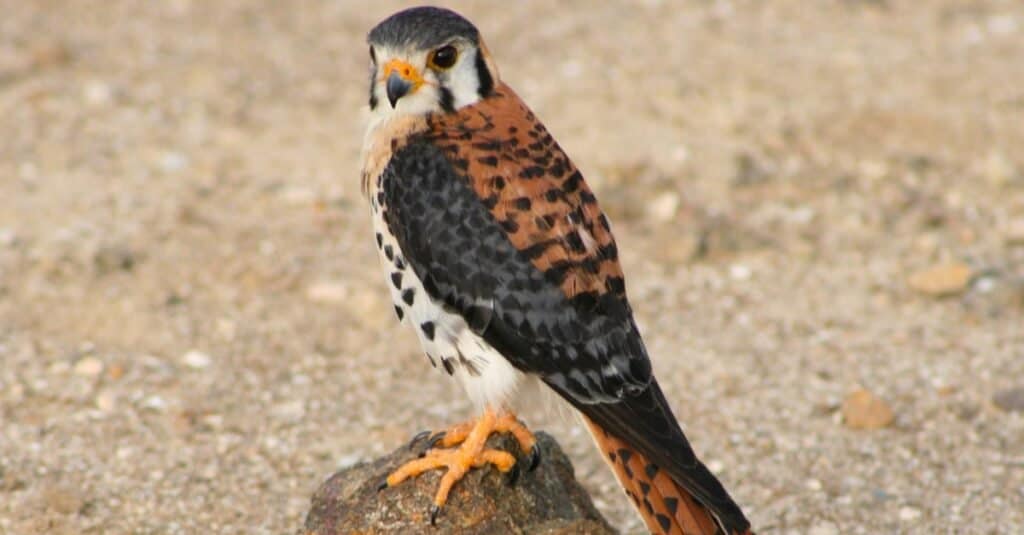 Dubbed as the smallest falcon in North America, the American kestrel's size is comparable to an American robin. But don't be fooled by its diminutive size; this raptor is a skilled hunter. These birds hunt considerably less prey than the typical peregrine falcon due to their smaller size. The American kestrel often eats large insects like caterpillars and grasshoppers, smaller birds, amphibians, reptiles, and small mammals like voles and mice.
The heads of American kestrels are slate blue, and they have rusty brown feathers on their bellies and backs. A lot of work has been done on charting the distribution of American kestrels because they are extremely abundant and may be found throughout the entire state of Texas. It was discovered that Rolling Plains and Pineywoods in Texas had the largest concentrations of these birds across a range of biological zones. The Lubbock region, the Panhandle, higher elevations in west Texas like the Davis Mountains, and areas north of Dallas are all where you can find kestrels during the summer.
4. Aplomado Falcon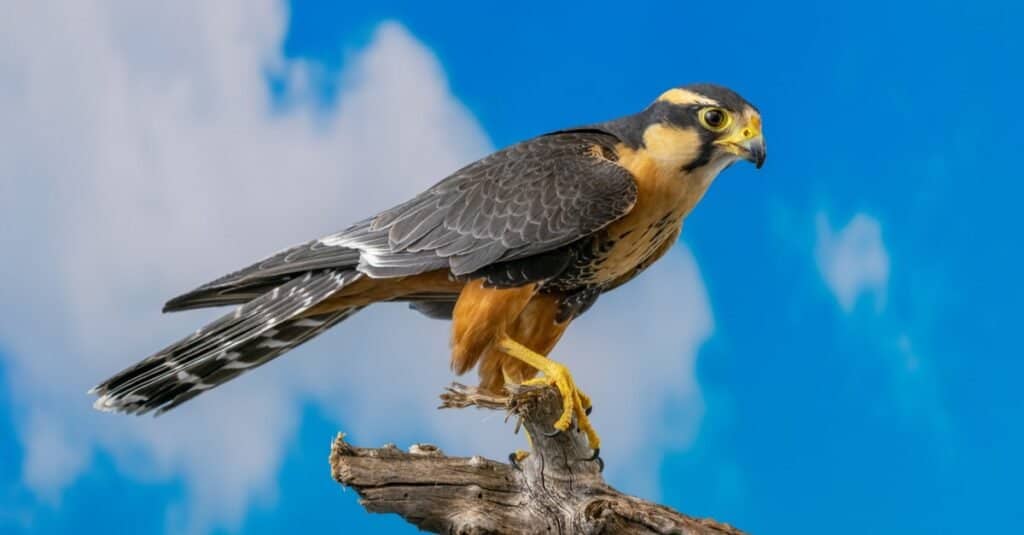 This species, once native to south Texas and the far western Trans-Pecos region, had vanished by the 1930s. Most Aplomado falcons are now found in Central and South America, while conservation efforts have resulted in a tiny population in Texas. Aplomado falcons have had to adapt more advanced survival techniques than falcons whose habitats are broad plains and valleys since they had to live in heavily forested tropical areas.
Birders can observe Aplomado falcons from roadside habitats in south and coastal Texas, where about 100 live independently. Although Aplomado falcons can be seen throughout the year in Texas, the ideal time to watch them typically depends more on the time of day than the season.
The heads of Aplomado falcons are black and white, while their backs and bellies are covered with brown feathers. These birds of prey fly in quickly and low in the early morning, skimming the mesquite shrubs in search of sparrows or doves for meals.
5. Merlin
Small, ferocious falcons known as merlins are common throughout Texas. The merlin is a little falcon with dark, silver-fray streaky feather markings adorning its body and a light-colored chest, not to be confused with the wizard of mythology. Merlins are similar to kestrels in size, with the females slightly larger than the males. Although they migrate and spend the mating season in Canada, they can be found throughout the state during the winter and non-breeding season.
Merlins can be found in various environments, including boreal forests, grasslands, coastal regions, prairies, parks, and locations close to rivers. These raptors move and travel about, which makes everything more difficult. Smaller birds like swallows and sparrows are the main prey items for merlins.
6. Crested Caracara
None of the other falcons in Texas resemble the crested caracara. Although they are more prevalent in Central America, they can be found in select states, Texas being one of them. The crested caracara is a medium-sized falcon with a white neck and a thick, hefty bill coated in black feathers. It is frequently referred to as the "Mexican Eagle" and, unlike other falcons, does not actively pursue live prey but instead uses its size to intimidate other birds and steal food. Crested caracaras are known to feast on carcasses and invade the nests of smaller birds.
They were originally thought to be a species found only in south Texas, but they have been progressively moving north for many years. The southernmost parts of the state, close to Austin, San Antonio, and Houston, are where you'll find crested caracaras most frequently.
Rare Falcons in Texas
7. Gyrfalcon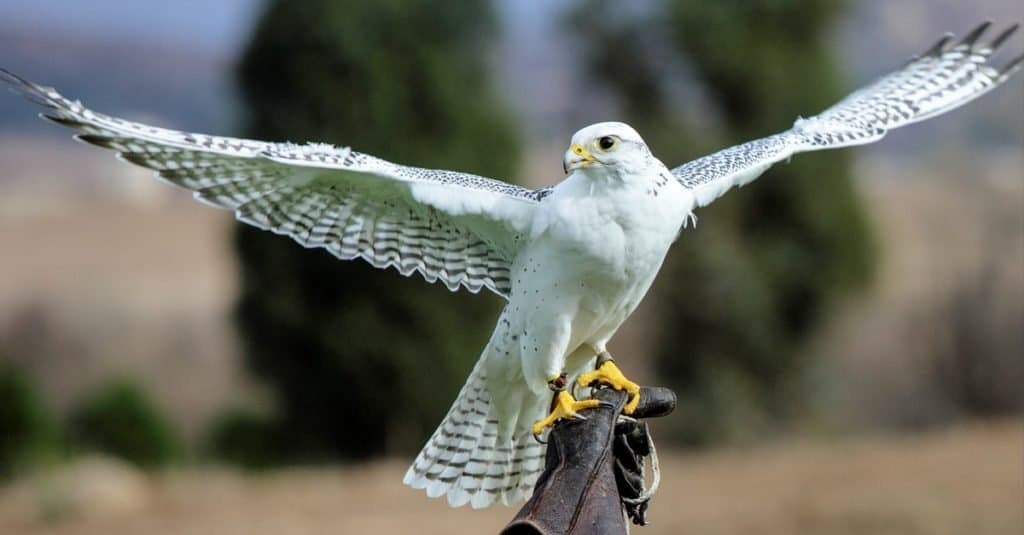 The gyrfalcon is renowned for being the largest of the various species of falcon birds. The normal gyrfalcon has a wingspan of around two feet and weighs about three pounds. Gyrfalcons are polar predators often found only in Canada and Alaska and seldom in the northern states. They aren't a species that bird watchers would associate with Texas. In Texas, this bird has only been seen once, according to records.
Gyrfalcons are uncommon in Texas since they prefer frigid climates like those in Canada. Nevertheless, because certain tiny numbers of these birds will travel thus far south, it is possible to spot them on Texas' northern border. You will have the highest chance of spotting one on the cliff edges close to the water. Because of their chosen habitat, the High Arctic, gyrfalcons are currently mostly unaffected by human activity.
8. Collared Forest Falcon
A tropical species that hunts in rainforests is the collared forest falcon. The first collared forest falcon to be sighted in Texas was at Bentsen State Park in 1993, surprising birders worldwide. It was never anticipated that it would appear in Texas or the United States. This is the only time this falcon has been spotted in the United States. Since this state park borders Mexico, it's a good site to attempt to spot one of these birds. Its belly is dazzling white, while its back is covered in dark brown feathers. The species is difficult to see because their natural homes are in dense forests, so you must exercise caution.
Up Next:
Eagle vs Falcon: What are the Differences & Who Would Win in a Fight?
Discover The Largest Falcon in the World
More from A-Z Animals
---
The Featured Image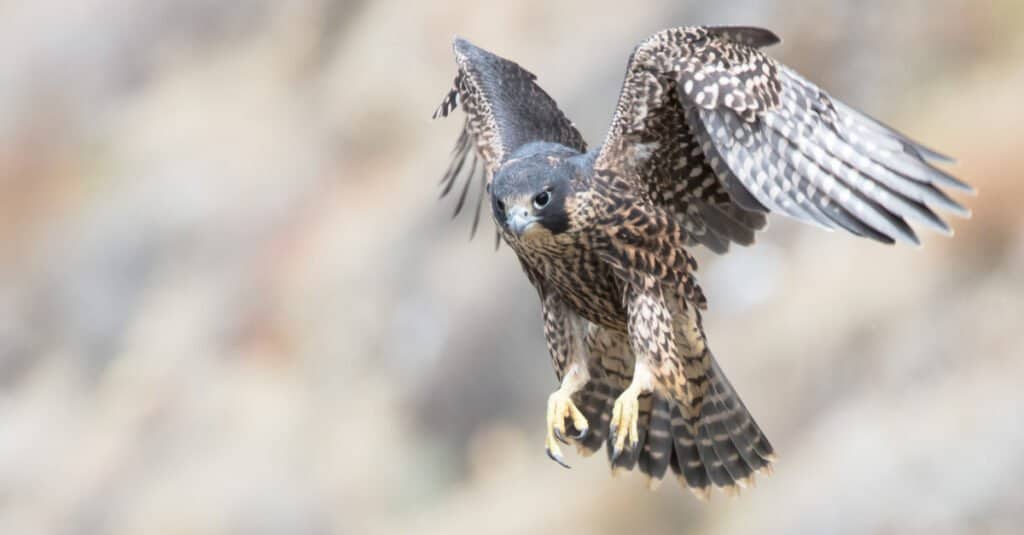 ---
Sources

Birding Locations, Available here: https://birdinglocations.com/texas-falcons/
Bird Feeder Hub, Available here: https://birdfeederhub.com/falcons-in-texas/
Bird Watching Hq, Available here: https://birdwatchinghq.com/falcons-in-texas/