Ferrets have made their slinky way into our hearts and minds. Today, ferrets are increasingly some of the most popular pets in the United States. These members of the Mustelidae family, which also includes badgers, stoats, and minks, come in a wide variety of colors. Technically, all ferrets are the same breed, but would you believe that the American Ferret Association lists eight basic ferret colors? Plus, ferrets are available in a wide variety of patterns!
Here, we'll discover the difference between standard and Angora ferrets. Then, we'll find out what a hybrid ferret is. Finally, we'll discuss 14 of the most popular colors and patterns.
Angora Ferrets vs. Standard Ferrets
Typically, the ferrets you see in the pet store are all standard ferrets. Standard ferrets are those with medium to short fur; they come in all the usual ferret colors. Angora ferrets, however, have medium to long fur, like long-haired guinea pigs.
What's a Hybrid Ferret?
A hybrid ferret is a combination between a traditional domesticated ferret and a polecat. Polecats are the still extant wild ancestors of ferrets. Some breeders breed the two together to create unique hybrids. However, polecats have not had the benefit of thousands of years of domestication, like standard ferrets have, so hybrids can be a bit unpredictable. They may not be the best choice for first time ferret owners.
14 Ferret Colors and
Now that we've learned about the various kinds of ferrets one can own, lets look at 14 of the most popular colors and patterns.
1. Albino
One of the most interesting ferret colors almost isn't a color at all. Albino ferrets are pure white, with no dark markings, and red or pink eyes.
2. Dalmatian
One of the most unique ferret colors is known as the Dalmation color pattern. Dalmatian ferrets are pure white with black spots. They generally have black or red eyes and no masks.
3. Blaze
Blaze-patterned ferrets have a prominent white stripe starting at their nose and traveling between their ears and down the back of their neck. Beyond the white stripe, these ferrets come in a wide variety of colors and patterns. Additionally, they are typically "mitted" (have white mitts on all four paws) and indistinct rings around their eyes.
4. Silver
Less common than sable or chocolate ferrets, silver ferrets come in a range of light to gray silver coloring. These ferrets typically have light undercoats with dark gray fur tips. They generally have mitts and light masks.
5. Medium Pattern
With a base color of white, medium-patterned ferrets have some darker markings. However, they are still much lighter than sable, chocolate, or cinnamon-colored ferrets. They typically have light-colored heads with slightly darker masks and dark tails.
6. Cinnamon
Cinnamon-colored ferrets look very similar to sable and chocolate-colored ferrets. They have light undercoats, with red-brown fur tips, legs, and chest markings. Further, their faces feature slightly darker cross masks that extend up to the ears. Cinnamon ferrets may be mitted as well.
7. Light Pattern
This ferret color is close to that of albino ferrets. However, unlike albino ferrets, light-patterned ferrets have some darker markings. However, these markings are minimal, and may occur anywhere on the body.
8. Striped White
The striped white ferret color is almost entirely light-colored. But, these ferrets generally have darker fur down the center of their back, or at the tip of their tail. Like albino ferrets, their eyes are pink or red.
9. Chocolate
Chocolate ferrets have a yellowish-white undercoat with darker legs and tails. Their faces are typically light brown or white, with cross-face masks. Chocolate ferrets typically have black eyes and pink noses. This ferret color also comes in a chocolate mitt morph, which is simply a chocolate-covered ferret with white paws.
10. Dark-Eyed White
Another ferret color is known as the dark-eyed white, or simply as a white ferret with dark eyes. These ferrets have all white coats, but, unlike the albino ferret, they have black eyes. Albino ferrets have red or pink eyes.
11. Panda
One unique ferret color is known as the panda pattern. Panda ferrets have pink noses, white heads, and slightly darker light brown markings under their eyes. The white extends to their bib, and their chests and legs are dark brown. Meanwhile, they have a saddle-like pattern of dark-tipped fur along their backs.
12. Siamese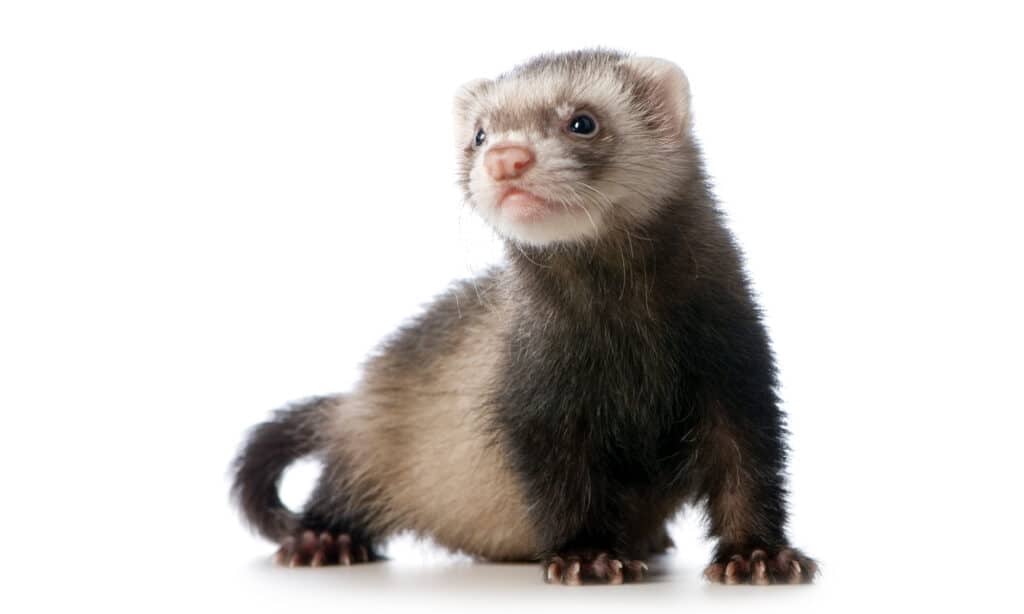 Siamese ferret colors are very common. These ferrets are very similar to chocolate, sable, and cinnamon-colored ferrets. However, Siamese ferret markings are darker than other color morphs, and may include white mitts.
13. Champagne
One of the prettiest ferret colors is known as champagne. Champagne ferrets have light coats that end in chocolate brown fur tips. Champagne ferrets are generally a dark golden color with darker tails and legs.
14. Sable
Sable ferrets are some of the most beloved of all color morphs. They include black sables and sable mitts. Their faces are white, and they have dark cross bands across their eyes. Their undercoats are light, with dark-tipped fur and darker front legs and chests.
Up Next
The photo featured at the top of this post is © iStock.com/Delecrouix
---
Sources

, Available here: https://www.britannica.com/animal/ferret
, Available here: https://vcahospitals.com/know-your-pet/owning-a-ferret
, Available here: https://www.avma.org/resources/pet-owners/petcare/selecting-pet-ferret