Colorado's famed snowfall and ski opportunities are the perfect complement to a winter vacation, but understanding Colorado snow patterns and history is just as valuable as experiencing it! Across the state, snow varies in quantity and quality. In the same way, temperatures differ based on region and topography. Overall, Colorado snow is impressive and prominent for numerous reasons. Find out why!
Understanding Snowfall in Colorado
Colorado's famous fluffy snow comes from a process called orographic lift. Orographic lift occurs when moist air encounters a mountain or range of mountains. As the air mass rises over the mountain or mountains, it expands, cools, and releases precipitation in the form of snow. Mountain ranges like the Rocky Mountains increase precipitation and snowfall during orographic lift because clouds and air masses are unable to simply pass over an entire range like they might do to a singular mountain. In this way, air masses must face a range head on, meaning precipitation must be released.
Over half of the snowfall on larger mountain resorts comes from orographic lift. Most of the moisture necessary for heavy precipitation and snowfall in Colorado comes from the Pacific Ocean. As air masses pass over the Pacific Ocean, they pick up moisture, which is later released during orographic lift. A combination of these weather and snowfall effects results in the heavy, abundant snow found in mountainous regions within Colorado. Regions with the most notable amount of snowfall include Wolf Creek Pass, which sits in the southern part of the San Juan Mountains, and the Park Mountains. Surprisingly, the San Juan Mountains and the Park Mountains are in two completely different regions. While the San Juans are located in the southwest portion of Colorado, the Park Mountains are situated much farther north.
Temperature in Colorado
Temperature varies across Colorado during the winter. The average annual temperature across the state is 43.5ºF, but this figure is a generalization of Colorado climate. In fact, three distinct regions within Colorado require a closer look to determine temperature means in winter months. These regions are Eastern Colorado, Western Colorado, and mountains within the state. Below describes temperature variations across the three regions.
Eastern Colorado
In Eastern Colorado, extreme winter temperatures range between 0ºF and -15ºF. Shockingly, summer temperatures can be above 95ºF by comparison. Weather patterns like these make Colorado unique in its climate because residents experience both intense summer heat and freezing winter temperatures. Unlike mountainous regions in the state, Eastern Colorado does not experience snow frequently.
Western Colorado
Western Colorado has more plateaus and canyons than mountains, meaning that its winters are significantly less harsh than that of mountainous regions. Winter in Western Colorado is colder than winter in Eastern Colorado, but it isn't nearly as harsh. Temperatures during winters in Western Colorado can be below 0ºF, and precipitation increases during winter months.
Mountainous Regions
Surprisingly, mountain peaks are warmer than mountain valleys in Colorado. This occurs because cold, dense air resides in these valleys. The lowest temperature recorded in mountain valleys in Colorado was -61ºF in the Yampa valley. Mountains in Colorado experience large amounts of snowfall due to orographic lift (see above). For example, southern mountains and valleys receive approximately 350 inches of snowfall each year.
Earliest and Latest First Snows in Colorado
The earliest first snow in Colorado occurred on September 3, 1961. The average date of a first snow in Colorado is October 18th. In recent years, the earliest measurable first snow fell on September 8, 2020. The latest date of a first snowfall in Colorado was November 21, 1934. The latest first measurable snowfall in the last decade occurred on December 10, 2021.
Description of First Snowfalls in Colorado
In most areas of the United States, snow falls at temperatures that are close to freezing, or 32ºF. In this way, snowflakes melt slightly when they fall. This process causes melted snowflakes to refreeze next to their already frozen snowflake neighbors within packed snow. In this way, the snow cover becomes dense and wet.
By comparison, snow in Colorado falls in areas where temperatures are below freezing, not near it, at high elevations. The snowflakes do not melt and refreeze to create densely packed snow, but rather stay frozen as their own entities. These snowflakes settle on top of one another to create loose, fresh powder as opposed to a dense, frozen layer of snow cover.
Dry snow in Colorado helps to support its thriving tourist industries. Skiing and snowboarding are popular in the state due to dry snowfall. Cutting quickly through the fresh powder, a recreational skier or snowboarder will experience great ease in their activity as opposed to skiing through dense, wet snowfall.
Biggest Snowfall and Blizzards in Colorado
The largest 24-hour snowfall in Colorado occurred between April 14th and 15th in 1921. This snowfall alone left 76 inches of winter wonderland, which is over six feet! Other record-breaking blizzards have occurred throughout the state. Below outlines some of the worst snowstorms to ever attack Colorado.
December of 1913
During December 1st through 5th of 1913, Denver experienced the most massive blizzard in Colorado history to this day. The blizzard brought 45.7 inches of snow to Denver, and some surrounding areas, such as Estes Park, totaled up to 53 inches of snowfall during the storm. Businesses and schools were closed, and many people could not make it home from work for days.
March of 2003
From March 17th to March 19th in 2003, a blizzard hit Denver with 31.8 inches of snow. Some areas saw 40 inches of snow. Portions of Interstate 70 closed, and the storm removed the roof from the Denver International Airport. The airport closed for several days, trapping travelers within the state.
Colorado Holiday Blizzard
The Colorado Holiday Blizzard was comprised of several succeeding blizzards that plagued Denver for a matter of weeks. At the end of 2006, inches upon inches of snow were dumped on Denver, closing businesses, schools, roads, and the Denver International Airport. Many people were left stranded in Denver without a way to arrive back home. Although the blizzard caused plenty of traffic and disrupted travel, Colorado residents still found ways to appreciate the winter weather through sledding, snowball fights, and building snowmen!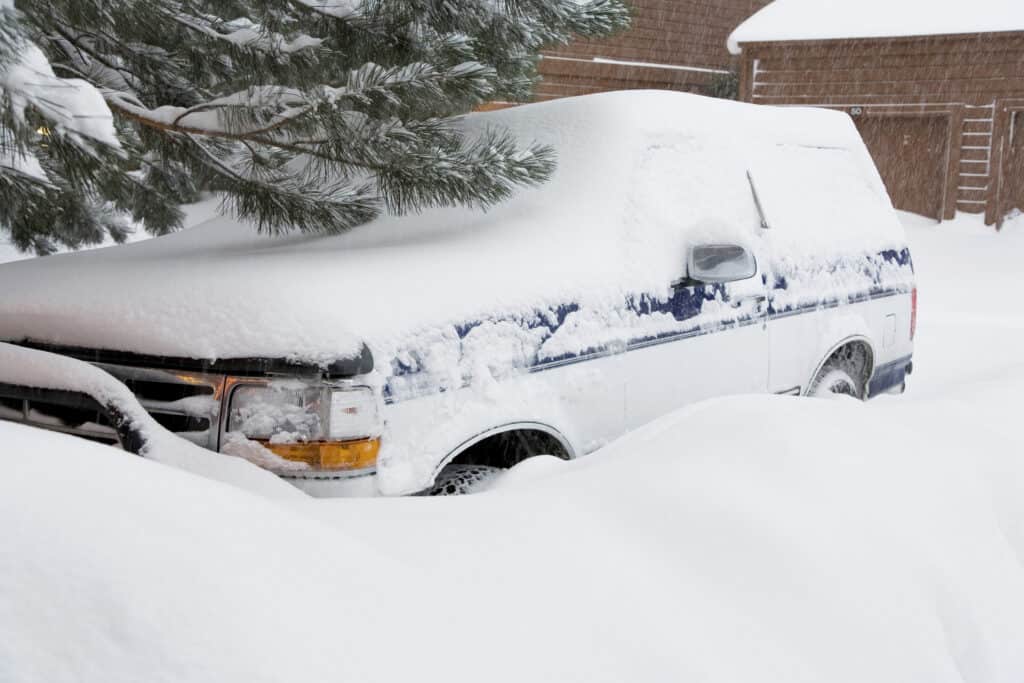 The Best Places to Enjoy Snow in Colorado
Summit County is one of the best places to visit in the winter. With opportunities for shopping, skiing, snow tubing, and ice skating, Summit County's numerous activities allow a visitor to explore Colorado's winter wonderland in a myriad of ways. Lodging is also available to those that want to stay longer in the beautiful Summit County.
Vail Valley is another incredible snowy vacation spot. Two ski resorts, Vail and Beaver Creek, reside in Vail Valley and are considered two of the best resorts in Colorado. Other activities like snowshoeing, ice skating, and snowmobiling are available to visitors. Within Vail Valley, one can find several restaurants, shops, and lodging, too.
Aspen, which is likely the most well-known ski resort within the state, contains a diverse amount of ski opportunities for savoring the snowfall. Shopping, lodging, and attractions are located throughout Aspen, but activities surrounding Aspen are not only remarkable but probably cheaper, too! For example, Glenwood Springs, which lies approximately 45 minutes away from Aspen, has the biggest outdoor hot springs pool in the world. Glenwood Springs also contains Sunlight Mountain Resort, which is another fantastic spot for winter fun.
Up Next
More from A-Z Animals
---
The Featured Image
---
FAQs (Frequently Asked Questions) 
Where does it snow most in Colorado?
The most amount of snow can be found in Wolf Creek Pass, which averages over 350 inches of snow annually.
What is winter like in Colorado?
Depending on the region, winter in Colorado can be harsh or mild. However, temperatures often reach below freezing in all areas of Colorado. Snow in Colorado is dry, making it a loose powder as opposed to a packed, wet snow cover.
Does Denver receive large amounts of snow?
Denver receives a hefty amount of snow, but it does not receive as much snow as Western Colorado or mountainous regions. However, many blizzards have been known to hit Denver with extreme snowfall and harsh winds.
Sources

Allison Sylte, Available here: https://www.9news.com/article/weather/weather-colorado/biggest-denver-colorado-snow-storms-blizzards/73-f455a7aa-9b32-48a6-9baa-646aae0f4527
Peter Goble, Available here: https://coloradoencyclopedia.org/article/colorado-climate
Thornton Weather, Available here: http://www.thorntonweather.com/noaa/cold.php
James Hagadorn, Available here: https://frontporchne.com/article/makes-colorado-snow-special/
On The Snow, Available here: https://www.onthesnow.com/news/how-the-mountains-of-colorado-make-snow/#:~:text=The%20Colorado%20mountains%20tend%20to,prime%20skiing%20and%20snowboarding%20season
CBS News, Available here: https://www.cbsnews.com/colorado/pictures/2006-holiday-blizzards/16/
Matt Thomas, Available here: https://www.uncovercolorado.com/winter-vacation-colorado/