↓
Continue Reading To See This Amazing Video
Residents of the midwest are no strangers to snowfall, but when does the first snow in Illinois typically happen? While Chicago is likely one of the most popular locations in all of Illinois to visit, particularly in the wintertime, how much snow does this city see on average, and what are the average temperatures like in this state in particular? 
In this article, we will go over everything you need to know about the first snowfall dates that happen in the state of Illinois. We will go over some of the earliest and latest snowfall dates on record, as well as how much snow this state typically sees in an average winter season. Plus, we'll even give you a few locations that are within the state of Illinois that are perfect for enjoying the snow! Let's get started. 
Understanding First Snow in Illinois 
| | Illinois Snow Facts |
| --- | --- |
| Earliest First Snowfall | September 25 (1938 + 1942) |
| Latest First Snowfall | December 5 (1999) |
| Average Temperature | 20 to 40 degrees Fahrenheit |
| Largest Seasonal Snowfall | 45 inches (1979) |
| Smallest Seasonal Snowfall | 10 inches (1921) |
| Places to Enjoy the Snow | Chicago, Galena, Starved Rock State Park |
Despite much of Illinois being well-known for its frigid and below-freezing temperatures, the average amount of snow that falls in this state during the wintertime is roughly 20 to 30 inches. However, Chicago is no stranger to abnormal snowfall levels in the wintertime, given its proximity to the Great Lakes. Most lakeside states experience far more snow than average due to a particular weather phenomenon known as the lake effect. 
However, when does Illinois see snow first, and how much snow typically occurs? Have there been any winters that shatter records in terms of measurable snowfall?
Earliest and Latest Snowfalls in Illinois 
The average first snow in Illinois occurs sometime during the month of October or November, but there are always dates that occur outside this realm. For example, the earliest recorded snowfall in the history of Illinois occurred on September 25th, both in 1938 and 1942. While it wasn't very much snow, there was still enough accumulation for it to count!
In direct contrast to this date, Illinois didn't see snow until December 5th during the year 1999. This is far later than the state's average first snowfall date and likely startling to Illinois residents at the time! Again, not very much snow fell on this date, but it was still a date for the record books. Speaking of snowfall amounts, let's talk about some record-breakers now.
Largest and Smallest Snowfalls in Illinois 
Some years in Illinois see more snowfall than others. However, the winter season of 1979 saw some of the largest snowfall amounts throughout the entire state. In fact, up to 45 inches fell in large metropolitan areas such as Chicago during this winter season. But what about the years that experienced some of the smallest snowfall amounts in all of Illinois? 
Apparently, the year 1921 only saw up to 10 inches of snowfall in the state of Illinois. This is well below average, especially when you consider the fact that most locations in Illinois receive at least 20 inches of snow annually. It just goes to show you that it's best to expect the unexpected if you live in the midwest, particularly in the midwest during the months of November, December, and January! 
Winter Temperatures in Illinois 
Depending on where you live in Illinois, you can see some varying winter temperatures. Also known as the windy city, Chicago experiences cold temperatures throughout the winter, especially with wind chill factored in. Located along Lake Michigan, Chicago experiences an average winter temperature of 20 to 35 degrees Fahrenheit. 
The southernmost portion of Chicago experience has the least amount of temperature changes and maintains the warmest temperature compared to the rest of the state. However, it still averages roughly 30 to 40 degrees Fahrenheit throughout the winter. Central Illinois has the widest range of winter temperatures, with the coldest lows and the hottest highs. It averages anywhere from 20 to 40 degrees Fahrenheit throughout the winter season.
Winter Wildlife in Illinois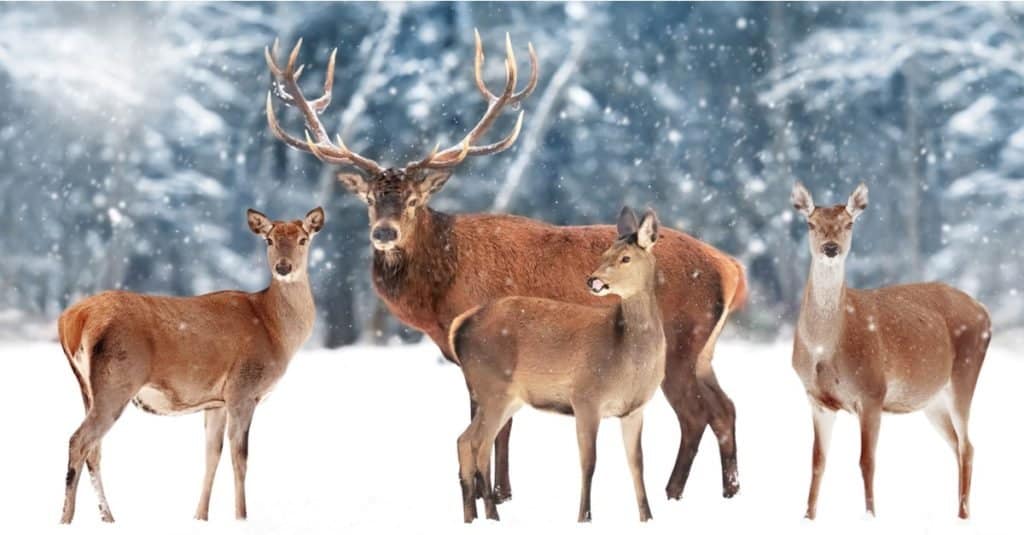 Whether you plan on spending time in the bustling city of Chicago or have an invested interest in some of the local parks, Illinois has a number of animal species that love wintertime. Plan a visit to Starved Rock State Park if you want to catch a glimpse of any of the following animal species!:
Up Next
More from A-Z Animals
---
The Featured Image
---
Sources

Snow Climatology for the NWS Chicago County Warning Area, Available here: https://www.weather.gov/lot/snowclimatology