If you are looking for differences between a garter snake vs rattlesnake, you may be surprised to hear just how many there are. In fact, these two snakes can't get further apart in their differences, both in their physical appearance, behavior, and preferred habitats. But how can you learn to tell them apart, and what can you expect if you accidentally stumble upon one?
In this article, we will address all of the differences between a garter snake and a rattlesnake, including their geographical locations, diets, and behavioral differences. You will not only learn how to tell these two snakes apart- you'll know much more than that! Let's get started.
Comparing Garter Snake vs Rattlesnake
| | | |
| --- | --- | --- |
| | Garter Snake | Rattlesnake |
| Size | 2-4 feet long | 1-8 feet long |
| Appearance | Slender and striped in a variety of colors, including black, cream, green, red, and brown. Rounded head and pupils | Coloring varies based on habitat; triangular head and vertical pupils; raised scales and diamond patterned body. Has a namesake rattle on the end of its tail |
| Location and Habitat | North and Central America; forests, grasslands, and suburban areas | North, Central, and South America; mountains, deserts, grassy areas |
| Behavior | Shy and friendly snake; helpful for pest control on your property. Technically venomous, but does not harm humans or pets | Extremely potent bite for humans, but prefers to be left alone; rattles its tail to ward off predators. Changes the times of day it hunts based on the season |
| Diet | Small fish, amphibians, frog eggs, lizards, snails, insects, rodents | Rats, mice, lizards, rats, and frogs |
Key Differences Between Garter Snake vs Rattlesnake
There are many key differences between garter snakes and rattlesnakes. Not only are these two snakes members of different families, they look very different. Garter snakes are smaller and more slender when compared to rattlesnakes. Rattlesnakes have triangular heads and vertical pupils compared to the rounded head and pupils of the garter snake. Finally, these two reptiles live in different environments from one another.
Let's get into these differences in much more detail now.
Garter Snake vs Rattlesnake: Size and Weight
You may already be aware of this, but rattlesnakes grow much larger than garter snakes do. While rattlesnakes grow anywhere from 1-8 feet in length depending on their species, garter snakes reach 2-4 feet in length on average. Besides this, rattlesnake bodies are thicker when compared to the slender body of a garter snake. This means that the average rattlesnake far outweighs the average garter snake.
Garter Snake vs Rattlesnake: Location and Habitat Preferences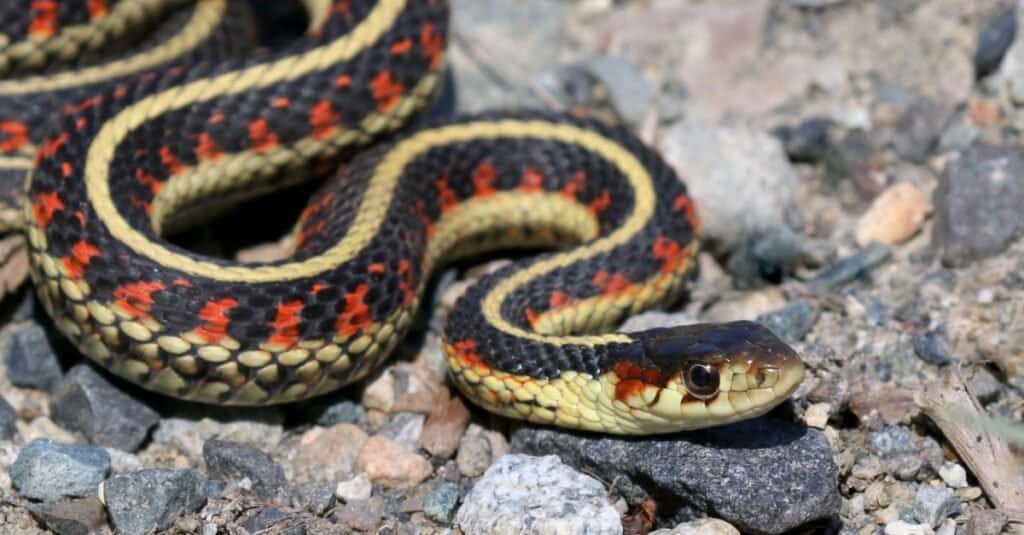 While garter snakes and rattlesnakes can be found in the same habitat together, they have very different preferences for where they enjoy living. For example, rattlesnakes live in North, South, and Central America, while garter snakes only live in North and Central America. This means that most garter snakes prefer a more temperate climate compared to rattlesnakes.
Many rattlesnake species thrive in forests with lots of leaf-litter, high mountain locations, and desert areas. On the other hand, garter snakes prefer grasslands and wooded areas near a water source. Garter snakes also enjoy living in and around suburban or populated areas, while rattlesnakes tend to avoid any areas where humans are present. This is a key distinction between these two snakes, given that garter snakes can be extremely helpful for pest control. But more on that later.
Garter Snake vs Rattlesnake: Appearance
Rattlesnakes look very different when compared to garter snakes, and not just in their sizes and weights. Garter snakes have extremely slender bodies with stripes, while rattlesnakes have thick bodies with diamond or blotchy patterns along their backs. A garter snake has a rounded head and pupils, while a rattlesnake has a triangular head and vertical pupils.
Not only does a garter snake have distinct stripes on its back or sides, but it comes in a variety of colors. Rattlesnakes also come in many colors, but these are usually dictated by a rattlesnake's habitat. For example, you will find tan or yellow rattlesnakes in deserted areas, and garter snakes are often found in shades of green or brown to match their grassy habitats.
Garter Snake vs Rattlesnake: Behavior
While most snakes prefer to be left alone by humans, there are some key differences in the behavior of garter snakes compared to rattlesnakes. The primary difference is that rattlesnakes coil up and shake their rattle or tails when threatened, while garter snakes run away — and quickly at that!
While garter snakes enjoy living in urban or suburban environments given the abundance of food sources, rattlesnakes do not share this desire. Rattlesnakes tend to prefer more remote locations so that they can protect themselves; garter snakes know that humans are a threat to them, but they are able to quickly hide themselves away.
While both of these snakes are venomous, rattlesnakes are far more dangerous than garter snakes. For the most part, garter snake venom will not hurt you, while rattlesnake bites always require some level of medical attention. However, both of these snakes prefer not to bite humans unless necessary.
Garter Snake vs Rattlesnake: Diet and Hunting Style
A final difference between garter snakes and rattlesnakes is their diet and hunting style. Both of these snakes eat similar things, though garter snakes feed on smaller prey overall when compared to rattlesnakes. This is because snakes eat their food whole and can die if they take on more than they can chew- literally!
Garter snakes eat small fish, amphibians, frog eggs, lizards, snails, insects, and rodents, while rattlesnakes eat rats, mice, lizards, rats, and frogs. As you can see, these diets are fairly similar, but rattlesnakes use their potent venom to take down prey much larger than garter snake prey.
Discover the "Monster" Snake 5X Bigger than an Anaconda
Every day A-Z Animals sends out some of the most incredible facts in the world from our free newsletter. Want to discover the 10 most beautiful snakes in the world, a "snake island" where you're never more than 3 feet from danger, or a "monster" snake 5X larger than an anaconda? Then sign up right now and you'll start receiving our daily newsletter absolutely free.
---
The Featured Image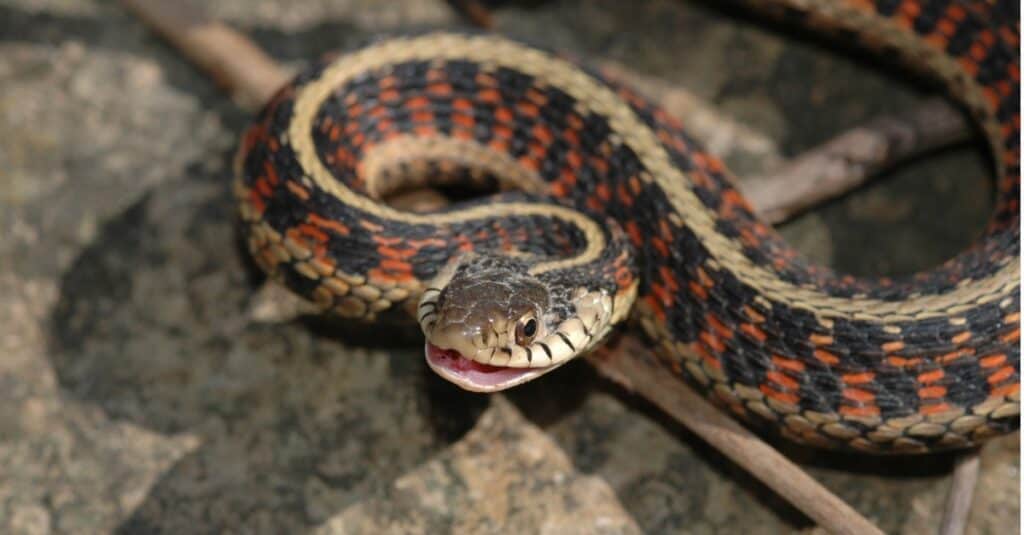 ---