Delighting in the mesmerizing sight of hummingbirds is an experience many nature enthusiasts cherish! Inviting more of these enchanting creatures to grace our gardens is a common desire. One effective method to lure hummingbirds is by planting a diverse range of perennial plants known to entice them. This article will explore various perennials that attract hummingbirds, so you can transform your garden into a hummingbird haven!
Butterfly Bush (Buddleia davidii) 
The butterfly bush is a beautiful and vibrant plant. It is renowned for its prowess in drawing butterflies and hummingbirds to your garden. With its stunning, elongated flower clusters, often called panicles, this alluring shrub presents a striking display of color. Shades range from purple and pink to white and blue hues. The plant's nectar-rich blossoms act as a powerful magnet for hummingbirds. They provide a delectable source of sustenance for these energetic avian visitors. The butterfly bush is visually arresting and celebrated for its low-maintenance nature, making it an appealing addition to any garden.
To ensure your butterfly bush thrives, plant it where it will receive abundant sunlight. This radiant shrub thrives in total sun exposure. Providing well-drained soil to prevent root rot and facilitate optimal growth is also essential. While the butterfly bush is drought-tolerant, it is advisable to water it regularly. This is especially true during the initial establishment phase and in times of extreme heat.
The plant's bloom typically spans from summer to early fall. It offers a long season of enchantment for both you and the hummingbirds that frequent your garden.
Coral Honeysuckle (Lonicera sempervirens)
Coral honeysuckle is a mesmerizing and radiant climbing vine. It is acclaimed for its power in luring hummingbirds with its charming, tubular flowers. This bewitching plant exhibits vivid red or orange blooms, frequently embellished with rich golden-yellow interiors. The clusters of cylindrical flowers act as a copious nectar reservoir, irresistibly enticing hummingbirds to indulge in the sweet offerings.
The plant's intertwining vines and oval, deep green foliage forge a lush canvas. This thick foliage accentuates the allure of its elegant flowers even further. Coral honeysuckle's versatile character and straightforward care make it a popular garden addition. It's great for any gardener seeking a hint of sophistication and a whirlwind of hummingbird engagement.
To guarantee your coral honeysuckle thrives, position it in a location with full sun to partial shade. It can withstand varying light environments. Nevertheless, the plant will yield more flowers when exposed to ample sunlight. Well-drained soil is vital for this vine's well-being and demonstrates relative drought resilience once established. You should supply consistent hydration, especially during the initial growth phase.
Coral honeysuckle's blooming season typically initiates in late spring and can persist into the fall months. It presents a protracted period of visual magnificence and hummingbird fascination.
Bee Balm (Monarda didyma)
Bee balm is an enchanting and vivid perennial. It is highly regarded for its capacity to draw hummingbirds with its arresting, whorled flowers. This captivating plant showcases a brilliant display of colors, including red, pink, purple, and white. Blooms form dense clusters atop sturdy stems. The tubular structure of the blossoms presents a rich nectar supply, irresistibly to hummingbirds.
The plant's distinctive, lance-shaped foliage, with its serrated edges and aromatic qualities, adds to the overall appeal. It creats a lush and fragrant setting that complements the eye-catching blooms. In addition, bee balm's resilient nature and manageable care requirements make it a prized plant.
To ensure your bee balm flourishes, plant it in a location that receives full sun to partial shade. It can adapt to a variety of light conditions. However, optimal flower production typically occurs in sunnier spots. Well-drained, fertile soil is essential, and providing consistent moisture is important. This is particularly important during its establishment phase and throughout periods of intense heat.
Bee balm's blooming season generally commences in mid-summer and can continue into early fall. It delivers an extended window of visual splendor and hummingbird enchantment.
Salvia (Salvia spp.)
Salvia, a mesmerizing and varied collection of perennial plants, presents a broad spectrum of vivid colors. Shades include azure, violet, crimson, rose, and alabaster. Blooms assemble into dense, spiky flower clusters. The long blooms contain a generous nectar supply, perfect for hummingbirds!
The plant's unique, often fragrant, foliage is characterized by its lance-shaped or ovate form and textured appearance. This texture enhances the overall appeal, creating a lush and aromatic backdrop that accentuates the stunning flowers. Furthermore, salvia's hardy disposition and undemanding care make it a cherished garden choice.
To ensure your salvia flourishes, place it in a location that enjoys full sun. This radiant plant typically thrives under abundant sunlight. Well-drained, nutrient-rich soil is crucial for salvia's prime development. Though it displays some drought resistance, providing consistent hydration is imperative, especially during the initial growth stage and in extreme heat.
Salvia's flowering season generally extends from late spring to early fall.
Cardinal Flower (Lobelia cardinalis)
The cardinal flower is a captivating and brilliant perennial renowned for its ability to attract hummingbirds with its tubular blossoms. This plant showcases vivid scarlet flowers, which assemble into tall, spiked racemes that rise above the lush foliage. The long blooms provide a great reservoir of nectar.
The plant features striking, lance-shaped leaves, with serrated margins and a deep green hue.
If you'd like your cardinal flower to thrive, plant it in a location that receives full sun to partial shade. Moist, well-drained, and humus-rich soil is essential for this plant to grow. It is especially fond of damp environments, often flourishing near bodies of water such as streams and ponds. While the cardinal flower can tolerate brief periods of drought, providing consistent moisture is crucial. Finally, as with other hummingbird-attracting plants, it is important to avoid using pesticides and chemicals. These can harm both the birds and the plants.
The cardinal flower's blooming season typically commences mid-summer and can extend into early fall.
Bleeding Heart (Lamprocapnos spectabilis)
The bleeding heart is an exquisite and captivating perennial plant cherished for its unique and eye-catching floral display. With its drooping, heart-shaped blossoms that cascade like a waterfall, this ornamental jewel brings a touch of enchantment to any garden. The delicate flowers, typically in shades of pink or pristine white, dangle alluringly from their stems, surrounded by fern-like foliage.
The nectar-rich blossoms of the bleeding heart act as a magnet for hummingbirds. The vibrant hues of the blooms, primarily in the pink and red spectrum, serve as a visual beacon for these birds. Such colors lure hummingbirds. Moreover, the pendant-like structure of the flowers perfectly accommodates the elongated beaks and specialized feeding habits of these hovering pollinators, creating a harmonious and mutually beneficial relationship.
To nurture and maintain a bleeding heart plant, keep just a few things in mind. Firstly, the plant prefers a partially shaded environment, shielded from the rays of the midday sun. Ideally, the soil should be moist, well-drained, and rich in organic matter, which promotes vigorous growth and a profusion of blossoms. As the plant's roots are sensitive to disturbance, avoiding excessive handling or transplanting is crucial. Additionally, applying a layer of organic mulch around the plant's base will help retain moisture, regulate soil temperature, and suppress the encroachment of weeds.
Bloom Time
The enchanting floral display of the bleeding heart is typically at its best in late spring and early summer. The plant unfurls its heart-shaped flowers during this period, transforming the garden with its color. As summer progresses and temperatures rise, the plant may enter a state of dormancy, its foliage turning yellow and withering. However, this slumber is only momentary, as the bleeding heart will bloom again the following year.
Trumpet Creeper (Campsis radicans) 
The trumpet creeper is a captivating and striking perennial plant that boasts large trumpet-shaped flowers that drape over trellises, fences, and arbors. The dazzling blossoms typically range from deep orange to fiery red. In addition, the plant's green, compound leaves provide a lush and dense foliage backdrop in any garden.
The trumpet creeper's bright flowers are a siren's call to hummingbirds, luring these tiny creatures with their vivid colors and abundant nectar. The tubular, elongated form of the blossoms accommodates the hummingbirds' slender beaks and long tongues. The hummingbirds benefit from the plant's rich nourishment. And these enthusiastic, fluttering visitors effectively pollinate the trumpet creeper.
The plant flourishes under full sun, but it can also tolerate light shade, albeit with a reduced flowering potential. The soil should be well-draining and moderately fertile, as overly rich soils may encourage excessive vegetative growth at the expense of floral display. The trumpet creeper is a hardy and resilient plant, capable of withstanding various climatic conditions. Still, it requires regular pruning to prevent it from becoming invasive or overwhelming neighboring plants.
The trumpet creeper's spectacular blooming period typically spans late spring to early fall, providing a long season of vibrant hues and hummingbird activity.
Lupine (Lupinus x hybridus)
Lupine showcases tall, erect spires of tightly packed, pea-like flowers. The vibrant blossoms, which come in a diverse array of colors, including blue, purple, pink, white, and yellow, create a mesmerizing visual appearance. Complementing this floral display, the plant's leaves unfurl gracefully in a star-shaped pattern, radiating outward from a central point to create an elegant, fan-like arrangement.
The alluring lupine flowers exude a magnetic charm that irresistibly draws in hummingbirds. The vivid hues of the lupine blossoms, particularly those in the red and purple spectrum, serve as an irresistible stop for this nectar-seeking creature. The tubular structure of the flowers further facilitates the hummingbirds' feeding habits, providing easy access to the hidden nectar-rich treasure trove. Furthermore, lupine is a host plant for the larvae of some species of butterflies, such as the endangered Karner blue butterfly. By planting lupine in your garden, you can support the life cycle of these beautiful creatures and help preserve their populations.
Plant Care
To cultivate and care for a lupine, it's best to place the plant in a location with full sun to partial shade, where it can bask in the sun's rays without succumbing to scorching heat. Well-drained, slightly acidic to neutral soil is preferable, as it encourages robust growth and an exuberant display of blossoms. Lupine seeds benefit from scarification, which entails gently nicking or rubbing the seed coat to enhance germination rates. Furthermore, incorporating organic matter, such as compost or well-rotted manure, into the soil can provide a nutritional boost and promote the plant's overall health and blooming. Deadheading spent flower stalks can also encourage a second, albeit less vigorous, flush of blooms later in the season.
The lupine plant typically unveils its splendid floral blooms during late spring and early summer.
Columbine (Aquilegia spp.)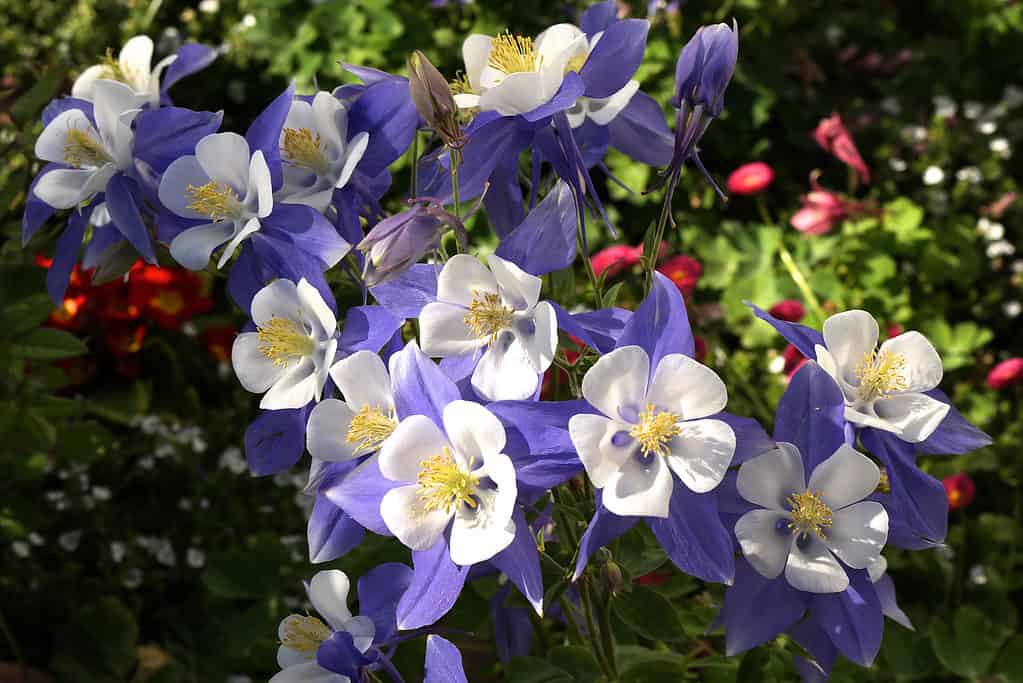 Columbine is a perennial plant that adds a touch of whimsy and elegance to any garden or yard setting. This botanical masterpiece has distinctive, nodding flowers that sway gently on top of slender, wiry stems. The flowers come in many enchanting colors and hues, ranging from soft pastels to vibrant jewel tones. The plant's attractive, lobed foliage unfurls in a lush, fern-like array, providing the perfect verdant backdrop for the floral display.
The vivid colors of the columbine blooms act as a visual magnet for hummingbirds. In addition, the elongated shape of the columbine's spurred petals perfectly accommodates hummingbirds' beaks and long tongues.
If you are planning on planting and nurturing a columbine plant, make sure to plant it in a partially shaded location. Columbine prefers well-drained, humus-rich soil, which promotes vigorous growth and an abundance of flower blooms. Regular watering is essential to ensure the plant remains hydrated and healthy, especially during prolonged heat waves or drought periods. However, you should avoid overwatering, which may lead to root rot or other fungal issues for the plant. Deadheading withering flowers can encourage additional blooming while also preventing unwanted self-seeding.
The columbine plant typically unveils its floral blooms during late spring and early summer. During this period, the garden transforms into a colorful show of blooms that captivate human admirers and hummingbird visitors alike.
Petunia (Petunia)
Another plant hummingbirds are attracted to is the petunia, a delightful and vibrant genus of flowering plant. Interestingly, petunias grow as both annuals and perennials. They are usually annuals, which means they complete their whole life cycle in a single growing season and then die. However, some newer petunia varieties grow as short-lived perennials in some climates!
These beautiful petunias boast trumpet-shaped flowers that unfurl in many captivating hues, from soft pastels to bold, vivid tones, creating a visual appearance that brightens any landscape. The velvety, funnel-shaped blooms elegantly juxtapose the plant's lush, slightly sticky foliage.
The famous petunia flowers are an irresistible draw for hummingbirds. The rich, vivid colors of the petunia flowers, usually those in the red and purple spectrum, attract nearby hummingbirds, luring them to partake in the plant's energy-rich nectar. The trumpet-like structure of the petunia flowers is ideal for the elongated beaks and specialized feeding habits of hummingbirds, fostering a mutually beneficial relationship. The plants give nourishment to the hummingbirds in exchange for pollination. However, with that said, some newer petunia cultivars produce less nectar in order to help reduce problems with pests such as aphids.
Location
The petunia plant thrives in a location with total sun exposure. Well-draining soil is preferable, as it prevents the plant's roots from waterlogging, thereby staving off potential issues with root rot. Furthermore, adequate hydration is essential, and petunias should be watered regularly, ensuring that the soil remains consistently moist but not overly saturated. To maintain a healthy petunia plant, it is advisable to apply a balanced, slow-release fertilizer when planting and to supplement with a water-soluble fertilizer throughout the growing season periodically. Deadheading spent blooms is also recommended, as it encourages the plant to produce additional flowers and prevents it from becoming leggy.
The enchanting petunia plant typically unfurls its glorious floral display from late spring until the first frost of fall.
Honorable Mention—More Flowers That Attract Hummingbirds
Foxglove—Foxglove is a tall, stately flower that is characterized by its tall spikes of delicate bell-shaped blooms. The flowers come in shades of pink, purple, and white and are attractive to hummingbirds due to their long nectar spurs. Foxglove is also attractive to butterflies and bumblebees.
Impatiens—Impatiens are a colorful annual flower with a wealth of small, five-petaled blooms that come in shades of pink, purple, white, and red. The small, tubular blooms are attractive to hummingbirds due to their abundance of nectar, and butterflies love them as well.
Morning Glories—Morning glories are a fast-growing annual vine characterized by their large, trumpet-shaped blooms. The blooms come in a variety of colors, and they are particularly attractive to hummingbirds due to their abundance of nectar. Morning glories are also a favorite of butterflies and bees.
Hollyhocks—Hollyhocks are tall, stately biennial flowers characterized by their large, cup-shaped blooms. The blooms come in a variety of colors, and they are particularly attractive to hummingbirds due to their abundance of nectar. They are also loved by butterflies, bees, and other pollinators.
---