Both ground squirrels vs chipmunks are members of the same species, which is Sciuridae. However, just because they are related in this way does not make them the same. In fact, there are many key differences that you can use to both tell them apart and get to know them as individuals.
In this article, we will go over all of these key differences, including their physical differences, habitat preferences, and more. You should be able to identify a ground squirrel or a chipmunk with ease, as well as understand some of their individual behaviors.
Let's get started and learn about these two rodents now! 
Comparing Ground Squirrel vs Chipmunk
| | Ground Squirrel | Chipmunk |
| --- | --- | --- |
| Species | Sciuridae | Sciuridae |
| Size | 7-20 inches, 1-10 pounds | 3-8 inches, often less than a pound |
| Appearance | Large bushy tail, brown or gray; ears closer to head | Thin and short tail; brown with unique stripes, and larger ears |
| Habitat | Found in grasslands, woodlands, and in trees | Found in woodlands, but often lives in burrows or underground tunnels |
| Lifespan | 5-10 years | 2-5 years |
The Main Differences Between Ground Squirrel vs Chipmunk
There are many key differences between ground squirrels vs chipmunks. Ground squirrels are far larger than chipmunks are, including their long and bushy tail that chipmunks do not share.
Chipmunks often live underground in burrows and tunnels, while squirrels are usually found above ground in trees and in grasslands. Finally, the life span between chipmunks vs ground squirrels is inherently different, mostly based on their individual mobility.
Chipmunks have rounded and erected ears that stick up whereas ground squirrels have short ears that do not stick up above their head. Chipmunks have bushy tails and will usually run with their heads lifted up. The ground squirrel will usually stay lower to the ground as it moves.
Now that you have a brief overview of the differences between these two, let's go over them in more detail now. 
Ground Squirrel vs Chipmunk: Size and Weight
One of the key differences when it comes to telling ground squirrels and chipmunks apart lies in their overall size and weight. Ground squirrels are significantly larger in both length and weight when compared to chipmunks. Let's discuss these statistics in more detail now.
Ground squirrels average anywhere from 7 to 20 inches long with their tails included, while chipmunks average 3 to 8 inches long. Given their larger lengths, ground squirrels weigh more than chipmunks by a large margin, as most chipmunks weigh a pound or less. 
Ground Squirrel vs Chipmunk: Appearance
Another difference between ground squirrels vs chipmunks is their appearance. While these two rodents can look strikingly similar, especially because they are from the same family, there are some key differences to pay attention to.
For example, ground squirrels have ears that are closer to their heads and smaller overall when compared to chipmunk ears. Squirrels also have large bushy tails, while chipmunk tails are much shorter and not nearly as fluffy when compared to ground squirrel tails. 
Another difference that may be noticeable but may not always apply is the presence of striping or stripes on the body. Chipmunks always have stripes and are known for having stripes along their faces and backs, while ground squirrels will not always have stripes. In fact, most ground squirrels are a plain brown or gray color overall. 
Ground Squirrel vs Chipmunk: Habitat and Living Environment
Chipmunks and ground squirrels live in different habitats and environments, especially throughout the day. This is another difference between them that becomes more obvious as you study these to rodents as individuals. Let's talk more about this now.
For example, ground squirrels are often seen roaming parks and woodlands, and scaling tall trees, while chipmunks are usually found scurrying along the ground. This is because chipmunks reside in burrows and tunnels underground and tend to stick to those locations except for when they need to venture forth for food. 
Ground Squirrel vs Chipmunk: Lifespan
Another potential difference between chipmunk vs ground squirrel is their life spans. Many studies show that ground squirrels live far longer than chipmunks do, and this is likely based on their overall mobility and athleticism. Let's talk more about what that means. 
While there are always exceptions to the rules, chipmunks live an average of 2-5 years in the wild, while ground squirrels live an average of 5-10 years in the wild. This is likely due to the fact that both ground squirrels and chipmunks are common prey to many predators, and chipmunks are simply less agile than ground squirrels are.
Ground squirrels are capable of climbing trees and running away at high speeds, while chipmunks often can't reach protection in time.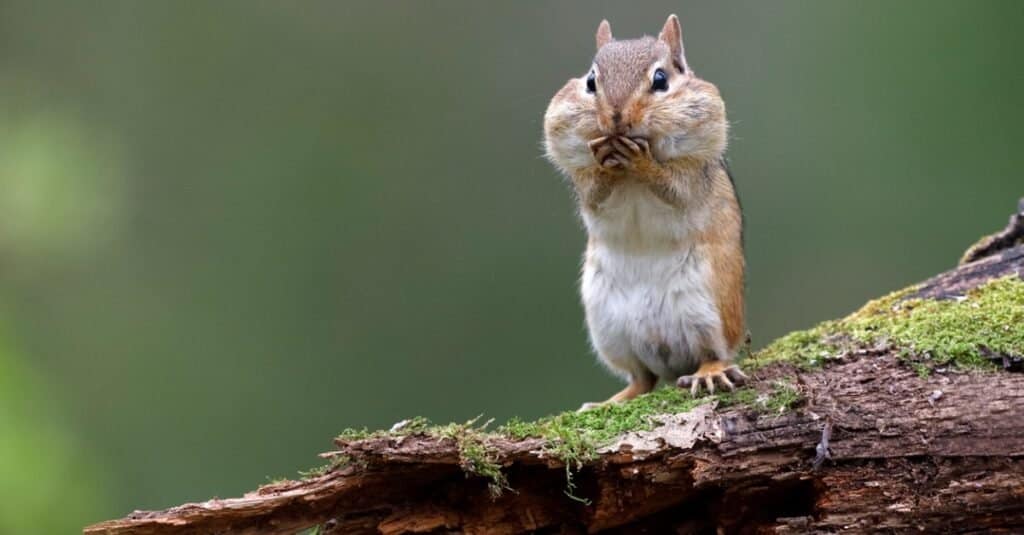 Ground Squirrel vs Chipmunk: Hibernation Tendencies
The final key difference between chipmunk vs ground squirrel lies in their hibernation habits. While there are very few animals that truly hibernate, ground squirrels are one of them, while chipmunks do a version of hibernating that is more common among the animals.
 For example, chipmunks retreat to their dens in the winter months, but they wake up every few days in order to eat and then they return to sleep. Ground squirrels have the ability to truly hibernate without eating, but they often do a similar routine as chipmunks do during the winter.
Bonus: Is It Good to Have Ground Squirrels or Chipmunks in Your Yard?
Ground squirrels and chipmunks are critters that you may encounter on your property. The question is, are they bad (or good) to have around?
Ground squirrels and chipmunks, like other rodents, can cause problems for humans. Firstly, their burrowing can cause yard damage. They leave holes in the lawn that can be hazards if you step in them, they can dig under home foundations, patios, and decks, as well as upset gardens. Chipmunks can even cause root damage to trees.
These critters can also carry diseases like leptospirosis, salmonella, and the bubonic plague. Ground squirrels multiply quickly, so a yard infestation of them can be problematic, as they can pass these diseases to domestic animals and humans.
On the plus side, ground squirrels are given credit by some researchers as helping to control insect populations, and creating habitats for other wild animals, who may take up residence in their burrows. Both species also provide a tasty meal for birds of prey, snakes, weasels, and foxes. Even more interesting, they provide soil aeration (free of charge) and seed dispersal.
---