When it comes to comparing two of the most popular melons available in your local supermarket, what are the similarities and differences between honeydew vs cantaloupe? You likely have a favorite between these two, but in what ways are they similar to each other, and in what ways are they different?
In this article, we will compare and contrast honeydew melons with cantaloupes so that you can fully understand the differences between them. We will go over what they look like physically, what they taste like, and where they originated. In addition, we will even address which of these two melon varieties is older than the other. Let's get started now with honeydew vs cantaloupe! 
Comparing Honeydew vs Cantaloupe
| | Honeydew | Cantaloupe |
| --- | --- | --- |
| Plant Classification | Cucumis melo | Cucumis melo |
| Description | White or pale green exterior is smooth and delicate. Rind is of average thickness, covering a light green fruit. Seeds cluster in the center of the melon, and they are tan in color. Fruit has a firm texture and delicate sweetness | Tan colored exterior covered in unique netting or ridges. Melon is oval shaped and round, with a light green rind. The fruit is a pleasant light orange color, with a dense cluster of seeds in the center. Fruit tastes less sweet compared to honeydew, but still has a pleasant texture and flavor |
| Uses | Popular worldwide and typically eaten raw. Used in sorbets and salads, and is high in both potassium and fiber | Popular around the world as a snack and salad accompaniment. Cantaloupe gelato is also popular and it is frequently paired with cured meats. Contains high levels of vitamin C and A |
| Origin and Growing Preferences | Originated in France and Spain; prefers warm and nutritious soil and plenty of sunlight. May grow best on a trellis | Originated in South America or Asia, but became popularized in Europe; thrives in full sun with nutritious soil, and spreads easily |
| Musky Odor? | Very little | Yes, very distinctly sweet |
Key Differences Between Honeydew vs Cantaloupe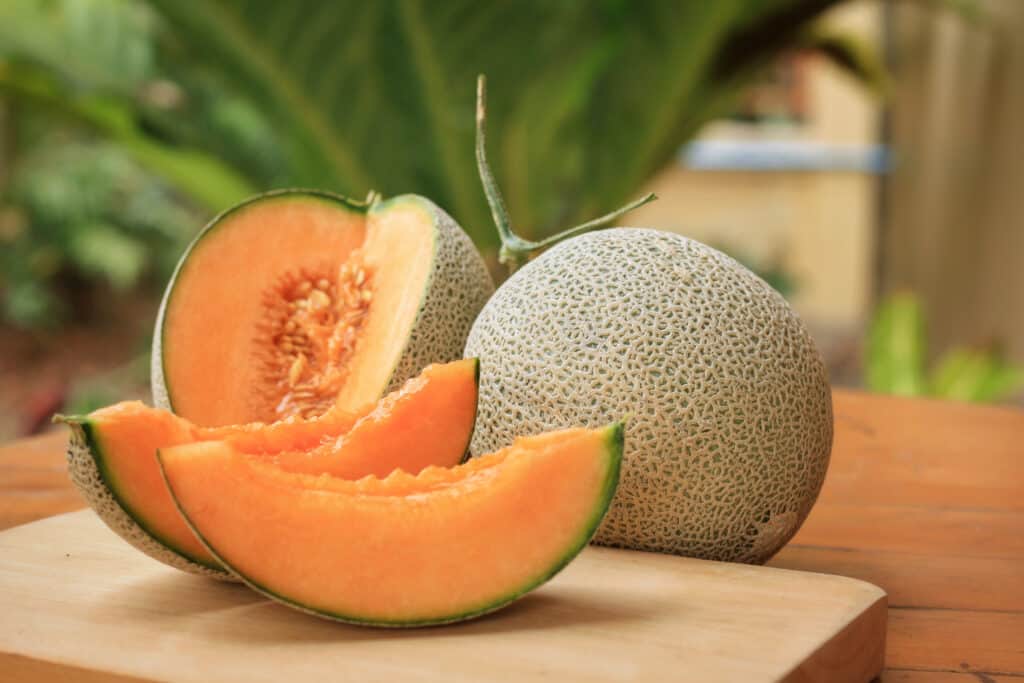 There are a number of key differences between honeydew and cantaloupe. For example, honeydew are green on the inside, while cantaloupe are orange on the inside. In addition, the exterior of the cantaloupe is textured, while honeydew melons are smooth on the outside. Finally, honeydew melon varieties don't have the same musky smell as cantaloupe varieties do.
Let's go over all of these differences in more detail now.
Honeydew vs Cantaloupe: Classification
Despite their differences in physical appearance, honeydew and cantaloupe are from the same plant family and genus. However, they are classified as different varieties from each other, but they both have the same scientific name. For example, cantaloupe and honeydew are classified as Cucumis melo, making them closely related.
Honeydew vs Cantaloupe: Description
You can easily tell the difference between a honeydew and cantaloupe upon first glance. For example, the skin of the honeydew melon is smooth and white or light green, while the skin of the average cantaloupe is deeply textured and netted, and is tan or brown in color. In addition, the fruit found inside a honeydew melon is green, while the fruit inside of a cantaloupe is orange.
Speaking of the inside of the fruit, both honeydew and cantaloupe have seeds in the center of their fruit, though honeydew seeds are more obviously tan compared to cantaloupe seeds. When it comes to the fruit flavor of both of these melons, honeydew is typically sweeter than cantaloupe is. In addition, honeydew melons are often firmer in texture compared to cantaloupe, though cantaloupes often have a thicker rind compared to the delicate rind found on honeydew melons.
Honeydew vs Cantaloupe: Behind the Names
While these two fruit have many similarities from origin and usage, you would not know that when you hear their names. These fruits' names could not be more different, at least in the English language. One sounds like chores around the house for a husband and the other sounds like something that should be found on a rollercoaster ride! And, of course, that's not to mention the spelling on the cantaloupe. It's probably a decent challenge in a spelling bee!
The honeydew is how Americans refer to the green melon, while it was also known as the White Antibes from the French and Algerian farmers who grew the crop. Cantaloupe, on the other hand, has its name because this melon was grown in Cantalupo in the Italian Cantus Region. This is after it was brought over from Armenia.
Honeydew vs Cantaloupe: Uses
Many people choose to use honeydew and cantaloupe interchangeably, as they are both sweet and delicate enough to be enjoyed by a variety of individuals. For example, honeydew and cantaloupe are frequently eaten raw as snacks, or in salads and accompanying cured meats. In addition, honeydew melon is high in potassium and fiber, while cantaloupe is high in vitamins A and C.
Honeydew vs Cantaloupe: Origin and How to Grow
There's a lot of debate as to where honeydew and cantaloupe originated. However, they appear to have originated in different locations, with honeydew originating in France and Spain, and cantaloupe originating in South America or Asia. Despite their differences in origin, you can grow a honeydew and cantaloupe in the same way. They thrive In the heat of summertime, often taking over if you aren't careful. Both of these melon varieties spread easily and enjoy full sun, nutritious soil, and climbing trellises.
Honeydew vs Cantaloupe: Musky Odor
The final, unique difference between honeydew and cantaloupe is the presence of a musky odor. Honeydew and cantaloupe are both muskmelon varieties, called this because of their notorious scent. If you have never smelled a cantaloupe, you should definitely give it a try next time you visit your local grocery store. Cantaloupe have a distinctly musky and sweet odor that honeydew melons do not share.
This is an extremely interesting fact, given that this odor is key to many different muskmelon varieties and it is what gives them their name. You may notice a slight sweet odor emitting from a honeydew melon if it is particularly ripe, but it does not smell nearly as strong as cantaloupe does
The photo featured at the top of this post is © iStock.com/bhofack2
---
Sources

Inheritance of Some Fruit Characters in Musk-Melon, Available here: https://www.indianjournals.com/ijor.aspx?target=ijor:ijh&volume=29&issue=1&article=011