↓
Continue Reading To See This Amazing Video
For any horse enthusiast, having a horse is a wonderful experience, but it is a costly endeavor. You'll want to keep a close eye on your emotional and financial commitment. 
Are you prepared to pay exorbitant veterinary fees if your horse becomes ill or injured? What are your options if your horse hurts a rider? 
Thankfully, equestrian insurance can help alleviate these worries. Because there is so much involved with horse insurance, we'll show you everything you need to know before spending any of your hard-earned money. 
What Does Horse Insurance Cover?
Just like other pet insurance policies, there are plenty of options for your horses. Below you'll find the most common types of horse insurance choices available. 
Major Medical
Human major medical coverage is similar to horse health insurance. Coverage varies per business, much like our own health insurance, so it's vital to go over possible plans carefully to determine what they include and what plans don't. 
Veterinary treatment is generally part of insurance coverage in the event of accidents, illnesses, or diseases. Health conditions are also diagnosed and treated, and certain aftercare costs may be covered.
Preventive treatment is often not covered by major medical insurance, but it does cover unforeseen veterinarian bills. Pet insurance companies rarely cover preexisting diseases, elective surgeries, or alternative treatments like reflexology. Dental treatment is frequently not covered by insurance policies. 
The yearly coverage limitations on most policies range from $5,000 to $15,000. If the cost of your horse's treatment exceeds your coverage limit, you will be liable for the difference. This coverage operates on a reimbursement basis, which allows you to pay your vet and then submit your insurance company a bill. The insurance company examines the bill and issues you a reimbursement to repay the charges in accordance with your policy's conditions.
Mortality Insurance
Horse mortality insurance is similar to human life insurance. It compensates you if your horse dies as a result of a covered sickness, accident, or injury. Several insurance firms offer mortality insurance as a foundation for other forms of coverage. 
This means you buy a life insurance policy and then add other coverage, such as major medical insurance, to it. This technique, however, differs for each firm. Companies provide both complete and restricted mortality insurance coverage. 
Your horse's entire worth is paid out if you have a full mortality policy. Limited mortality plans only cover a portion of the value of your horse. As your horse grows older, mortality insurance becomes more costly.
Care, Custody, Control
You may require care, custody, and control coverage if you deal with other people's horses. If you board, coach, or breed horses, this sort of coverage is an excellent investment. They often include injury to another person's horse under these plans.
You can purchase these policies separately or in combination with other liability insurance. They offer coverage on a horse-by-horse and year-by-year basis. A policy may cover $12,000 for each horse every year, for instance.
Loss of Use
Horse owners who utilize their horses for income-generating activities such as breeding are subject to loss of use rules. These plans often include substantial underwriting, which is a screening procedure that insurance firms undergo before issuing a policy. 
A veterinarian examination, radiographs, and documentation about the horse and its medical records are frequently required by insurance providers. The coverage will reimburse you for the earnings you would have gotten if you had kept the horse. 
Loss of use coverage is generally included in major medical and mortality insurance policies. There is no stand-alone loss of usage insurance available.
Surgical
We all know how expensive surgery can be, with or without insurance. It's possible that some horses won't be eligible for substantial medical treatment. Alternatively, your money may prevent you from purchasing important medical equipment. 
If that's the case, you might want to consider purchasing surgical-only coverage. These plans, as the name implies, cover life-saving procedures for your horse. There are also yearly restrictions of up to $10,000 on this insurance. 
Colic surgery plans that solely cover this surgery, which can be costly, are also available. One thing to keep in mind is that this insurance often does not cover the price of room and board while in the clinic, just the medical charges.
Liability
If your horse destroys somebody else's property or hurts someone, liability insurance will pay the costs. Your house insurance policy may protect your steed, but you should double-check with your insurer. If it doesn't, you should consider purchasing liability insurance. 
Even the most careful owners are not immune to mishaps. If you own and operate a horse-related business, you'll need greater liability coverage. An expert insurance specialist can assist you in determining the right level of protection.
Finding Horse Insurance Rates 
Just like any other type of insurance that you buy, there are a variety of factors involved that dictate the cost. Here are some of the main things that are involved with equine insurance. 
The Form of Coverage: When it pertains to horse insurance, you have a variety of choices. You can choose restricted mortality with surgery only, which is the cheapest option. You can also select a plan that provides more comprehensive coverage. The more protection you have, the more expensive it is.
The Deductible: Most horse insurance policies include a deductible. This is the sum you must pay prior to your plan begins to cover you. If you pick a greater deductible, your insurance premiums will be cheaper. 
Policy Restraints: Medical insurance usually has a yearly coverage restriction. Larger premiums are associated with a higher coverage limit.
Your Horse's Value: Insurance providers use the worth of your horse to determine the cost of mortality plans. It's not always easy to figure out how much something is worth. The worth of your horse would equal the purchase price if you had just bought it. If you are using your horse for income-generating activities, the value of your horse may rise. You'll have to convince the insurance company of the horse's worth. The horse's age has an influence on its value as well. Horses that are older may have a reduced value.
The easiest method of finding out how much insurance for your horse would cost is to get quotes from many firms. Please remember that every business offers various coverages, so comparing insurance might be difficult.
The Best Pet Insurance for Horses
Because horse insurance coverage varies so much, it's critical to compare various plans. Based on our research, these are the top horse pet insurance alternatives.
Best Overall: Blue Bridle Equine Insurance
For over 40 years, Blue Bridle has focused on horse insurance. It was crucial in the development of horse surgical and medical insurance. Blue Bridle has been licensed to work in 42 out of the 50 states. It caters to a wide range of equestrians. Surgical and colic-only coverage is available, as well as medical aid, injury and illness coverage, and loss of use insurance. It also provides insurance modifications to protect your horse if it goes beyond the United States or Canada.
Best Variety: Broadstone Equine Insurance Agency
Broadstone Equine Insurance Agency has a wide range of horse insurance options. It provides significant medical and surgical insurance for a variety of equine, and its claims department is open 24 hours a day, seven days a week. 
Broadstone's website also has a wealth of information to help you make an educated decision about the correct insurance for both you and the horse. Broadstone also welcomes coverage-related inquiries, get in touch with them if you have any.
Best Value: ASPCA
The American Society for the Prevention of Cruelty to Animals (ASPCA) is a well-known name in animal welfare, and this includes horses. Horse ASPCA animal health insurance is a cost-effective solution for covering unforeseen care needs. 
There are two options available: one for colic and incidents, and the other for colic, accidents, and diseases. The policies do not cover prior diseases, just like most pet health insurance plans. You can add preventative medicine benefits to either plan.
Best for Equine Major Medical: Kay Cassell Equine Insurance
Kay Cassell Equine Insurance is a family-owned business. All of its packages, including major medical, come with customized assistance. Its major medical insurance covers your horse's emergency veterinarian treatment, and it offers policies with amounts up to $15,000. 
Also, there are surgical-only and colic-only options available. Kay Cassell's staff members are ready to discuss coverage alternatives if you're unsure of which plan is right for you.
Choosing a Horse Insurance Provider
Selecting a horse insurance company is a significant decision. You'll want to understand that your insurance provider will be there for you if you have a problem. Inquire with friends or relatives about the insurance companies with which they have experience. 
Check out any insurance company you're thinking about using for reviews. Pay close attention to how firms communicate with you when you contact them for quotations. Do they respond to you quickly? Do they go through your policy alternatives with you? Opt for a business that has your best interests at heart. 
After that, go through your quotes again. Request sample insurance so you can go through the details. Inquire about their claims procedure and how long it'll take for a claim to be reviewed.
Up Next
The Top 13 Biggest Horses in the World
The Top Horse Dewormers In 2022
10 Prettiest Horses in the World
---
The Featured Image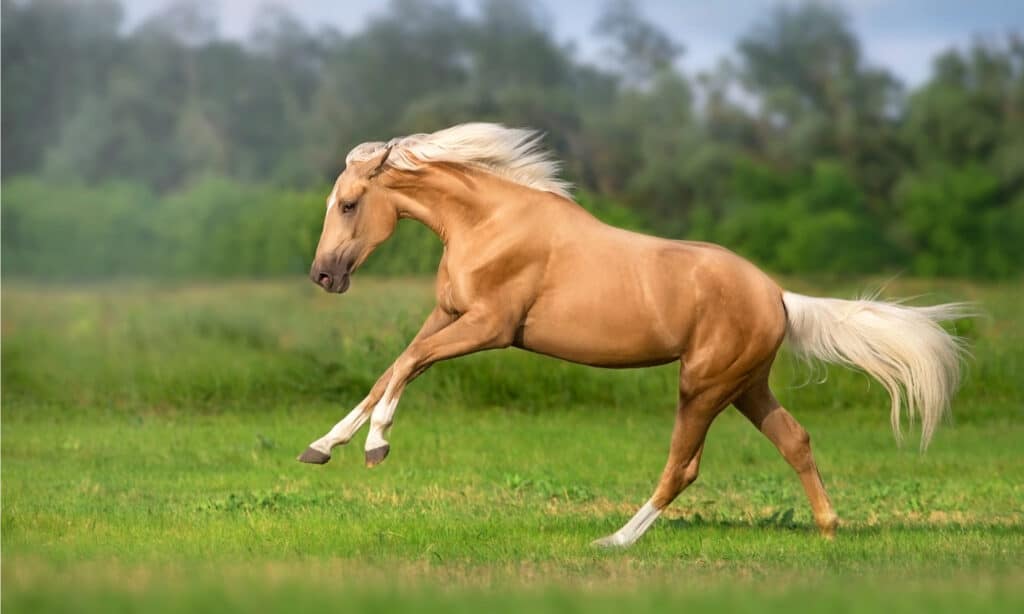 ---