Key Points:
The water level of Lake Powell has reached record lows due to years of drought. It typically measures 558 feet deep at the dam but currently is 404.05 feet deep.
The Glen Canyon Dam was built on the Colorado River, and afterward, in 1963, Lake Powell was constructed and filled over a 17-year period.
Besides the draw of the wonderful lake itself, other tourist attractions around Lake Powell include the Rainbow Bridge Natural Arch and Antelope Canyon.
Lake Powell is one of America's natural wonders, stretching along 1,900 miles of shoreline north of the Arizona and Utah border. Unfortunately, the lake, known for its red rock canyon views and natural arches, is experiencing a drought that affected its water levels.
This brings us to ask how deep Lake Powell is right now.
How Deep is Lake Powell Right Now?
Lake Powell is currently 404.05 feet deep at the dam (August 03, 2022). The lake, which is the United States' second-largest reservoir, is also 3,523.25 feet above sea level (May 10, 2022).
How Deep Is Lake Powell Usually?
In typical situations, Lake Powell is 558 feet deep at the dam. Therefore, the lake is also usually 3,700 feet above sea level, considered a "full pool." However, due to a severe drought in the area, the lake is 154 feet above average dam depth and 176.75 feet below "full pool" status.
Lake Powell has experienced over two decades of drought, resulting in the lake's water levels reaching record lows.
How Was Lake Powell Formed?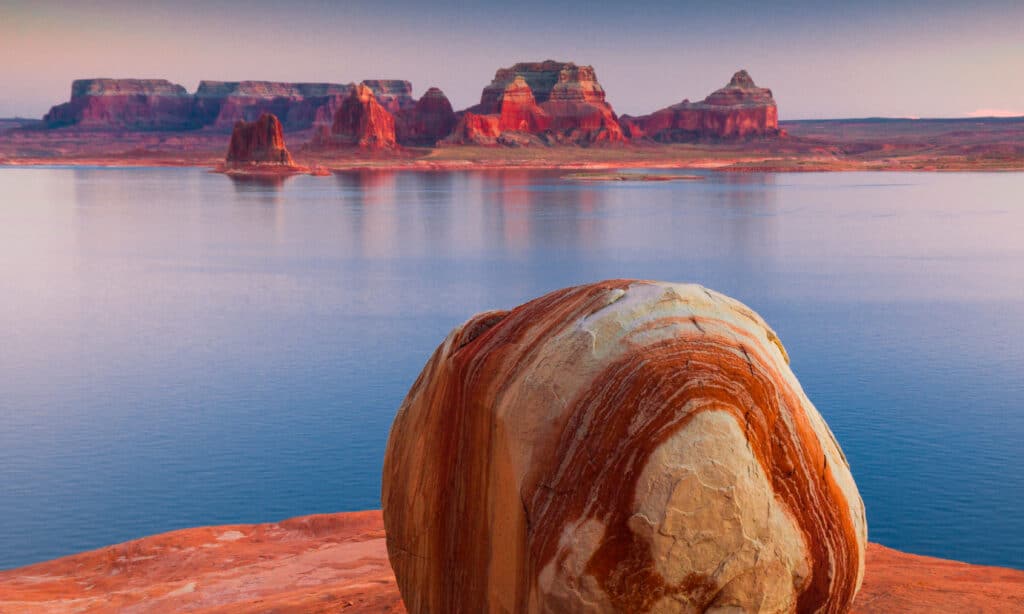 Lake Powell is a man-made lake constructed in 1963 after the completion of the Glen Canyon Dam on the Colorado River. The lake only reached "full pool" status in 1980 after taking 17 years to fill up. Glen Canyon Dam provides water storage and power to small rural electric co-ops, Native American reservations, and towns throughout Utah, Colorado, Arizona, and New Mexico. The dam's power plant has eight generators with nearly 1.3 million kilowatts combined.
Lake Powell's low water levels have posed a threat to Glen Canyon Dam. The Glen Canyon Dam reaches a "minimum power pool" at 3,490 feet above sea level. Being just over 60 feet above the "minimum power pool" level, experts have become worried.
It is estimated that if hydropower is generated at 3,490 feet above sea level or lower, the equipment inside the dam could become damaged.
This damage might occur if air pockets form in the turbines that generate electricity. If Lake Powell had to drop to 3,370 feet above sea level, it would reach "dead pool" status. This status would mean that water could no longer pass through the dam by the power of gravity.
Government Intervention
To restore the normal water levels to the dam, the U.S. Bureau of Reclamation announced it would be holding 480,000-acre-feet of water in Lake Powell and not releasing it through the dam. The U.S. Bureau of Reclamation also said it would release 500,000-acre-feet of water from the Flaming Gorge Reservoir on the Wyoming and Utah border.
After doing this, they estimate that the lake's water levels will rise by 16 feet and be 3,539 feet above sea level. In turn, the Flaming George reservoir will drop by 9 feet.
Natural Wonders Along Lake Powell
The Rainbow Bridge natural arch is one of the lake's most popular attractions. The sandstone arch is one of the Seven Wonders of the World, which the Navajo people know as the "rainbow turned to stone."
The arch, which is 290 feet high, has a deep spiritual meaning to many people as they believe their special prayers will receive answers if they pass beneath it. And if you do pass beneath the arch without praying, you will meet with misfortune.
Although people were allowed to travel under the arch, the National Park Service now prevents this for preservation purposes. Lake Powell is also home to the three-roof Anasazi ruins with wall paintings, petroglyphs, caves, and arches. These ruins lie in the northern section of Lake Powell, where you also find the Fortymile Gulch and the Grand Staircase formation.
There are also natural attractions in the surrounding areas of the lake. A popular tourist destination is the Antelope Canyon. This canyon's formation is due to the erosion of sandstone after flash flooding, which now features "flowing" shapes along the rock canyon walls. Near the Wahweap and Antelope Point marinas is the Horseshoe Bend. This bend is a sharp curve in the Colorado River and turns around an incredible rock formation.
Five Cool Facts About Lake Powell
Lake Powell is a man-made reservoir located on the Colorado River in the southwestern United States.
Here are five cool facts about Lake Powell:
Lake Powell is one of the largest man-made reservoirs in the United States. The lake was created in the 1960s with the construction of the Glen Canyon Dam, which spans the Colorado River and impounds water to create the lake. With a capacity of 26.2 million acre-feet, Lake Powell is the second-largest reservoir in the United States, behind only Lake Mead.
Lake Powell is home to over 90 side canyons, many of which are accessible only by boat. These canyons offer a variety of hiking and exploring opportunities, with hidden waterfalls, slot canyons, and ancient ruins waiting to be discovered. Some of the most popular side canyons include Antelope Canyon, Cathedral Canyon, and Labyrinth Canyon.
Lake Powell is a popular destination for fishing enthusiasts. The lake is home to a variety of fish species, including striped bass, smallmouth bass, largemouth bass, walleye, and catfish. Fishing is permitted year-round, with the best times to fish typically in the spring and fall.
Lake Powell is also a popular spot for water sports, including wakeboarding, water skiing, and tubing. The lake's calm waters and scenic surroundings make it an ideal location for these activities. Boat rentals and guided tours are available from several marinas around the lake.
The area around Lake Powell is rich in Native American history and culture. The lake is located on the border of Arizona and Utah, and the region is home to several Native American tribes, including the Navajo and the Ute. Visitors to the area can learn about the history and traditions of these tribes through guided tours and cultural exhibits.
Lake Powell is a unique and fascinating destination that offers a range of outdoor activities, natural beauty, and cultural experiences.
Things To Do On Lake Powell
Even though the lake is experiencing record-low water levels, it still offers fun for the entire family. Lake Powell offers:
Two visitor centers
Five marinas
Permanent mooring
Lodging
Restaurants
Campgrounds
RV facilities
Houseboat rentals
Boat rentals
Fishing
Guided tours
Fish Found In Lake Powell
Lake Powell is home to a wide range of fish that anglers and amateur fishermen can try to catch. Some of the most popular fish in Lake Powell are smallmouth bass, largemouth bass, striped bass, walleye, channel catfish, crappie, and bluegill. The best time to fish for these fish are:
Smallmouth bass: All year round, but the best time is April, September, and October. Smallmouth bass is very active during the fall.
Largemouth bass: All year round in deeper waters.
Striped bass: From July to October, after spawning, when the shad start schooling up.
Walleye: February to April.
Channel Catfish: During the summer and fall.
Crappie: During the spring. You will likely catch crappie weighing 1.5 to 2 pounds during spring.
Bluegill: During the summer.
Shellfish found in Lake Powell has been zebra and quagga mussels. These are known as invasive species as they are known to grow in colonies and can block industrial pipes or damage boat motors.
Lake Powell Wildlife
Lake Powell is not only home to marine life but also mammals, reptiles, amphibians, and birds. You may spot bobcats, bighorn sheep, and coyotes if you're lucky enough, but these animals tend to avoid humans. Likewise, many reptiles and amphibians, like lizards, snakes, toads, and frogs, call Lake Powell their home. Lake Powell is also home to over 315 species of birds.
Birdwatchers love visiting Lake Powell as they can spot owls, herons, eagles, ducks, and many more species.
Where is Lake Powell Located on a Map?
Situated in Utah and Arizona, Lake Powell is a human-made reservoir formed along the Colorado River, serving as a significant tourist attraction that draws approximately two million visitors annually for vacation purposes.
Here is Lake Powell on a map:
The photo featured at the top of this post is © iStock.com/Lucas Cometto
---