The names of the 50 states in the USA truly reflect their histories, whether they are named after European explorers or Native American tribes. Furthermore, some explanations about state names remain disputed or unconfirmed, but many have definitive meanings that can't be debunked. For example, North and South Carolina are named after King Charles II of England. But how did Alabama get its name? First, learn about the history of this southern state.
Alabama History
In 1819, Alabama became the 22nd state to join the Union, but European settlers arrived in Alabama in the 16th century. This state is in the southern USA and is nicknamed the Yellowhammer State. Alabama's economy hinged on the cotton and slave labor trade in the 19th century. Additionally, the state was integral to the Civil War as the Confederacy's first capital was Montgomery, AL. But, the war couldn't stop segregation, which prevailed throughout the Southern states until the 20th century when the Yellowhammer State became the center of the American Civil Rights Movement. By the 21st century, Alabama's economy thrived thanks to jobs in agriculture, aerospace, auto production, and the service sector.
How Did Alabama Get Its Name?
Many people ask how Alabama got its name, and there are varying accounts. However, the most common theory is that the name comes from a fusion of two Choctaw words, Alba and Amo. These two words translate to "vegetation gatherers." This is fitting since Native Americans occupying the area at that time cleared land for agricultural purposes.
The other theory is that the state was named after the Alabamas or Alibamons, an Indian tribe of the Creek Confederacy. This tribe is thought to have named the Alabama River.
How Did Alabama Get Its Nickname?
While Alabama doesn't have a designated nickname, many people know it as the Yellowhammer State. This nickname stuck after the Civil War because a group of soldiers in the state wore uniforms trimmed with yellow material. Therefore, they were nicknamed the Yellowhammers as these birds have bright yellow feathers beneath their wings and tails. Yellowhammer is the common name for Alabama's State Bird, the northern flicker woodpecker.
The state has another nickname, Crimson Tide. This name comes from sports editor Hugh "Doc" Roberts after he watched a football game between Alabama and their rival, Auburn, in Birmingham. The iron-rich soil in Birmingham stained the white jerseys of Alabama's football team, creating a crimson-red color. Alabama was predicted to lose that day, but they tied 6:6. Therefore, Mr. Roberts referred to them as the Crimson Tide, and the nickname stuck.
Wildlife in Alabama
Alabama is home to a diverse group of animals, from predators like the alligator and coyote to reptiles like the rainbow snake. Below is some of the wildlife found in the Yellowhammer State:
American Black Bear
Black bears are native to North America and inhabit the river courses and forests in Canada, the USA, and Mexico. They are medium-sized bears with long, sharp claws. These bears were heavily hunted, but the population is making a good comeback thanks to stricter rules.
Their diet consists of the following:
Black bears are often sighted near the Little River Canyon in Cherokee Country, which is in the northeastern part of Alabama.
Alligator
The American alligator inhabits slow-flowing freshwater rivers, marshlands, marshes, and lakes in Alabama. These massive predators have between 74 to 80 sharp teeth. As they get older, their teeth wear down and are replaced by new teeth. Therefore, alligators can go through 2,000 to 3,000 teeth throughout its life. Alligators use their feet and tails to help them swim, and they can reach speeds of 20 miles per hour. Interestingly, these reptiles can't walk backward.
Eastern Indigo Snake
The eastern indigo snake inhabits oak and pine forests and sandy hills. Also known as the gopher snake, they often occur in burrows of the gopher tortoise, thus the name. These snakes defend themselves by rearing their necks, rattling their tails, and hissing. However, eastern indigo snakes rarely bite, even when handled. Additionally, they are diurnal, so people often spot them on walks while basking in the sun. These snakes primarily occupy coastal areas of Alabama during the breeding season.
Gray Bat
Alabama is home to gray bats, an endangered species that mostly live in limestone caves in the southeastern U.S. They are distinguished by their dark gray fur. However, the color of their fur may bleach to a chestnut or russet brown from June to August during the molting season. They mainly inhabit caves in north Alabama near Decaturm Wheeler National Wildlife Refuge, Lake Guntersville, Morgan Country, Madison County, and Tennessee River Valley.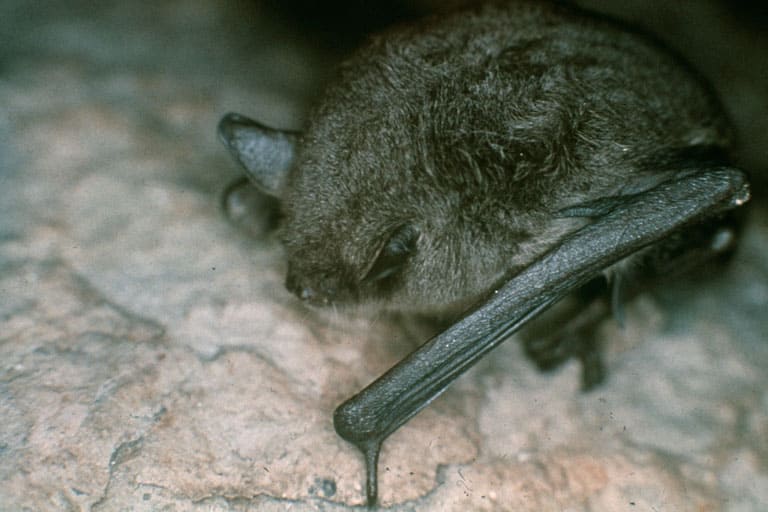 Rainbow Mud Snake
The rainbow mud snake, also known as the rainbow snake, is a nonvenomous snake belonging to the Viper family. They are very rarely seen because of their secluded habitat. These snakes are 26 to 66 inches long, with glossy black bodies and three red stripes.
Coyote
The coyote is widespread throughout Alabama and is the largest carnivore in the state. Their diet consists of a wide variety of animals, including:
Rodents
Rabbits
Birds
Eggs
Fruit
Livestock
Domestic poultry
These canines are amongst a small group of animals that actually thrive in urban and suburban environments and help themselves to scraps from trash cans or prey on small pets. Coyote mating season usually occurs between February and March. Females have a gestation period of around 60 days, giving birth to litters of roughly six pups.
White-Tailed Deer
The white-tailed deer is one of the more popular animals in Alabama. Since they are highly adaptable, these deer can thrive in various habitats and evolve to sudden changes in their environments. They prefer areas with extensive open spaces and regions with mature timber. As a result, they occur throughout Alabama. White-tailed deer are so adaptable; they only need water, food, and shelter to survive.
Armadillo
Like the white-tailed deer, armadillos occur throughout the state of Alabama. However, they usually avoid areas that are very wet or extremely dry. Therefore, they prefer habitats with soils or substrates instead of vegetation since they are burrowers. When they are outside, most of their time is spent feeding. Armadillos detect their prey by smell and sounds. In addition, they are opportunistic feeders and have a varied diet. Their diet primarily consists of insects, but they also eat small vertebrates and plant matter. Furthermore, researchers have observed these critters eating small amphibians and reptiles, carrion, and eggs from ground-nesting birds.
The photo featured at the top of this post is © Marcio Jose Bastos Silva/Shutterstock.com
---