Beautiful and rare, the gorilla is a creature known for its strength and intelligence. Observing a gorilla will surely remind you of being a human, especially since gorillas have been studied for their human behaviors. But how long do gorillas live, and what is their life like?
In this article, we will discuss how long gorillas live, what their average life cycle is like, and we will even mention some of the oldest living gorillas on record. Some of these gorillas have lived long and impressive lives, both in captivity and in the wild. Let's learn more now.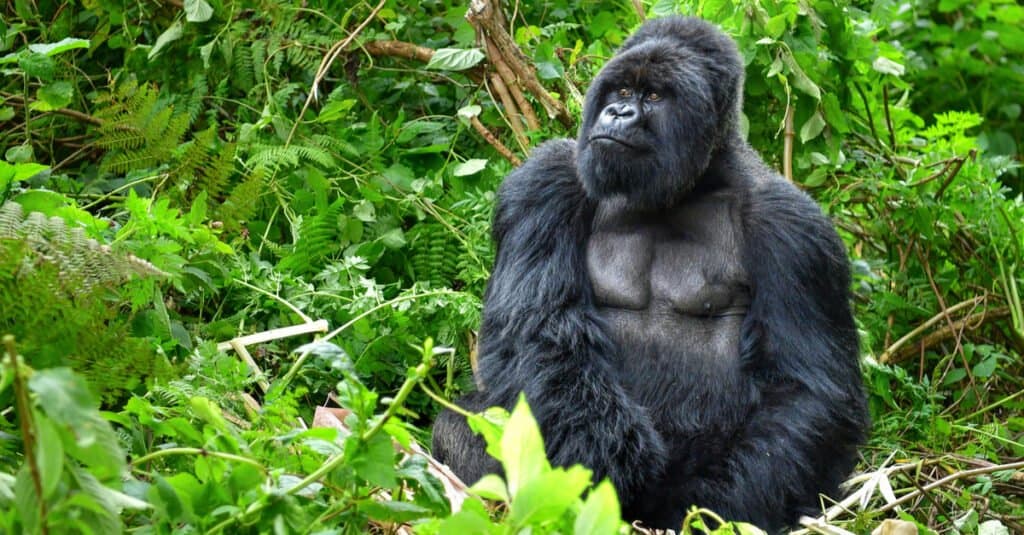 How Long Do Gorillas Live?
Gorillas live an average of 20-40 years in the wild. Captive gorillas live longer lives, though a wild gorilla does not face many natural predators. Given their size, strength, and intelligence, the main predator of gorillas is mankind.
Gorillas and humankind are closely linked genetically, and many studies have shown that gorillas are similar to us in many ways. For example, a recent study shows that gorillas eat food with joy and vocal exclamations, similar to how we feel when we enjoy a good meal. 
Gorillas are also naturally strong and powerful. They have been known to bend cage bars when kept in captivity, and they can easily uproot trees in the wild. This makes gorillas sound disruptive to a natural environment, but the opposite is actually true.
Given that gorillas are primarily herbivores, they often consumed plant matter and seeds. They defecate in areas that are well-lit and moist, and are always on the move. This means that they leave these areas of the forest undisturbed, allowing the seeds in their waste to grow and reproduce plants. 
Gorillas are all so similar to us in that we call their babies infants. This is the scientific term for a baby gorilla, and it only makes sense, given our close genetic link and the similarities to how we treat our young. But let's dive into what life is like for an infant gorilla now.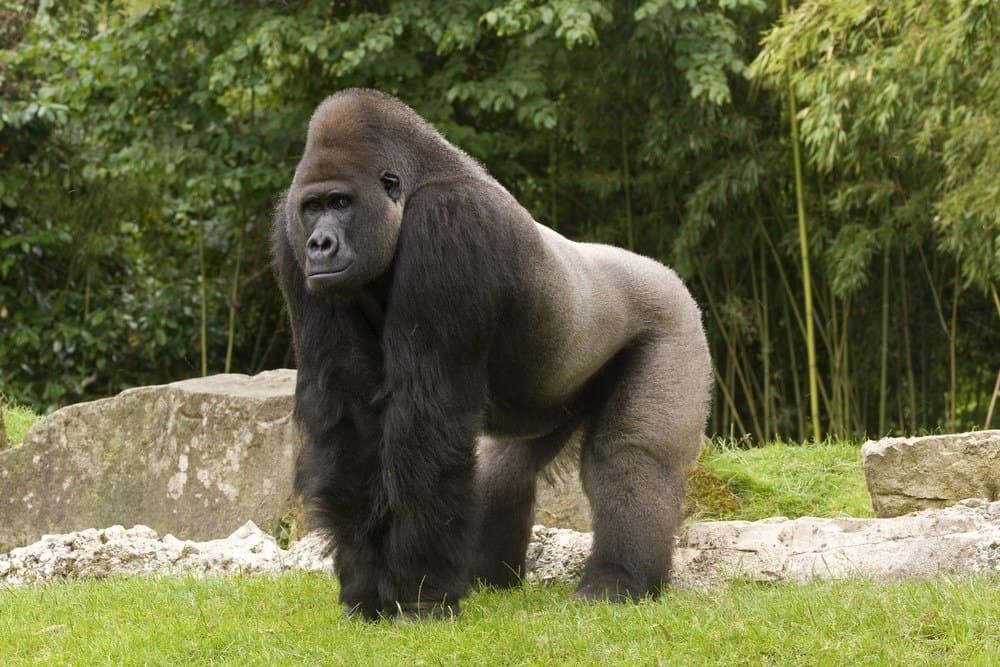 The Average Gorilla Life Cycle
From newborn gorilla to grown Silverback male, here is what the average gorilla life cycle is like! 
Newborn, or Infant 
It is important to note that the average female gorilla can only produce offspring every two to six years, depending on her health. The gestation period for an infant gorilla is similar to that of humans, lasting roughly eight to nine months. A mother gorilla only gives birth to one baby at a time, and her breeding season is often short. This is part of the reason why gorillas are an endangered or threatened species.
An infant gorilla lives its life similarly to a human baby. It is incapable of walking for the first three to five months of its life, and only learned how to sit up after at least 6 to 10 weeks as well. It takes at least 6 months for an infant gorilla to walk on its own. Even after the initial six months have passed, an infant gorilla still clings to its mother's back until its third or fourth year of life. 
Young Gorillas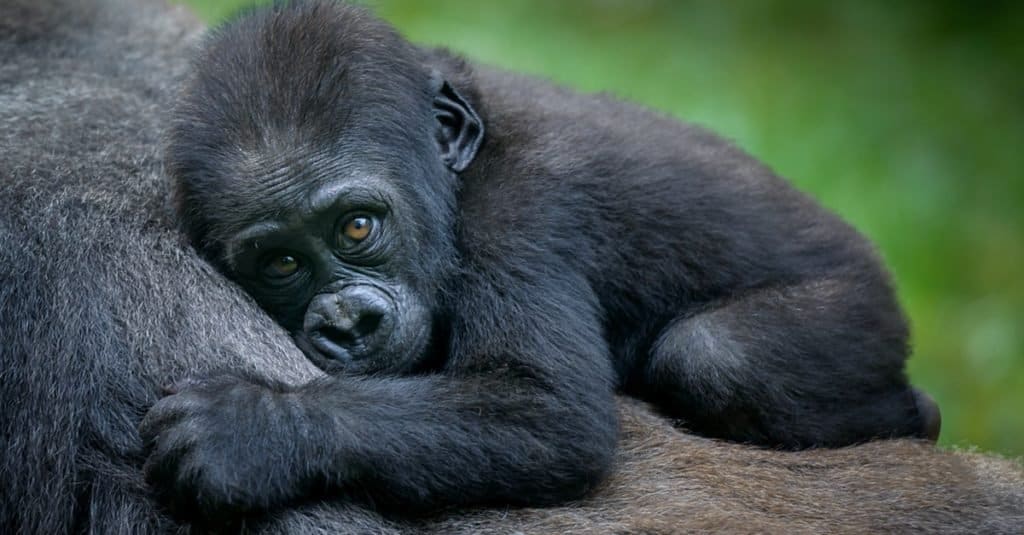 Young gorillas begin to gain more Independence once they have reached just under 5 years of age. They still remain with their mother for quite some time, but they are capable of walking around on their own and fending for themselves.
Young gorillas grow rapidly during this time, and male and female gorillas grow at the same rate. They are curious, playful, and learning many different socialization customs that gorillas have. This can include up to 30 different vocalizations and sounds that gorillas use to communicate. 
Adult Gorillas
Most gorillas are considered adults when they reach the age of sexual maturity. Female gorillas mature more quickly than males, and this occurs between 7 to 9 years of age, while male gorillas need an average of 10 to 12 years. 
However, there is still a great deal of time before males start to turn gray. Silverback gorillas are not a particular species of gorilla, as the phrase merely refers to a more mature adult male gorilla. Female gorillas do not earn this coloring, and are usually smaller than male gorillas.
Male gorillas can reach nearly six feet tall when standing, and can weigh almost 500 pounds. Female gorillas can weigh similarly, especially when they are pregnant. A group of gorillas is called a troop, and is formed with a single Silverback male, many females, and their babies. 
Some of the Oldest Gorillas Ever!
While gorillas can live a long and healthy life in the wild, they can live even longer when kept in captivity. Curious to know how old some of the oldest gorillas ever recorded are? Here is a list of some famously old gorillas! 
While Koko only lived to the age of 46, she was a wonderful gorilla for many reasons. Born on the Fourth of July at the San Francisco Zoo, Koko learned over 2000 words in sign language and could readily communicate with humans.
Up Next:
More from A-Z Animals
---
The Featured Image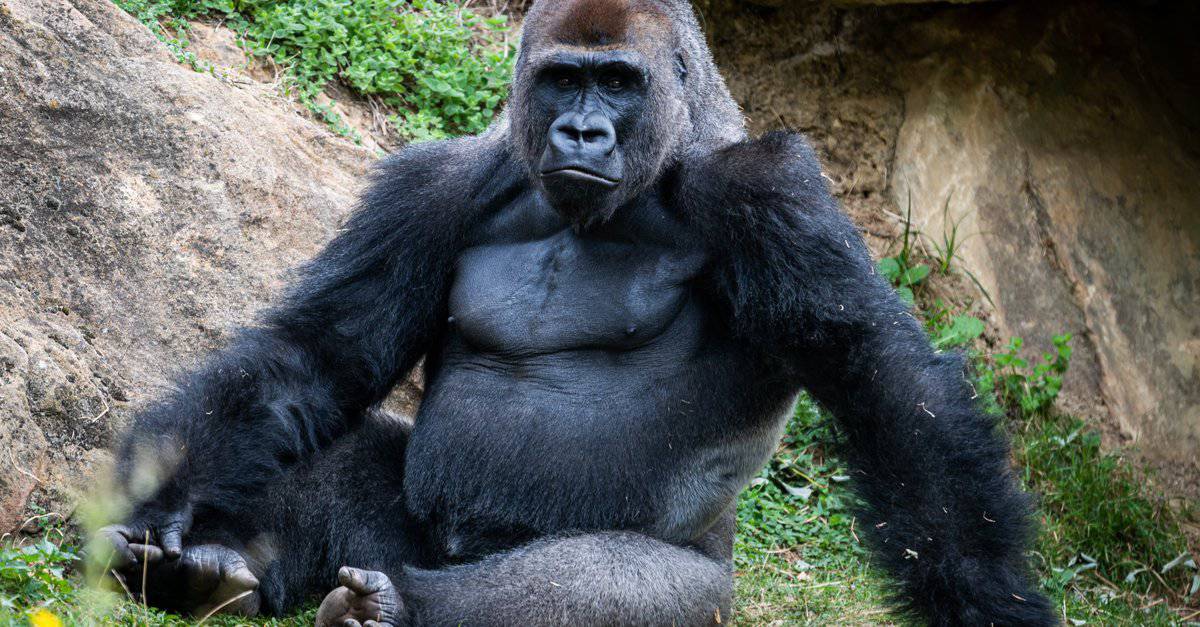 ---