Key Points
The python and the king cobra actually live in very similar regions and habitats.
King cobras use venom to incapacitate prey and threats, but pythons are constrictors that squeeze prey and threats to death.
The king cobra's bite is venomous enough to kill an elephant, and it will 'stand' up an intimidating four feet tall to attack.
Pythons can swim, climb trees, and kill animals much larger than themselves.
While both of these snakes are considered apex predators, there are many differences between a king cobra vs python. Despite them living in similar regions of Asia, there are quite a few things that separate them from one another. But what might some of these differences be, and how can you learn to tell these two potentially dangerous snakes apart?
In this article, we will compare and contrast the king cobra and the python so that you can learn all of the differences that separate them from one another. We will discuss their physical differences as well as their behavioral differences, as well as their distinct lifespans. That way, you can learn everything you need to know about these two snakes. Let's get started!
Comparing King Cobra vs Python
| | King Cobra | Python |
| --- | --- | --- |
| Size | 12-18 feet long; 10-20 pounds | 5-20 feet long; 10-200 pounds |
| Appearance | Slender body with chevron pattern on back of neck; found in brown, green, or yellow and tan scales. Has hood surrounding face | Extremely thick body with patchwork pattern, similar to giraffes; found primarily in brown or black and tan scales. Many different colors depending on species |
| Lifespan | 15-20 years | 20-30 years |
| Behavior | Capable of rising up to four feet to stand and threaten prey or foes; has enough venom to kill an elephant in a single bite | Kills prey with powerful constriction, but often kept as a pet depending on the species of python. Capable swimmers and tree climbers |
| Habitat and Location | Asia; found in humid jungles but also populated areas | Asia, but also found in households as pets; prefers jungles and forested regions |
Key Differences Between King Cobra vs Python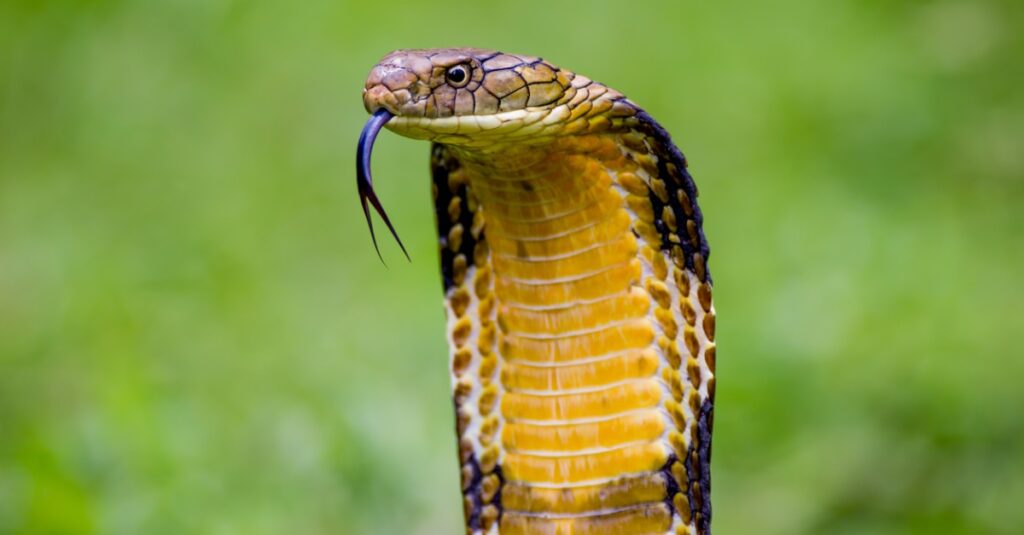 There are many key differences between king cobras and pythons. Depending on the species of python, the python far outweighs and outgrows the king cobra. While both of these snakes live in Asia, the python is often domesticated and kept as a pet, while king cobras never are. Finally, pythons kill their prey using constriction, while king cobras kill their prey using venom.
Let's discuss more differences in detail now.
King Cobra vs Python: Size
King cobras are regarded as the longest venomous snake in the world. However, this does not mean that they are the longest snake, period. For example, depending on the species of python, they can reach up to 20 feet in length, while king cobras average 12-18 feet in length. However, pythons average anywhere from five to 15 feet long when it comes to the domesticated species.
Typically, pythons far outweigh king cobras given the overall thickness of their bodies. For example, the average python weighs anywhere from 10 to 200 pounds, while king cobras average 10 to 20 pounds total. This is likely due to the fact that pythons are extremely thick, while king cobras are extremely slender.
King Cobra vs Python: Location and Habitat
When it comes to wild king cobras or pythons, both of these snakes can be found in Asia. There are also wild pythons in Florida specifically, though they are considered an invasive species. However, there are some habitat preferences that separate king cobras from pythons. Let's talk more about this now.
Pythons prefer dense forests and humid jungles, while king cobras are frequently found in populated areas. However, cobras also enjoy forests, given that they are capable tree climbers and prefer to be left alone by the majority of humans.
King Cobra vs Python: Appearance
You can easily tell a king cobra apart from a python based on their physical appearance. Not only are pythons typically thicker and larger than king cobras, they also have intricate spots on their bodies. Pythons have markings that are similar to the markings of a giraffe, while king cobras have a chevron pattern on the back of their neck.
Depending on the species of python, they are found in a variety of colors, while king cobras typically only come in brown, gray, or yellow. Another key difference in the physical appearance of a king cobra vs python is the fact that king cobras have a flexible hood made of loose skin, while pythons do not have this. Cobras use this as a defense mechanism to scare away predators.
King Cobra vs Python: Behavior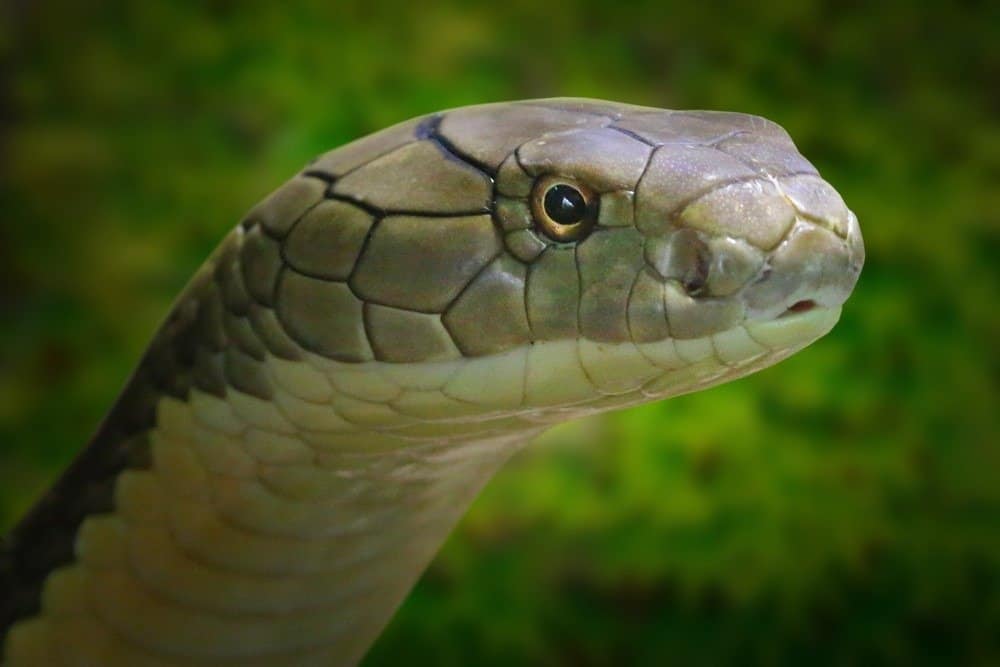 There are many differences in the behavior of a king cobra versus the behavior of a python. King cobras are notoriously venomous snakes, while pythons are constrictors and non-venomous individuals. This leads to very different behaviors when it comes time for them to hunt. A king cobra has enough venom in a single bite to kill a whole elephant, while pythons are capable of constricting and killing prey far larger than them.
Pythons are also capable of swimming and holding their breath for up to 30 minutes, while king cobras do not have this ability. Both pythons and king cobras climb trees, though larger pythons often lose this ability if they get too big. Finally, cobras are capable of rising up to 4 feet into the air in order to appear threatening when faced with predators, while pythons do not do this.
King Cobra vs Python: Prey
The king cobra's diet is somewhat limited to birds, lizards, and other snakes.
On the other hand, pythons hunt more different kinds of prey, though it can vary depending on the species of python. These constrictors swallow their food whole, and can even eat animals larger than themselves. They will typically eat rodents, birds, lizards, snakes, and larger animals like monkeys, big cats, and more.
King Cobra vs Python: Lifespan
A final difference between king cobras and pythons is their lifespan. The average king cobra lives anywhere from 15 to 20 years, while pythons live anywhere from 20 to 30 years. However, this often depends on the python species, and some pythons far outlive this estimate.
King Cobra vs Python: Combat
Now the burning question. Who would win in an encounter in the wild? During a fight that occurred last year, a python did its very best to strangle a king cobra in a struggle that began in the bushes before both combatants ended up on the road in front of motorists. But all it took was a jab of those fangs and the patience to wait out the python's endurance.
However, during another encounter three years before the former, venom simply wasn't enough to save the day and the struggle ended in a draw as the python choked the life out of the cobra before its poison took effect.
The photo featured at the top of this post is © iStock.com/Nynke van Holten
Discover the "Monster" Snake 5X Bigger than an Anaconda
Every day A-Z Animals sends out some of the most incredible facts in the world from our free newsletter. Want to discover the 10 most beautiful snakes in the world, a "snake island" where you're never more than 3 feet from danger, or a "monster" snake 5X larger than an anaconda? Then sign up right now and you'll start receiving our daily newsletter absolutely free.
---