Lion Spirit Animal Symbolism & Meaning
Spirit animals have been a topic that is often met with significant controversy. Since the most common interpretation of the spirit animal comes from the Native American, Indigenous, and First Nations communities of North America, it's widely considered appropriative to adopt this cultural zeitgeist into your daily life.
Additionally, it's considered offensive to use the term "spirit animal" to apply to animals that would not have been present in the Native American folklore and mythologies. Keep reading to learn about the lion's symbolism in the world and why the lion can't be your spirit animal.
Disclaimer
This article's writer is not of Native American, Indigenous, or First Nations heritage. However, we have tried our best to source as many first-hand Native, Indigenous, and First Nations voices as possible. This article is meant for educational and entertainment purposes only. It does not claim or try to be an authoritative source on Native American cultures.
In addition, A-Z Animals does not condone or encourage the cultural appropriation of spirit animals into the lives of non-Native people. Spirit animals and clans are not a representation of your favorite animal; they are not toys or novelties. We ask that you listen and hear the words of the Native American people when they ask you not to appropriate this concept.
For more information on why it's offensive to adopt spirit animals and clans into your life as a non-Native person, we recommend this article from the National Museum of the American Indian. Further, this article from Discover Magazine does an excellent job of sourcing crucial Indigenous voices in a conversation that pertains directly to them.
What Is a Spirit Animal? Why Can't Lions Be Spirit Animals?
The term spirit animal is rather politically loaded. It primarily refers to the spiritual practices of the Native American, Indigenous, and First Nations cultures of North America. Unfortunately, the American government heavily suppressed these practices, and the people who held these beliefs remain viciously oppressed within American laws.
Since lions aren't native to North America, they can't be considered spirit animals, as the Native Americans wouldn't have included them in their mythologies. Instead, similar animals, such as mountain lions and bobcats, would be more appropriate choices for people who feel their spirit animal might be a big cat. But lions are not part of the Native American mythos and, therefore, would not be considered spirit animals.
What Do Spirit Animals Mean to the Native Americans?
Spirit animals are messengers, guides, and teachers in Native American traditions. Unlike what most people seem to believe, they are not representative of your favorite animal or personality traits. Instead, they are spirits that have chosen to guide you in life.
Since spirit animals are primarily teachers or guides, they don't carry inherent meaning to the lives of those they enrich. Many people erroneously believe that spirit animals represent who you are on the inside and who you will become as you go through life, but this is a flagrant mischaracterization of the concept. Spirit animals do influence who you become by guiding you through the trials and tribulations of daily life.
Similarly, you are not limited to just one spirit animal. Many spirit animals may visit you throughout the course of your life. The meaning you derive from each spirit that visits you is unique.
What Do Lions Symbolize Outside of North America?
Lions have different symbolism depending on where you look. However, you can find lion symbolism dating back to cave paintings from the Paleolithic period. They also have immense meaning to the African and Asian communities that share their regions with prides of lions.
Western Lion Symbolism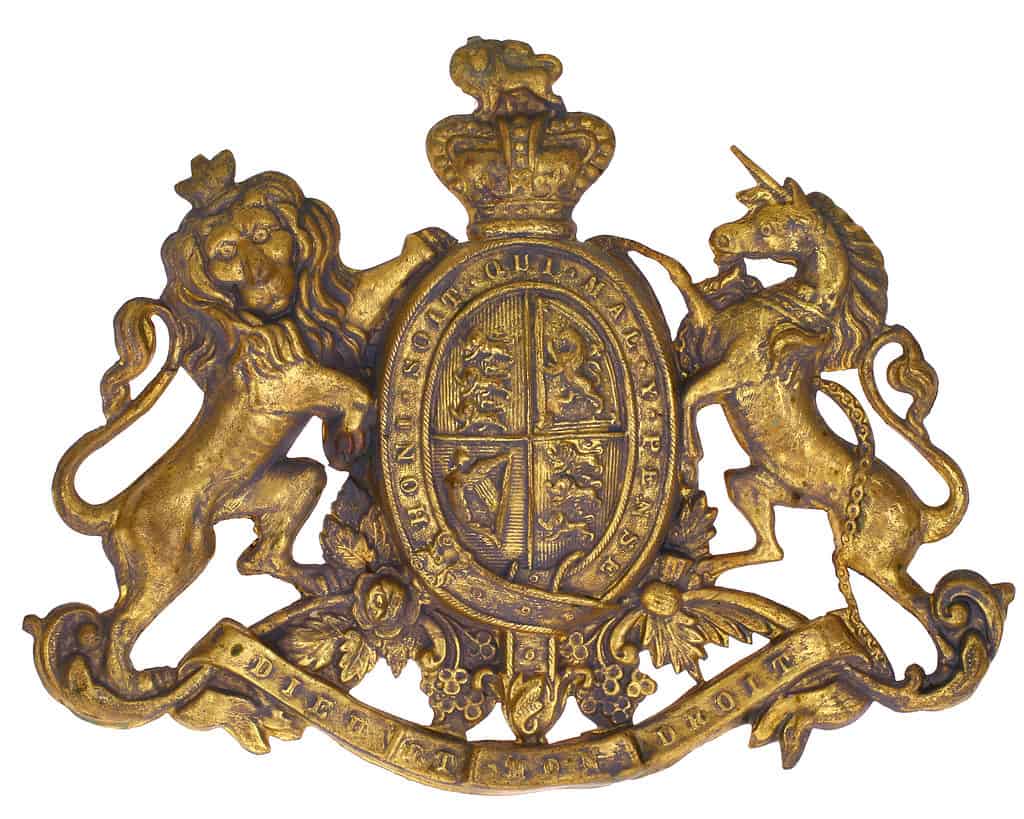 The first depictions of lions actually come from Europe. We can find some of the earliest cave paintings depicting lions in Ardèche, France. Moving a bit forward in time, we can also find the Löwenmensch figurine, a zoomorphic figure found in Hohlenstein-Stadel. Further still is the ivory carving of a lion's head from Vogelherd Cave in the Swabian Jura, southwestern Germany. These were carbon-dated 39,000 years old, dating from the Aurignacian culture.
Moving into the medieval and middle ages, lions became popular features in heraldry, the art of designing coats of arms to be worn on armory and regalia, symbolizing nations on their flags and coats of arms. In heraldry, the lion is the king of beasts and represents courage, nobility, royalty, strength, stateliness, and valor.
Lions also have a special place in Judeo-Christian heraldry. The Lion of Judah stands on the coat of arms of Jerusalem. Similar lions can be seen on the Swedish—notably that of the royal House of Bjelbo—and Finnish coats of arms.
African Lion Symbolism
The earliest tomb painting in Egypt depicts lions. These paintings are located at Nekhen, classified as part of Naqada or Gerzeh. Paintings include depictions of humans living alongside lions, including an image of a person (or deity) walking flanked by two upright lions.
Going further forward in Egyptian history, we see in the Egyptian pantheon existing lions and lion-headed deities, namely Sekhmet. Originally a lioness but later depicted as a woman with a lion's head. Bast was the foil goddess worshipped in Southern Egypt. Still, after the unification, Bast became associated with personal protection, changing her head from a lioness to a very tame lioness or a cat.
The people of Nubia, which some modern Egyptian land encompasses, also worshipped a lion-headed war god known as Apedemac. The Nubians believed Apedemac was the god that allowed them to vanquish their enemies. Therefore, Nubian pharaohs would swear allegiance to Apedemac. Nubia also had two other notable gods, Maahes and Dedun, who were also depicted as lions.
Mesopotamian Lion Symbolism
There's also a great deal of symbolism with lions in Mesopotamia. Depictions indicate that the Mesopotamian lion was significant for the people of Ancient Iraq. To this day, the Iraqi national football team is unofficially known as the Lions of Mesopotamia.
Neo-Assyrian reliefs and sculptures dating back to the 6th and 7th centuries were also rediscovered and excavated in the 1900s. Several famous reliefs feature lions. None are quite as well-renowned as the Lion Hunt of Ashurbanipal, which includes the scene The Dying Lioness, picturing a paralyzed lioness pierced with arrows.
Finally, the Babylonian goddess Ishtar was depicted with a chariot drawn by seven lions. However, these reliefs and depictions are just a drop in the bucket of Mesopotamian cultures. Many Mesopotamian art pieces depict lion hunts; it would seem they were pretty popular, especially with nobility.
Classical Era Lion Depictions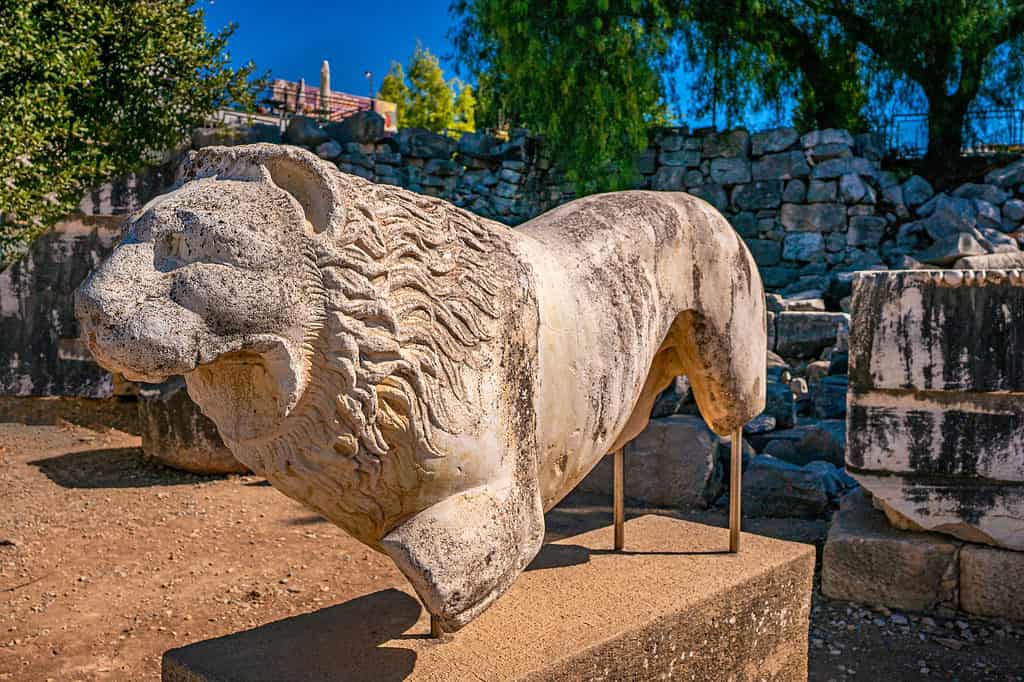 While we don't typically associate lions with the classical period, recent discoveries of lion bones in Greece, the Balkans, and Ukraine have proved that lions lived in the area at least until the 5th or 6th century BCE. In addition, written and visual art of lions persisted until well past the 4th century CE. So, it's unclear when lions became a less common sight in the area. However, this discovery proves that lions once roamed the areas of ancient Greece, meaning their stories depicting lions were a reflection of the Greeks' surroundings rather than tales from further east carried by merchants.
The Gorgon, an early protection deity of ancient Greece, was often flanked by two lionesses. Lionesses flank a depiction of a Gorgon in the western pediment of the Artemis Temple of Corfu. This makes that an excellent early example of lions in classical mythology. Additionally, the story of Heracles features the Nemean lion. This is a beast killed by Heracles and later worn as a magic invulnerable cloak.
Asian Lion Symbolism
Asian lion symbolism varies widely throughout the different cultures, even if the depictions all come from the same roots. This variance is because most East and Southeast Asia have never had a native lion population. So, the cultural depictions of lions were based solely on stories from South Asia, where lions were native.
As a result, the look of the depicted lions is a far cry from the truth. Instead, lions in Southeast and Eastern traditions are more like mythical creatures. Many depictions begin to resemble dragons more than lions.
Lions in Hindu and Buddhist traditions were first depicted in South Asia, namely India. The people of India revere a lion god known as Narasimha. Additionally, the goddess Durga rides a lion as her divine mount. Narasimha and other lions are worshipped and revered by the people of India. Finally, the Sinhalese—the primary ethnic group of Sri Lanka—revere lions so much that they call themselves the "lion people." Using the term "Sinhalese" coming from "Sinhala," meaning, literally, lion people.
Final Thoughts
Looking at the symbolism of Africa and Asia, both in the past and the present, you can see heavy influence from the lions that roamed the world with them. Lions were so prolific in Buddhist traditions that the people of East and Southeast Asia made up their own depictions despite not having seen a lion. While you may not be able to have an African or Asiatic lion as your spirit animal under Native American cultures, there's no reason you can't look for spiritual meaning to the lion in other or personal beliefs.
Up Next:
More from A-Z Animals
---
The Featured Image
---
FAQs (Frequently Asked Questions) 
Where are lions native?
Lions are native to Africa and South Asia, but have been recorded through fossils in the Greece, Ukraine, and the Balkans.
Can lions be spirit animals?
African and Asiatic lions cannot be considered Native American spirit animals. However, bobcats and mountain lions are options for big cats that can be used with the Native American pantheon.
What is a spirit animal?
The Native Americans regard spirit animals as spiritual teachers, messengers, and guides that appear to people as animals.
Why can't lions be spirit animals?
The term "spirit animal" is a unique cultural zeitgeist of the North American Indigenous peoples. Since they would never have seen a lion—or included it in their spirituality—it cannot be considered a spirit animal.
Sources

Wikipedia, Available here: https://en.wikipedia.org/wiki/Apedemak#:~:text=Apedemak%20or%20Apademak%20was%20a,the%20Meroitic%20peoples%20inhabiting%20Nubia.
Wikipedia, Available here: https://en.wikipedia.org/wiki/Cultural_depictions_of_lions#Classical_period
Wikipedia, Available here: https://en.wikipedia.org/wiki/Lion_(heraldry)#:~:text=The%20lion%20is%20a%20common,coat%20of%20arms%20of%20Jerusalem.
Wikipedia, Available here: https://en.wikipedia.org/wiki/Lion
UniGuide, Available here: https://www.uniguide.com/lion-meaning-symbolism-spirit-animal-guide
Ancient Sudan, Available here: https://web.archive.org/web/20080921013008/http://www.ancientsudan.org/religion_04_apedemac.html