Land purchases by wealthy individuals and hedge firms have increased in recent years, but this is not a new trend. Because of its stability, land has long been a desirable investment. Individuals who own farmland usually acquire it for a lengthy period, so the asset's value rises over time and provides a consistent return. If you play your cards right, buying land can provide you with the financial security everyone aspires to have.
Illinois is the 25th-largest state in the United States, with an area of 57,918 square miles (37 million acres). Prices for high-quality farmland in central Illinois are at an all-time high and show no signs of abating anytime soon. Which leads us to wonder: who are the largest landowners in the Prairie State? This article uncovers Illinois' five largest landowners and other interesting facts.
The 5 Largest Landowners in Illinois
1. The Church of Jesus Christ of Latter-Day Saints – 38,000 Acres
With 38,000 acres, the Church of Jesus Christ of Latter-day Saints, generally known as the Mormon Church, is the largest landowner in Illinois. The church is not a new player in the farmland investment game.
Mormons comprise only 1.4% of the population in the United States, yet the Church of Jesus Christ of Latter-day Saints is notable for its diverse business interests, including cow ranches, radio broadcasting, an insurance agency, sewage treatment, a mall, and a Polynesian amusement park. According to reports, the Mormon Church owns approximately one million acres in continental America, operating farms, ranches, orchards, and hunting preserves. It also holds land in Australia, the United Kingdom, Brazil, Canada, Argentina, and Mexico.
In prior statements, church representatives have stated that they regard farmland as a useful method to secure and steward extra donations to the church — essentially a rainy day fund in case expenditures ever exceed donations. Furthermore, the land can be used to produce food for people if the need arises.
2. The Scully Family – 30,000 Acres
The Scully Family property, primarily located in Logan County, comes in a close second. William Scully was a nobleman from Ireland with land-owning ancestors rooting back 500 years, and he and his relatives were regarded throughout Ireland as heavy-handed landlords. Scully was embroiled in lawsuits and violent landlord-tenant clashes over his Irish properties. The public outcry against Scully's activities made his name well-known throughout Great Britain.
William inherited land but left in the mid-1800s to create his fortune in America. He purchased enormous areas of swampy land in Logan County, some for as little as 50 cents per acre, and became one of the largest landowners in the American Midwest. He eventually acquired 211,000 acres in Illinois, Kansas, Missouri, and Nebraska, including 30,000 acres in Logan County, IL, alone.
The Illinois land has been passed down through trusts to the families of two of his grandsons, Michael and Peter Scully. Rob Woodrow of Farmland Solutions and Craig Thompson of First Mid Ag Services oversee the land, and Woodrow claims that he and Thompson frequently collaborate on projects and plans for the family's welfare.
3. Shahid Khan – 24,000 Acres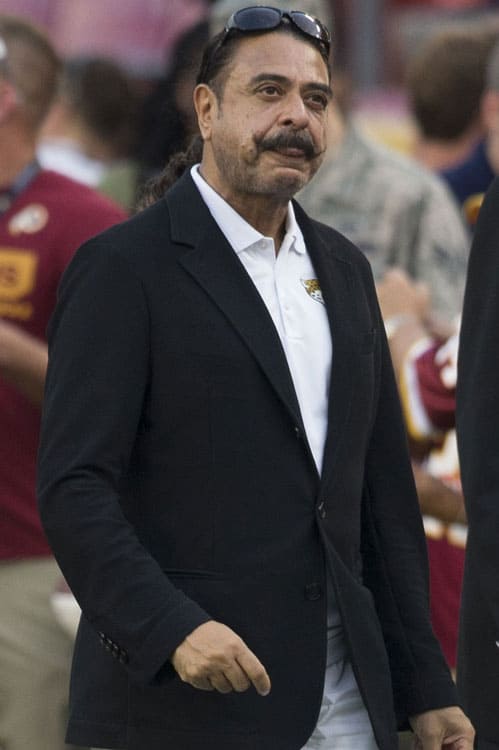 Shahid Khan, the self-made billionaire owner of the car parts firm Flex-N-Gate, comes in third with 24,000 acres. Khan is best known for expanding the automobile components company Flex 'N Gate, based in Urbana, IL, into a global producer with 69 locations worldwide. He also owns the Jacksonville Jaguars of the National Football League and the Fulham FC soccer team of the Premier League.
In recent years, Khan has discreetly increased his assets by purchasing farmland in central Illinois through a business he owns named Baloo Enterprises LLC. A representative for Khan verified that Khan purchased around 24,000 acres of farmland in central Illinois. Khan sees farming as an excellent investment and legacy asset, and he is no stranger to investing in Illinois, where he's lived for much of his life.
4. Bill Gates – 17,940 Acres
Bill Gates is the largest farmland owner in the United States, with a chunk of that ownership in Illinois. According to The Land Report, a magazine that gives news and information on America's land owners, Microsoft founder Bill Gates is the largest farmland owner in the United States, with around 242,000 acres. The Gates family currently holds 17,940 acres in Illinois, accounting for 7.4% of the family's overall land holdings.
5. Farmland Partners – 12,070 Acres
Farmland Partners ranks fifth, with less than half the acreage of the top two landowners. Farmland Partners is a farmland real estate investment trust (REIT), frequently referred to as a real estate mutual fund. Paul Pittman, the company's founder and CEO grew up on a farm in Illinois. Farmland Partners' largest assets in central Illinois prime ground are in Edgar County, purchased in 2015 from racing car billionaire and industrialist Gerald Forsythe.
Farmland Partners Inc. is a privately held real estate corporation. The company owns and aims to buy farmland in North America, offering farmland-secured loans to farmers. The company's portfolio includes basic products, including corn, soybeans, wheat, rice, and cotton, as well as specialty crops like almonds, citrus blueberries, and vegetables.
Summary of the 5 Largest Landowners in Illinois
Here's a recap of the top five owners of land in the state of Illinois:
| Rank | Landowner | Land Size |
| --- | --- | --- |
| 1 | The Church of Jesus Christ of Latter-Day Saints | 38,000 acres |
| 2 | The Scully Family | 30,000 acres |
| 3 | Shahid Khan | 24,000 acres |
| 4 | Bill Gates | 17,940 acres |
| 5 | Farmland Partners | 12,070 acres |
Up Next:
The 5 Best Places to Camp in Illinois This Summer 
Discover the 9 Best National and State Parks in Illinois The 10 Best Lakes In Illinois: Fishing, Boating, Camping, and Under the Radar Lakes!
---
The Featured Image
---
Sources

Farm Progress, Available here: https://www.farmprogress.com/commentary/who-are-biggest-absentee-landowners-illinois
Bloomberg, Available here: https://www.bloomberg.com/news/photo-essays/2012-07-12/the-mormon-global-business-empire
Illinois Library, Available here: https://www.library.illinois.edu/ihx/archon/?p=collections/controlcard&id=262
Mystateline, Available here: https://www.mystateline.com/news/national/bill-gates-found-to-be-the-largest-farmland-owner-in-the-u-s-with-a-portion-in-illinois/
Wisconsin State Farmer, Available here: https://www.wisfarmer.com/story/news/2021/04/01/billionaire-owns-38-square-miles-farmland-illinois/4843159001/