Key Points:
The federal government owns 29.1 million acres in Wyoming — the majority of which is used and maintained for recreational purposes.
Fish and Wildlife Service protects threatened species and habitats on federal lands in Wyoming.
Wyoming is home to more than 100 mammal species and 400 species of birds.
Wyoming is the 10th largest land area compared to all other U.S. states. Due to its plentiful supply of game, Wyoming was historically known as a prime spot for trappers and traders. Today, the state is home to incredible ranches and exciting conservation projects. The state has been able to maintain its wilderness status, as it is the least populated state in the country.
The residents who do live there are proud to call Wyoming home. And for some of them, their home is very large! Who are the eight largest landowners in Wyoming? Read on to find out!
1. Federal Government — 29,100,000 Acres
The federal government owns 29.1 million acres in Wyoming. That makes Wyoming the sixth state with the most land held by the federal government. The state's federal lands play a part in the conservation, recreation, and development of natural resources.
The state of Wyoming is primarily rural. It's less densely populated than other states in the U.S., with a population of 578,759 in 2017, according to the U.S. Census Bureau. Of the total land area in Wyoming, about 46.7% belongs to federal government agencies, namely the Bureau of Land Management (60%).
The remaining federal agencies that own land in Wyoming are the Forest Service (31.6%), the National Park Service (8.1%), and the Fish and Wildlife Service (0.2%). This is a 3.3% decrease from the amount of land owned by federal government agencies since 1990.
Most federal lands in Wyoming are recreational areas. The federal government works to balance land management, conservation, and recreational activities. The Bureau of Land Management is responsible for most public lands in Wyoming and manages oil and gas development in those areas.
The Forest Service also maintains forested areas. They provide access to the woods for recreational purposes while preserving their natural beauty. The National Park Service administers national parks and monuments in the state. Examples include Yellowstone National Park and Grand Teton National Park. Finally, the Fish and Wildlife Service protects threatened species and habitats on federal lands in Wyoming. Other top landowners in Wyoming include the state trust.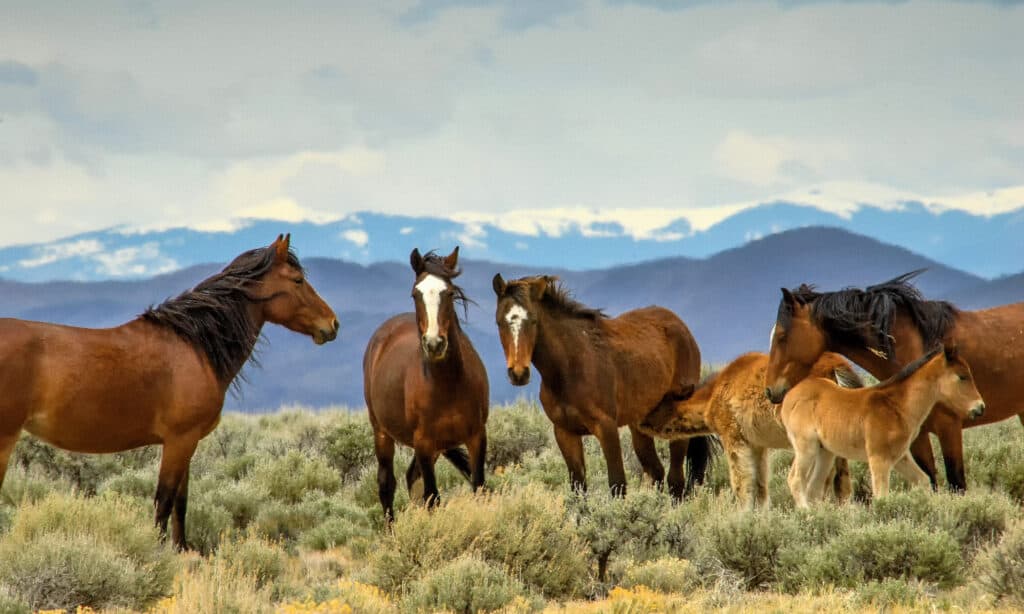 Wildlife on Wyoming's Federal Lands
Wyoming is home to more than 100 mammal species and 400 species of birds and includes wolves, bison, mountain lions, bald eagles, grizzly bears, black bears, elk, moose, deer, pronghorn antelope, and wild horses. Wyoming Nongame Bird and Mammal Program work with the U.S Fish and Wildlife Service to protect and monitor federally listed Threatened or Endangered species such as the brown pelican, wood stork, whooping crane, piping plover, least tern, black-footed ferret, and the Canada lynx.
2. Office of State Lands and Investments — 4,200,000 Acres
The Office of State Lands and Investments (OSLI) oversees 4,200,0000 acres of land. In 1890, when Wyoming became a state, the federal government granted the state 4.2 million acres for a trust. The trust is for public education and other public institutions.
There's a conservation easement on 19 acres owned by OSLI that the JHLT just purchased. The purchase is helping balance land management and recreational activities for local communities. This is just one example of how the Office of State Lands & Investments works to ensure that trust assets go to the right places. The conservation easement will protect and preserve the water resources and native vegetation. They'll do all of this while still ensuring that public access to outdoor recreation is available.
3. Stan Kroenke — 560,000 Acres
Billionaire Stan Kroenke owns 560,000 acres of land in Wyoming. This is the largest ranch in the Rocky Mountains and sits near Medicine Bow. Kroenke purchased this land in 2003. The move expanded his already impressive portfolio of properties across the country. Kroenke's holdings make him one of the wealthiest landowners in America. He has significant investments in other major teams and ranches in Arizona, Montana, Texas, and Canada.
The land at Q Creek Ranch was initially owned by John J. Sullivan back in 1884. The ranch began as a horse ranch, but now it's much more. Currently, the ranch includes cattle, sheep, and recreational activities. The ranch welcomes guests to come to experience the cowboy lifestyle. You can stay at the ranch and have fun hunting wild game or fishing for trout!
The ranch does more than turn a profit. It also helps the state thrive. Kroenke works with local activists to protect the land. They help ensure that recreational and hunting activities happen responsibly. In addition, Kroenke also invests resources into protecting biodiversity. Finally, his efforts help towards conserving habitat and help maintain open spaces.
4. Continental Divide Ranch — 96,447 Acres
The Continental Divide Ranch owns 96,447 acres of land in Wyoming. 29,000 deeded acres comprise the ranch. It breaks down to 40,960 acres of BLM, 2,960 acres of State School lease, and 23,527 acres of the private lease, offering plenty of grazing opportunities. In 2016, the land went up for sale as the state waited for the perfect owner to claim it.
All of the lands sit in one block in the Haystack Mountain Range. The ranch rests along the North Platte River. You can enjoy over five miles of gorgeous river frontage, ideal for fishing and irrigation. The ranch is perfect for livestock grazing, wildlife, and recreational opportunities. It's the ideal spot for a cow/calf operation.
The town of Rawlins is only eight miles away from the ranch, providing convenient amenities and a charming atmosphere. There are plenty of small boutiques, restaurants, banks, schools, and agricultural services in the area to enjoy. Ranching, recreation, wind energy development, and government initiatives drive the local economy.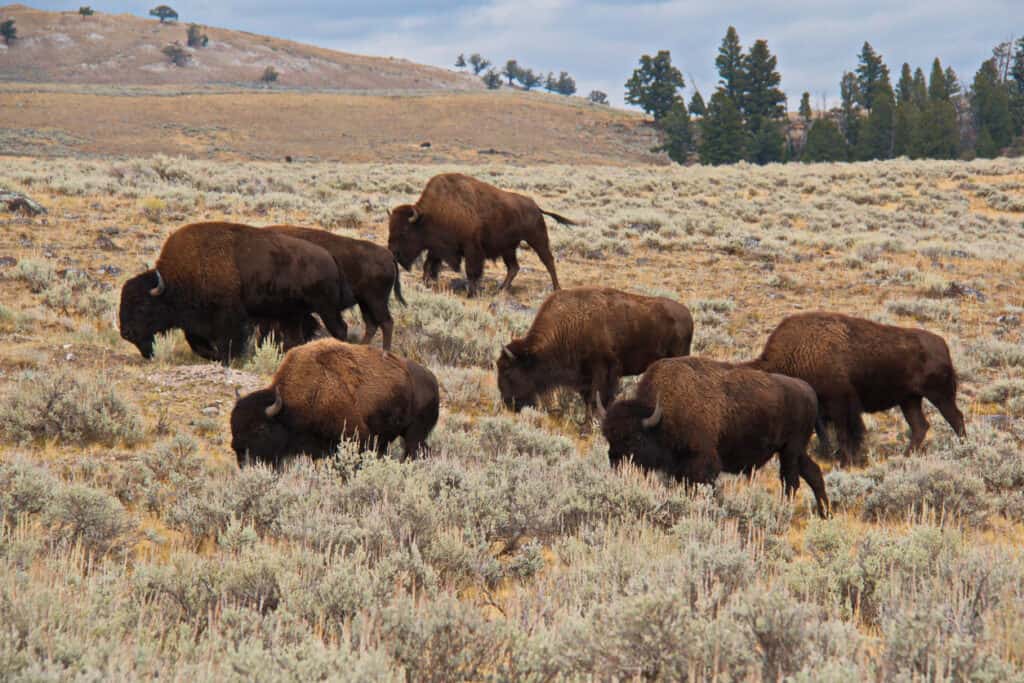 5. Armando "John" Flocchini III — 55,000 Acres
Armando "John" Flocchini III owns 55,000 acres of land in Wyoming. He's the proud owner of the Durham Bison Ranch. The ranch began back in 1965 and is right outside of Wright. Flocchini III's grandparents were the first owners of the land. Mr. Flocchini III is a third-generation rancher who manages around 3,000 bison during peak season between June and September.
It was in the 1930s when Armando Flocchini Sr. purchased the Durham Meat Company in San Francisco, where he worked as a butcher. In 1965 he bought the 55,000-acre bison ranch near Wright. It was soon retitled the Durham Ranch. The Flocchini family now operates it. They have maintained its outstanding reputation for producing high-quality bison.
The Durham Bison Ranch is part of the National Bison Range Complex and is a model of sustainable bison ranching. The land has been under management for over fifty years with conservation in mind. The detailed attention resulted in an abundance of wildlife and healthy ecosystems.
Flocchini III's management practices revolve around providing a good home for his animals. He also helps promote the land's growth and preserve the area's natural beauty. The ranch is also committed to keeping its bison as wild and free-range as possible. To do this, Flocchini III has implemented a rotational grazing system. Herds of bison move through different pastures throughout the year. This helps maintain healthy grasslands.
6. Cottonwood Canyon Ranch — 50,000 Acres
Cottonwood Canyon Ranch owns 60,000 acres of land in Wyoming. The president of the company is Douglas L. Zook. The large ranch is right outside of Big Horn County. The property had a listing price of $4 million before the current company bought it. The property is now a cattle and irrigation ranch. It's a stunning location and offers lots of recreational opportunities like hunting.
The ranch has an inholding of 1,700 acres on the west side of Northern Big Horns. Forest Service and BLM land border the area. The expansive ranch includes stunning country meadows, timber, and deep canyons. There are even sodded irrigation fields. There's also a lot of wildlife! Some animals include elk, deer, antelope, game birds, and occasional predators. But the best part is that there are no wolves or grizzlies because of its location in the Big Horn Mountains.
Initially, the land was a part of the Bischoff Ranch. Now, the Bush Farm is the only parcel that doesn't have a leased land neighbor. This ranch is just west of the Yellowtail Reservoir Causeway. The remaining deeded properties lie east of the Yellowtail Reservoir and include the Five Springs Farm by the Big Horn River.
7. Robert and Maggie Taylor — 42,558 Acres
Maggie and Robert Taylor own 70,000 acres of land in Wyoming. They're the proud owners of Lone Tree Ranch. This is one of the most prominent deeded properties in the entire state. This area is popular for having mule deer, elk, and antelope hunting opportunities. They also keep around 2,000 cattle every year.
In 2009, the Taylors purchased Lone Tree Ranch as part of a lifelong dream. The ranch covers over a mile of the Henry's Fork River. The Taylors work with conservation groups to promote responsible environmental practices on the land. They also support recreational activities for local communities. This shows the commitment of both parties to encourage responsible land management practices. Through this collaboration, they hope to provide economic viability for their surrounding area.
The ranch offers a variety of activities to visitors, including hiking trails, fishing, and camping. There are also miles of scenic mountain views and wildlife sightings. It's an ideal location for those looking to enjoy nature's beauty. The property has been under the management of STX Ranching since 2017. They have done extensive work, such as barn upgrades, new fencing projects, and irrigation improvements on the land over the years.
The terrain of the ranch is diverse, with mountainous terrain in the northwest and open grassy pastures as you travel east. Several reservoirs and stock tanks provide water for livestock in the summer months. The reservoirs also provide a habitat for elk, deer, and antelope year-round. You should definitely check it out if you're ever in the area.
8. Garry and Kevin Geiss — 30,000 Acres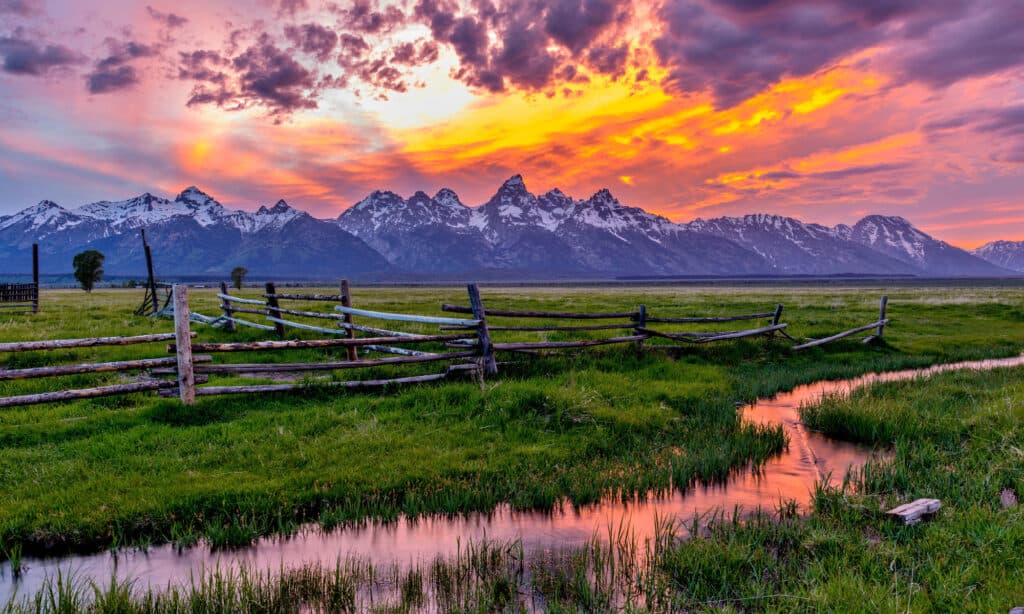 Brothers Garry and Kevin Geiss own 30,000 acres of land in Wyoming. They are the owners of the Geis Cattle & Sheep Ranch, which is 15 miles south of Gillette. They run the ranch with their wives, Gwen and Bobbi. The ranch has rolling hills and runs close to 350 cow/calf pairs. The best part is that most of the cows are delicious Angus. They also usually have close to 2,000 heads of sheep.
How do ranchers know the best practices? A recent survey of ranchers shows that most rely on each other for advice. Around 97% of ranchers in Wyoming rely on word of mouth to learn grazing management strategies. That's why it's so helpful when experienced ranchers like Kevin and Garry run the ranch. Those who already know the community knows who to talk to for help.
Gerry and Kevin Geiss are fourth-generation ranchers. They strive to maintain the ranch started by their great-grandfathers in the early 1900s. One of the ways they're doing this is by implementing a rotational grazing system to keep their cattle and sheep healthy. This system ensures that the land is well-grazed, which can decrease its productivity.
The brothers also practice conservation to balance their ranch ecosystems and wildlife. Conservation methods such as improving water quality with sediment control structures. They also build fences to reduce erosion and control invasive species.
While they may not have one of the most significant operations on this list, these brothers have managed to keep the land in the family all these years. The Geis Cattle & Sheep Ranch is an inspiring place to visit in Wyoming. The ranch has a long history and commitment to sustainable ranching practices. If you're ever in Wyoming, you should take a tour. They enjoy welcoming tourists or even kindergarten classes to visit their facilities. Tours are usually available during the spring and summer.
9. The Hauge, Laughlin & Resor Families — 5,100 Acres
The Hauge, Laughlin, and Resor families own 5,100 acres of land in Wyoming. They are the owners of the famous Snake River Ranch. The Snake River Ranch is the largest deeded land area in the Jackson Hole region. The land includes irrigated pastures, providing food and cover for various wildlife species. This ranch is essential in managing thriving elk herds along the Snake River.
The Hauge, Laughlin, and Resor families are also dedicated to preserving the land for future generations. That's why most of the ranch is currently under easements, as of the 1980s. But their commitment to conservation dates back even further. These families have worked with the Game and Fish department for the last 100 years. They're working hard to keep Wyoming natural and beautiful.
The Hauge, Laughlin, and Resor families have also provided access to the Snake River for research purposes. This has allowed researchers to monitor cutthroat trout populations. Researchers have been studying the land to understand fish loss to irrigation.
Through their dedication to conservation, the Hauge, Laughlin, and Resor families have been able to protect and preserve an essential part of Wyoming's natural heritage. They are indeed a shining example of responsible land stewardship.
More About Stanley Resor
Stanley Resor transformed the ranch into a highly functional operation. By 1938, Resor's estate encompassed the Lower Ranch. Everything was going great until disaster struck!
In 1943, Jackson Lake Dam unleashed a massive flood that decimated the Millstream headgate and powerhouse. Following the catastrophic flood, Arthur Ernest Morgan, a prominent civil engineer, had an idea. He recommended to Resor that he employ engineer C.C. Chambers to design a dike system for the ranch.
However, there was an absence of labor due to World War II. This prevented this endeavor from progressing quickly and hindered normal operations simultaneously. As such, Stanley Resor chose to mechanize his business instead. When Stanley passed away in 1962, his legacy was firmly established on the ranch – one still held by his family today, along with the Haughe and Laughlin families.
Summary of the 9 Largest Landowners in Wyoming
Here is a list of the 9 largest landowners in the state of Wyoming:
| Rank | Landowner | Land Size |
| --- | --- | --- |
| 1 | Federal Government | 29,100,000 acres |
| 2 | Office of State Lands and Investments | 4,200,000 acres |
| 3 | Stan Kroenke | 560,000 acres |
| 4 | Continental Divide Ranch | 96,447 acres |
| 5 | Armando "John" Flocchini III | 55,000 acres |
| 6 | Cottonwood Canyon Ranch | 50,000 acres |
| 7 | Robert and Maggie Taylor | 42,558 acres |
| 8 | Garry and Kevin Geiss | 30,000 acres |
| 9 | The Hauge, Laughlin & Resor Families | 5,100 acres |
Final Thoughts on the Largest Landowners in Wyoming
Now you know about the top landowners in Wyoming! With its wide open spaces and ample resources, it's no surprise that ranching is one of Wyoming's most popular activities. Counties such as Big Horn, Teton, Lincoln, and Goshen have been wildly successful in producing cattle. This is due to their great open terrain; this allows landowners to raise more cattle on less land.
The ranch owners in this article are an excellent example of how landowners in the state care about sustainable ranching practices. The management of the land keeps conservation and preservation in mind. The efforts are resulting in thriving ecosystems and abundant wildlife.
The stories of these top landowners show that there is much more to Wyoming than meets the eye. Want to know more about this great state? Then check out the articles below!
Up Next:
More from A-Z Animals
---
The Featured Image
---