Key Points
Bred to pull carts, protect their owners, or herd livestock, mountain dogs are often large, protective canines.
Named for their city of origin, Bern, in Switzerland, Bernese mountain dogs are the result of crossing Roman Mastiffs with herding dogs.
Saint Bernards are named for Saint Bernard de Menthon of Switzerland and are the descendants of Asiatic Mastiffs.
You can hardly miss mountain dogs. From their thick, furry coats, protective instincts, their friendly demeanor, and sometimes large sizes, mountain dog breeds always stand out in a crowd. Also, they're often featured in sensational videos on the internet.
Whether you keep a beautiful tricolored Berner or the teddy Newfie, it might interest you to know that your favorite, big pooch was originally bred to thrive in rugged and mountainous areas. This explains their cold-tolerant coats and love for the outdoors.
Historically, this breed was developed to help with tasks such as pulling carts, protecting owners, herding livestock, and guarding farms. Over time, they've evolved and are now being trained as loving and energetic family dogs. Keep in mind that mountain dog breeds are incredibly strong and active. Thus, they are expert-level dogs that deserve to be handled by experienced dog parents.
Wondering if mountain dog breeds live up to the hype? Here are 10 of the most popular mountain dog breeds. Although, you might get convinced that you need one or two.
Bernese Mountain Dog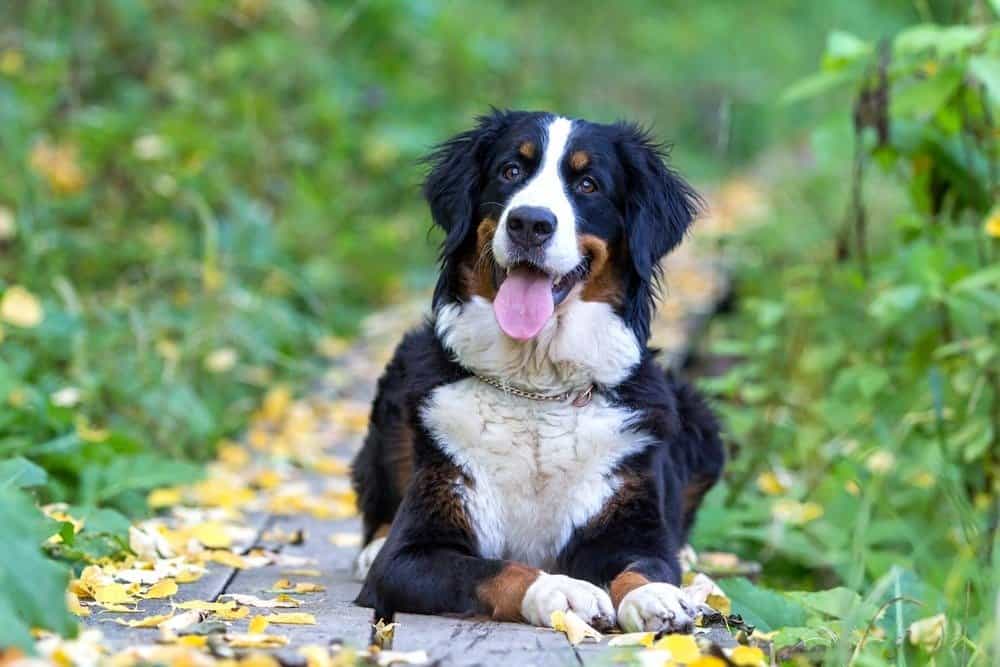 Need a big furry mush for your family? Look no further. The Bernese Mountain Dog is as protective as it is affectionate. Berners got their name from their city of origin, Bern in Switzerland. There they pulled carts, served as watchdogs, and helped with farming activities. They are also said to be the result of crossbreeding Roman Mastiffs and herding dogs. 
Distinguished by its long coat, the Bernese mountain dog is one of the four breeds of Sennenhund. This refers to four closely related Swiss mountain working dogs. They all share a beautiful tricolored coat (black base with rust and white markings). The other three cousins of Berners are the Greater Swiss Mountain Dog, Entlebucher Mountain Dog, and Appenzeller Mountain Dog.
Berners are smart, family-oriented canines that get along well with family members and other pets. While they are inherently protective and especially kind to kids, one lucky human gets to enjoy a unique attachment to the Berner. 
With its thick double coat and energy needs, ensure your Berner gets some exercise daily. The coat should be brushed weekly to minimize shedding.
Saint Bernard
This breed is one of the poster dogs of the Swiss Alps and one of the most beloved in the world. Saints are said to have descended from Asiatic Mastiffs and were used as war animals by the Romans.
Saint Bernard is particularly known for saving stranded tourists in the snowy Swiss Alps. It was named after a monk, Bernard de Menthon who established the Great Saint Bernard Hospice in 1050. In the 17th century, they were initially employed to watch over the hospice's monks and guests. According to historians, Saint Bernards evolved into rescue dogs once the monks discovered how adept they were at finding wandering tourists.
Today, Saints are sociable dogs that enjoy associating with people. They are dependable and often serve as a "nanny dog" for kids. Relaxed, quiet, and large, they only need a few quick walks a day to get exercise, but many are willing to do more.
Heads-up! Saint Bernards have more than enough slobbery kisses to give. So, this isn't the breed for you if you find slobber repulsive.
Great Pyrenees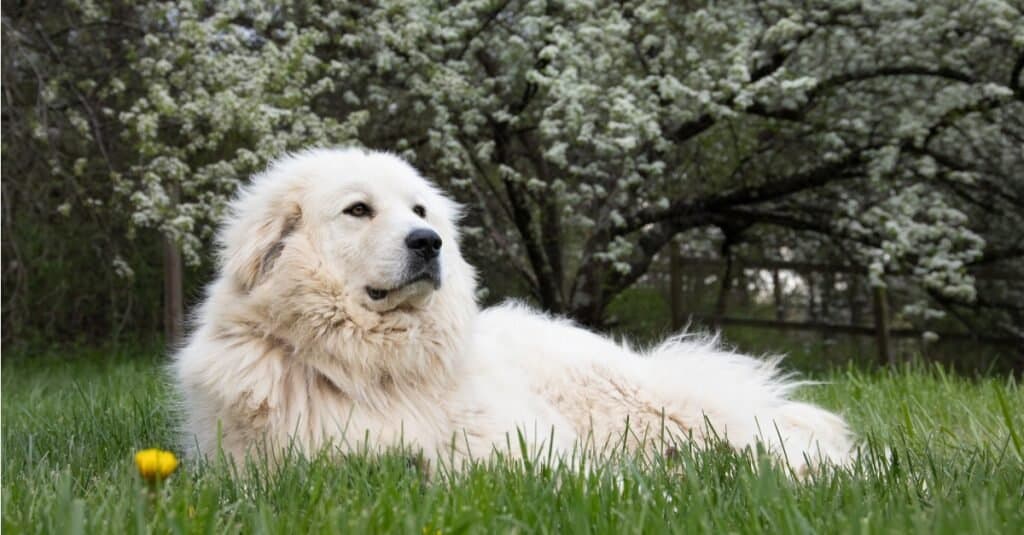 This giant working dog originated between the borders of Spain and France. They patrolled flocks of sheep high on mountain slopes, keeping them safe from wolves and bears. While they can be calm and lovable household companions, Pyrs can switch to threatening guard dogs when the situation calls for it.
With its all-white or white with tan, gray, and reddish-brown coat, the Great Pyrenees is fiercely protective of its home and intensely committed to its family. This is another large breed that is regarded as being nice to kids, but it will need a lot of space to feel comfortable. 
Like other mountain dog breeds, Pyrs need occasional lengthy walks. Despite being apprehensive of strangers, Great Pyrenees are extremely devoted to their owners and loved ones.
Appenzeller Sennenhund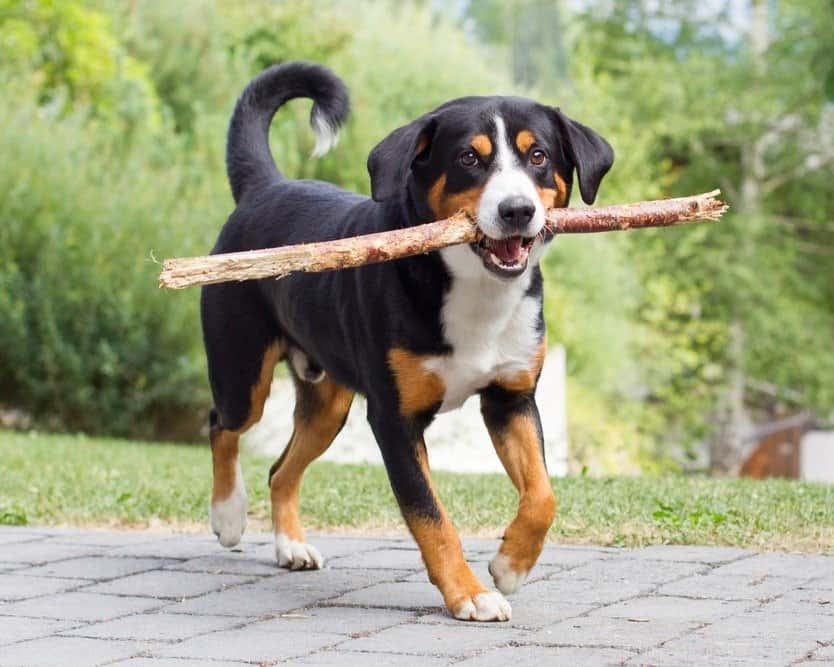 The Appenzeller Sennenhund sometimes referred to as the Appenzeller Mountain Dog or Appenzell Cattle Dog, is one of the four breeds of the Swiss Sennen type.
Similar to the other three breeds in its group, the Appenzeller Sennenhund was bred to herd livestock, pull carts, and work on farms. 
Despite its cheery and energetic personality, this breed makes an excellent watchdog because it is generally wary of strangers. They are not a good fit for an apartment because of their high activity and exercise requirements, and they are best kept in the care of experienced owners.
This breed also requires consistent training. Puppy obedience and early socialization with people and other dogs are important when training the Appenzeller Sennenhund. 
Newfoundland
This working dog breed originated from Newfoundland, a province in Canada whose natural landscape is rocky and rugged. The Newfoundland is a versatile dog that is comfortable both on land and in water. Thus, Newfies assisted in managing catches and dragging in nets like a seaman's dog. 
With its dense coat that can tolerate ice waters and bitterly cold winters, this breed is now used as a search and rescue dog in water and mountain rescue operations.
The calm and loving Newfs have also gained popularity as a beloved companion and "nanny dog" for children. To keep fit and happy, Newfoundlanders should engage in moderate exercise for at least 30 minutes each day.
Entlebucher Mountain Dog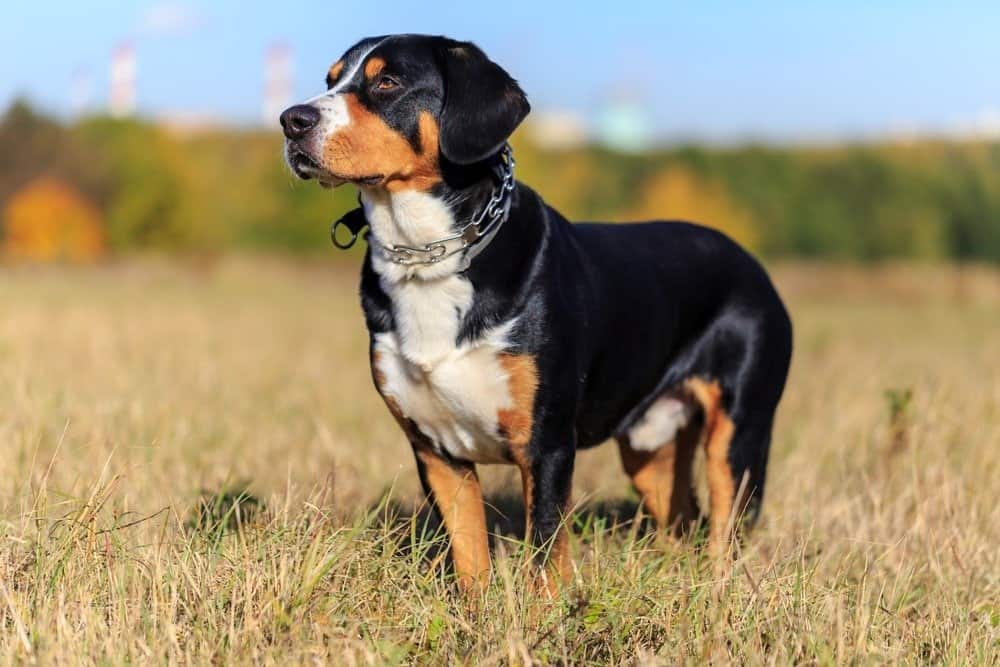 Also known as the Laughing Dog of the Swiss Alps, the Entlebucher Mountain Dog is the smallest of the four Alpen breeds that originated in Switzerland. It's also regarded as the fastest because it required speed for its duty as a cattle drover.
This breed was developed in the Entlebuch Valley, where it was employed as a property guard dog and multi-purpose farm dog.
Though Entles are independent and clever, they are loyal to their human family and enjoy having some family time. Not to worry, they are generally friendly with kids.
Despite being smaller than other mountain dog breeds, Entles need a lot of exercise and training to reach their full potential. They also have the ability to excel in any dog sport.
Entles, in case we haven't made it clear, aren't for everyone. If you're a first-time or inexperienced dog owner, you should avoid this breed to save yourself the stress.
Tibetan Mastiff
This ancient breed was developed to survive in the Himalayan highlands. It was used by shepherds to protect livestock, and whether it is watching over a flock or not, it has become a nocturnal breed.
The Tibet Mastiffs are one of the mountain dog breeds that need a lot of room to move around in order to be completely happy. They are also renowned for their dislike of strangers.
Of course, they can become terrific family dogs, but first things first. Tibet Mastiffs need to benefit from early socialization and training. They perform best when cared for by skilled owners.
Greater Swiss Mountain Dog
The Greater Swiss mountain dog is the largest of the four mountain dog breeds of Swiss heritage and has the same tri-colored coat. It's just a bit bigger than Saint Bernard. A Greater Swiss, meanwhile, could potentially be taller than you, standing up to 28.5 inches tall and weighing as much as a mid-sized human.
It was bred to be a hardworking farm dog that helped to guard property, herd livestock and haul carts to the market. Swissies can transport a flock across the slope foot of a mountain because they are incredibly agile and muscular. They are great watchdogs and will alert the homeowner if there are any suspicious strangers in the area.
Similar to other dogs, Swissies need a lot of socialization as pups to avoid being shy as adults. Swissies are also perfect for families with older kids.
Kuvasz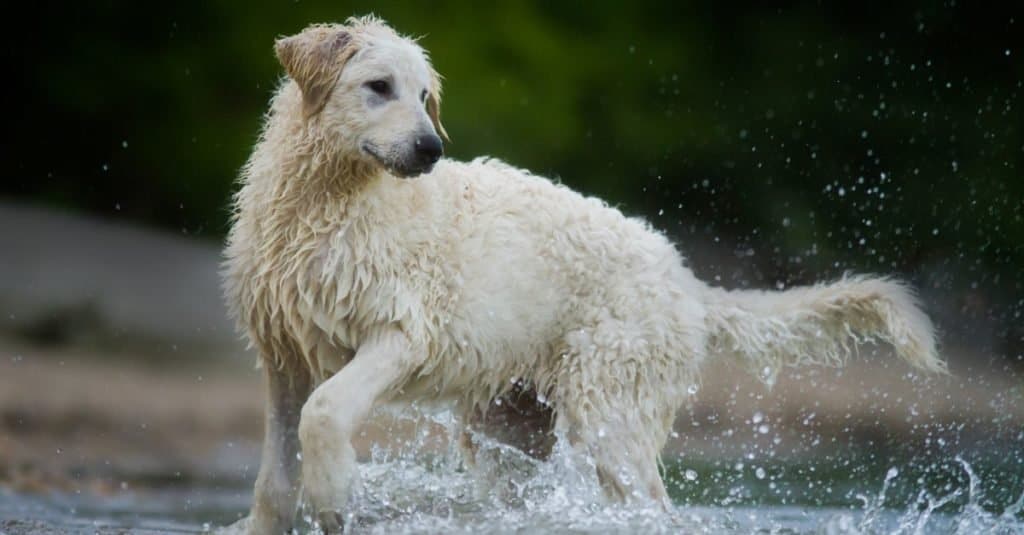 Since the Middle Ages, horses, sheep, and cattle in Hungary have been protected by the kuvasz, a large, all-white flock guardian. Although this breed is Hungarian, its ancestors most likely lived on the steppes of Siberia's Ural Mountains.
It's not advisable to keep this breed if you are an inexperienced dog owner because it requires extensive daily exercise, lifelong training, and early socialization as a puppy.
Besides being protective and loyal to the family, Kuvs often get comfortable around polite kids.
Leonberger
The large, dense-furred Leonberger dog breed hails from the German city of Leonberg. German kings preferred Leos because of their enormous size and devoted nature. 
As all-round workers, Leos were used in a variety of situations, including search and rescue operations and farm work. Although not wholly unique, the breed's webbed feet are distinctive and demonstrate how adept this breed is at swimming.
 Now, they are a popular option for therapy dogs who work at senior centers and schools. With their gentle temperament and personality, this breed makes a loving family dog. 
Another interesting thing about this working dog breed is that they are one of the few sexually dimorphic dog breeds, which means it is simple to tell them apart without looking at the animal's genitalia.
This breed might not be appropriate for you if you reside in a city apartment or a home on a modest suburban lot. Although adult Leonbergers tend to be placid and meek, they nevertheless require intense exercise once a day.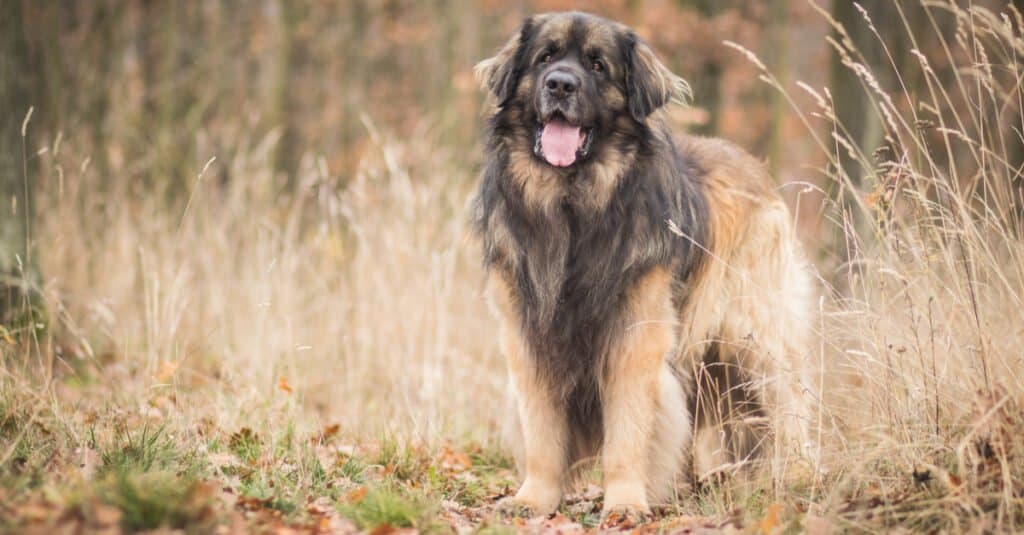 Summary Of The 10 Incredible Mountain Dog Breeds
| Rank | Mountain Dog Breed | Place of Origin |
| --- | --- | --- |
| 1 | Bernese Mountain Dog | Bern, Switzerland |
| 2 | Saint Bernard | Switzerland |
| 3 | Great Pyrenees | France and Spain |
| 4 | Appenzeller Sennenhund | Switzerland |
| 5 | Newfoundland | Newfoundland, Canada |
| 6 | Entlebucher Mountain Dog | Entlebuche Valley, Switzerland |
| 7 | Tibetan Mastiff | Himalayan highlands, Tibet |
| 8 | Greater Swiss mountain dog | Switzerland |
| 9 | Kuvasz | The Ural Mountains, Siberia |
| 10 | Leonberger | Leonberg, Germany |
Conclusion
The mountain dog breeds need early socialization and training to make sure that their size doesn't become an issue.
While the majority are kind by nature, they do need to pick up etiquette. Prior to choosing some of the more demanding breeds, think about your prior experience with dog ownership, particularly with large breeds. Another hard pill to swallow is that most mountain dogs live between six to ten years. 
Ready to discover the top 10 cutest dog breeds in the entire world?
How about the fastest dogs, the largest dogs and those that are -- quite frankly -- just the kindest dogs on the planet? Each day, AZ Animals sends out lists just like this to our thousands of email subscribers. And the best part? It's FREE. Join today by entering your email below.
---
FAQs (Frequently Asked Questions) 
Which large dogs have the best temperament?
Despite their intimidating size, most large dogs are softies. They usually have the most gentle temperament when they spend time with their best human buddies. If you wish to adopt a large canine, some gentle giants to consider are the Great Dane, Bernese Mountain Dog, Bull Mastiff, Leonberger, Newfoundland, and Great Pyrenees.
Why do large dogs have a short lifespan?
The fact that small dogs outlive giant dogs seems to defy logic, as this isn't the case with mammals like whales. Although the primary cause(s) remains unknown, scientists have highlighted elements that may be responsible. Size, weight, dental health, and cognition are some of these factors.
Sources

The Spruce Pets, Available here: https://www.thesprucepets.com/mountain-dog-breeds-5090238
Pet Keen, Available here: https://petkeen.com/mountain-dog-breeds/
Daily Paws, Available here: https://www.dailypaws.com/living-with-pets/pet-compatibility/mountain-dog-breeds
Great Pet Care, Available here: https://www.greatpetcare.com/dog-breeds/8-mountain-dog-breeds/
Hepper, Available here: https://www.hepper.com/types-of-mountain-dog-breeds/
Pet Keen, Available here: https://petkeen.com/saint-bernard/
AKC, Available here: https://www.akc.org/dog-breeds/newfoundland/
AKC, Available here: https://www.akc.org/expert-advice/health/why-do-small-dogs-live-longer/