↓
Continue Reading To See This Amazing Video
Maryland offers some of the best birding on the east coast. There are many wildlife areas in the state, such as wetlands, mountains, forests, and grasslands. Some of the best bird-watching spots may even be in your backyard. Check out these twelve must-see birds in Maryland and learn about their habitats, diets, and how to identify them. 
Blue Birds in Maryland
There are quite a few blue birds in the state; check out the most common two!
Eastern Bluebird
Eastern bluebirds bring a flash of color to open fields during summer. This species lives year-round in Maryland and the Southeastern United States. You can identify them by their royal blue heads and backs and rusty red throats and chests. These small thrushes have plump bodies, round heads, and large eyes. You will find them in open areas near trees, such as pastures, fields, parks, and backyards. Insects are their main food source, but they also consume large amounts of fruit during the winter. 
Blue Jay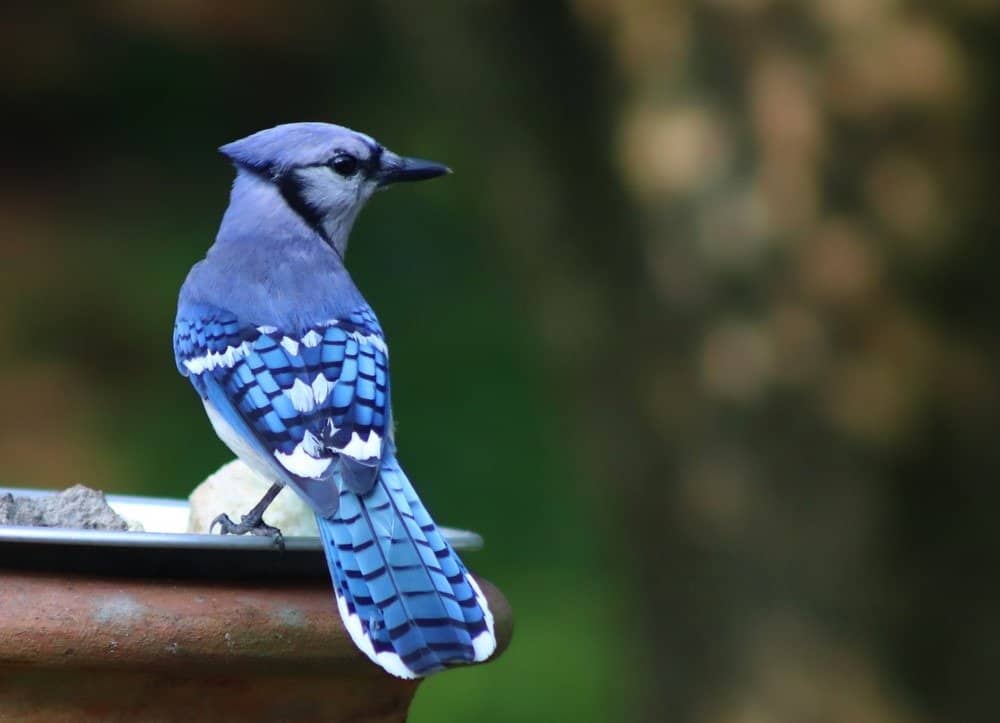 Blue jays are a common sight throughout the Eastern United States, including Maryland, where they live permanently. This large jay is easy to identify, with its prominent crest and various shades of checkered blue. They also have a bold black necklace. These birds inhabit many forested environments, especially areas near the edge. They tend to be absent from deep forest areas. You can also find them in urban and suburban settings near bird feeders. They primarily eat insects, nuts, and seeds. But these omnivores will consume many items, including eggs, nestlings, and dying adult birds.
Red Birds in Maryland
Need help identifying crimson and maroon flying friends? Learn about a couple of the most common red birds in Maryland.
Northern Cardinal
The northern cardinal is an unmistakable sight in the eastern half of the United States. Males sport bright red plumage and black face masks, while females are pale brown with warm red accents. These cardinals are relatively large and feature long tails and short, thick beaks. They live year-round in Maryland in dense shrubby areas, such as overgrown fields, backyards, marshy thickets, and forest edges. They eat mainly seeds and fruit but supplement their diets with insects. You will find this species at bird feeders, where they consume various seeds.
Scarlet Tanager
The scarlet tanager is one of the most colorful birds of the East. These stocky songbirds have short, broad tails and large heads. And their plumage is vibrant red with black wings and tails. This species features sexual dimorphism, with the females featuring olive-yellow coloring. They are breeding birds in Maryland, spending their springs and summers in the Northeast before heading to South America for winter. The scarlet tanager lives in mature deciduous forests, preferring large forest tracts with tall trees. They primarily eat insects with some fruit and buds.
Yellow Birds in Maryland
Bright yellow birds are hard to miss as they perch at feeders or flit about in nearby trees. Discover two yellow birds in Maryland.
American Goldfinch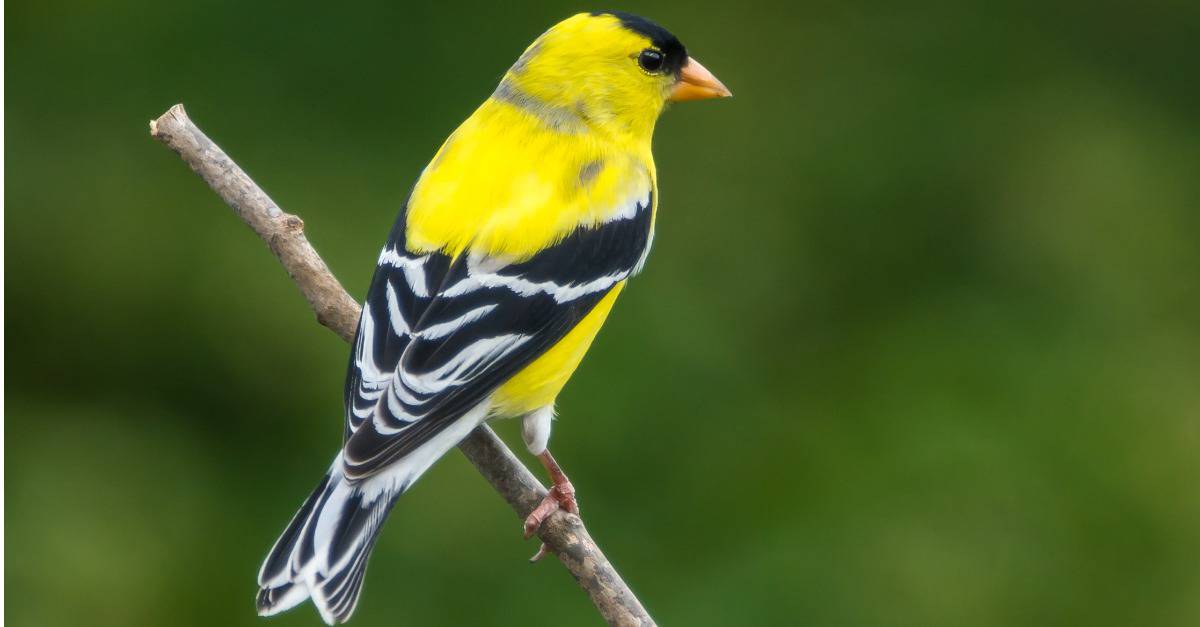 The American goldfinch is prolific across the United States, breeding in the north and wintering in the south. But they also live permanently in the Northeast, including Maryland. You will find them in weedy fields and other overgrown areas, but they also take residence in suburban parks and backyards. They almost exclusively eat seeds, so they are a common sight at backyard feeders. These small finches have short, conical bills and small heads. Males are bright yellow with black foreheads and black wings with white markings. Wintering males are drab, unstreaked brown, and females are dull yellow and olive.
Common Yellowthroat
The common yellowthroat is one of the most abundant warblers in the United States. They breed in Maryland and across most of the country before wintering in Mexico and Central America. And live in many habitats with dense, tangled vegetation, such as wetlands, prairies, and pine forests. They prefer moist areas and like to stay low to the ground, where they forage and hide their nests. And they eat insects and spiders, and you won't typically find this species at backyard feeders. They are small, chunky songbirds with long tails and rounded heads. Males feature olive plumage with bright yellow throats and black and white face masks. Females are plain olive-brown with light yellow accents.
Brown Birds in Maryland
Brown birds may lack bright plumage, but that doesn't take away from their vibrant personalities. Check out these two brown birds in Maryland.
House Sparrow
To say the house sparrow is abundant in North America is an understatement. They are the birds you are most likely to see when you step outside your Maryland home. They live permanently across the country, taking residence in many areas near human habitations. And they adapt easily, living in cities, towns, parks, backyards, farms, and anywhere else there are humans and buildings. They eat grains, seeds, and insects, frequently finding their way to feeders. They are chunky sparrows with full chests and round heads. Males are streaky chestnut and black with pale undersides. Their heads are gray and reddish-brown with white cheeks. Females are buffy-brown with streaky backs.
Carolina Wren
If you hear a rolling song near a patch of woods, it's most likely the Carolina wren. This species lives year-round in the Eastern United States, slowly increasing its range further north. They can be difficult to spot as they gravitate towards areas with dense overgrown vegetation. Look for them in cypress swamps, bottomland woods, and brushy thickets. You can also find them near abandoned buildings and overgrown farms. While they eat some plant matter, their main diet consists of insects and spiders, so you won't likely find them near feeders. Small and chunky, the Carolina wren features a long tail and a downcurved bill. Adults are reddish-brown above and buffy below with white throats and white eyebrows.
Gray Birds in Maryland
Gray birds can sometimes get overlooked, but these two are vibrant in their own ways.
Dark-Eyed Junco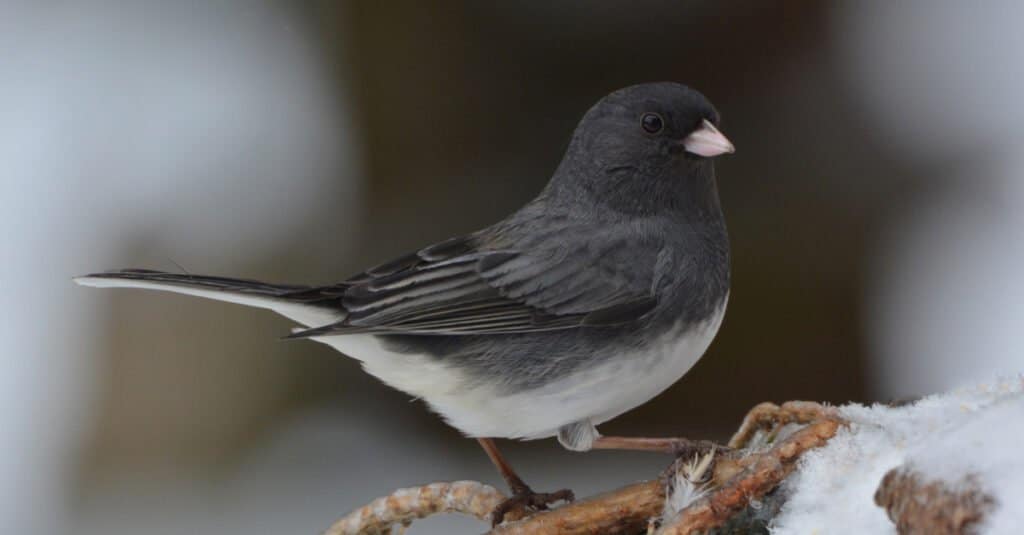 Many birds inhabit Maryland year-round or during springs and summers, but the dark-eyed junco takes up residence during winter. They are one of the most abundant forest birds on the continent, primarily inhabiting coniferous and deciduous forests across the United States. However, during winter, they also live in fields, open woodlands, parks, gardens, and backyards. They are seed-eaters that frequent suburban feeders but they will also eat insects, especially during the summer. These medium-sized sparrows have short bills and long tails. Adult males are dark gray overall with light bellies and white outer tail feathers. They also have light pink beaks. However, their coloring varies by region. Adults in the Northwest have brown plumage and black heads. Females are typically brown with light streaking on the wings.
Tufted Titmouse
The tufted titmouse is a common sight in eastern forests and backyards. They live year-round in Maryland, inhabiting deciduous and mixed-evergreen woods, where they live in the dense canopy. But you can also find this species in parks, orchards, and suburban backyards. They eat insects, seeds, nuts, and berries, and you can occasionally find them at feeders. They are small and stocky but still noticeably larger than chickadee-sized birds. These birds have large, round eyes and prominent crests. And their plumage is silvery gray above and white below with a peach-colored wash. Females appear similar in appearance to males.
Large Birds in Maryland (Birds of Prey)
Large birds of prey are hard to miss. Check out these two unique large birds in Maryland.
Red-Tailed Hawk
The red-tailed hawk is the most common hawk in North America. They live year-round in Maryland and across most of the United States. You will find them in almost every type of habitat in the state, including scrublands, grasslands, woodlands, roadsides, parks, and pastures. In other parts of the continent, they even inhabit deserts and tropical forests. The majority of their diet comes from small mammals, but they will also eat birds, snakes, and carrion. They are large hawks with broad, short tails and long, rounded wings. These birds are rich streaky-brown above and pale below with cinnamon-red tails.
Golden Eagle
The golden eagle is one of the largest and fastest raptors on the continent. They live year-round in the Western United States and winter throughout most of the East. However, they are migratory birds in Maryland. They live in open and semi-open habitats, such as mountains, canyons, cliffs, bluffs, grasslands, and shrublands. They prey on small to medium-sized mammals, with jackrabbits being a primary source of food throughout most of their range. These enormous birds have short tails and exceptionally long, broad wings. They are dark brown with pale flight feathers and a golden nape. Immatures can be identified by their prominent white patches.
Up Next:
More from A-Z Animals
---
The Featured Image
---