The U.S.A. has several fun and exciting cities that tourists should consider visiting. However, it may be impossible to visit all the cities on this list, especially on one trip. The United States is a huge country, after all. It is therefore advisable to prioritize the cities most interesting to you.
The good news is that these American cities offer diverse attractions. Whether you love beaches and wildlife or consider yourself more of a big-city person, there are several options to keep you engaged.
Below are some highly-rated cities you should consider visiting on your next trip to the U.S.
Top Cities in the U.S
Everyone has specific features they look for when visiting a new city or town. What attracts temporary visitors may differ from what makes permanent residents.
Focus on visiting cities that will allow you to check off some activities on your travel bucket list. After all, you most likely have limited time to see all the highlights.
Here are some factors to consider:
Accommodation affordability
Easy access and proximity to amenities
Security
These are some of the top concerns when traveling. Those visiting for leisure may focus on cities with lots to see and do, such as Historical monuments and scenic attractions, depending on what interest them most.
Favorite cities are specific to the individual. But overall, certain cities continue to be more attractive than others. These cities often have a unique appeal not found anywhere else on the planet. Let's jump into our list of the seven U.S. cities worth visiting!
1. New York City
It's a surprise to no one that the country's largest city, New York, tops the list. It is one of the most attractive cities in the U.S. for tourists. But why do people love New York City? Aside from its one-of-a-kind frenetic energy, this iconic city has many historical landmarks, cultural attractions, and culinary delights!
Surprisingly, even the crowds are a major draw. While many people grow overwhelmed by the city's fast-paced lifestyle and a massive amount of people, others thrive on it. These people come alive in noisy, hustle-and-bustle environments.
Aside from the crowds, New York has a few must-visit destinations. Tourists enjoy visiting places like Central Park, the Empire State Building, the Statue of Liberty, and Times Square. Maritime history enthusiasts should check out the Intrepid Sea, Air, and Space Museum. Art Lovers will enjoy The Metropolitan Museum of Art and The Museum of Modern Art.
Being a cosmopolitan world-class city, New York has impressive skyscrapers. Additionally, it's home to every type of cuisine you can think of. Try foods from around the world in eateries sprawled across the city. And stay at one of the numerous hotels.
Engage in some cultural activities by walking through Little Italy or Chinatown. Enjoy award-winning shows on Broadway! Take time to shop at upscale boutiques for world-class products and check out some of the biggest stores from across the world.
The bustling nightlife is exciting in The City that Never Sleeps. Those who enjoy partying have near-endless options.
There is so much to do in NYC. If you don't have a ton of time, having an itinerary alongside a map will help keep you organized amidst the chaos. In the end, you can never go wrong with visiting New York. It's worth visiting regardless of the time of year, but it's especially magical around the holidays.
2. San Francisco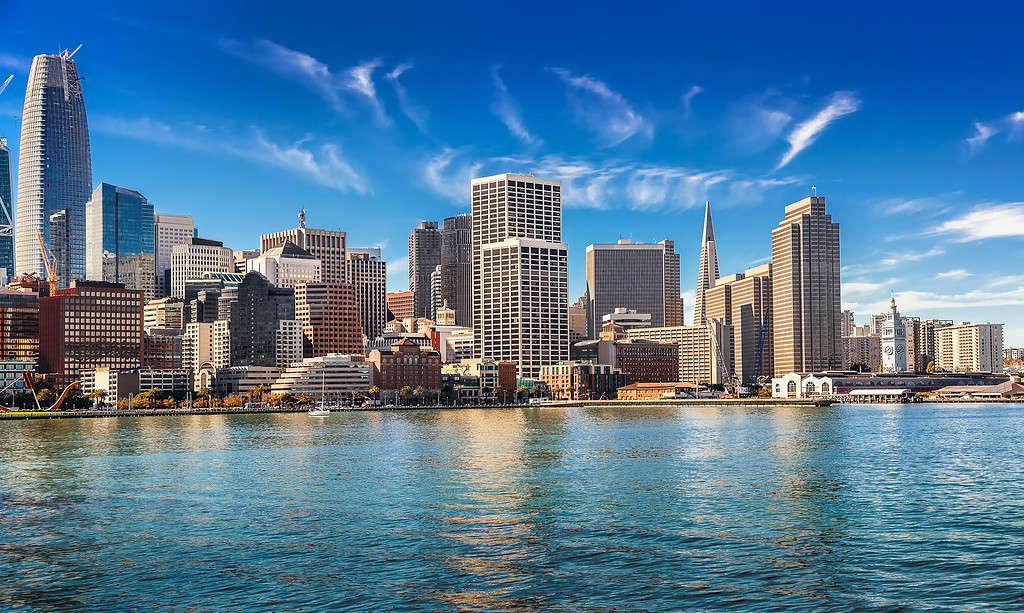 If you want to check out a vibrant neighborhood with a unique landscape, then head to San Francisco. This city is truly a gem!
SF is filled with beautiful Victorian houses set on a hilly landscape. You will find cable cars and enjoy interacting with the folks more than in any other big city.
There is a lot to do and see here too. For one, visit the Golden Gate Bridge for an experience like no other.
Art enthusiasts can head to the Legion of Honor, an impressive art museum. Alternatively, visit the famous de Young Museum for some of the most breathtaking fine art pieces you have ever seen. If you love exploring the streets, San Francisco still has you covered. Check out the Mission District murals. While there, stop at one of the local restraints and enjoy authentic food.
You cannot visit this city without sampling the best wines, many of them from nearby Napa Valley vineyards. Chocolate lovers should try the Ghirardelli chocolates loved in the California region. You can also check out the numerous bakeries in the area if you are a sweet tooth. For more strolling and shopping, visit Union Square.
Finally, top off your visit to this city by spending an afternoon at Ocean Beach!
3. Honolulu – Oahu
You probably have Hawaii on your bucket list but are undecided about which city to visit first. Simple! Start with Honolulu.
It offers a perfect blend of breathtaking scenery and a luxurious, cosmopolitan vibe. As the state's capital, Honolulu is the perfect place to enjoy the island's best offers.
You'll experience a rich history, out-of-this-world scenery, and locals so warm you won't want to leave.
The breathtaking culture will also convince you to stick around longer than planned.
Everything, from the mountainous backdrop to epic beaches and rolling waves, makes Honolulu fun. History buff or not, you should visit the famous Pearl Harbor. You can then go to Lyon Arboretum, one of the world's most beautiful botanical gardens. Nature lovers will catch a glimpse of paradise here. Next, stop by the local farmers market for a refreshing lunch on the go.
Don't forget to plan a trip to Waikiki Beach and take a few surf lessons. And you should not miss the Diamond Head State Monument.
If time allows, consider hiking to Manoa Falls. It will expose you to one of the most breathtaking natural scenes ever.
As for food, Oahu has some of the best fish tacos in the U.S.
If that doesn't interest you, try the variety of exciting international cuisines. Everything from traditional Hawaiian to exotic French fare is found here.
Honolulu is a combination urban city-beach town that offers both a big city feel and a natural, gorgeous coastline. Soak in the rays, along with the cultural heritage of this incredible city.
Best Spots
Visit places like the Lolani Palace and the Bishop Museum. They will give you a rundown of Honolulu's history and cultural heritage.
You can even take part in their spiritual and cultural practices and ceremonies. For example, the Hi'uwai Ceremony will reconnect you to your spirituality.
4. Washington, D.C.
Washington, D.C., the capital of the U.S.A., is known for many things. For instance, it's one of the world's best-ranked cities regarding education.
Due to its history and politics, the city gained a permanent rank on the world must-visit cities list. You should visit D.C. if you're interested in America's political history. You'll find interesting places to learn about U.S. history, such as the Smithsonian Museum. Participate in popular tours of the White House or Capitol Building.
If you have no interest in rubbing shoulders with politicians, lobbyists, or lawyers, then check out the local vibes by exploring D.C. neighborhoods.
Fortunately, there is a lot to see in Washington, D.C. Head out to U Street or Adams Morgan and check out one of the many restaurants for a taste of the local flavor. You can also pop into one of the lively bars for a drink. Alternatively, stroll through Georgetown to see the beautiful Federal architectural style in one of the city's oldest areas.
5. San Diego, California
San Diego appeals to many tourists because of the combination of city and beach life. There is also a lot to do regarding activities and sightseeing, including art studios, galleries, and numerous museums.
You will also get to experience a bit of wildlife, albeit in a zoo. But it's not just any zoo. The San Diego Zoo is world-renowned for its wide range of animals, high standard of care, and conservation efforts. Visit this animal paradise, especially if you have kids.
The city tends to have ideal weather conditions most of the year, making it attractive to tourists. Its excellent shorelines also contribute to the city's laid-back beach-town vibe. Outdoor lovers will enjoy visiting La Jolla Cove.
Dine at one of the waterfront restaurants. Or explore Balboa Park, along with its museums and art performances. Occasionally, consider retreating to the beach for a relaxed afternoon.
If you enjoy drinking, try out the famous San Diego craft beer. Later, consider visiting one of the over 100 breweries in the city or take a brewery hopping tour. If you like Mexican food, you're in for a treat when in Southern California. Make sure to try the iconic California burrito!
The nightlife in San Diego is surprisingly refreshing, with many a rooftop bar. Enjoy soothing live music in craft beer joints.
6. New Orleans, Louisiana
Visit this Louisiana city if you want an experience like nowhere else in the world. It offers the most unique experience of all U.S. cities, partially because it is a melting pot of numerous cultures. This mix of many peoples and their history gives New Orleans its one-of-a-kind energy.
Additionally, New Orleans is the birthplace of jazz music, attracting musicians from all over the globe. Hear live music performances throughout the city, or even attend a music festival if you visit at the right time. Whether day or night, tourists and residents are assured of countless places for musical enjoyment.
When it comes to food, start by checking out the oldest restaurant in New Orleans, The Commander's Palace. Next, dine at Emeril's or try Restaurant August for a twist on classic Creole dishes. But don't forget to make reservations! People come to Nola from all over the world to eat, and eat they do.
Beyond the distinctive cuisine that helps make New Orleans special, experience the customs exclusive to New Orleans, if you are daring enough. Join the second line of a jazz funeral or grab a Voodoo doll and dabble in a little magic. And experience tons of nightlife! That is if you think you can dodge the vampires…
Don't leave New Orleans without visiting Jackson Square and its French Quarter. The area's clubs and bars are ideal if you want that authentic jazz feeling. Avoid February, unless you yearn for a true Mardi Gras experience. But the quarter, and the city at large, is best perused outside of this festive holiday.
Lastly, consider visiting the Backstreet Cultural Museum to learn about New Orleans's rich African American and Mardi Gras Indian heritage.
7. Seattle, Washington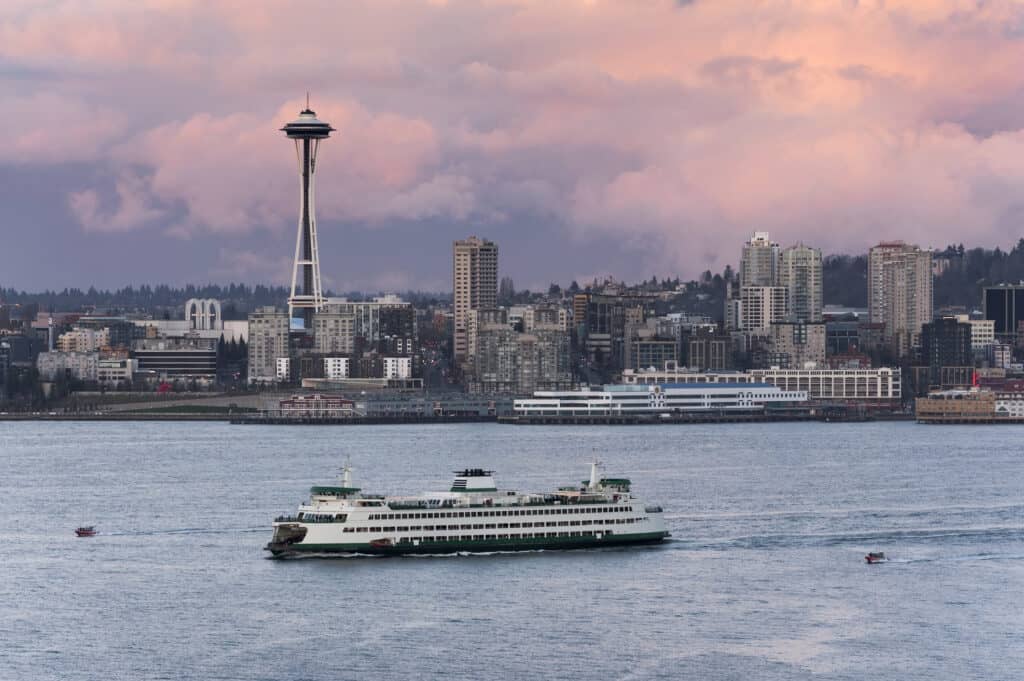 If you are a coffee lover, this is the one U.S. city you want to visit. This northwest city is well known for its coffee culture.
Don't miss out on one of the most fun-filled cities in the U.S. You can explore the city regardless of the weather. Stop by the Pike Place Market for a chowder treat. You can also experience the Dale Chihuly Gardens adjacent to the Space Needle. Enjoy a breathtaking boat ride to Bainbridge Island.
If you're a Starbucks fan, don't miss the opportunity to grab a cup of joe at the original Starbucks. If you want to step it up a notch (or several), consider trying out Elm Coffee Roasters. This independent coffee house knows how to make the perfect brew.
Also, consider visiting the museums or trying out the diverse cuisine at the many restaurants.
Summary of the 7 Best U.S. Cities to Visit
The U.S. has many beautiful cities with exciting places to see and visit. All you have to do is decide which city appeals to you most based on what you intend to do and see while there.
The cities listed above can help you start your tour of the U.S. They will expose you to diverse cultural and scenic landscapes. Plan your visit accordingly and enjoy each city to its fullest!
| # | City | Highlights | Attractions and Monuments |
| --- | --- | --- | --- |
| 1 | New York | Skyscrapers, international appeal, shopping, Broadway, big-city energy, and nightlife | Intrepid Sea, Air and Space Museum, Metropolitan Museum of Art, and MOMA |
| 2 | San Francisco | Vibrant population, hilly landscape, Victorian houses, great food, and wine | Golden gate bridge, Young Museum, Mission District murals, Union Square |
| 3 | Honolulu | Cosmopolitan luxury, beautiful natural scenery, culture, rich history, beach activities like surfing, excellent food | Manoa Falls, Pearl Habor |
| 4 | Washington D.C | Northern charm, Southern efficiency, high-profile politicos, nation's capital, thriving cultural hub | White House and Washington Monument, U.S. Capitol, Smithsonian National Museum of Natural History, Georgetown |
| 5 | San Diego | Tourist appeal, active art life, near-perfect weather, laid-back vibes, craft beer | San Diego Zoo, La Jolla Cove, Balboa Park |
| 6 | New Orleans, Louisiana | Unique cultural experience, the birthplace of jazz, excellent Cajun and Creole food, nightlife | Commander's Palace, Emeril's Restaurant, Restaurant August, Jackson Square and the French Quarter, Backstreet Cultural Museum |
| 7 | Seattle, Washington | Home to Starbucks coffee, fun-filled city, lovely cloudy weather | Place Market, Dale Chihuly Gardens, Elm Coffee Roasters |
---
The Featured Image
---