Florida, also known as the Sunshine State, is a beautiful place to visit year-round. There are countless tourist attractions, popular cities like Orlando and Miami, and tons of gorgeous white-sand beaches. However, did you know Florida is also home to some of the most beautiful and historic small towns? When planning your next visit to Florida, whether it's a week-long vacation or a short day trip, keep in mind these top 20 must-visit small towns in Florida.
1. Mount Dora
Mount Dora is a city in Central Florida that exudes southern charm and a small-town feel. The well-kept town features one of the three freshwater lighthouses in Florida — a popular attraction. Nestled on Lake Dora, this quaint lakeside town is also home to a century-old historic village. Visitors of Mount Dora can enjoy antique shopping, annual festivals and events, and a lively downtown. There are incredible restaurants throughout the town, so be sure to come hungry!
2. Apalachicola
Apalachicola exudes the traditional energy of a close-knit small town. It's a quaint city with friendly residents, historic homes, and great restaurants. Apalachicola also has acres of national and state forests, including the well-known Apalachicola National Forest, shallow bays, and miles of pristine beaches, drawing many nature lovers to the area. Known as Florida's own Oyster Capital, the town provides delicious and fresh seafood, including — of course — oysters, shrimp, and blue crab.
3. Cedar Key
Cedar Key has an extremely small population (only 700 people as of 2021). As an island off the coast of Florida, the tiny beach town features beautiful trails and birdlife. Vacationers can visit this peaceful location to seek relaxation, fishing, birdwatching, hiking, and kayaking. Cedar Key also has a rich history, which you can explore and learn about at the Cedar Key Historical Museum. If you're looking for a low-key vacation spot in a beautiful waterfront town, Cedar Key is a great choice for you!
4. Dunedin
Dunedin is a small town in Florida that's known for its laid-back, relaxed way of life. Home to Honeymoon Island State Park, the island offers gorgeous beaches and pine forests. Dunedin is one of the oldest towns in Florida and features wildlife like owls, osprey, woodpeckers, and even a butterfly garden — a popular attraction. Additionally, this city has a large Scottish population. Visitors can lounge on the beach, head down a gorgeous hiking trail, or book dinner at one of the finest dining establishments in Tampa Bay. 
5. Islamorada
Islamorada includes six of the 800 Florida Keys. The beautiful village is home to the Theater of the Sea, where visitors can swim with dolphins and encounter sea life like sea lions, sea turtles, fish, sharks, and stingrays. Additionally, Islamorada offers gorgeous state parks with tropical forests and historic ruins. Vacationers can also visit the History of Diving Museum, Islamorada Brewery & Distillery, Alligator Reef Light House, and other popular attractions.
6. Seaside
A small resort town in the Gulf of Mexico, Seaside is known to make visitors and residents feel like they're in quaint New England or exotic Europe with its New Urbanist aesthetics. Houses in the town are pastel-colored with white picket fences and large porches, giving it a small-town charm that's hard to match. When you visit Seaside, you'll feel like you're in another country altogether. However, because it's a resort town, there aren't many full-time residents, and most of the population includes vacationers or part-time residents.
7. Tarpon Springs
Just 30 miles northwest of Tampa, Tarpon Springs is known for its abundance of tarpons in its gorgeous waters. Back in the 19200s, Greek sponge divers settled in the city, and the town now offers many delicious Greek eateries along its Dodecanese Boulevard, a waterfront block. It also has a historic downtown with shopping, dining, beaches, cultural attractions, and more. As the Sponge Capital of the World, Tarpon Springs features sponge docks with natural, fresh sponges for purchase. Plan your trip today!
8. Anna Maria Island
With white-sand beaches and a quaint, small-town feel, Anna Maria Island is a beautiful resort city in Florida. Many deem the barrier island a "slice of paradise" on the Gulf Coast, as many of its beaches are peaceful and secluded. One of its most popular beaches is Manatee Beach Park, a gorgeous location to watch the sunset with loved ones. On the north side of the island, you can stroll Pine Avenue and find shops, art galleries, and great restaurants.
9. Crystal River
A coastal city in western Florida, Crystal River is a quiet and relaxing town — perfect for visitors looking for a peaceful vacation! The town is full of nature and wildlife, including birds, otters, and alligators, and is known for world-class fishing. As its name suggests, Crystal River is home to Florida's purest spring-fed water system. Known as the "Manatee Capital of the World," this city offers the only National Wildlife Refuge in the country, making it the perfect vacation spot for nature and wildlife lovers.
10. Micanopy
You might wonder why a tiny rural town would be included on the list of must-visit Florida towns. However, Micanopy features incredible food, art, antiques, music, and hospitality. Known as "The Town that Time Forgot," Micanopy is home to many 19th-century buildings and gorgeous oak trees, giving it the classic small-town southern charm. If you're a history buff seeking a peaceful vacation in the Sunshine State, Miconopy is the perfect place for you.
11. Fernandina Beach
Fernandina Beach is located on Amelia Island, a popular holiday destination. The beach town is known for its wide range of restaurants, golf courses, and shopping. As the northernmost city on Florida's Atlantic Coast, Fernandina Beach is home to many attractions like state parks, beach parks, and museums. It's the perfect family-friendly vacation spot with tons to do and see.
12. Stuart
Deemed one of the best small towns in Florida, Stuart is located on Florida's Atlantic Coast. The city is close to the St. Lucie River and the Indian River Lagoon. Home to the House of Refuge at Gilbert's Bar, an old haven that housed shipwrecked sailors in the 1900s, Stuart offers rich history to visitors. The town has many museums, preserves, state parks, and hiking trails for tourists. From butterfly gardens to sea turtle nesting areas, this city has it all.
13. Vero Beach
Located near Indian River County and along the Treasure Coast, Vero Beach is a picturesque beach town with white sand and clear waters. Home to McKee Botanical Garden, a subtropical botanical garden, the city offers visitors an array of tropical plants, waterlilies, and exotic wildlife. Additionally, tourists can take part in various outdoor activities like fishing and sports fishing, boating, scuba diving, surfing, paddle boarding, and snorkeling. If you're looking for the traditional Florida experience, book a trip to Vero Beach!
14. Matlacha
With a small population, Matlacha is a tiny coastal town just off of Cape Coral in Florida. Exuding an "Old Florida" feel, Matlacha features many tourist attractions. Some fun things to do in the city include visiting the Lovegrove Gallery & Gardens, heading to the Matlacha Community Park, or dining at one of the many fine restaurants. However, while Matlacha makes the perfect destination for Florida visitors, it is especially great for a day trip. Be sure to add this tiny city to your must-visit list for your Florida vacation.
15. Captiva Island
Captiva Island is the perfect place for nature lovers. Offering gorgeous beaches with white sand and colorful seashells, views of both the sunrise and sunset and high-end vacation homes, this small island is worth visiting. It is often associated with Sanibel Island, its neighboring island, which is just as low-key and peaceful as Captiva Island. The island provides many opportunities for vacationers to bike, sail, bird watch, and take part in an array of other water activities. 
16. Venice
Venice, Florida, is fourteen miles of white-sand beaches and multi-use trails. Labeled the "Shark Tooth Capital of the World," Venice is home to Caspersen Beach, where many can find shark teeth on the shore. Additionally, the popular vacation spot has tons of offshore coral reefs, lush green spaces, and peaceful beaches. If you're planning your trip, look for the well-known Florida scrub jays, as they often populate this area.
17. Winter Park
Close to Orlando, Winter Park is a small city with gorgeous outdoor spaces and parks. The town is home to the Charles Hosmer Morse Museum of American Art, the Albin Polasek Museum & Sculpture Gardens, and the Cornell Fine Arts Museum, offering plenty to do for history and art buffs. Winter Park overlooks Lake Osceola and is located near Lake Virginia, two beautiful bodies of water. As its name suggests, Winter Park was originally known for its winter resorts but also offers a rich cultural community for any time of the year.
18. Sebring
Also known as "The City on the Circle" (since its downtown area is concentrated around Circle Drive, the center of the Sebring Downtown Historic District), Sebring is home to Sebring International Raceway. People travel far to see the legendary races at this iconic racetrack, but they stay for Sebring's parks and lakes, boutiques and galleries, and delicious dining experiences. The city's historic downtown features 22 historic buildings, quaint eateries, recurring festivals, and vibrant energy.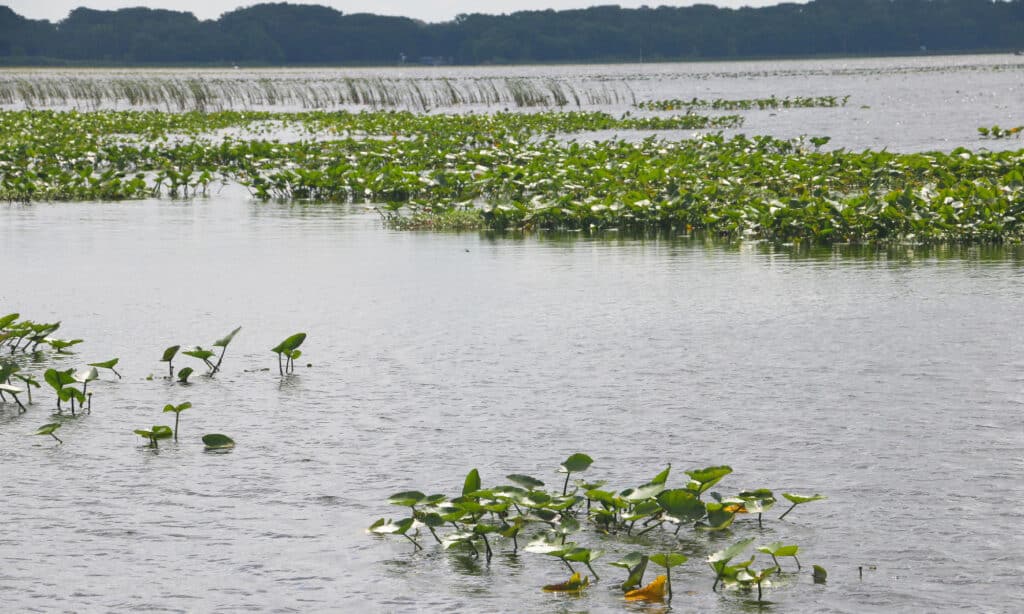 19. DeFuniak Springs
DeFuniak Springs offers a Victorian vibe with gorgeous homes along Lake DeFuniak. This town is rich with history and was previously home to many presidents, first ladies, famous poets, songwriters, abolitionists, astronauts, national heroes, Hollywood stars, and more. While it's beautiful year-round, many plan their getaways to DeFuniak Springs during Christmastime, when the grounds and Victorian homes showcase more than 6 million lights. This is the perfect family-friendly vacation spot for loved ones to go birding, picnicking, or shopping at the community's antique and home décor stores. 
20. Boca Grande
Located on Gasparilla Island, Boca Grande (despite its name) is a tiny residential community. The town has sugar-sand beaches and a historic downtown, and it's home to many seasonal homes. There is a small population of year-round residents, making Boca Grande mostly a tourist town — but one well worth the visit.
| Place | Population | Location |
| --- | --- | --- |
| Mount Dora | 16,000 | Central Florida |
| Apalachicola | 2,286 | Gulf of Mexico |
| Cedar Key | 700 | Gulf of Mexico |
| Dunedin | 35,949 | Gulf Coast |
| Islamorada | 7,076 | Florida Keys |
| Seaside | 148 full-time residents | Gulf of Mexico |
| Tarpon Springs | 25,560 | Gulf Coast |
| Anna Maria Island | 8,500 | Gulf Coast |
| Crystal River | 3,402 | Western Florida |
| Micanopy | 647 | Central Florida |
| Fernandina Beach | 13,199 | Northeastern Florida |
| Stuart | 17,531 | Atlantic Coast |
| Vero Beach | 16,707 | Atlantic Coast |
| Matlacha | 853 | Southwest Florida |
| Captiva Island | 163 | Gulf Coast |
| Venice | 26,047 | Gulf Coast |
| Winter Park | 29,131 | Central Florida |
| Sebring | 11,087 | South-Central Florida |
| DeFuniak Springs | 6,283 | Northwestern Florida |
| Boca Grande | 925 | Southwest Florida |
The photo featured at the top of this post is © ESB Professional/Shutterstock.com
---