Have you ever been to Florida? The state is known for its beautiful beaches, amazing theme parks, and warm weather. But did you know that Florida is also home to a wide variety of native plants? With a tropical climate, it's no wonder Florida has some of the most beautiful and interesting flora. Whether you are looking to diversify your garden by introducing some native Floridian plants or you simply want to learn more about these beautiful plants, read on! Below, we have listed 10 of Florida's native plants.
1. American Beautyberry (Callicarpa americana)
The American beautyberry, also known as Callicarpa Americana, is a native shrub that's found in the southeastern United States, including in Florida. It is known for its clusters of small, purple berries that appear in the fall and are a hit with birds and other wildlife.
The shrub itself has a lacy, delicate appearance with elongated leaves and can grow up to 6 feet tall. It is also known to sprawl and arch, so it adds a bit of visual interest to your garden.
One of the great things about the American beautyberry is how relatively low-maintenance the plant is. It can thrive in a variety of soil types and conditions, and it's drought-tolerant, so you don't have to worry about watering it all the time. Plus, it can tolerate partial shade.
All in all, the American beautyberry is a versatile plant that's easy to care for and can add a pop of color to your landscape. So if you're looking to add some native plants to your garden, this Florida native plant is definitely worth considering.
2. Blazing Star (Liatris spicata)
The blazing star is a delightful wildflower that flourishes in prairies, fields, and along roadsides throughout the United States. A member of the daisy family, it looks like an upright purple spike topped with colorful flowers – vibrant purples in mid-summer that eventually become white by the end of summer.
These stunning "spikes" bloom from July to October. Even better, Blazing Stars are dependable re-seeders, so you can start looking forward to seeing them again next year! For those with butterfly gardens, Blazing Stars are a welcome resident; it serves as a great nectar source for skippers, monarchs, and tiger swallowtails.
If you live in its natural habitat area, take a stroll through your neighborhood during the summer months and look closely – you may have some Blazing Stars and plenty of other beautiful wildflowers scattering and beautifying the landscape!
3. Coontie (Zamia integrifolia)
Coontie is a species of cycad native to Florida in the United States. It is a popular plant in Florida gardens and is known for its striking, palm-like appearance. The coontie has glossy, dark green leaves that can grow up to three feet long, and its trunk can reach a height of up to six feet.
In the wild, coontie can be found in a variety of habitats, such as pinelands, hammocks, and coastal dunes. It is a hardy plant and can tolerate a range of soil types, making it a versatile choice for gardeners. The coontie is also popular with wildlife and is often visited by birds and other animals.
One interesting fact about the coontie is that it was an important food source for Native American tribes in Florida. The plant's starch-rich underground stems, called "coontie roots," were ground into flour and used to make bread. Today, coontie is still used in traditional dishes, such as "coontie bread" and "coontie pudding."
4. Fakahatchee Grass (Tripsacum dactyloides)
Fakahatchee Grass, also known as Tripsacum Dactyloides, is a type of perennial grass native to the southeastern United States. It is named after the Fakahatchee Strand Preserve State Park in Florida, where it is commonly found.
Fakahatchee grass is known for its distinctive appearance, with long, thin leaves that grow in a zig-zag pattern. The leaves are typically blue-green in color and can reach up to six feet in length. In the summer, the grass produces small, yellow flowers that attract various insects.
The grass is often used in landscaping and is particularly well-suited to wet or damp conditions. It is also known for its ability to withstand grazing and trampling, making it a popular choice for pastures and other areas used by livestock.
All in all, Fakahatchee grass is a versatile and hardy plant that can add a unique touch to any landscape.
5. Lanceleaf Blanket Flower (Gaillardia aestivalis)
Lanceleaf blanket flower is a perennial plant native to Florida. It's known for its brightly colored, fuzzy flowers that come in shades of yellow, orange, and red. The plant's lance-shaped leaves give it its name, and it produces a ton of these showy flowers in the summer.
The lanceleaf blanket flower is popular for gardeners because it is low-maintenance and drought-tolerant. It doesn't need a lot of water or fertilizer, and it can grow in many different soil types. This native plant is also resistant to grazing and trampling, so it is a good option for areas with a lot of foot traffic or livestock.
One thing to keep in mind is that the lanceleaf blanket flower can spread quickly, so it's best to plant it in a contained area or deadhead the flowers regularly to prevent it from taking over your garden. But overall, this flower is a beautiful and easy-to-care-for plant that can add a pop of color to any landscape.
6. Scarlet Hibiscus (Hibiscus coccineus)
The scarlet hibiscus, also known as the scarlet rosemallow, is a wildflower native to the southeastern United States. Its five-petaled blossoms are striking in size and color – growing as large as 7 inches in diameter and displaying a deep carmine hue that stands out against its wide green leaves.
Since ancient times, it has been used as both a medicinal plant and an ornamental one. The scarlet hibiscus also produces diamond-shaped seed capsules throughout winter – a treat for birds when there isn't much else to eat.
This perennial blooms from mid to late summer, providing a welcome burst of eye-catching color to swamps, lakefronts, and stream sides across the region before it goes dormant for the winter. Its cheerful blooms are also a great source of nectar for bees and butterflies, making it an essential part of the local ecosystem. 
So if you're lucky enough to visit marshy regions in the southeast US, keep an eye out for this vibrant wildflower!
7. Florida Royal Palm (Roystonea regia)
We can't talk about native plants in Florida without talking about the Florida Royal Palm! The Florida Royal Palm is a majestic sight that is almost synonymous with Florida. Growing up to a staggering 100 feet tall, this stately tree native to Cuba and South Florida can live for up to 80 years if planted in ideal conditions.
The foliage, which consists of long, dark green leaves draped gracefully over the trunk, contributes significantly to its elegant appearance and requires very little care.
Not only is it visually appealing, but this amazing plant is also immensely resilient—in fact, it can withstand temperatures as low as 19°F when fully mature! It is relatively easy to care for, too; all you need to get started is some shade, full sun, and plenty of water in the growing season.
Whether you're looking for an exotic statement piece or just want to enjoy its easy-care beauty, the Florida Royal Palm is sure to bring a bit of sunshine into your life!
8. Tickseed (Coreopsis)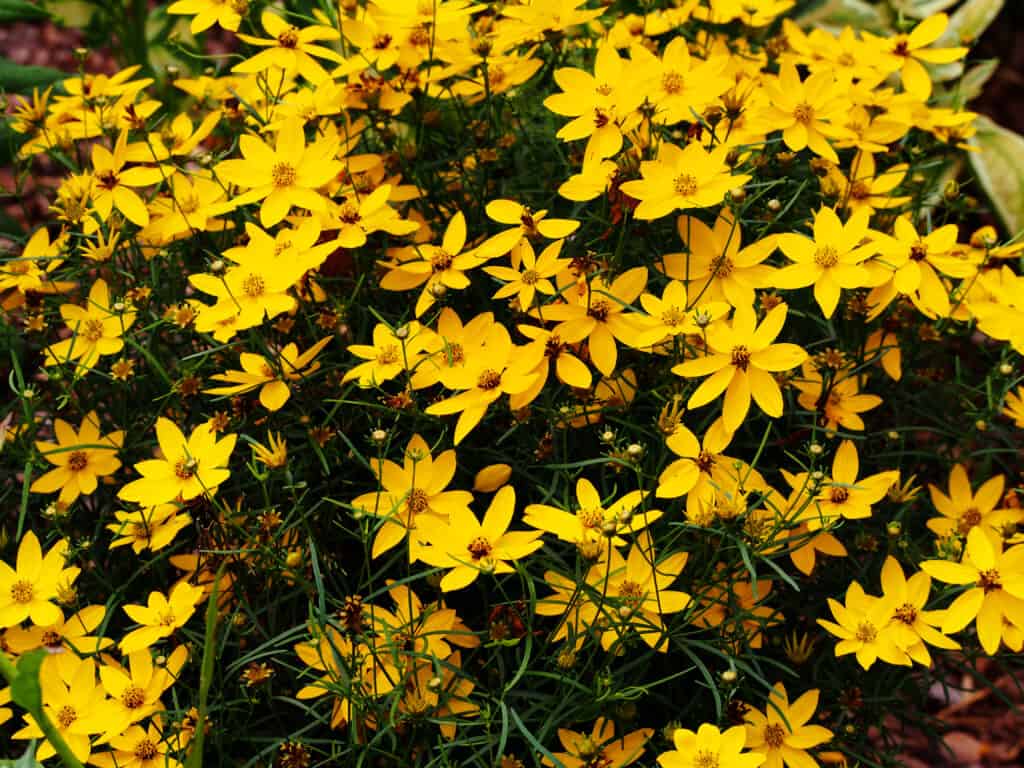 Florida's official state wildflower, the tickseed, also known as Coreopsis, is a flowering plant native to the state. It is named for its seeds, which are small and round, resembling ticks. The plant has a bushy, upright growth habit and produces a profusion of colorful, daisy-like flowers. 
The flowers are typically yellow, red, or orange in color and have a long bloom time, making them a popular choice for gardeners.
Tickseed is often used in landscaping, particularly in cottage or wildflower gardens. It is well-suited to a range of climates and soil types and is drought-tolerant, making it a low-maintenance plant. It is also attractive to butterflies and other pollinators while resistant to pests and diseases.
In addition to its decorative value, tickseed is also used in traditional medicine for its anti-inflammatory and antioxidant properties. It is also believed to have digestive and respiratory health benefits.
Overall, tickseed is a versatile and colorful plant that can add a touch of whimsy to any landscape.
9. Walter's Viburnum (Viburnum obovatum)
Walter's viburnum, also known as viburnum obovatum, is a flowering shrub native to the southeastern United States. It is named after the botanist Walter Tennyson Swingle, who discovered the plant in Florida.
Walter's viburnum is known for its distinctive appearance, with dark green, glossy leaves and clusters of white flowers that bloom in the spring. The flowers have a sweet, fragrant aroma that attracts a variety of pollinators, including bees, butterflies, and hummingbirds. In the fall, the plant produces small, blue-black berries that birds and other wildlife favor.
This shrub is often used in landscaping, particularly in natural or native gardens. It is well-suited to warm, humid climates and can grow in various soil types. It is also drought-tolerant and can withstand periods of flooding.
Walter's viburnum is a beautiful and versatile shrub that can bring elegance to your garden. It is also an important food source for a wide variety of wildlife, making it a valuable addition to any garden.
10. Wild Coffee (Psychotria nervosa)
Wild coffee is a flowering shrub native to the southeastern United States, including Florida. It is named for its coffee-like aroma, which is produced by the leaves of the plant when crushed or bruised.
Wild coffee is known for its attractive, dark green leaves and small, white flowers that bloom in the spring. In the fall, the plant produces red berries that birds and other wildlife love to eat. The berries are not edible for humans but are an important food source for animals. And despite its delicious coffee aroma, the berries are not a source of caffeine.
This plant can be a beautiful addition to your landscaping or garden that can also make the space smell incredibly inviting, especially for coffee lovers!
Up Next:
---
Sources

Sustainscape, Available here: https://www.sustainscapeflorida.com/
Treehugger, Available here: https://www.treehugger.com/florida-native-plants-5195339
LawnStarter, Available here: https://www.lawnstarter.com/blog/landscaping/native-plants-florida/
University of Florida, Gainesville, Available here: https://gardeningsolutions.ifas.ufl.edu/plants/ornamentals/native-plants.html
Lawn Love, Available here: https://lawnlove.com/blog/native-plants-florida/