Some are in remote areas that require a rigorous hike while others are nestled alongside a resort where you can enjoy some R&R. You pick your adventure. Discover eight natural springs in Alaska and where to find them!
Natural Springs in Alaska
1. Baranof Warm Springs
You can only access Baranof Warm Springs by floatplane or boat. These private hot springs are on Warm Springs Bay. The community here is occupied only seasonally. There is a 0.25-mile hike to get to the springs and though it's a well-managed environment clear of obstacles, the trail is quite steep. To make the most out of your visit, book with an all-inclusive resort that provides you with a tour guide. You can go on an Alaskan adventure that includes a Baranof Warm Springs excursion.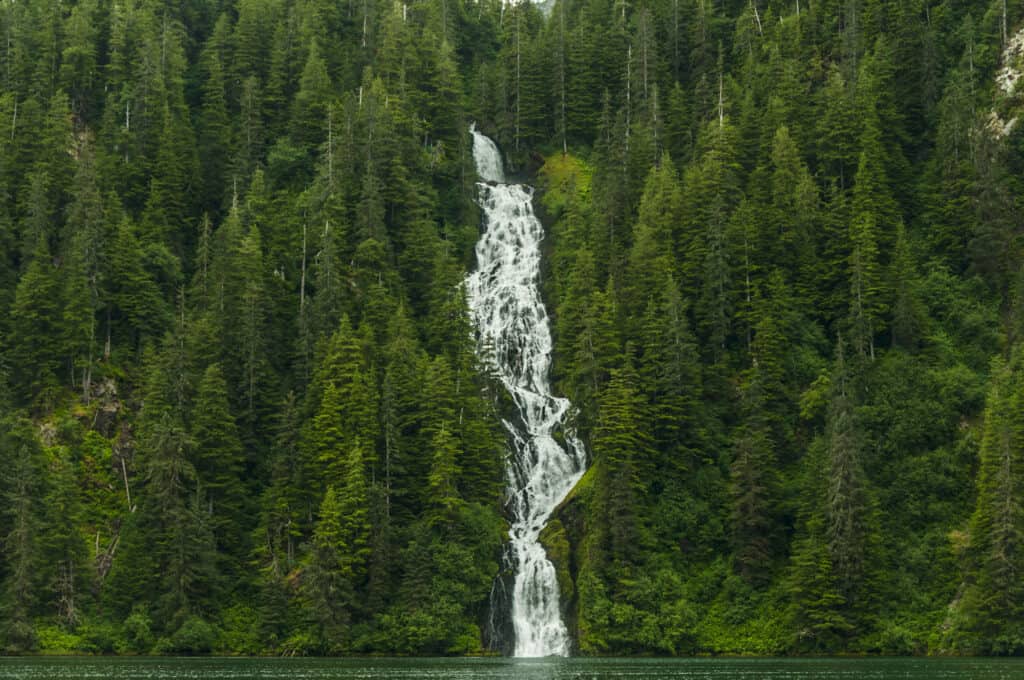 2. Goddard Hot Springs
These natural springs in Alaska have changed over the years, first attracting Indians and later Europeans. The healing mineral waters became better known and a Sitka company took care of making the area more accessible by placing buildings around the hot springs. During the 1920s, the area was more sophisticated. A three-story hotel was available to welcome those seeking the benefits of the natural springs. Today, the area is open for recreational use. It's on Baranof Island off Hot Springs Bay. There is both hot spring water as well as cold water in the tubs. Open shelters cover the bathtubs.
3. Trocadero Soda Springs
These soda springs are in the western region of Prince of Wales Island. You can access them by boat. Due to their remote location, they are rarely visited. The journey to these springs requires a hike through bear country (which is best done in rubber boots). There are two massive golden steps that you can use as a signal to know when you've reached the springs. This formation is a direct result of the water that runs from the springs. The water is carbonated and is said to have a "pleasant taste." These springs are a real treat, especially since they are so remote.
4. Pilgrim Hot Springs
Pilgrim Hot Springs is a historic site located only 13 miles from Salmon Lake on the left side of the Pilgrim River. There are two ways to access these springs. The first is a gravel road that spans eight miles you can navigate by car. The other is a charter air service that delivers you to a small airfield. Pilgrim Hot Springs were previously Kruszgamepa Hot Springs during the days of gold mining. The area was used recreationally and included spa baths along with a dance hall and saloon. Later an orphanage was managed here. The area is still owned by the Catholic church and there are ruins of the church properties still on site.
5. Serpentine Hot Springs
You can find Serpentine Hot Springs in Bering Land Bridge National Preserve in the western part of Alaska. The healing waters of these springs have drawn people to them for ages, including Eskimo shamans and later Native healers. Hike the national preserve to enjoy the granite tors before settling into the soothing waters. There's an airstrip where wheeled planes can land and during winter, you can access the area via dogsled or snow machine. Once you arrive, there's a public-use cabin you can enjoy, which is available on a first-come, first-served basis.
6. Chena Hot Springs
In the interior region of Alaska about 50 air miles from Fairbanks, you can settle into Chena Hot Springs Resort. Here you can enjoy lodging, culinary delights, and most importantly: swimming in the mineral spring water. If staying at the resort itself is not of interest to you, head over to the parking area where you can camp overnight — for free! Otherwise, when you book a room at the resort, you can soak for free. (Pro tip: take your own towels to save!).
7. Manley Hot Springs
Manley Hot Springs is located on a hillside about 150 miles from Fairbanks. 208, 800 gallons run every 24 hours in two springs in the area. The first has a temperature of 136 degrees Fahrenheit and runs at 35 gallons per minute while the other has a temperature of 135 degrees Fahrenheit and runs at 110 gallons per minute. The resort on-site offers lodging and family-style food. It's accessible throughout the year. Camping is available as well.
8. Melozi Hot Springs
There are approximately 20 springs that run along Hot Springs Creek, which is located about 30 miles from Ruby. The hot, healing waters flow slowly in this area and there's a private wilderness lodge on site.
The photo featured at the top of this post is © Naruedom Yaempongsa/Shutterstock.com
---