Most people picture a bird soaring through the air when you mention wings. But birds are not the only creatures that feature wings. Many insects have wings, and some mammals and fish even have a pair. If you're wondering how that's possible, keep reading to discover eight types of animals with wings, not just birds.
Can All Animals with Wings Fly?
Not all wings are created equal. Animals must have wings to fly (minus a few exceptions), but not all animals with wings can fly. Surprisingly, many bird species never evolved the ability to fly despite having large, beautiful wings. Heavy land-dwelling birds, like emus and cassowaries, lack the keel that anchors the pectoral muscles to the breastbone. Their puny wings are essentially useless and could never lift their bodies off the ground. Don't worry, they're still special in their own ways.
Types of Animals with Wings
Wings are used to fly, flutter, or glide. And some wings simply look super cute (I'm looking at you, penguin). Check out these eight animals that have wings:
Bats
Bats are the only mammals with wings that can truly fly. Other mammals, like sugar gliders, don't have wings, nor can they technically fly. There are over 1,400 bat species that inhabit most areas of the earth, except for extreme deserts and polar regions. Bat wings are very unique and are different from bird wings. 
Their wings are more closely related to human arms than any other creature. It is like a modified human arm and hand, except thin and stretched with a skin membrane extending between the hand, the body, and each bone digit. The bat's wings serve a greater purpose than just flying. They help them capture insects, attract mates during courtship, and keep them cool or warm.
Beetles
Beetle wings have sparked worldwide research due to their special functionalities. They have two sets of wings: forewings and hindwings. Their hindwings allow them to fly, and their forewings act as a protective shield. The rotation and wing-locking system of the forewings increase their ability to fly. And researchers believe that studying the beetle's wings can give them insight into how to mimic them for industrial applications, like micro air vehicles. Beetles soar with their legs outstretched, reducing drag and allowing them to make turns and maneuvers. Flight is beneficial for many reasons. The most important uses for flying in beetles are escaping predation, moving to habitats, and finding food. 
Bees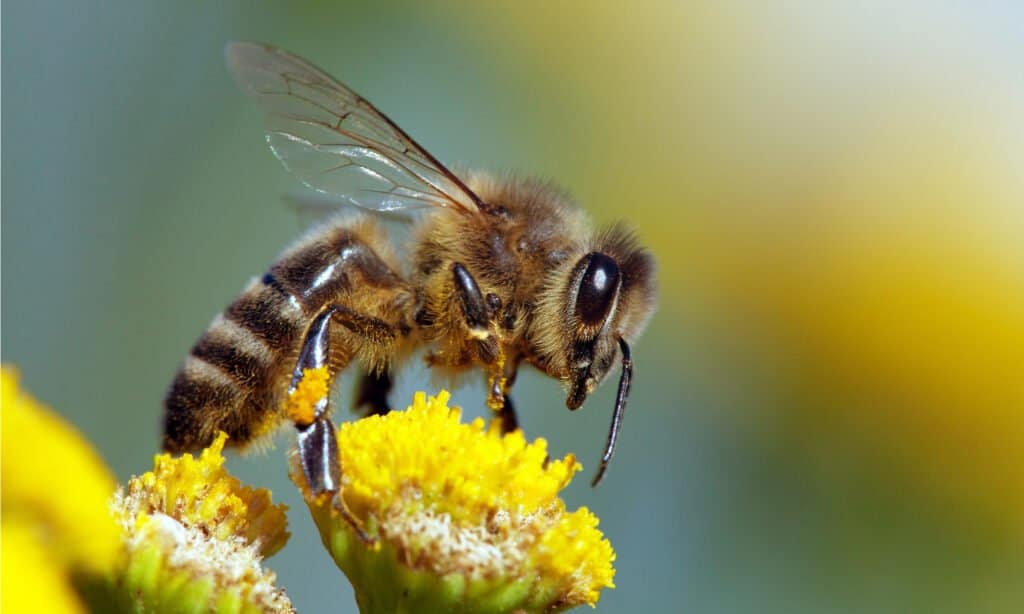 Bees, like honey bees, have two sets of wings, with the forewings being much larger than the hindwings. However, the sets are connected by hooked comb-like teeth, allowing them to behave as one surface. While their wings appear rigid, they are actually able to twist and rotate while they fly. They can also beat their wings over 230 times per second due to muscles that allow their thorax to squeeze up, down, left, and right. 
Their wings make front-to-back sweeping motions, which give them enough lift to fly. This style of flying allows the bee to carry heavy loads, like pollen. The honey bee's use of flight is essential, not just for their survival, but for the crop industry. These bees account for $15 billion in crop value due to their work as pollinators. 
Ostriches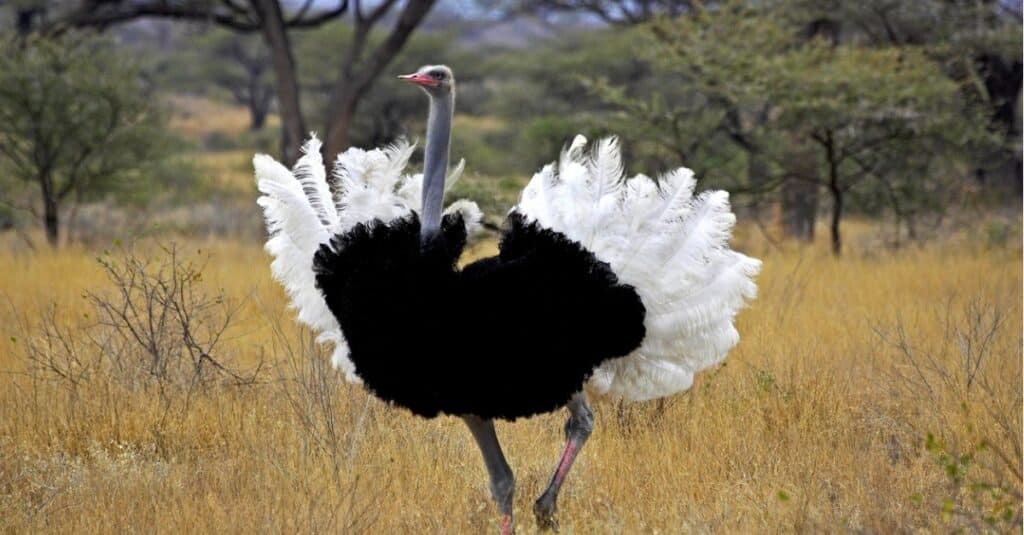 The ostrich is a large, heavy, flightless land bird native to Africa and Asia. Their wings can reach over 6 feet long, appearing enormous when outstretched. However, their wings are not used for flight, like most birds. Instead, ostriches use their wings for balance as they run and to help them change direction. They also use their elegant wings for courtship displays to attract mates. These birds evolved their flightless feature many centuries ago, but scientists are still debating the how and why. 
Flying Fish
Have you ever seen a fish fly? Neither have we. Despite its name, the flying fish doesn't technically fly. Their pectoral fins evolved into wing-like appendages that allow them to glide and jump effortlessly through the water, effectively escaping predators, for which they have many. They also have streamlined bodies in a torpedo shape, pushing them through the water and allowing them to break the surface, giving them the appearance of flying. There are 40 flying fish species, and some of them have four enlarged fins. They are known as four-winged flying fish. These fish can glide almost 40 miles per hour underwater and reach over four feet in the air.
Penguins
Penguins, like all birds, have wings. But their wings are not functional for flying. They evolved for swimming, allowing these cold-loving creatures to cut through the water up to 25 miles per hour. Though technically they have wings, most people refer to them as flippers due to their flattened, paddle-like shape. These flat, tapered flippers have hard, scale-like feathers that allow them to swim quickly underwater. But their flippers also help give them balance as they walk on slippery ice. Due to their food sources being in the water, their wings evolved into flippers over time.
Termites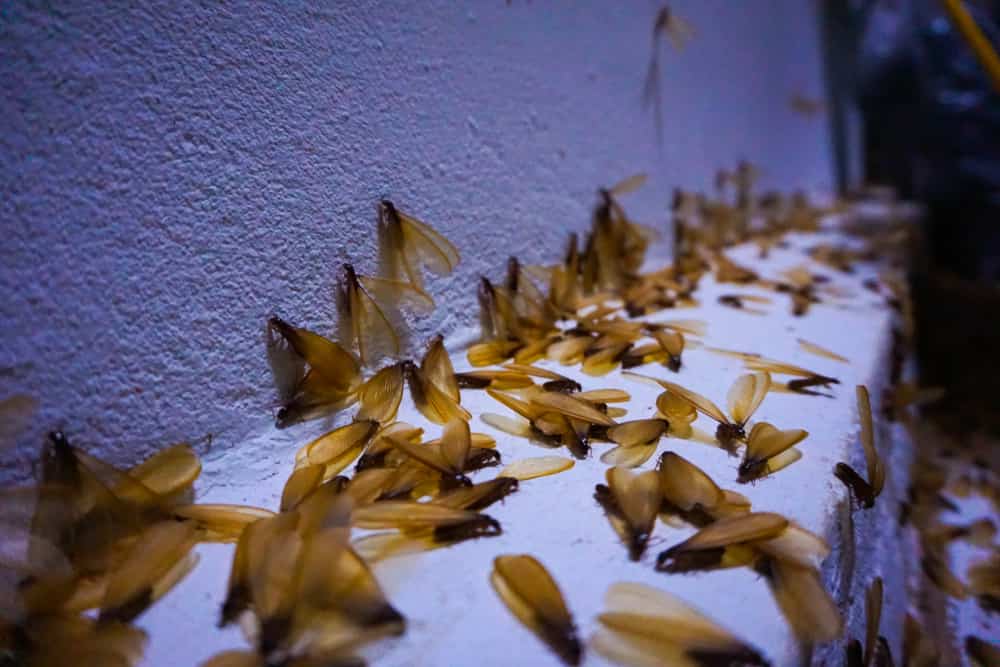 When we think of termites, we often picture worker termites gnawing away at our house and causing structural damage. But some termites sprout wings. During certain times of the year, a termite colony will produce winged adults called "swarmers." The job of a swarmer is to fly away and start their own colony somewhere else. People can also get these insects confused with winged ants. And as bad as flying termites sound, they can only fly for a few days before landing in their new home and shedding their wings. Once they find a new spot and a female, they begin a new colony, and the cycle continues.
Butterflies
If wings don't make you think of birds, then maybe you picture a gorgeous butterfly flitting around your garden. Butterfly wings have inspired many works of art since the beginning of time. But besides being pretty to look at, their colorful and patterned wings serve a purpose. Butterflies have four wings (two sets) featuring elaborate markings and bright colors. Their wings have three main functions: camouflage, ward off predators, and attract mates. They are strong enough to support their bodies and flexible enough to enable flight, but their wings are rather delicate.
---