When it comes to a fight between an orca vs blue whale, who do you think will win? While the orca is also known as the killer whale, can this killer whale take down one of the largest living creatures known to man? In this hypothetical fight, who might reign supreme?
In this article, we will compare and contrast a variety of facts about the blue whale and the orca so that you can learn which one might win in a fight against the other. We will address their physical advantages as well as their defenses, including their endurance and behavior in the wild. Let's get started and learn which whale would win against the other now!
Comparing Orca vs Blue Whale
| | Orca | Blue Whale |
| --- | --- | --- |
| Size | 25-35 feet long; 6 tons | 80-100 feet long; 100-160 tons  |
| Speed | 20-30 mph | 10-30 mph |
| Offense | Huge teeth from 2-4 inches long, 40-60 per whale. Has nearly 20,000 PSI for their bite force and works well in a pod, communicating and attacking together | No teeth, but a huge tail used for swimming and offensive capabilities if need be. Very good hearing and can hear as well as see predators approaching from great distances. Has an extremely loud call that could disorient predators |
| Defense | Capable of swimming away at top speeds, and uses the protection of its pod to survive | Huge body size and blubber offer ample protection from a variety of predators, though they prefer to live alone |
| Endurance and Behavior | Swims an average of 100 miles per day and has advanced offensive and defensive capabilities when in a pod of orcas | Migrates yearly, and is capable of going up to 90 minutes underwater without needing air |
Key Differences Between Orca vs Blue Whale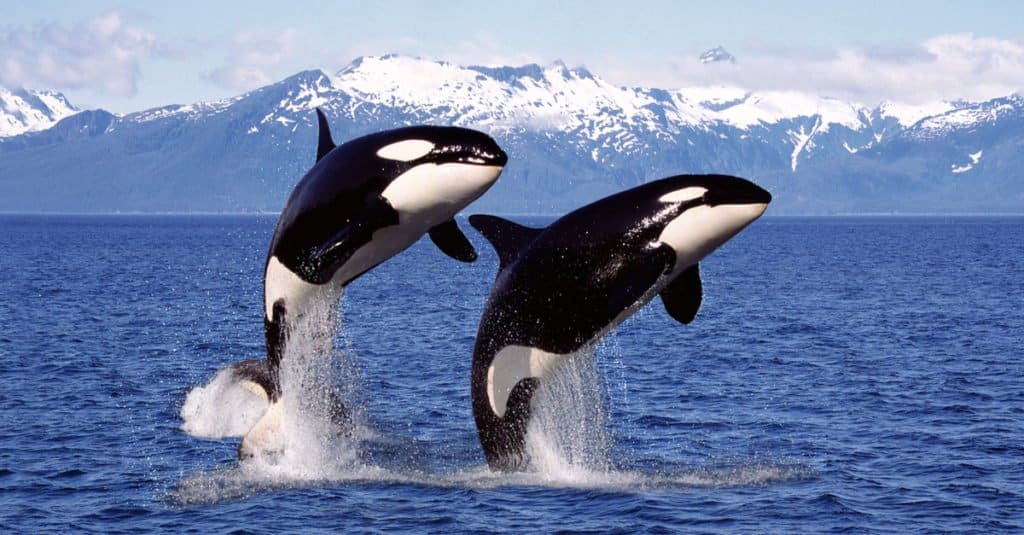 There are many key differences between an orca and a blue whale that lead to a winner in this fight. In terms of size, the blue whale wins over the much smaller orca. However, offensively, the orca has the advantage over the blue whale, given the fact that the blue whale doesn't have teeth. Finally, the orca has a keen advantage over blue whales when living in their pods, as most blue whales prefer solitary existences.
However, this doesn't paint a clear picture of the winner. Let's take a closer look at all of the facts before we crown either the orca or the blue whale as king of this fight!
Orca vs Blue Whale: Size
There is no competition between an orca and a blue whale when it comes to size. The blue whale averages anywhere from 80 to 100 feet long, while the orca averages only 25 to 35 feet in length. Additionally, orcas only weigh an average of 6 tons, while the blue whale ranges in weight from 100 to 160 tons. 
As you can see, the sheer size of the average blue whale is enough to overpower a single orca, and even an entire pod of orcas. However, this size takes some time to gain, and many orcas take down young blue whales without any issues, given their smaller size. But, in a fight with an adult blue whale against an adult orca, the blue whale wins given their huge size.
Orca vs Blue Whale: Speed
There are some significant differences and advantages in the speed of the orca versus the speed of the blue whale. For example, the average orca frequently reaches speeds of 20 to 30 mph without trying very hard, while the blue whale averages 12 mph total. This isn't the top speed that a blue whale can go, though it is rare for a blue whale to exceed 30 mph, and only in short bursts. 
If this were a race, the orca would win against the blue whale in terms of its speed, hands down.
Orca vs Blue Whale: Offensive Powers
The offensive powers of the blue whale range wildly from the offensive powers of the average orca. If it weren't for the huge size of the blue whale, the average orca would likely win using its powerful teeth alone. This is likely because the orca has 40-60 teeth in its mouth, while the blue whale has no teeth, using a baleen as its primary method of eating. 
However, don't count the blue whale out. It has its own offensive capabilities, including its large tail and extremely noisy way of communicating, capable of disorienting the average orca. It is a difficult call to make, but given the fact that the orca has a PSI at around 20,000, it is likely that a pod of orcas could take down a single blue whale.
Orca vs Blue Whale: Defensive Powers
The defensive capabilities of both the orca and the blue whale differ greatly from one another. The primary defense mechanisms that the blue whale has are its size and thick blubber, while the orca has an extremely agile body as well as its pod that it uses to defend itself daily. However, in a one-on-one fight between a single orca and a single blue whale, there is very little that an orca can do to defend itself.
Without its pod to assist, the orca succumbs in a defensive battle against the blue whale, unless it chooses to flee.
Orca vs Blue Whale: Endurance and Behavior
Both the orca and the blue whale have fantastic endurance as well as behavioral differences that keep this fight interesting. For example, the blue whale migrates thousands of miles per year and can hold its breath up to 90 minutes underwater, though the orca is also capable of traveling up to 100 miles in a single day. An orca can only hold its breath for 10 minutes on average.
However, without the safety of its pod, a blue whale is likely able to take down a single orca in a fight, especially considering the amount of time that a blue whale can hold its breath underwater. With all of this in mind, a blue whale would win in a one-on-one fight against an orca, though a pod of orcas could likely take down a single blue whale.
The photo featured at the top of this post is © slowmotiongli/Shutterstock.com
---