Pekingese and Shih Tzus are small, adorable dogs that are firm favorites as family pets. They have a similar appearance, and it's easy for anyone unfamiliar with the breeds to confuse the two. But don't worry, when it comes to Pekingese vs Shih Tzu, some key differences will make it much easier to tell them apart.
In this article, we'll share in detail everything you need to know about Pekingese and Shih Tzus, including where they come from and what their behavior and temperament are. We'll also discuss their appearance, coat types, and energy levels. So join us as we discover all of the differences between Pekingese and Shih Tzus.
Comparing Pekingese and Shih Tzu
Pekingese and Shih Tzus are both dogs that are equally comfortable in a house as they are in the show ring. Both breeds are popular as pets as well as for show. They both have thick, impressive coats, small but stocky bodies, and excellent temperaments. However, there are still some distinct differences between them.
Shih Tzu
Pekingese
Origin
Tibet
China
Size
Weight – 8 to 16 pounds
Height – 8 to 11 inches
Weight – 6 to 14 pounds
Height – 6 to 9 inches
Body
Uniform body, broad and deep chest
Heavy front and lighter rear
Coat
Silky and sheds very little
Dense and sheds a lot
Face
Broad with distinguishable snout and no wrinkles
Flat face with short snout and wrinkles
Legs
Straight legs, front and rear balanced
Front legs short and bowed, rear legs closer together and thinner
Temperament
Affectionate, Happy, Outgoing
Opinionated, Affectionate, Intelligent
Energy Level
Medium
Low
Lifespan
10 – 16 years
12 – 15 years
The 4 Key Differences Between Pekingese and Shih Tzus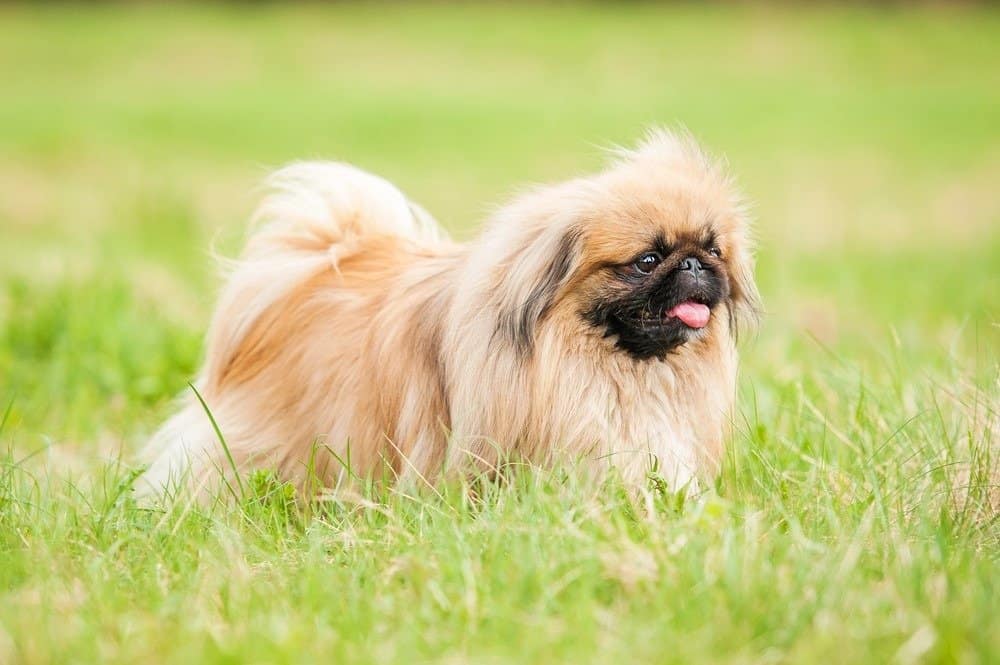 The main differences between Pekingese and Shih Tzus are body shape, face shape, coat, and temperament. Pekingese have a flatter face than Shih Tzus and more wrinkles. They also have a thicker coat and a body that is heavier at the front than it is at the back. Shih Tzus have a long, silky coat, and they shed very little. They also have straight forelegs compared to the bowed legs of the Pekingese.
Let's discuss all of these differences in more detail below.
Pekingese vs Shih Tzu: Body Shape
Shih Tzus and Pekingese both have small, compact bodies, but their shapes differ quite a lot. Shih Tzus have a typically uniform body with a broad and deep chest. They also have straight legs, with equally balanced fore and hind legs.
Pekingese have a stocky and compact body. However, the body is heavier at the front than at the rear, giving them a uniquely shaped rear that is often described as pear-shaped. Pekingese also have unusual legs as their front legs are short and bowed, and their front feet tend to turn out slightly. The hind legs of Pekingese are thinner and closer together, but their feet point forwards.
Pekingese vs Shih Tzu: Face Shape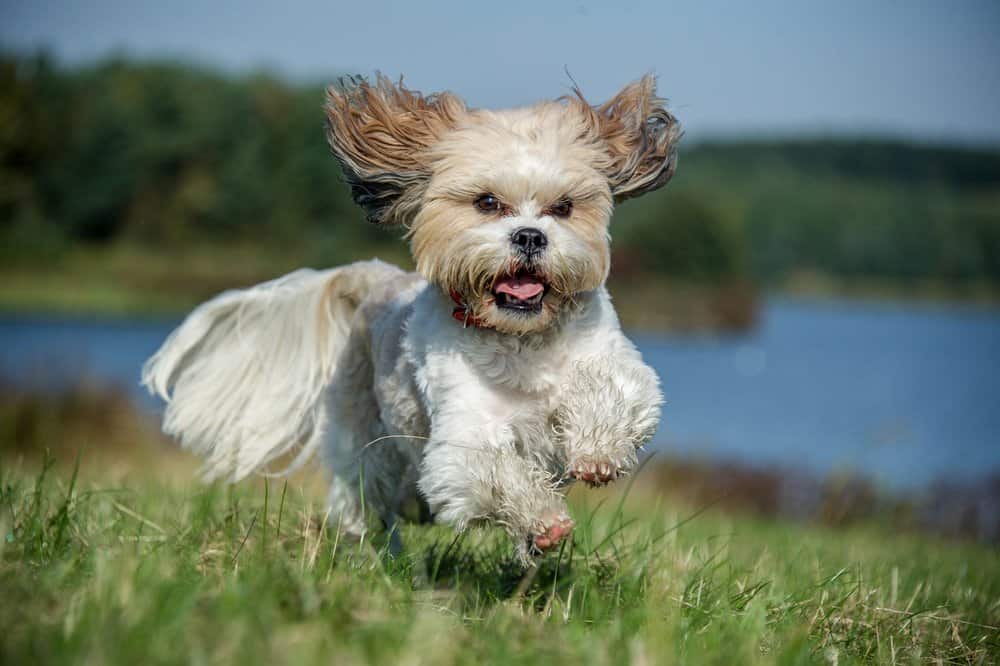 When it comes to Pekingese and Shih Tzus, it's impossible not to fall in love with them when looking at their cute faces and expressive eyes. However, their faces are one of the most distinguishable differences between them. Pekingese are best known for their adorable flat faces and short snouts. They tend to have a lot of wrinkles on their face which adds to their flattened and squashed appearance.
Shih Tzus have a broader face which is slightly more rounded in appearance. Their snouts are more prominent than that of the Pekingese, and they don't have any wrinkles on their face. Shih Tzus also tend to have much longer facial hair which can cover their faces.
Pekingese vs Shih Tzu: Coat
Although both breeds have long flowing hair, there are still some slight differences between them. Shih Tzus have long, flowing coats that are silky to the touch. They shed very little, which adds to how long the hair can grow. They require regular grooming to prevent their coat from getting matted or tangled.
Pekingese tend to have much thicker and more dense hair and they shed quite a lot. However, they too still require regular grooming to keep their coats in top condition. Both dogs can be seen in various coat colors and markings and both have a particularly fluffy tail that is carried over their back.
Pekingese vs Shih Tzu: Temperament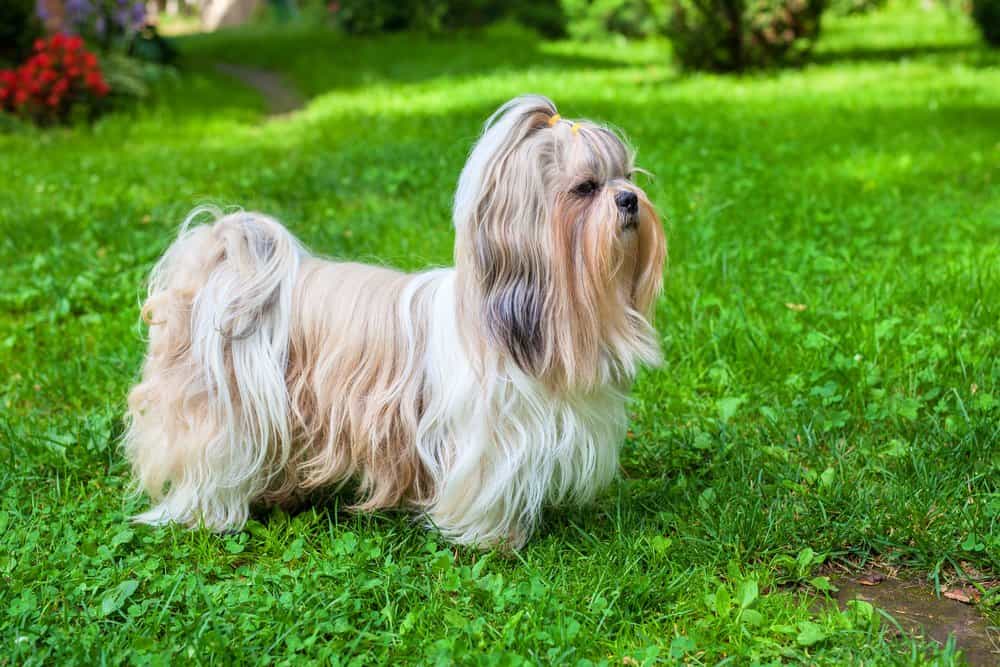 Both Pekingese and Shih Tzus are friendly and affectionate towards people they know. They both tend to get strongly attached to their owners and love nothing more than to faithfully follow their trusted human around. However, despite their size, Pekingese are actually excellent guard dogs and often alert their owners to the slightest suspicious noise. They are also wary and aloof towards strangers.
The energy levels also differ between these two dogs. Shih Tzus are quite active dogs and have medium energy levels. They are energetic, outgoing and like to play. Pekingese have much lower energy requirements and it is important to make sure that they don't overdo things as they are prone to overheating, particularly in hot weather. They are not as playful as Shih Tzus and are more content to spend their day relaxing in comfort.
Ready to discover the top 10 cutest dog breeds in the entire world?
How about the fastest dogs, the largest dogs and those that are -- quite frankly -- just the kindest dogs on the planet? Each day, AZ Animals sends out lists just like this to our thousands of email subscribers. And the best part? It's FREE. Join today by entering your email below.
---
The Featured Image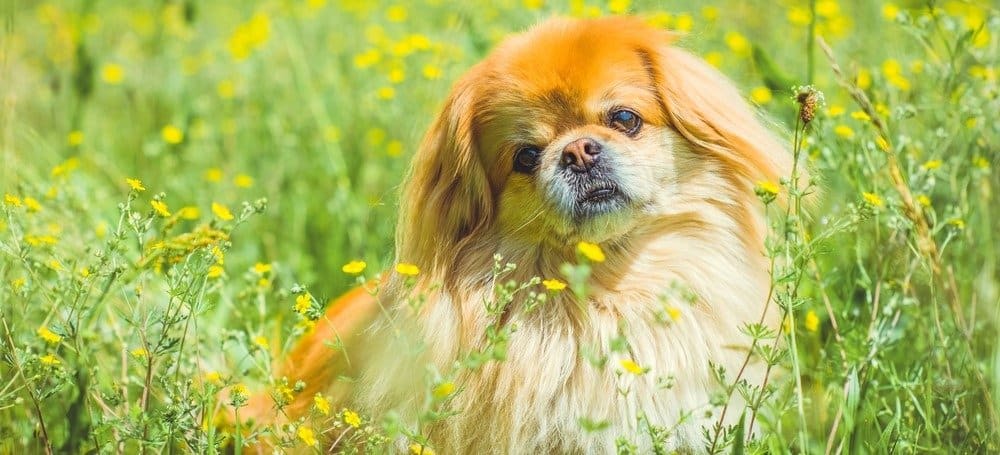 ---
FAQs (Frequently Asked Questions) 
Are pekingeses and shih tzus related?
It is widely accepted that shih tzus are the result of a cross between a pekingese a lhasa apso.
Why are shih tzus called lion dogs?
Shih tzus are sometimes known as lion dogs because their name translated literally means "lion" in Mandarin.  They received this name because they were bred to resemble a lion in oriental art.  Additionally, they are associated with the Buddhist religion and a legend which tells of how Buddha rode on a lion and also carried a small lion dog where ever he went.  Luckily, despite their name, shih tzus don't have a lions temperament.
Where did pekingeses originate?
Little is known about which breeds pekingeses originated from.  However, they originally came from China and were widely favored by Chinese royalty as lap dogs and companions.
Are shih tzus and pekingeses good with other pets?
Although proper socialization and training is important with any dog, both shih tzus and pekingeses are friendly and accepting of other pets.