The U.S. is fortunate enough to have expansive mountain ranges throughout the country. Some towns naturally developed near the foot of these mountains and now serve as a base for tourists that want to ski. Others were developed as a base for ski resorts. Either way, skiers can find beautiful, remote, charming, or amenity-laden ski towns throughout the United States. Today, we're going to examine 12 of the perfect U.S. ski towns that you will never want to leave.
People look for very different qualities in their ski towns. Some want to stay in a picturesque New England village while others want a place where they can ski at night and then check out the nightlife downtown. This list should provide a bit of something for everyone, but keep in mind that they're not ranked in any particular order.
1. Aspen, Colorado
Nearby Resorts
Why You'll Stay
Four resorts, including Aspen Mountain, Aspen Highlands, Buttermilk Ski Resort, and Snowmass Resorts
– Four major ski resorts
– Has skiing in several difficulty levels
– Amenities for children and adults
– Visitors can watch professional races and even the Winter X-Games
Aspen may be more developed than most ski towns, but it's the quintessential skiing area. Home to four different resorts, Aspen has something for everyone. Dedicated skiers can find challenging slopes at the Highland Bowl and families can relax and have fun at the Buttermilk Ski Resort. Visitors can stay in wooden cabins away from it all or in a modern resort area with tons of amenities.
2. Salt Lake City, Utah
Nearby Resorts
Why You'll Stay
Snowbird Ski Resort, Alta Ski Resort, Brighton Ski Resort, and Solitude Ski Resort
– Has four major ski resorts within a 40-minute drive
– Allows people to stay in a metropolitan area with a nightlife
– A hub for travel to other ski towns
– More than skiing available in town
Salt Lake City is not a town, but it's certainly a ski town. Four major ski resorts are less than an hour's drive from the airport. Double that number of resorts can be reached in two hours. The level of access to skiing is just one facet of SLC. The metropolitan area has other diversions including rich cultural engagements in opera and ballet, a nightlife scene, and other wintertime fun!
3. Bend, Oregon
Nearby Resorts
Why You'll Stay
Mt. Bachelor Ski Resort
– Massive ski area at Mt. Bachelor
– Numerous tourist attractions like museums, natural areas, cave explorations, and live music
– Various places to stay in the city or rural areas as well as on the mountain
– Family-friendly
Bend, Oregon is another one of the unique, beautiful U.S. ski towns that people love to spend time in. The city is close to Mt. Bachelor and its associated ski resorts, but still has a unique identity of its own. Skiers can stay in the city and make day trips to the mountain or stay in one of the many amenity-laden resorts. Mt. Bachelor has over 4,000 skiable acres of land for skiers and snowboarders, and it gets enormous snow dumps. If you're waiting for a storm to come or one to pass, there are many things to do in the city, even a fun nightlife scene.
Also, if you're interested in visiting a piece of atypical history, Bend is home to the last Blockbuster Video in the world.
4. Breckenridge, Colorado
Nearby Resorts
Why You'll Stay
Breckenridge Ski Resort
– Many great outdoor activities available including skiing, biking, hiking, and water sports
– A true small town
– Charming historical area design makes the area very picturesque
– Year-round attractions
Breckenridge, Colorado is a true small ski town. This area only has a population of over 5,000 people, and it's not exactly close to any major city. The town itself is small, charming, and beautiful to look at in the snow. The Breckenridge Ski Resort is known for its high altitude, sprawling terrain, and for having variety of ski trails, including some expert courses. Breckenridge is a nice little town with plenty to do for people looking to get away from it all.
5. Killington, Vermont
Nearby Resorts
Why You'll Stay
Killington Resort, Pico Mountain Ski Resort
– Home to the largest ski resort in the Eastern United States
– Many restaurants, nightclubs, and lodging areas outside of the resort
–  Has small-town charm with major amenities and attractions
The town of Killington is one of the best U.S. ski towns because it has the charm of a small town with attractions that one would expect from a town with a far larger population. The Killington Ski Resort is the largest ski resort in the Eastern U.S. Still, there is plenty to do and many places to stay outside of the resort. If you want the small-town experience, you can base your operations in the town and head to the mountains at your leisure. Yet, if you want a luxury vacation, either nearby resort can help.  
6. South Lake Tahoe, California
Nearby Resorts
Why You'll Stay
Heavenly Mountain Resort is the closest with Kirkwood, Palisades Tahoe, and Northstar an hour away
– Amazing views of Lake Tahoe and mountains
– Nearby several major ski resorts
– Diverse entertainment opportunities
– Close to Nevada and its associated casinos, spas, and lodges  
South Lake Tahoe is a resort town through and through. Unlike some of the small towns that rely on charm and remoteness, South Lake Tahoe leans into its ability to provide a good time. This town is perfect for people looking to get the most out of their trip.
Not only are visitors close to the fantastic Heavenly Mountain Resort, but the town is on the border with Nevada where adults can enjoy music, gambling, and clubs.
Also, South Lake Tahoe is about an hour away from another set of great skiing areas at the sprawling Palisades Tahoe Ski Resort on the western side of Lake Tahoe.
7. Bethel, Maine
Nearby Resorts
Why You'll Stay
Sunday River Resort
– Many in-town lodgings
– Less crowded than most resorts
– Rural, natural beauty for all seasons
– Quintessential small New England small town
Bethel, Maine is the small town that most people would picture if you told them to imagine a small ski town in New England. We're talking about covered bridges, gorgeous foliage, and a 15-minute drive to a ski resort. That's not all that makes this one of the best U.S. ski towns on the East Coast.
The town is close to everything, but it's also far enough away that visitors feel like they're leaving their stress behind. Still, fun is close by in the form of the Sunday River Ski Resort, Oxford Casino and Hotel, museums, horseback riding, shipping, and other forms of entertainment.
People of all ages and backgrounds can find something fun to do in or around this town.  
8. Park City, Utah
Nearby Resorts
Why You'll Stay
Park City Mountain Resort and Deer Valley Resort are very close, but Solitude, Brighton, Alta, and Snowbird are within driving distance
– Access to numerous major ski resorts
– Great nightlife and entertainment
– Very tourist-oriented
Park City is home to the largest ski resort in America, Park City Mountain Resort. While the biggest places aren't always the best, Park City Mountain Resort is consistently recognized as having a great combination of skiing and amenities in Utah.
Park City isn't just a great place to go skiing, though. Visitors quickly find out that the city is filled with distractions and attractions geared toward tourists. Of course, that comes with the downside of additional crowds. Still, the stream of visitors to the area means that there's always something to do and people to meet.
Park City is close to many other major ski resorts too. Just like SLC, Park City is near Brighton, Alta, Snowbird, and Solitude, often with less than an hour of drive. So, you can use this city as a great base of operations to ski all over the place.
9. Stowe, Vermont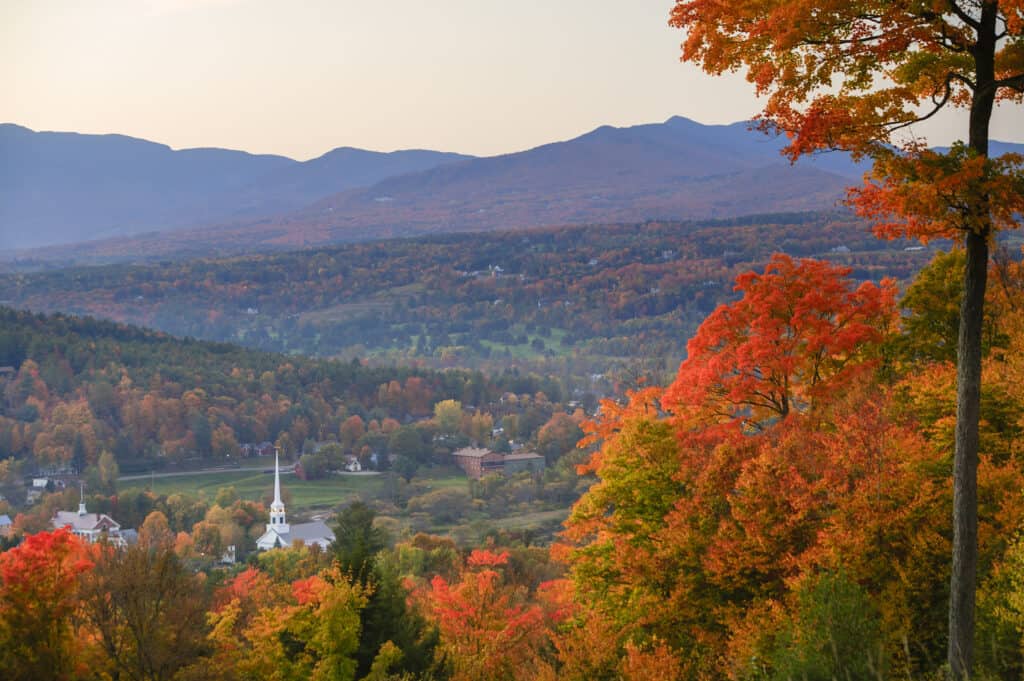 Nearby Resorts
Why You'll Stay
Stowe Mountain Resort and Smugglers' Notch Resort
– Gorgeous small town with a walkable downtown
– Remote area with fewer tourists than major resorts
– Many places to stay, dine, and shop outside of the resort
Stowe is a beautiful resort town in Vermont, but it's not like many of the other perfect U.S. ski towns mentioned so far. This town is small and remote, and it doesn't attract as many large crowds as other major resorts.
Still, visitors that come here can take part in great skiing and other winter events. The downtown area in Stowe is beautiful, walkable, and has plenty to offer. There's even a fair number of ski bars and places to meet new people.
The Stowe Mountain Resort is not the only one nearby, either. The Smugglers' Notch Resort, home of the incredibly steep Black Hole, is also a short drive away from the town.
10. Vail, Colorado
Nearby Resorts
Why You'll Stay
Vail Ski Resort, Beaver Creek, Copper Mountain
– Great skiing at the main resort and nearby resorts
– Plenty of areas to shop
– Vacations can be geared towards families, individuals, or couples
Vail, Colorado is a small town with a big personality. Despite the small population, the town is geared toward tourists, offering great skiing, live entertainment, and great nightlife. It's perfect for any type of person, including people on a family vacation and groups of friends. The village itself is designed to be walkable to cut down on traffic.
The Vail Ski Resort has a massive ski area with over 5,000 skiable acres and 195 runs. Also, the town is close to other ski resorts as well, but most people won't want to leave this ski town.
11. Big Sky, Montana
Nearby Resorts
Why You'll Stay
Big Sky Montana
– Unique landscape with plenty of outdoor attractions like hiking, biking, and riding horses
– Proximity to Yellowstone National Park
– Home to the second-largest ski area in the country                     
The Big Sky Resort in Montana is known for its abundant snowfall and steep slopes as well as for being the second-largest ski resort in the U.S. Yet, the town of Big Sky is also a great destination for travelers. Using the little town as a place to stay, vacationers can travel to Yellowstone National Park, various ranches, hiking trails that lead to great views, and more.
Unlike some other places on this list, Big Sky is not a small town outside of a major city. It's a pretty remote, barebones place that will make you feel connected to nature. For that reason, it's not a place that is right for everyone.  
12. Crested Butte, Colorado
Nearby Resorts
Why You'll Stay
Crested Butte Mountain resort
– Scenic downtown
– Not as crowded as other U.S. ski towns
– Crested Butte has many festivals and events to take part in
– Distinct personality from the resort
Crested Butte was once a mining town. Nowadays, it's not one of the best U.S. ski towns that people will never want to leave. The town is close to the Crested Butte Mountain Resort, but it's not consumed by it. The town has a very distinct personality and close-knit culture to it that is distinct from the resort.
To top it off, Crested Butte, Colorado is not as busy as other ski towns. Still it has just as much to offer as large ones. Great views, local festivals, shopping, and eateries are abundant in this town. Of course, the amazing skiing at the resort brings in many visitors.
All in all, these are some of the best U.S. ski towns that you'll never want to leave. Other hidden gems or perhaps more obvious ski towns exist, though. Still, many ski resort towns are becoming larger and more concerned with expansion and getting as many visitors than acting as a place to escape from the bustle of one's life. In other words, some ski towns are bound to get swallowed up in the future.  
Up Next:
More from A-Z Animals
---
The Featured Image
---