As the year comes to an end, the leaves start changing, and temperatures begin to drop. When going out during the months from spring to fall, insects and animals are out in their preferred habitats. In winter, many animals find a warmer place to escape the cold. Unfortunately, that may include our homes. This article will take a look at 4 pesky critters invading homes as temperatures plummet. 
It is very common for critters in North America and other regions in winter to come looking for a warm place to escape the freezing temperatures. Bugs are common animals that may still be active in the winter, coming inside to escape the cold. Flies, beetles, roaches, silverfish, aphids, assassin bugs, and ticks are just a few insects that like to come indoors. They are just one type of animal you may see trying to get inside when temperatures plummet.
Winter is the time of snow and cold freezes, and our homes protect us from extreme weather. Let's take a look at 4 animals that may also try to enjoy our homes in the winter, and the critters to look out for when the cold comes.
1. Racoons
In the winter, raccoons spend their time in warm burrows, and on warmer nights wander out looking for food. Attics and crawl spaces that are not protected in the winter can make a cozy den for nearby raccoons. In the wild, raccoons live in hollowed trees, ground burrows, or dense vegetation. Abandoned buildings are also placed raccoons may live. 
Pet food, old garbage, and fruit are some of the things that attract raccoons. In winter, raccoons do not truly hibernate but do store body fat to prepare for the cold month. The warmth of a house and your food may also attract raccoons to take shelter in your home and come inside as temperatures plummet. 
2. Bats
Bats are the only animal classified as a mammal capable of flying. Their flying helps them get around, sometimes allowing them to find their way into homes. Bats, during the winter either migrate to warmer areas or hibernate. Attics with small openings allow bats to get inside your house and hunker down during the winter. On warmer days, bats can become active.
You will know you have bats inside your home if there is a strong smell of ammonia, see urine stains on the wall, or poop pellets. On warmer days, bats may be heard fluttering and flying about. Ways to prevent bats are using fake owls around your house to scare them away, and sealing openings in your house.
3. Rats
Rats in the winter do not hibernate but do become less active. When the cold weather arrives, they seek shelter in man-made structures, including houses, barns, shops, and other buildings. Rats that come indoors may stockpile food, saving the scraps they find for later consumption. If food and shelter needs are met, rats may begin to nest in your home using materials like cardboard and twigs to build a their nests. 
Cold temperatures may drive rats indoors, but they are also attracted by food, water, and clutter to make their nests. Urine odor, holes in walls, small droppings, grease smears, and scratching noises are signs rats have made their way indoors.
Other small rodents like squirrels and mice that do not hibernate may also make their way inside as temperatures plummet, looking for warm areas with food to hide.
4. Skunks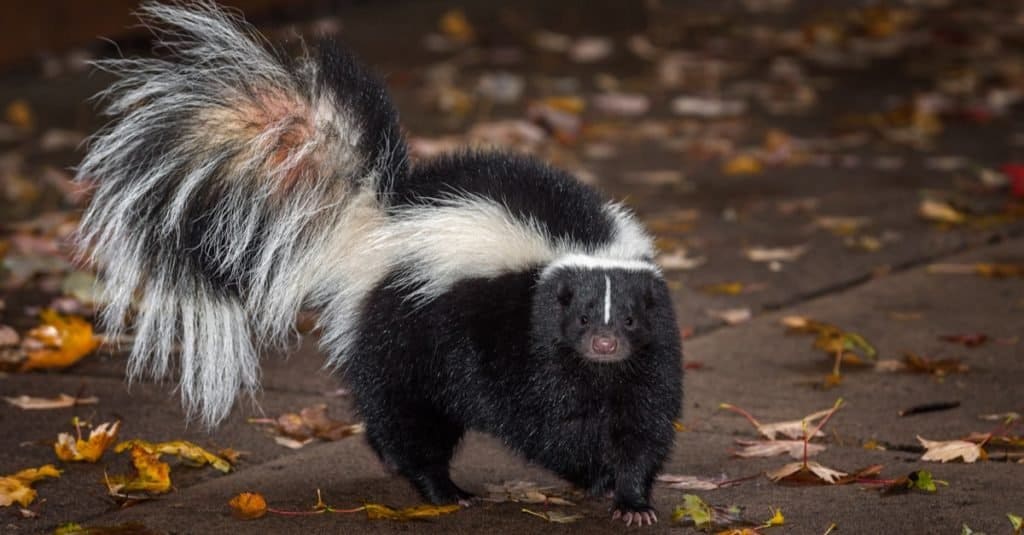 Skunks are possibly the stinkiest animal on earth and the last animal you would want to find in your home. The United States has 4 species of skunk, and there are 13 species in the world. In winter, skunks do not hibernate but enter a state called torpor, which slows down their breathing and metabolism, allowing them to survive the coldest parts of the season. 
Skunks spend their winter in burrows or dens. , and they sometimes make their way under porches, sheds, or garages in order to escape the cold. Skunk repellents or scents like dog urine, citrus, and ammonia can be used to prevent skunks from coming near.
How to Prevent Animals From Coming Inside During Winter
In the winter, animals are always looking for a warm place to hide. Wild animals making their way inside homes are not only an issue because they are unsanitary. They can also cause structural damage, destroying things like insulation, wiring, and piping. Preventing animals from entering your home in the winter is much better than having to evict an unexpected visitor.
Animals make their way inside by finding small crevices they can fit into, which may not even be noticed unless vigorously searching. Animals like rats can squeeze into holes the size of a quarter, allowing even a small gap in your home to be an entrance for wildlife to get in.
You should search the sides of your home, doors, and windows on your house that can allow you to spot any entrances animals can get into. Under patios and stairways are also common areas where an animal may attempt to hide in the winter, as well as attics and basements. Being vigilant and sealing any hole in your home's exterior and interior that can let an animal in is the best way to prevent them from getting inside.
Up Next:
---
Sources

, Available here: https://www.attickings.com/blog/cold-weather-critters-get-attic/
, Available here: https://animals.mom.com/bugs-come-inside-cold-7012.html
, Available here: https://www.allwildlife.ca/blog/what-animals-will-i-find-in-my-house-during-winter-a-guide-to-wildlife-hibernation/
, Available here: https://www.allwildlife.ca/blog/what-animals-will-i-find-in-my-house-during-winter-a-guide-to-wildlife-hibernation/