↓
Continue Reading To See This Amazing Video
If you've always wanted to know the difference between a Pomsky vs husky, you're in the right place! While the Pomsky may be a relatively new hybrid dog bred from a purebred Pomeranian and a purebred husky, the husky is a relatively old dog breed that we know and love. But what separates them from each other, and what might they have in common? 
In this article, we will discuss all of the differences between pomskies and huskies, including their physical differences so that you can learn how to tell them apart. We will also go over their behavioral differences as well as their differences in lifespan and the reason that they exist in the first place. Let's get started and talk about these two dog breeds now! 
Comparing Pomsky vs Husky
| | Pomsky | Husky |
| --- | --- | --- |
| Size | 20-30 pounds; 12-15 inches tall | 40-60 pounds; 20-23 inches tall |
| Appearance | Looks like a miniature husky with thick and fluffy fur; not as thick as husky fur | Thick fur in a variety of shades such as white, black, gray, red, and brown; pointed ears |
| Originally Bred For | New breed of hybrid dog; only bred for designer and aesthetic purposes | Working dog bred for sled racing and working in frigid climates |
| Behavior | Excitable and attention-seeking; needs tons of exercise to avoid anxiety, and can be territorial | Friendly to most strangers and enjoys exercise; can't live in hot climates and can get vocal or destructive when bored |
| Lifespan | 13-15 years | 12-14 years |
Key Differences Between Pomsky vs Husky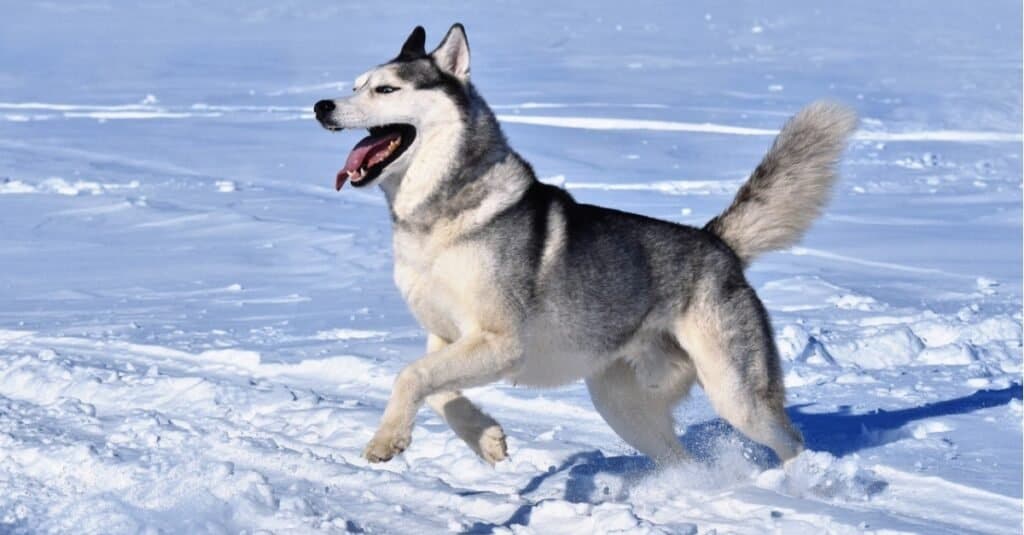 There are many key differences between a Pomsky and a husky. Huskies are larger in both size and weight compared to the Pomsky. The Pomsky is a relatively new breed of hybrid dog, while the husky dog breed has been around for decades. While both of these dogs are vocal, the Pomsky seeks more attention from humans than the average husky does.
Let's discuss all of these differences in more detail now. 
Pomsky vs Husky: Size
You can easily tell a Pomsky from a husky based on their size differences alone. Huskies do not come in a diminutive size like the Pomsky does, and the Pomsky comes in a standard size as well as a toy or teacup breed. Let's talk about the size differences in more detail. 
The average husky reaches 20 to 23 inches tall, while Pomskies average 12 to 15 inches tall overall. Additionally, huskies far outweigh Pomskies, given their larger size. The average husky weighs anywhere from 40 to 60 pounds, while Pomskies only weigh 20 to 30 pounds, if not less for the toy or teacup varieties. 
Pomsky vs Husky: Appearance
If you ever think that you see a miniature husky, chances are, you are looking at a Pomsky or other type of husky hybrid! Besides their size differences, it is extremely difficult to tell the difference between a Pomsky and a husky. Pomskies literally look like tiny huskies, which is why they are popular and regarded as a designer dog breed. 
However, Pomsky fur isn't as thick as husky fur, allowing them to live in a variety of climates. You can't exactly tell this by looking at them, but you would be able to tell if you pet a Pomsky and a husky! In addition, Pomskies come in all of the same colors as huskies, if not more due to their Pomeranian hybrid breeding. Their eye colors are also similar, as both Pomskies and huskies often have heterochromia, or two different colored eyes. 
Pomsky vs Husky: Original Reason for Breeding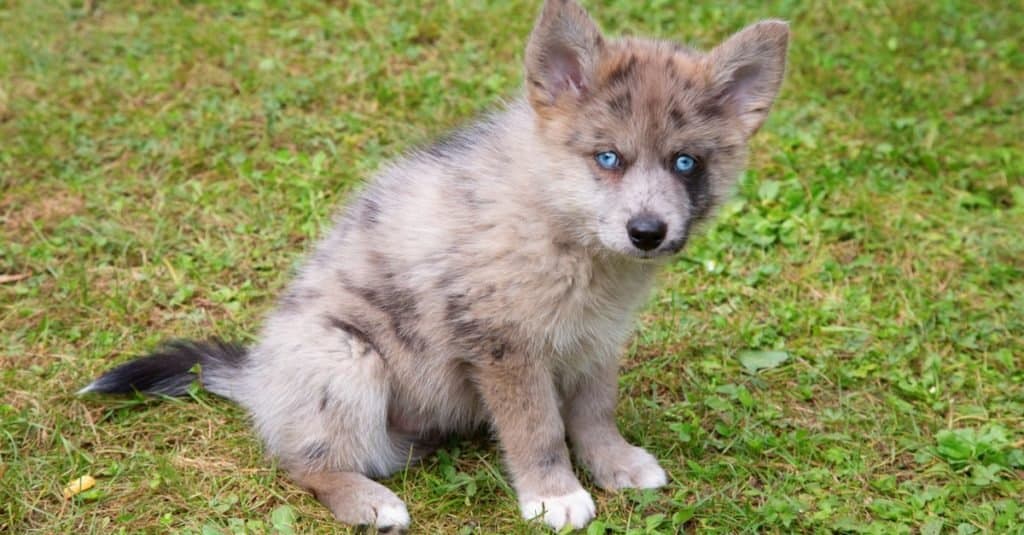 One of the main differences between huskies and Pomskies lies in the original reason that they were bred or created in the first place. It is a well-known fact that huskies were bred for sled dog racing and other winter activities, while Pomskies were originally bred for their looks and designer appearance. This fact remains true today, despite the fact that huskies are wonderful companion animals. The average husky is built for work, while the average Pomsky is built for a domesticated and comfortable lifestyle. 
Pomsky vs Husky: Behavior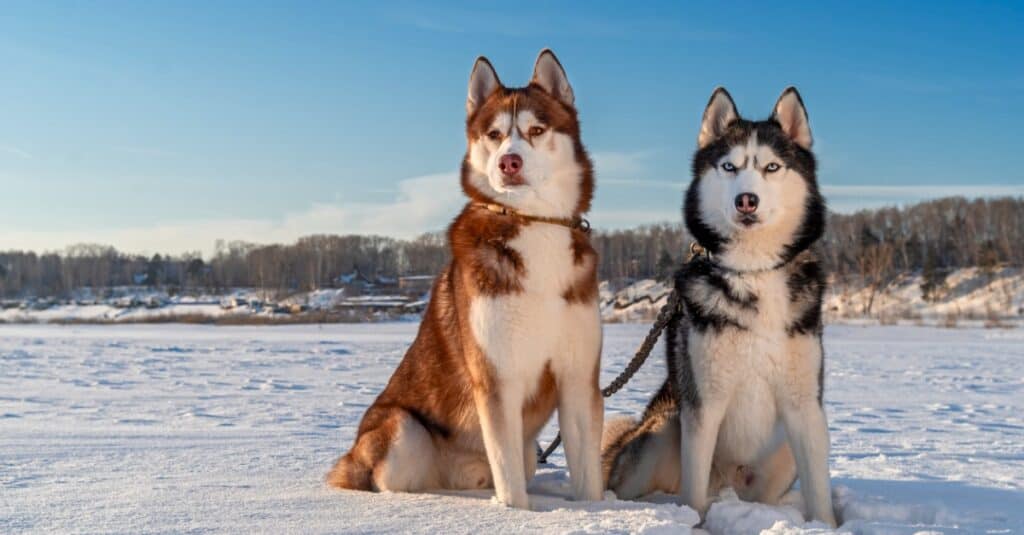 There are fewer differences in the behaviors of the Pomsky versus the behaviors of the husky than you might think. Both of these dogs are extremely friendly and playful, often becoming the stars of the show with their vocal habits and traits. However, Pomskies are regarded as more attention-seeking overall compared to the more independent husky. 
Another difference in their behavior is that huskies cannot live in hot climates, while Pomskies can. The average husky is extremely intelligent and can easily grow bored and destructive, while the average Pomsky is more likely to seek out attention than destructive tendencies. However, with adequate training and ample exercise, both of these dogs are fantastic companions.
Pomsky vs Husky: Lifespan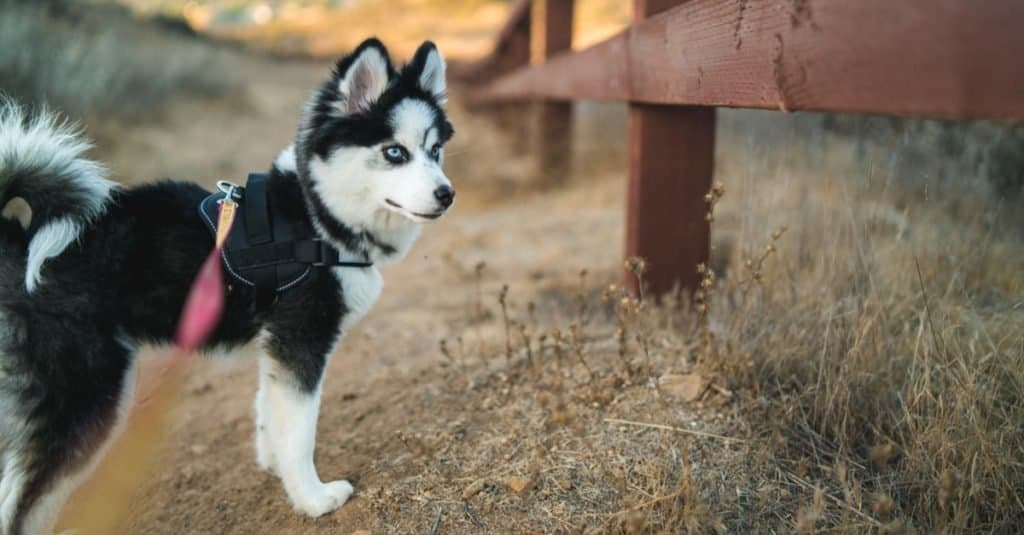 The final difference between Pomskies and huskies has to do with their independent lifespans. The Pomsky lives longer than the husky on average, and this is likely due to the fact that the Pomsky is smaller. Most small dog breeds live longer than large dog breeds, so this is something to keep in mind if you are planning on adopting a dog. 
For example, huskies live anywhere from 12 to 14 years, while Pomskies live 13 to 15 years on average. However, all of this depends on the individual dog as well as the health and wellness of the dog in their home. Both huskies and Pomskies are healthy and strong breeds of dog, perfect for a variety of homes and situations!
Ready to discover the top 10 cutest dog breeds in the entire world?
How about the fastest dogs, the largest dogs and those that are -- quite frankly -- just the kindest dogs on the planet? Each day, AZ Animals sends out lists just like this to our thousands of email subscribers. And the best part? It's FREE. Join today by entering your email below.
Up Next:
More from A-Z Animals
---
The Featured Image
---