Both the Pomsky vs Klee Kai appear to be miniature huskies, but they are their own distinct dog breeds with their own personalities and appearances. However, what differences and similarities can be found between Pomskys and Klee Kais, and what can you expect out of both of these breeds should you want to bring either home to join your family? 
In this article, we will compare and contrast everything you need to know about Pomskys and Klee Kais so that you can fully understand the differences between them. We will address their height and weight differences, as well as the subtle shifts in their physical appearances. Finally, we will talk about their breeding and ancestry as well. Let's get started and learn all about these dogs now!
Comparing Pomsky vs Klee Kai
| | Pomsky | Klee Kai |
| --- | --- | --- |
| Size | 12-15 inches tall; 25-30 pounds | 10-13 inches tall; 6-25 pounds |
| Appearance | Looks like a miniature husky, though often appears fluffier overall. Found in a variety of colors, depending on Pomeranian breeding. | Looks like a miniature husky, though has very distinct facial patterns and masking. Only found in black, gray, and red colors, with opposing white accents.  |
| Ancestry | A modern and designer dog breed. A cross between a Pomeranian and a Husky. | Originated in the 1970s as a more compact Husky alternative. Recognized by the AKC as its own distinct breed in 2020. |
| Behavior | Extremely loyal and vocal, making them ideal watchdogs. Very playful and intelligent, though can be stubborn and prone to separation anxiety. | Alert and high energy. Can suffer from separation anxiety and may need more training before being introduced to children. Loves their family but is wary of strangers. |
| Lifespan | 12-15 years | 13-16 years |
Key Differences Between Pomsky vs Klee Kai
There are many key differences between Pomskys and Klee Kais. The average Pomsky grows taller than the average Klee Kai, and Pomskys weigh more than Klee Kais as well. Pomskys come in more colors than Klee Kais, though both have fairly distinct facial markings. Finally, the Klee Kai is an older dog breed that is recognized by the AKC compared to the modern and non-purebred Pomsky.
Let's discuss all of these differences in more detail now.
Pomsky vs Klee Kai: Size
You likely can't tell the differences in height and weight of the Pomsky and Klee Kai upon first glance, but there are some subtle differences between them. For example, the Pomsky grows larger than the Klee Kai in both height and weight. Let's look at those figures in more detail now.
The average Klee Kai measures anywhere from 10-13 inches tall, while the Pomsky ranges in height from 12-15 inches. Additionally, the Pomsky weighs anywhere from 25-30 pounds, while Klee Kais range in weight from 6-25 pounds. You can get Klee Kais in a variety of sizes, including toy, miniature, and standard, while Pomsky sizes remain stable.
Pomsky vs Klee Kai: Appearance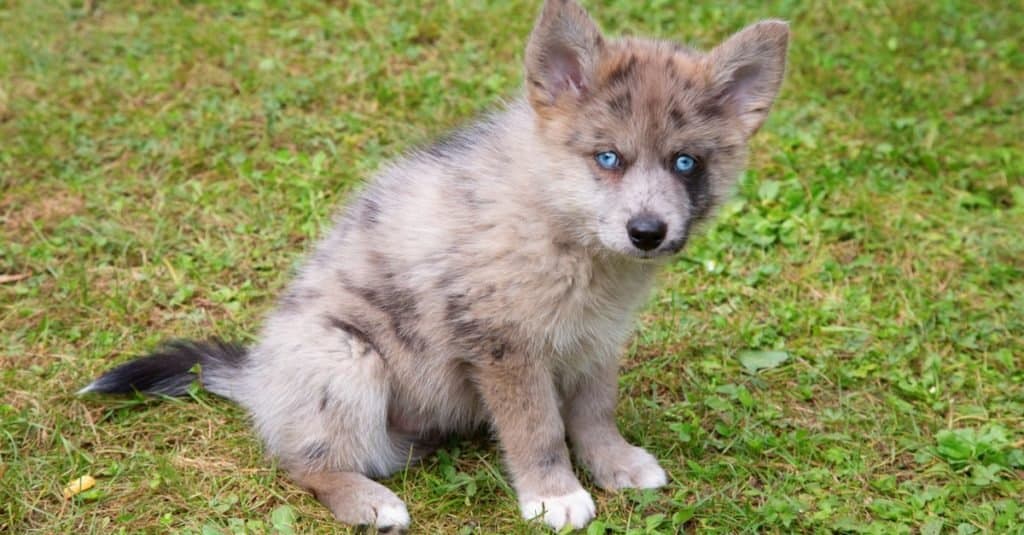 It can be extremely difficult to tell the difference between a Pomsky and a Klee Kai just by looking at them. However, there are a few things that you can look for to tell them apart. For example, the Klee Kai has very distinct large eyes surrounded by facial masking, while Pomskys won't always have markings around their eyes.
Additionally, Pomskys come in more colors compared to the Klee Kai. For example, Klee Kais come in black, gray, and red with white markings exclusively, while Pomskys come in these colors and many more, depending on breeding and their Pomeranian genes.
Pomsky vs Klee Kai: Ancestry and Breeding
The primary difference between Pomskys and Klee Kais is their breeding and ancestry. The Pomsky is a crossbreed between a husky and a pomeranian, while Klee Kais are a purebred breed of dog recently qualified by the AKC. The timing and origin of both of these breeds is another distinct difference. Let's talk about that now.
The Pomsky is a modern and new breed, originating within the last ten years, while Klee Kais date back to the 1970s. However, both breeds were originally created so that owners can enjoy a more compact husky companion compared to the full sized husky dog breeds.
Pomsky vs Klee Kai: Behavior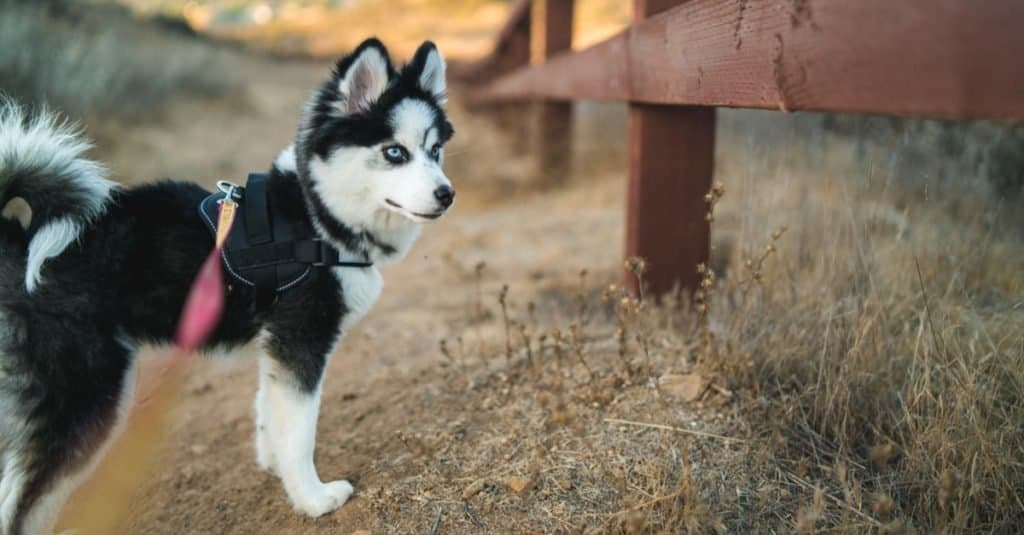 There are some subtle differences in the behavior of the Pomsky versus the behavior of the Klee Kai. Both dog breeds are ideal watchdogs given their vocal nature, though the Klee Kai is far more wary of strangers compared to the friendlier Pomsky. Additionally, the Klee Kai may need ample time before it is ready to spend time with young children, while Pomskys enjoy humans of any age.
The high intelligence of both of these breeds make them stubborn and difficult to train at times. However, the Pomsky is regarded as more stubborn than the Klee Kai overall. This is likely due to both their husky and pomeranian DNA, as the Klee Kai does not share any crossbred DNA.
Pomsky vs Klee Kai: Lifespan
A final difference between the Klee Kai and the Pomsky lies in their individual lifespans. The Klee Kai lives slightly longer than the Pomsky on average, though this is likely due to the Klee Kai's diminutive size. Let's take a look at these numbers in more detail now.
The Pomsky lives an average of 12-15 years, while the Klee Kai lives anywhere from 13-16 years. However, it all depends on the care and health of each individual dog, as both of these breeds require ample exercise to stay fit and healthy!
Ready to discover the top 10 cutest dog breeds in the entire world?
How about the fastest dogs, the largest dogs and those that are -- quite frankly -- just the kindest dogs on the planet? Each day, AZ Animals sends out lists just like this to our thousands of email subscribers. And the best part? It's FREE. Join today by entering your email below.
---
The Featured Image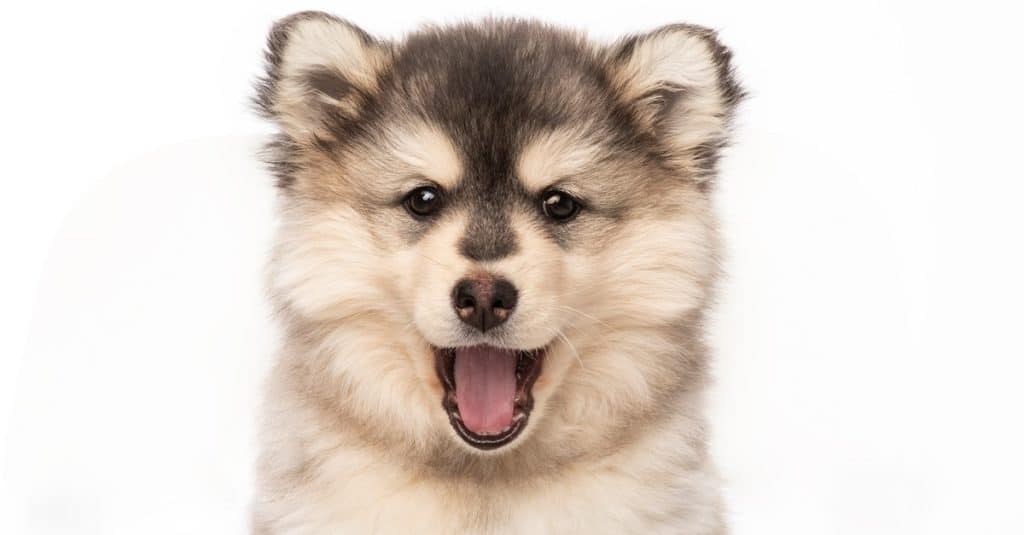 ---