Succulents typically refer to plants that have thick and flesh membranes. These plants are known for their ability to retain water and thrive in even the harshest of conditions. In addition, most outdoor succulents require minimal care and are a perfect way to start your journey into the world of plant parenting.
Even plant enthusiasts are getting in on the action! Their ability to adapt to most environments means even people in apartments can successfully propagate these plants. However, to grow them successfully, you must ensure that you know how to take care of them.
Outdoor succulents are a fantastic way to add a pop of color and diversify your garden without too much hassle. We have compiled a list of popular outdoor succulents to help you get started with your succulent outdoor garden!  
1. Semperviva "Hens and Chicks"
We're getting you started with one of the most exotic succulents. The name Semperviva derives from Latin, and it means 'always living.' Other names for Semperviva include "hens and chicks" and "houseleeks." This genus has roughly 40 species of beautiful flowering plants, most of which are easy-going plants that thrive in most conditions and under minimal care.
Hens and chicks are not only easy to grow, but they won't lose their leaves in winter due to their evergreen nature. Meaning you get to enjoy a bright pop of color all year round. The leaves grow in a cluster of dense rosettes from alternate points and come in light green to brown, pink, and even purple hues.
If you want to propagate a Semperviva, you should make sure to follow these simple steps.
Use neutral, well-draining soil.
Plant them in direct sunlight.
Water generously the first time after planting, and once the plant has started to grow, ensure that the soil dries before adding more water.
2. Agave
Agave is a succulent that will give your outdoor garden a central point. They have stunning blue-grey to blue-green colors and thick fleshy leaves that narrow in spindles as they spread out. These plants are the perfect way to add a bit of pizzazz and spice up your garden in the best ways. And if you're unsure of larger succulents, you can choose from one of 270 different species of agave.
Not only are they eye-catching, but they are also easy to maintain. The only downside to the agave is that they are sensitive to colder climates and thrive better in warmer areas like the desert.
Here are some tips for growing agave.
Choose a wider space when planting the agave. It gets recommended that you dig up an area twice the size of your plant container. This will give your plant the space to grow as big as it needs to.
Using cactus soil for the agave is the recommended option for your plant. Cactus soil is well-draining and allows the root system space to breathe as it grows.
Once you have planted your agave, you should gently water the roots of the plants. It would be best if you watered the roots every five days during the first month.
Agave thrives best in full sun, so it is best to ensure that your plant receives direct sunlight.
Agave traditionally gets used to treat conditions like constipation, severe irritation, and other mild symptoms you experience when having an allergic reaction. In addition, they contain vitamin B6, which can help lower the risk of stroke and heart disease.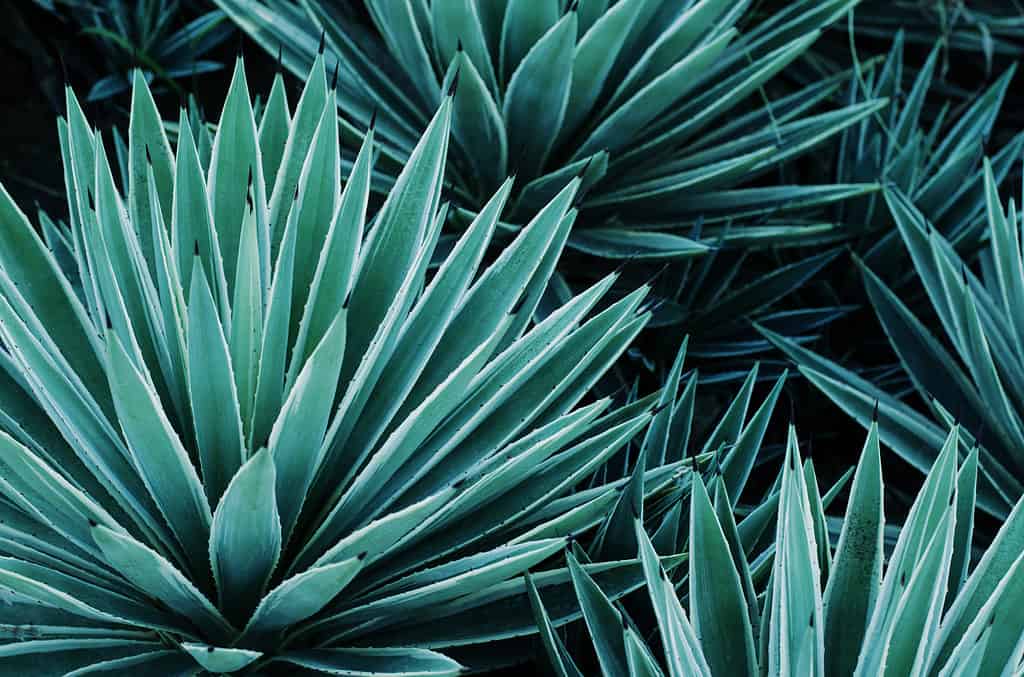 3. Jade Plant
If you have a small or rooftop garden or even want to try your hand at one of those fancy hanging plants, then jade succulents are ideal. Jade plants (Crassula ovata) have thick, succulent leaves that are dark green and feel like smooth leather. In addition, they have a beautiful waxy coating on their leaves that makes them shine in bright light. Not only are they gorgeous, but jade plants are also quite durable. They can also take a lot of abuse without dying or losing their leaves, so you can safely plant them outdoors without worrying about them getting too hot or cold.
Jade succulents also make excellent houseplants because they don't require much sunlight; they'll grow just fine indoors with only an hour or two per day of direct sun. With these qualities in mind, it's no wonder why jade plants are so beloved.
This beautiful succulent is native to South Africa and is said to bring good luck and prosperity to those who tend to them, giving them the nickname "money plant." When cared for well, jade plants can grow to an impressive 6 feet tall. However, expect them only to grow about 2 inches a year. Jade plants prefer hot outdoor conditions but shaded areas. Too much sun could damage the plant.
4. Aeonium
Plants of the Aeonium genus are succulents that grow in a rosette shape. They often get called "flame" or "sunburst" plants because they have vibrant colors that look like they got painted by the sun. Their round leaves develop into rosettes (roundish), so they look adorable even when they're not blooming. The Aeonium genus comprises 35 species that come in various colors and shapes, including pink, white, red, and orange.
The plants of the Aeonium genus are low-maintenance, drought-tolerant, and resistant to pests and diseases. They're also extremely versatile so that they can get used in all sorts of different situations — from outdoor rock gardens to hanging baskets and even in your indoor home or office space.
And if that wasn't enough, they look good year-round! They tend to lose some of their leaves in the winter, but they'll come back strong when spring rolls around again. Aeoniums are native to the Atlantic islands, but they grow throughout East and North Africa and the Mediterranean.
Depending on the species you grow outdoors, they can grow anywhere between 5 inches tall to 6 feet. Mature plants will also grow stunning white, pink, or yellow flowers, so give them lots of attention. However, since they are slow-growing succulents, flowers may only grow after five years.
5. Dudleya
Also known as "liveforever," the members of the Dudleya genus are rose-like succulents with more than 40 species in the genus. If you take good care of them, they can live for almost 100 years. While succulent collectors love to use these unique succulents for small rock gardens or containers, Dudleya will thrive outdoors.
There are two types of growth patterns for Dudleya – branching and non-branching. Branching Dudleya develop into small rosettes, while non-branching Dudleya will grow into one single rosette. In addition, the leaves have a silver or pale blue, powdery appearance with a thick stem.
Dudleya plants are prone to rot, making it essential not to overwater them. These rare beauties grow between 1-2 feet tall and 1 foot wide. In addition, their leaves have a waxy layer known as farina, giving them a powdery appearance. Unfortunately, due to the rarity of some Dudleya varieties, poaching has become a common occurrence, especially on California coastlines. If you choose to grow Dudleya succulents, ensure you have purchased them from reputable nurseries.  
6. Kalanchoe
Not only do Kalanchoe succulents look good in the garden, but they're also pretty easy to care for and can be grown indoors or outdoors. Kalancho succulents boast a rich history in the horticulture world, with over 150 species in the genus available today. They come in all shapes and sizes, from giant barrel-shaped plants to small, delicate flowers that look like little birds' nests.
Most Kalanchoe species are about 3 feet tall, but some can grow up to 20 feet tall. These tropical succulents are native to tropical Africa and Madagascar, with the most common species to grow to be Kalanchoe blossfeldiana and related to the jade plant.
They can be grown as groundcovers or in pots and hanging baskets. Their colors range from bright orange to yellow, red to purple, and pink. And their leaves can be smooth or fuzzy! They're hardy plants that don't require much care and can thrive in low-light conditions. The flowers are large and colorful but not too showy if you're growing them indoors.
In the summertime, Kalanchoe plants make great outdoor companions for your garden. They add color and texture to your space, making an excellent ground cover for shady spots.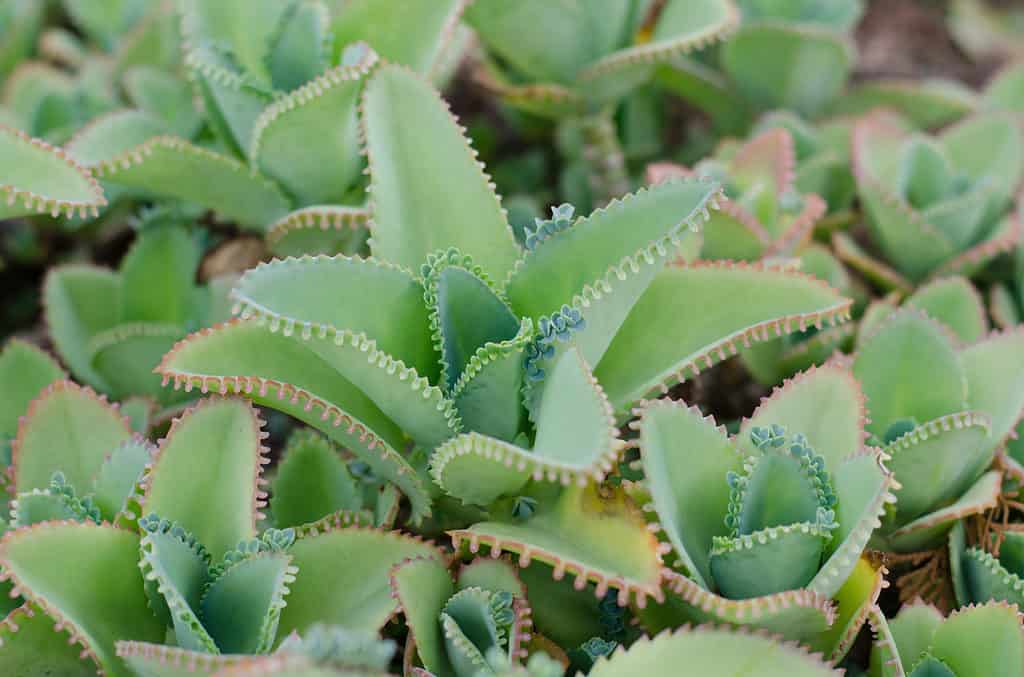 7. Euphorbia
Euphorbia plants are incredibly diverse plants with 2,000 members of the genus in all shapes and sizes — from small ground cover plants to large, imposing trees. They're also very easy to grow, making them a great choice for first-time gardeners or those who want something more interesting than just another cactus or aloe plant in their yard.
The spiky edges and soft, fleshy leaves make them feel like something between a cactus and an artichoke. Likewise, Euphorbia plants resemble cacti, but they are succulents with many varieties containing spines and thorns. A popular species is Euphorbia lactea. The leaves fan out and are a stunning cream color, adding beautiful color and variety to your outdoor garden.
Growing Euphorbia succulents is simple. All it takes is a little research on which type of Euphorbia works best for your climate. They'll thrive with the right soil conditions, basic gardening tools like gloves and pruning shears, and regular watering/fertilizing/weeding maintenance every few weeks or months.
Growing Outdoor Succulents
If you're a gardener, you probably already love succulents. They're easy to care for and can take a lot of abuse without complaint. You don't have to worry about them dying if you forget to water them or if they get too much sun.
If you're not a gardener and are thinking of starting one, consider adding some of these beautiful outdoor succulents to your collection. They require very little maintenance and will give you years of enjoyment. With bold colors, exciting textures, and shapes, you'll never be bored of your outdoor succulent.
---
The Featured Image
---
FAQs (Frequently Asked Questions) 
Can succulents stay outdoors all year?
Hardy succulents can survive almost all conditions, such as frost and drought. They are low-maintenance plants and tend to grow better outdoors than indoors.
Do outdoor succulents like full sun?
Succulents grow wonderfully in full sun conditions. Most healthy succulents get around 6 hours of direct sunlight each day.
Are succulents happier indoors or outdoors?
Succulents do well indoors or outdoors, but ideally, they will grow best outdoors if the conditions are right. They will thrive in warm climates with well-draining soil and little water.
Can succulents come back after a freeze?
If your succulent was exposed to freezing temperatures for a short time, its chances of surviving are excellent. However, the longer they get exposed to severely low temperatures, they can die.
Sources

Wikipedia, Available here: https://en.wikipedia.org/wiki/Sempervivum
Wikipedia, Available here: https://en.wikipedia.org/wiki/Agave
WebMD, Available here: https://www.webmd.com/diet/agave-health-benefits
Wikipedia, Available here: https://en.wikipedia.org/wiki/Crassula_ovata
Wikipedia, Available here: https://en.wikipedia.org/wiki/Aeonium
California Native Plant Society, Available here: https://www.cnps.org/conservation/dudleya-protection
Wikipedia, Available here: https://en.wikipedia.org/wiki/Kalanchoe
Wikipedia, Available here: https://en.wikipedia.org/wiki/Euphorbia