Raccoons are among the most destructive urban pests, and they can cause a lot of trouble and threaten humans. Even if you have never seen a raccoon or even raccoon scat, chances are good that you will at some point in your life. They typically appear in yards to scavenge through trash cans and chase off domestic pets. In addition to forests, marshes, meadows, and prairies, they can be found in suburbs and cities. These cat-sized creatures are known to eat anything. The bandit-like patterns on their faces may seem cute to some people, but they represent a species that enjoys sneaking around and wreaking havoc.
Raccoon invasion starts with them often visiting your garden at night, where it's likely you won't see them. Unwanted visitors are never enjoyable, particularly if they leave an unpleasant mess on your property. The best way to distinguish them is from their feces because it is difficult to do so from their paw prints. So, what does raccoon scat look like? And what dangers do raccoons leave behind with their feces? This article will cover everything we need to know about raccoon poop and more.
What Does Raccoon Scat Look Like?
When seen in pictures or up close in your yard, raccoon scat may resemble those of a small or medium-sized dog. Their feces are typically tubular, 2 to 3 inches long, and usually black in color, with rounded or broken ends. However, coloration varies depending on what the animal eats.
As was already said, dog and raccoon scat may resemble one another, but the dead giveaway is the food fragments in the stool. It can only be determined that it is raccoon excrement by carefully inspecting it with a stick and looking for undigested berries or seeds. Fruits, herbs, vegetables, nuts, and grains are what raccoons primarily eat, which means these undigested things will undoubtedly be present in their feces.
What is a Raccoon Latrine?
The sites where raccoons leave their feces, or scat, are called "latrines." The way raccoons poop sets them apart from other animals as they don't walk around and poop wherever they please. Raccoons have a rather well-organized method of relieving themselves, despite leaving a mess on lawns and trash cans. A raccoon first chooses a site to poop (a latrine site) away from their den, which may be near your house. They will then use the same area over and over to defecate, so expect to find a lot of feces and urine in one spot.
What makes it more annoying is their practice of community latrine. That means raccoons living in the same area may leave their scat in the same place. Their usual latrine locations are tree bases, stumps, under decks, and attics. Raccoons visit these areas at night or return whenever they need to poop or pee.
Does Raccoon Scat Smell?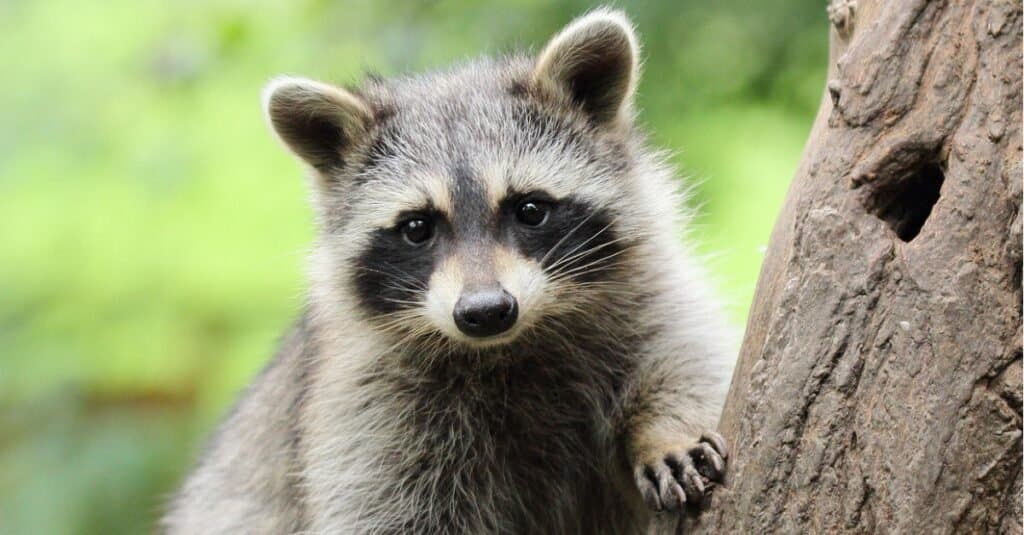 Yes, raccoon scat smells, and it smells bad! Compared to other animals' feces, raccoon feces typically contain whole berries or seeds. Raccoon scat has a considerably stronger and more repulsive stench than other animal droppings resulting from these undigested food. Raccoon urine causes their feces to have a strong ammonia-like odor in addition to the rotting feces smell. Take extra measures if you leave the raccoon waste in your attic because it will attract flies, larvae, and other parasites.
Is Raccoon Scat Dangerous to Humans?
The quick answer is yes. Given that wild animals do not receive immunizations or vitamins, raccoon feces are particularly dangerous to humans as they carry a variety of viruses and diseases. For instance, it has been discovered that raccoons frequently have the rabies virus, roundworm eggs, and bacteria that cause leptospirosis.
Around 1 in 3 wild raccoons have the rabies. Humans can contract the virus through raccoon feces, which can be fatal if untreated. Mild symptoms may include fever, headache, generalized weakness, and pain. If immunizations are administered promptly, rabies can be prevented; however, the disease is incurable once symptoms appear.
The second and probably the most common threat are the roundworm eggs in raccoon feces. The roundworm, or Baylisascaris procyonis, is also the most dangerous parasite from these animals. These eggs can stay active in the feces for roughly two to three weeks, which would have multiplied by the time they went dormant. They still go through the same cycle even if transmitted to a human body. It is important to remember that no disinfectant will be able to destroy the roundworm eggs found inside raccoon excrement, and the only practical solution is to burn them.
Human life can be fatally affected by direct contact with these eggs, whether through an open wound or drinking from a contaminated water source. In the worst circumstances, roundworm eggs can lead to severe heart and brain damage, visual loss, and even death.
Another ailment that can be acquired by people who handle raccoon feces without taking the proper precautions is leptospirosis. While early signs like headaches, jaundice, and fever can be significant indicators, in rare instances, they can have catastrophic consequences for the individual.
What Do Raccoons Eat?
Raccoons prefer to eat seeds, berries, nuts, and tubers. However, the best way to define the raccoon's diet is "opportunistic", changing from one location to another depending on the food availability. Opportunism is obtaining food by practically any means required, at least in the ecological sense. Raccoons can choose which food they want to eat at any given time rather than being limited to a particular food source. According to estimates, invertebrates, plant matter, and vertebrates comprise a relatively equal portion of their diet.
Raccoons are generic opportunists and are not proficient or natural hunters; they do not spend a lot of time pursuing and killing prey. Yet, when they spot a good hunting opportunity, they feast on tiny rodents like mice and squirrels and live frogs, snakes, crayfish, and snails. If they think there is a chance to get away with it, they will try to steal eggs or young hatchlings from bird nests.
The photo featured at the top of this post is © iStock.com/JZHunt
---