We all know about Alaska's winter reputation, but did you know the summers are just as fun? While snowboarding and skiing are popular outdoor activities during the winter months, in summer, hiking, sightseeing, and viewing are some of the best activities in the states. You might change your mind after reading our list, even if you're skeptical. Below, we'll highlight the 13 reasons Alaska has the best summers in the country!
Reason #1: Year-Round Skiing and Snowboarding
Other states often limit their skiing and snowboarding to the winter months. However, Alaska's unique powdery climate makes summers an ideal time to ski and snowboard. Now, the whole state isn't full of snow. Instead, a specific region keeps the right temperatures where the snow doesn't melt, but the sun still emerges.
The Tordillo Mountains are located on the Kenai Peninsula and are the best place to ski or snowboard during the summer. Not only that, but there are over 1.2 million acres of terrain, and it's right next to the luxurious Tordillo Mountain Lodge. During this time, hotels and lodges have discounts, which you will want to take advantage of.
Reason #2: Abundant Wildlife Viewing
During the summer, wildlife emerges from their hibernating slumbers and can be viewed around the state. Alaska has over 32 state game refuges, critical habitat areas, and wildlife sanctuaries, making it the perfect place to view outdoor wildlife up close and personal. Animals such as grizzly bears, caribou, and wolves can be seen inside their habitats.
In addition to mammals, visitors can view Beluga whales at Turnagain Arm from mid-July to August. Cruise ships can also view humpbacks, orcas, and killer whales. Other shoreside animals include walruses, seals, and otters.
Reason #3: Amazing Summer Festivals Unique to Alaska
When you think of Alaska, you mainly think of the outdoors. However, Alaska has some of the best festivals during the summer. The Kodiak Crab Festival happens during May 25-29, where visitors can join activities, listen to concerts, and participate in competitions such as chess. The annual Great Alaska Craft Beer and Home Beer Festival is from May 26 to 27 and has beers only crafted in the state.
Music festivals like the Sitka Music Festival are also popular from May 31-June 25. You can also check out the Spenard Jazz Fest in Anchorage, AK, from June 1-4. There is the Moose Pass Summer Solstice Festival on June 16-18 in Moose Pass for some more interesting festivals. Another popular festival is the Alaska State Fair, where vendors gather from all over the state to celebrate and sell merchandise at Palmer from August 18 until September 4.
Reason #4: Many Outdoor Activities
Alaska is the state for outdoor activities! There's bound to be something to do, from outdoor sporting activities to more than 22 million acres of national forests. During the summer, many sports that wouldn't be available in the fall and winter become open. This can include exciting sports like hang gliding, bungee jumping, and even glacier hiking.
Reason #5: Best Sightseeing via The Alaskan Railroad
While The Alaska Railroad operates year-round, the most scenic ride is during summer. The state's natural beauty can be enjoyed comfortably inside a train. The ride is exceptionally relaxing and stretches more than 470 miles spanning from Seward to Fairbanks. This connects all the towns from the Southcentral region to Interior Alaska.
The train traverses more than 470 miles of wilderness and landscapes, making numerous stops. This allows visitors to view the state and visit new communities, getting more in touch with the culture, wilderness, and locals.
The most scenic route is the Coastal Classic, a day trip from Anchorage to Seward. Visitors will end up near the Kenai Fjords National Park, known for stunning scenery, wildlife, and ocean adventures. The park spans over 600,000 acres and is known for its glaciers, coastlines, and wildlife viewing.
Reason #6: Visit Alaska's Best Glaciers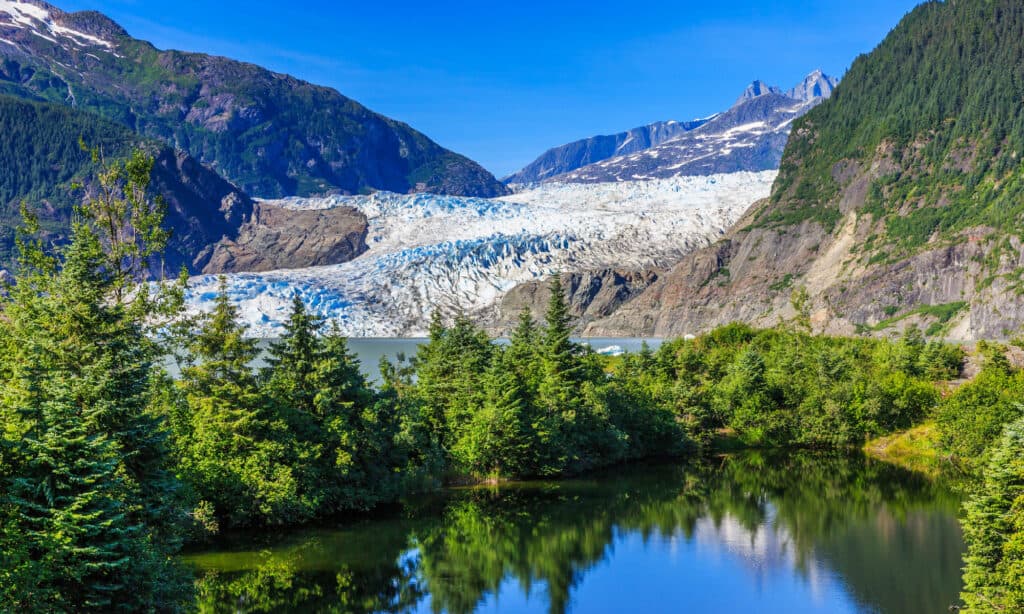 The best time to view a glacier in Alaska is actually during the summer months. The winters tend to be too cold, and the climate tends to change to become more rocky and slippery due to ice formations. However, summer makes temperatures ideal, and the climate tends to be milder.
May to September is the perfect time to go glacier hiking. Glacier hiking is where you can physically hike through the glacier and see inside ice caves. While normally, this would be extremely dangerous any other season, the summer makes it a safe experience with plenty to see. 
Some popular glaciers that some like to traverse include Spencer Glacier, McBride Glacier, Raven Glacier, Holgate Glacier, and Hubbard Glacier. Although, there are also glaciers that you can see year-round, such as the Matanuska Glacier, Knik Glacier, and Exit Glacier.
Reason #7: The Best Fishing
Avid anglers flock to the state during summer for the salmon fishing season. Alaska opens its fishing season from May through September, enabling those to catch king salmon, sockeye, coho, pink, chum, halibut, rainbow trout, and more! 
Not only do anglers put their skills to the test, as king salmon are difficult to catch, but they also get the reward of cooking it up as a meal. Many anglers also enjoy coming to Alaska in the summer to catch fish and freeze the fish to ship back home. 
There are also tons of fishing spots located all over the state. So you'll never have to worry about being overcrowded. Visitors can customize their experience and choose where and when to fish if they abide by the Alaska Department of Fish and Game rules and regulations.
Reason #8: Christmas in the Summer
Have you ever wanted to celebrate Christmas cheer during peak summer? If so, you can pack your bags and enjoy the small town of the North Pole. The town is located in the Fairbanks North Star Borough and is known for the Santa Claus House.
The house has a gift shop and is adorned with Christmas-themed decor. One of the most popular attractions in the town is the Santa Claus Houses"s fiberglass statue of Santa Claus standing outside. To add to the theme, domesticated reindeer are living outside the shop.
Reason #9: The Best Weather
Alaska has some of the best weather during its summer months. If you've ever been tempted to visit, then you'll want to plan to head to interior Alaska. During the summer, temperatures stay at 60-90 degrees Fahrenheit. Even the coastal areas stay 60 degrees Fahrenheit with mild rain.
Aside from that, the constant warm weather paired with plenty of sunlight makes exploring the state much more fulfilling. Alaska also doesn't see much snow during the summer, and most areas tend to only get a bit of rain, except for Southeast Alaska.
Reason #10: Long Days
Alaskan summers are ideal for travel due to the endless hours of sunlight! The state experiences a unique two-month period where the sun stays in the sky for 24 hours. Fairbanks, also known as "The Land of the Midnight Sun," is a popular choice for vacations during this time. You can see the sun shining through the night sky.
Other areas in Alaska celebrate the summer solstice, the year's longest day. Cities across the state celebrate the extra hours of sunlight.
Reason #11: Summer Travel Packages
From May 15 until September 15, Alaska has its tourist season. Many businesses are open during this time and create travel packages to entice people to visit. With the seasonal discounts, Alaska activities become much more affordable, making it the perfect time to visit.
For example, businesses often bundle their costs with other services to ensure your experience is top-tier. Pricing discounts can include hotel costs when you book to go to a skiing resort, BOGO deals on tickets, or added transportation to and from wherever you're headed.
The months that provide the best value are April, May, and September. During this time, travelers can find discount hotel rates for weekend stays, transportation, and accommodations cheaper. Peak tourist season happens mid-summer, which is when everything is costly.
Reason #12: Unlimited Tours
Since it's tourist season during the summer, there are plenty of tours. These tours can range from outdoor to historical or even cuisine. Some popular tours include a tour of downtown Anchorage, where visitors can see historical sites and learn how the city came to be. There are also tastings of Alaskan cuisine, such as smoked salmon and reindeer sausage.
Another popular tour is the Denali Flightseeing tour, where visitors can see around the Talkeetna area. Others unique to Alaska include private family tours, where you can have an authentic native state experience. The Portage Glacier Cruise and Wildlife Explorer Tour is also popular, as you can see marine and wildlife.
Even if you're not into the state, tours are designed around other elements. This can include beer tours, ATV adventures, and fishing tours. No matter what, Alaska will have a tour that will pique your interest.
Reason #13: Cruise Season
Alaska's cruise season is from May until September. Cruise season in the state only happens five months out of the year, mainly due to the climate changes during each season. Temperatures stay between 30 to 80 degrees, depending on the region.
From the ship, tourists can view the surrounding wildlife and scenery. Plenty of amenities are onboard, which can help keep visitors occupied. Some include spas, restaurants, pools, and more.
Some cruise ships also stop at different cities and allow passengers to explore. That way, they can feel like they've also participated and experienced Alaska's rich culture. Each cruise is very different, so researching ahead of time is recommended. Cruises range from small to large, with some having only a dozen people and around 40 big ships.
Conclusion
As you can see, Alaska has plenty of reasons for having the best summers in the country. The state is booming with outdoor activities and wildlife and has interesting and fun events sprinkled across Alaska. Whether you're into outdoor activities, a leisurely cruise, or just a fan of trying local cuisine, there is always something for you to do.
Many of what is mentioned is also seasonal, which means you won't get to try them any other season. Summer is the time to go; you'll love the savings if you plan around the mid-summer peak. Hopefully, this has helped you learn more about why Alaska summers are so cool and what you can enjoy during that time!
The photo featured at the top of this post is © ad_foto/ via Getty Images
---