↓
Continue Reading To See This Amazing Video
Although it is sometimes dismissed and overlooked for being "America's Crossroads," Indiana has a lot to offer if you get off its bustling interstates. In fact, Indiana is an excellent destination for the ultimate fishing adventure. All year long, you will enjoy superb fishing and be spoiled by the variety of species you encounter. Some well-known fish species are walleye, stripers, coho salmon, northern pike, crappie, largemouth bass, muskies, and steelhead trout. However, as a northern state, one might wonder how big the fish get, particularly game fish. Which begs the question, what are the biggest trophy fish ever caught in Indiana? This article uncovers the 10 biggest fish in Indiana and some other fascinating facts.
1. Blue Catfish – 104 lbs. 
Blue catfish can weigh more than 100 pounds and reach lengths of up to five feet. The Department of Fish and Wildlife declared Bruce Midkiff of Owensboro as the state record holder for the heaviest blue catfish in Indiana. On August 28, 1999, on the Ohio River's Cannelton Dam Tailwaters, Midkiff caught a trophy fish weighing 104 lbs. He had taken the place of the late J.E. Copeland's 100-pound blue catfish record, which came in the Tennessee River tailwaters of the Kentucky Dam decades prior. 
2. Bowfin – 16.52 lbs.
Only one fish with a state-record size in Indiana was captured in 2009. The Department of Natural Resources (DNR) says Seymour resident Paul Huber reeled in a 32.25-inch bowfin that weighed 16.52 pounds in Jackson County's Mutton Creek, breaking the previous record. The bowfin that held the prior state record was caught in 1988 and weighed 16.0 lbs. The bowfin ranges from 17 to 24 inches long, and the largest individuals weigh around 20 pounds and extend up to 43 inches.
3. Brown Trout – 29.3 lbs.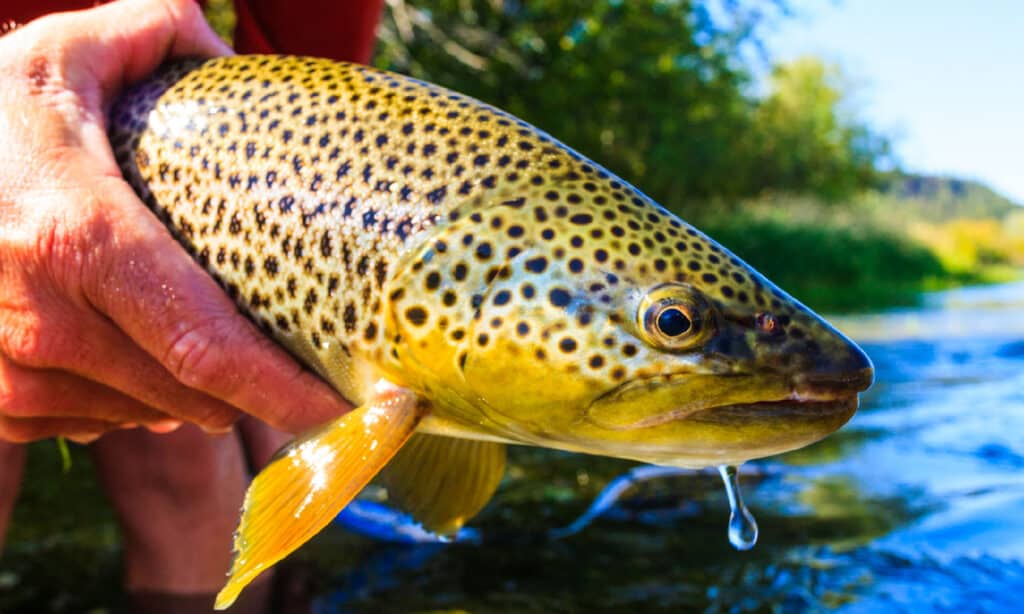 Brown trout's average adult size is between 14 and 20 inches long, weighs between one and two pounds, and sometimes weighs 10 pounds. On April 2, 2006, Glen Duesing of Dyer was casting a Smithwick Rogue crankbait when Indiana's largest brown trout attacked it. Duesing caught a 29.3-pound Lake Michigan brown trout, which the Indiana DNR recognized as a new state record fish.
4. Channel Catfish – 37 lbs. 8 oz.
Channel catfish are highly prized by anglers in many regions of the United States. The average channel catfish weighs one to one and a half pounds and measures at least 16 inches long. Channel catfish are most prevalent in large streams with slow or moderate currents. In 1980, Randy E. Jones captured a 37-pound, eight-ounce channel catfish in a pond in Vanderburgh County, setting a new state record.
5. Common Carp – 43 lbs. 4 oz.
The common carp's average length and weight are between 12 and 25 inches and eight to 10 pounds respectively. However, they can grow considerably bigger. Russell Long caught the state-record common carp for Indiana in 1989; it measured 43 lbs and was captured on Pike Lake in Kosciusko County.
6. Largemouth Bass – 14 lbs. 12 oz.
Largemouth bass can grow to around 16 inches long under ideal circumstances. The average adult's length is 10 to 20 inches, and their weight is half-pound to four and a half pounds. However, they can grow to be eight pounds in weight.
On Memorial Day, May 27, 1991, Jenifer Schultz of Louisville, KY, caught the largemouth bass that is now the state record weighing 14 lbs and 12 ounces with a length of 28 inches. Schultz hooked the fish using a short casting rod, casting reel, and Pop-R topwater lure in Seven Springs lake in Elizabeth, IN.
After rigging the hook, she pulled in the monster fish and immediately recognized the fish as a rare catch. Without delay, her husband arrived with a net at the bank. The conversation was sparse as Schultz battled the enormous bass, but ultimately the fish grew weary and came within striking distance of the net.
7. Muskellunge – 42 lbs. 8 oz.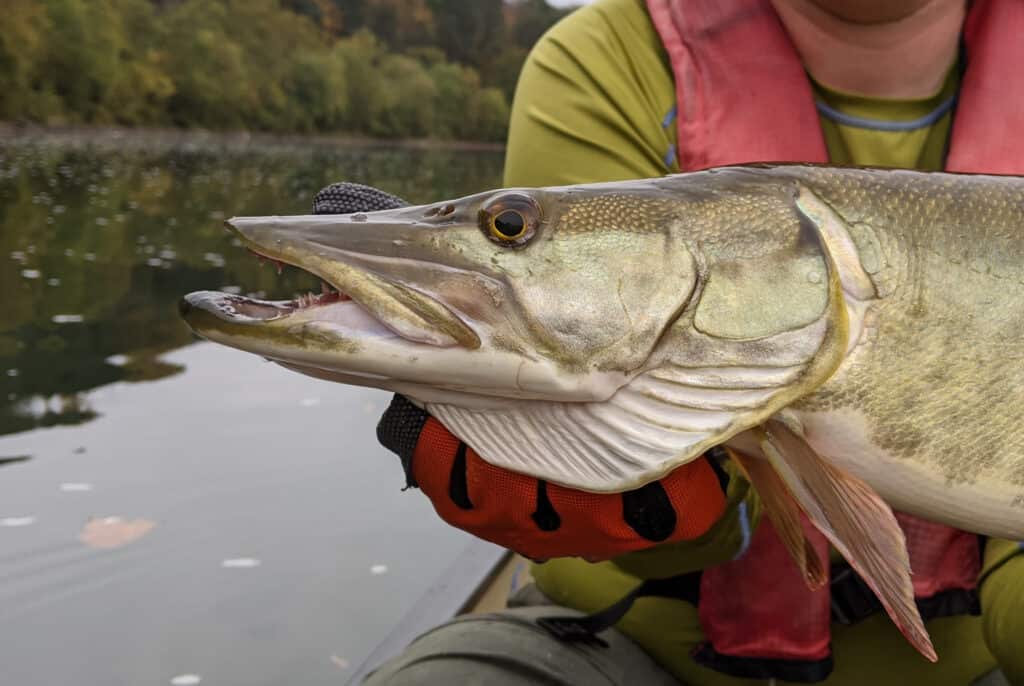 Muskies live in lakes and rivers and can withstand various water temperatures. Their weight ranges from 2.20 to 64.93 lbs. In April 2002, Darrin Conley captured a 42.5-pound muskie in Kosciusko County's James Lake. Conley's fish, which was 50 inches long, beat the previous record set in 1994 by George Webster, who caught a 35-pound muskie in the same lake.
8. Northern Pike – 30 lbs. 2 oz.
The largest northern pike ever taken in Indiana weighed 30 lbs 2 oz. Jack Barnes got this state-record fish in 1992. Northern pike is among the freshwater fish with the quickest growth rates. Pike typically range in length from 16 to 30 inches and weigh two to seven pounds. Compared to males, females have longer lifespans and grow larger.
9. Striped Bass – 39.08 lbs.
Although they can grow to six feet in length and weigh as much as 125 lbs, adult striped bass typically grow to a length of two to three feet and weigh between 10 and 30 lbs. On May 25, 2010, Jonathan VanHook brought in a fish weighing 39.08 lbs, breaking Tony Campisano's previous record of 35.395 lbs. set in 1993 on the Ohio River. The fish VanHook retrieved from Harden Lake was 42.25 inches long and 30 inches wide.
10. Walleye – 14 lbs. 4 oz.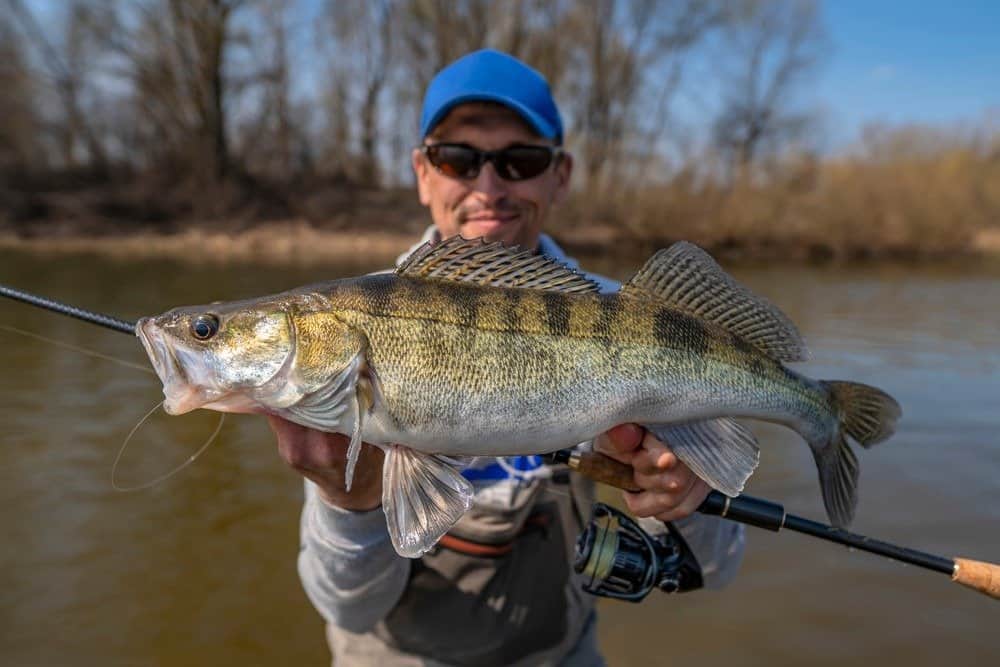 Walleyes with a twin record of 14 lbs. 4 oz. are a noteworthy record fish. In 1974, Leon Richart caught the first one in the Kankakee River in Lake County, and Donald Tedford captured the other in the Tippecanoe River in 1977. Walleyes often measure between 15 and 20 inches in length and weigh between one and three pounds. Naturally, these figures will also change depending on each walleye species' habitat and environmental factors.
Up Next:
More from A-Z Animals
---
The Featured Image
---
Sources

Indiana State Gov, Available here: https://events.in.gov/event/dnr_2009_record_fish_and_fish-of-the-year_honorees_6411?utm_campaign=widget&utm_medium=widget&utm_source=State+of+Indiana
The Hunting Page, Available here: https://www.thehuntingpage.com/landing-the-big-one/
Guide, Available here: https://guiderecommended.com/biggest-brown-trout-caught/