↓
Continue Reading To See This Amazing Video
Montana is an angler's paradise, with some of the world's top fishing rivers, streams, and lakes. You can wade into its crystal-clear lakes and pebble-filled trout streams while admiring the surrounding mountains and wildlife. The Treasure State offers more than enough fish species for every angler, regardless of skill level, so you can catch a fish no matter the season. All you have to do is change your fishing style, and you'll almost always catch something.
While visiting the area is a magnificent experience in and of itself, catching some of Montana's prized fish is another story. Fish records in Montana come in many shapes and sizes. From the 142-pound paddlefish captured in 1973 to the 0.01-pound emerald shiner caught in 2006, catching a world record may be as close as one cast away. Which begs the question, what are the biggest trophy fish ever caught in Montana? This article will uncover the 10 biggest trophy fish ever caught in Montana and other fascinating facts.
10 Biggest Trophy Fish Ever Caught in Montana
1. Brown Trout – 32.42 lbs.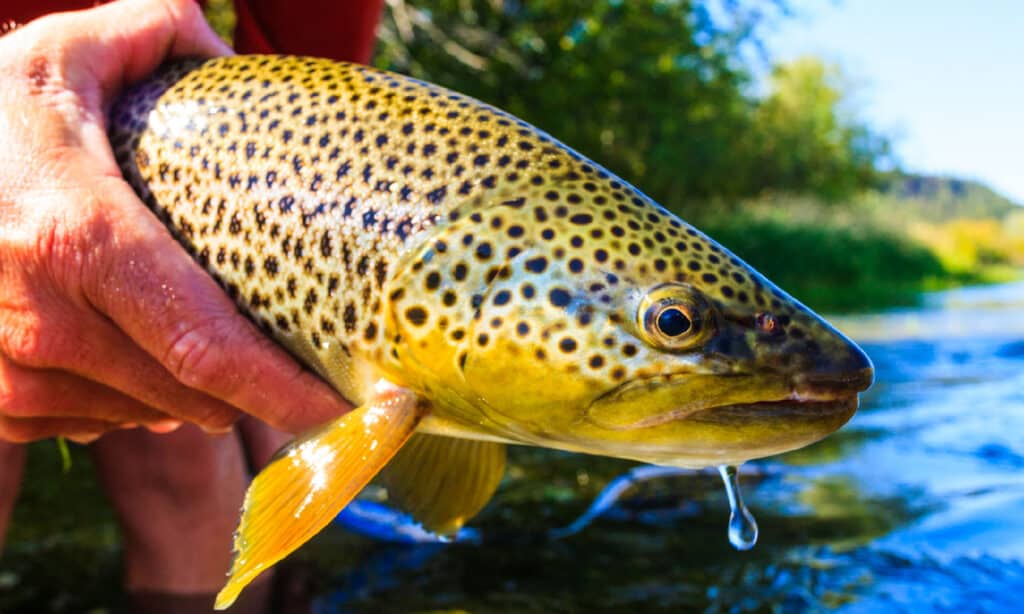 Brown trout are larger than other trout. The usual size is 14 to 24 inches long and 2 to 10 pounds, with exceptional individuals reaching 20 inches in length. Montana is famous for its excellent trout fishing, but that reputation was further strengthened in 2021 when an angler caught a new state record brown trout.
Robbie Dockter snagged, battled, and caught a 32-pound, 37-inch brown trout while fishing the Marias River on March 3, 2021. Montana Fish, Wildlife, and Parks (FWP) confirmed his catch as the new state record. Robbie Dockter smashed Montana's 55-year-old state record for brown trout, which had been on the books since 1966, established by E.H. Bacon. Bacon's record fish measured 29 pounds and was captured in Wade Lake.
2. Channel Catfish – 35.18 lbs.
The typical channel catfish weighs two to four pounds and reaches at least 12–24 inches in length. A 35.18-pound channel catfish caught on July 7, 2019, by Colstrip angler John Smith has been validated as a new Montana record. Smith, 40, was trolling with his 16-year-old son Brandon on Castle Rock Lake when he hooked into the monstrous 38.75-inch fish. He was attempting to catch walleye with a light panfish/trout rod baited with a Beetle Spin and a one-eighth-ounce Mister Twister jig at that time.
3. Chinook Salmon – 32.05 lbs.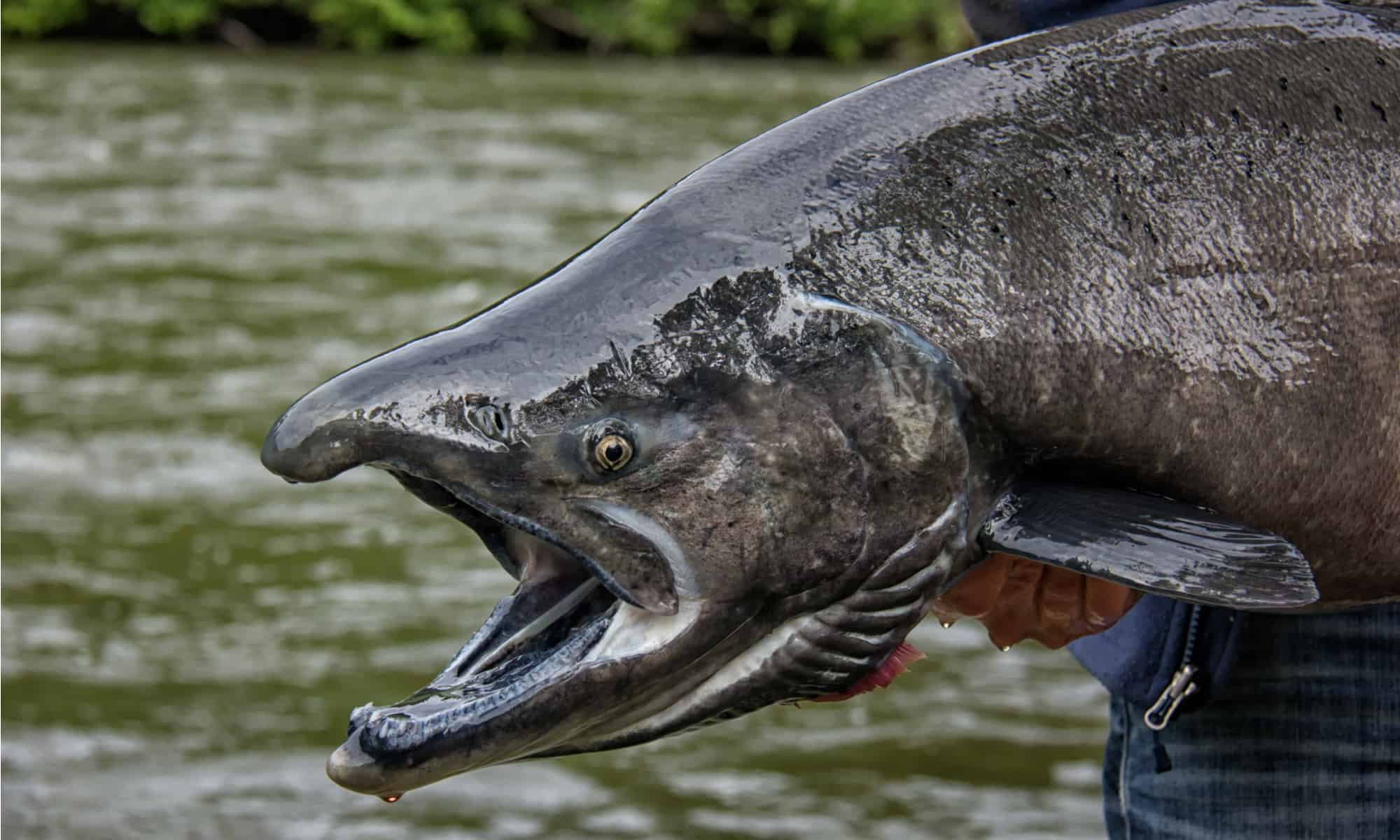 Chinook salmon can grow as long as 59 inches and as heavy as 129 pounds, but mature fish are typically 36 inches and 30 pounds. On August 16, 2020, airport manager Greg Haug caught a large, super-sized salmon, breaking a 29-year-old "Big Sky Country" record. Haug was well aware that fish in Fort Peck tend to be larger and better than in any other place, regardless of the catch. This is because Fort Peck fish consume ciscoes rather than smelt, and it's the equivalent of eating butter instead of cauliflower. He eventually caught what he thought was a pretty good Chinook salmon. The "pretty good" Chinook salmon weighed 32.05 pounds, was 38.125 inches long, and had a girth of 26.5 inches.
4. Largemouth Bass – 9.58 lbs.
The largemouth bass attains a length of 13 to 20 inches and a weight of one to five pounds. On April 24, 2021, a largemouth bass caught in Billings Heights' Lake Elmo set a new state record. The 9.58-pound, 22.5-inch fish broke the previous record of an 8.8-pound lunker, which had stood for over a decade. Brandon Wright snagged the new record while fishing from shore with a worm on a hook and a 6-pound test line one morning. 
5. Longnose Sucker – 4.78 lbs.
The sucker family is Montana's third largest fish family, with an average length of 9 inches and weighing 5 pounds. A Montana angler, Jonathan Miller caught a new state record longnose sucker. He utilized a jig to land his 4.78-pound, 22.25-inch longnose sucker on May 10, 2022, in Hauser Reservoir near Helena.
6. Rainbow Trout – 33.1 lbs.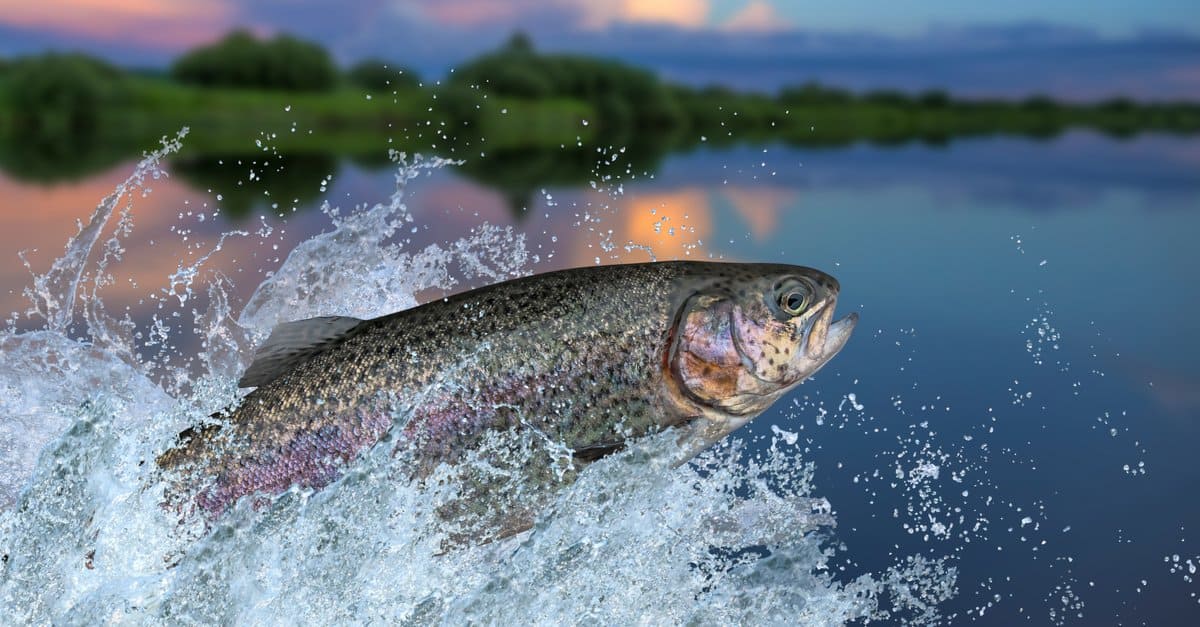 Rainbow trout range in size from 15 to 25 inches and 1 to 5 pounds. On August 11, 1997, Jack Housel, Jr. caught a 38.62-inch, 33.1-pound rainbow trout in the River David Thompson Bridge, setting the state record.
7. Rocky Mountain Sculpin – 0.063 lbs.
There are many big fish stories out there, but this one is about a tiny fish. The Rocky Mountain sculpin can grow to be about four inches long. Sculpins are bottom-dwelling fish with a tapering body from a large head and pectoral fins to a narrow caudal (tail) fin area. On March 15, 2022, a youngster from Laurel captured a 5-inch-long Rocky Mountain sculpin in an irrigation ditch, setting the Montana state record. According to Montana Fish, Wildlife, and Parks, it weighed 0.063 pounds. Bridger Burroughs, 14, got the sculpin while fishing with an orange plastic worm.
8. Smallmouth Bass – 7.84 lbs.
On October 3, 2020, Theron was fishing in Fort Peck Reservoir in the northeast part of Montana with his father, Jim Thompson, and buddy Nate Peressini when he caught a huge smallmouth bass. Theron was fishing for walleye with a quarter-ounce jig designed by Peressini and an 8-pound-test line. Once caught, the giant smallie attempted to fly, but its weight stopped it from breaking the surface, giving the anglers their first indication of its size. Peressini knew it was a good one when he placed the net beneath the monster. The fish weighed 7.84 pounds and was 22 inches in length, according to a scale on the boat, beating the current record at the time, 7.51 pounds.
9. Tiger Muskellunge – 38.75 lbs.
Tiger muskies are game fish, reaching 18-20 inches long at two years old and 25-30 inches long at three years old. Mature individuals range in length from 34 to 48 inches and can weigh up to 30 pounds. Montana's state record for tiger muskie boasts a whopping 50-inch, 38.75 lbs.! Leo Cantin caught it in the Deadman's Basin Reservoir on September 2, 2011.
10. Walleye – 18.02 lbs.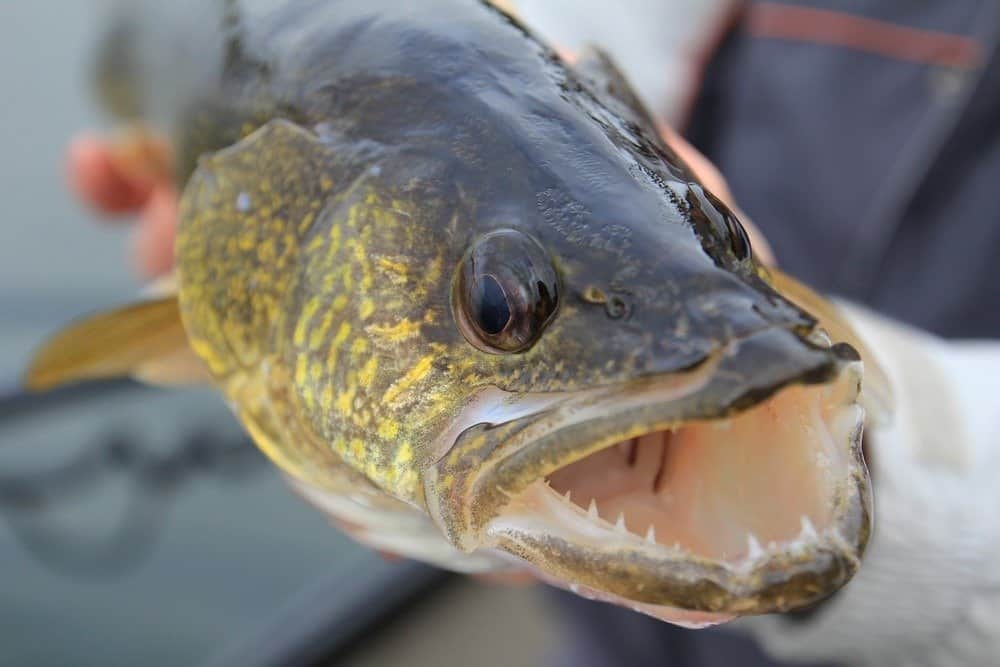 The walleye can grow to be around 30 inches long and weigh 20 pounds as an adult. Trevor Johnson caught Montana's new record-breaking walleye on May 10, 2021. Johnson captured the monster walleye that measured 32.25 inches in length, 22 inches in girth, and weighed 18.02 pounds on a certified scale. According to the release, he caught the record-breaking fish using a jig. The previous state walleye record of 17.75 pounds was established in 2007 at Tiber Reservoir.
Up Next:
Sea Monsters: The 10 Biggest Trophy Fish Ever Caught in Mississippi
Sea Monsters! The 10 Biggest Trophy Fish Ever Caught in Pennsylvania
The 9 Best Fishing Spots in Montana This Summer 
More from A-Z Animals
---
The Featured Image
---
Sources

Montana Fish, Wildlife, and Parks, Available here: https://fwp.mt.gov/fish/anglingData/records
Whiskey Riff, Available here: https://www.whiskeyriff.com/2021/06/22/7-state-record-fish-caught-in-montana-within-last-9-months/
The Spokeman-Review, Available here: https://www.spokesman.com/stories/2021/may/17/new-montana-state-record-walleye-caught-sixth-stat/