↓
Continue Reading To See This Amazing Video
Although much of New Mexico is covered in arid desert and timberland forests there are a few noteworthy fishing spots. The Elephant Butte Reservoir is the largest reservoir in New Mexico, created by damming the Rio Grande River. Both the reservoir and river are where you will find some of the biggest trophy fish in the state. Here are the 10 biggest trophy fish ever caught in New Mexico.
10. Walleye: 16 lbs 9 oz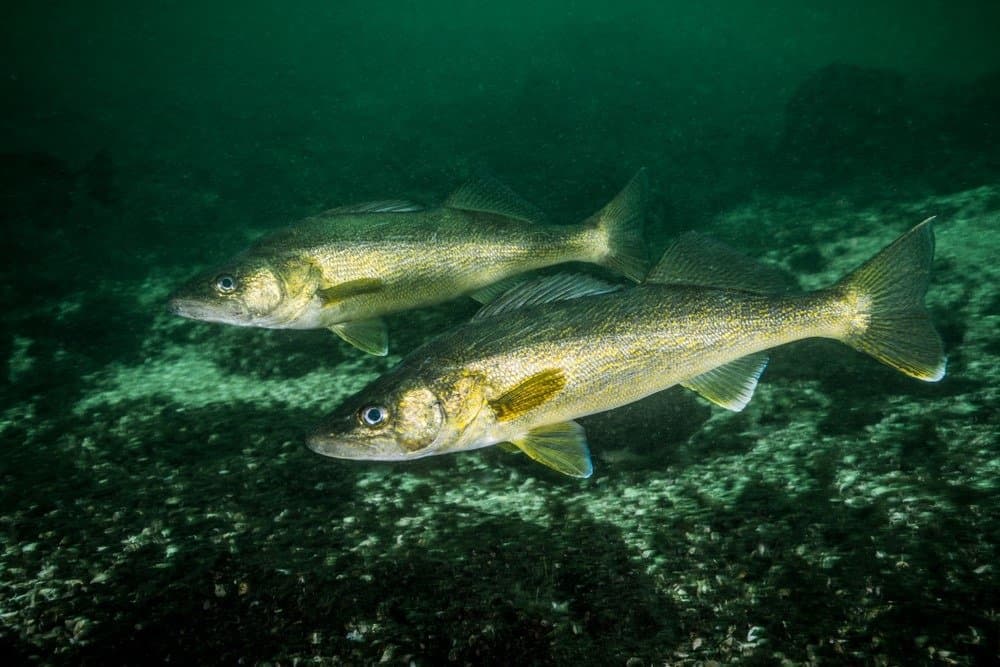 Walleye are certainly not the biggest fish in the sea, but good sized walleye do make for good eating. That is one of the reasons they are so popular with anglers. In New Mexico the biggest walleye ever caught was a 16 lbs 9 oz fish, pulled from Clayton Lake in 1989. The lucky angler was G. L. Peppers that still holds the record today. Clayton Lake State Park and Dinosaur Trackway is located around Clayton Lake in the far NE corner of the state. Here you can find the fossilized footprints of dinosaurs at the dinosaur trackway. Stop by the visitor center to learn about the history of dinosaurs in the New Mexico area.
9. Brown Trout: 20 lbs 4 oz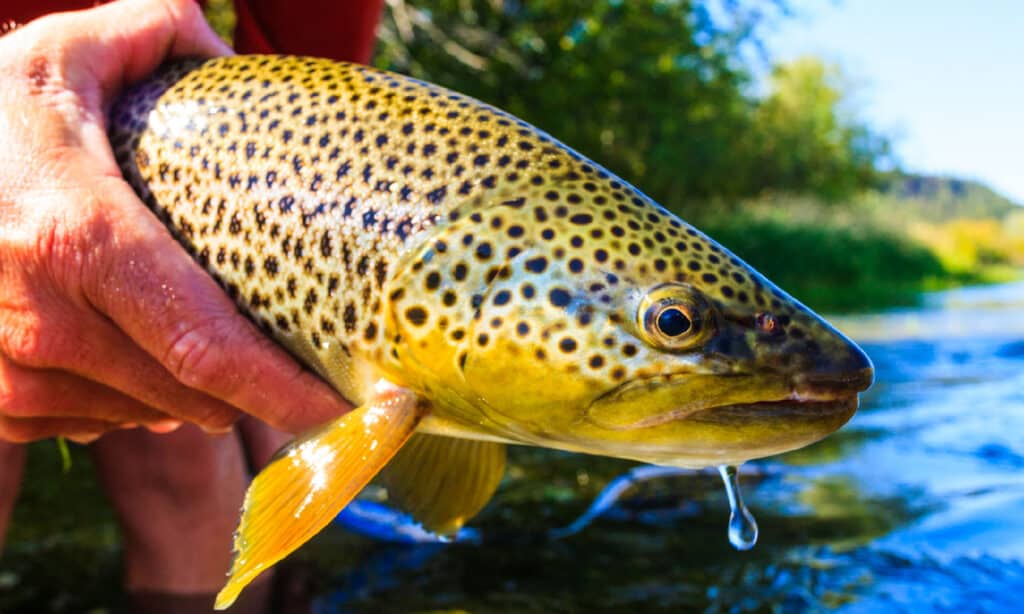 The next three fish on our list our trout. Brown trout, lake trout and rainbow trout are all common fish in New Mexico. Records are also kept for cutthroat, Gila and brook trout but none of those made our list, not quite big enough. The biggest brown trout however is one of the biggest fish ever caught in New Mexico. At 20 lbs 4 oz and 34 ½ inches long you can see why. That makes this fish nearly 3 feet long! C.T. Colgrove holds this record dating back to 1946 where they caught it in the Chama River.
8. Lake Trout: 31 lbs 6 oz
The biggest lake trout ever caught in New Mexico was about 10 pounds heavier and a half-foot longer than the brown trout. Paul Casias caught a 31 lbs 6 oz lake trout on Heron Lake in 1999. Heron Lake is north of Albuquerque near the border of Colorado.  (Paul has another record on our list so watch for his name later on as well!)
7. Rainbow Trout: 31 lbs 12 ½ oz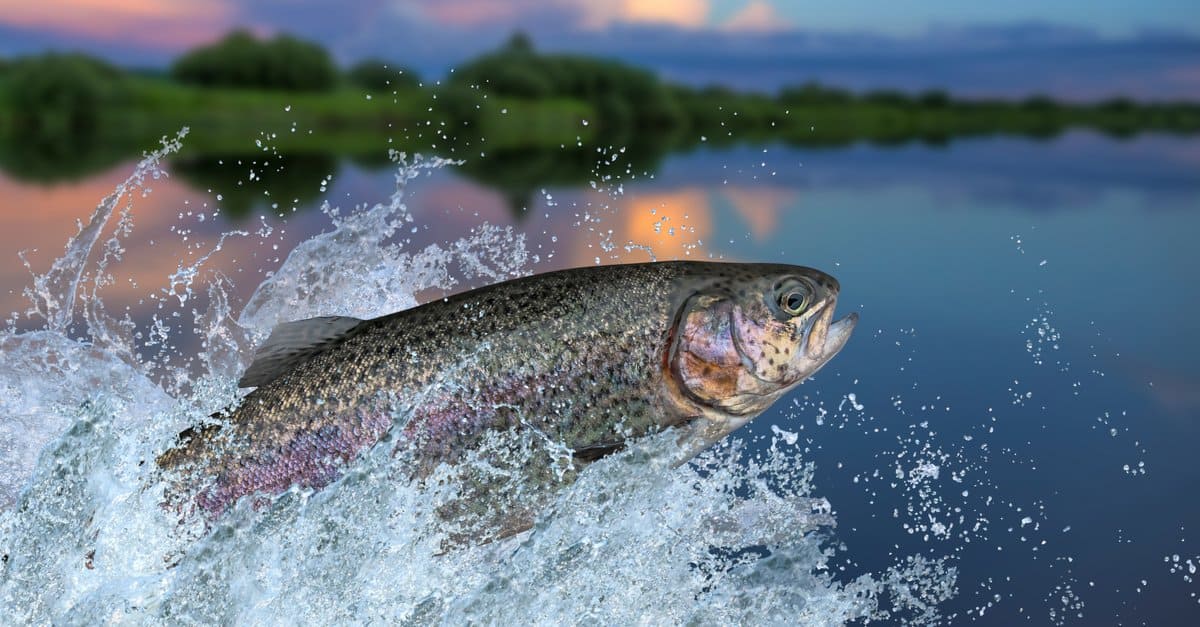 Just a few ounces more than the lake trout, a 31 lbs 12 ½ oz rainbow trout was caught on Santa Cruz Lake by Peter Romero in 1999 (a lucky trout year!). Lake trout are dark bodied with white spots while rainbow trout are light bodied with dark spots. Rainbow trout also have a reddish line along their lateral line. This record breaker was caught on Santa Cruz Lake which is just north of Santa Fe.
6. Tiger Muskie: 31 lbs 14 oz
Another fish at the 31 pound marker is a tiger muskie that weighed 31 lbs 14 oz. Justin Easley caught this one on Bluewater Lake in 2012. Muskie are long torpedo shaped fish so it is not surprising that this trophy fish was 56 inches long making it the longest fish ever caught in New Mexico! Bluewater Lake (and Bluewater Lake State Park) are west of Albuquerque.
5. Northern Pike: 36 lbs (Tie)
Northern pike are another long torpedo-shaped fish which are sometimes called northerns or just pikes. This record is remarkable because two identical sized fish were caught four years apart. Both northern pike record holders were the same weight and length! The first was caught in 1974 by Samuel Roy on Miami Lake. Roy reeled in a 36 pounder that measured 53 inches long. Four years later Paul Casias (remember Paul the famous lake trout angler?) caught a 36 pound 53 inch pike. In case you were wondering this wasn't the same fish after a catch-and-release. Paul caught his on a different lake, Springer Lake. Just a great fish-story-of-a-coincidence.
4. Channel Catfish: 36 lbs 8 oz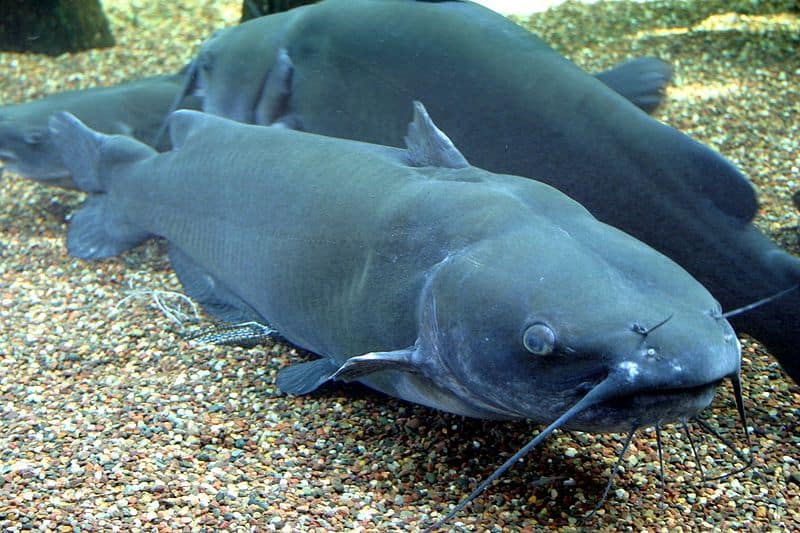 Whenever you are talking about trophy sized fish in the US you have to take a look at catfish. All three of the common catfish you find in the US made our list. Channel cats are the smallest of the three but at 36 lbs 8 oz the biggest one every caught in New Mexico is definitely good sized! Julie Kulhan reeled in this catfish in 1999 from Stubblefield Lake. Stubblefield is NE of Santa Fe next to the Maxwell National Wildlife Refuge.
3. Blue Catfish: 52 lbs ¼ oz
Blue catfish are typically larger than flathead but the largest blue catfish caught in New Mexico is 20 pounds lighter than the largest flathead. Still, tipping the scales over 50 pounds, David Gower caught the largest blue cat on Elephant Butte Reservoir with the exact weight of 52 lbs ¼ oz. Gower's catfish was caught back in 2005 and the record still stands today.
2. Striped Bass: 54 lbs 8 oz
A couple pounds heavier was a striped bass caught by Jim Secor on the same lake, Elephant Butte Reservoir. Secor's bass weighed in at 54 lbs 8 oz. Striped bass have horizontal stripes making them easy to distinguish from other bass like largemouth, smallmouth, white and spotted bass. His record was set back in 1992. The biggest largemouth bass almost made our list weighing just a pound less than the 16 lbs walleye. The largemouth bass weighed 15 lbs 13 oz and was caught by Steve Estrada. Honorable mention for sure!
1. Flathead Catfish: 78 lbs
Now for the biggest trophy fish ever caught in New Mexico, a 78 lbs flathead catfish was caught by Jim Wilson back in 1979. Wilson was also fishing on Elephant Butte Reservoir when he reeled in this record breaker. Although 78 pounds is impressive it doesn't come close to the world record flathead that was caught by Ken Paulie in the Elk City Reservoir in Independence, Kansas. The world record is 123 pounds!
Up Next
More from A-Z Animals
---
The Featured Image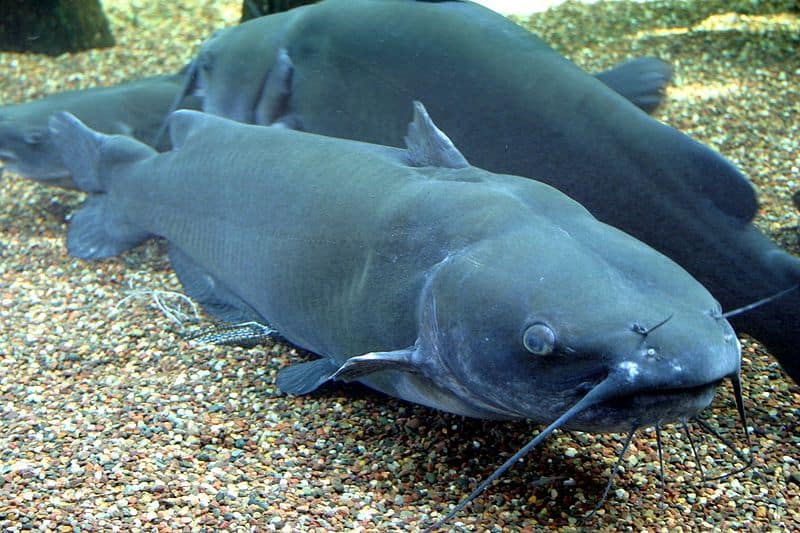 ---
Sources

, Available here: https://www.emnrd.nm.gov/spd/find-a-park/clayton-lake-state-park-and-dinosaur-trackways/
, Available here: https://igfa.org/igfa-world-records-search/?search_type=CommonNameSummary&search_term_1=Catfish%2C+flathead