Beneath the calm and picturesque surface of Texas lakes and rivers, an intriguing and lesser-known phenomenon is taking place. It's a hidden drama featuring a cast of unexpected characters: invasive fishes. These elusive intruders, hailing from far-off lands, have quietly made themselves at home in these Texas waters.
In this article, we will embark on an underwater adventure, uncovering the fascinating tales of these stealthy invaders that are reshaping the vibrant ecosystems of Texas!
Grass Carp (Ctenopharyngodon idella)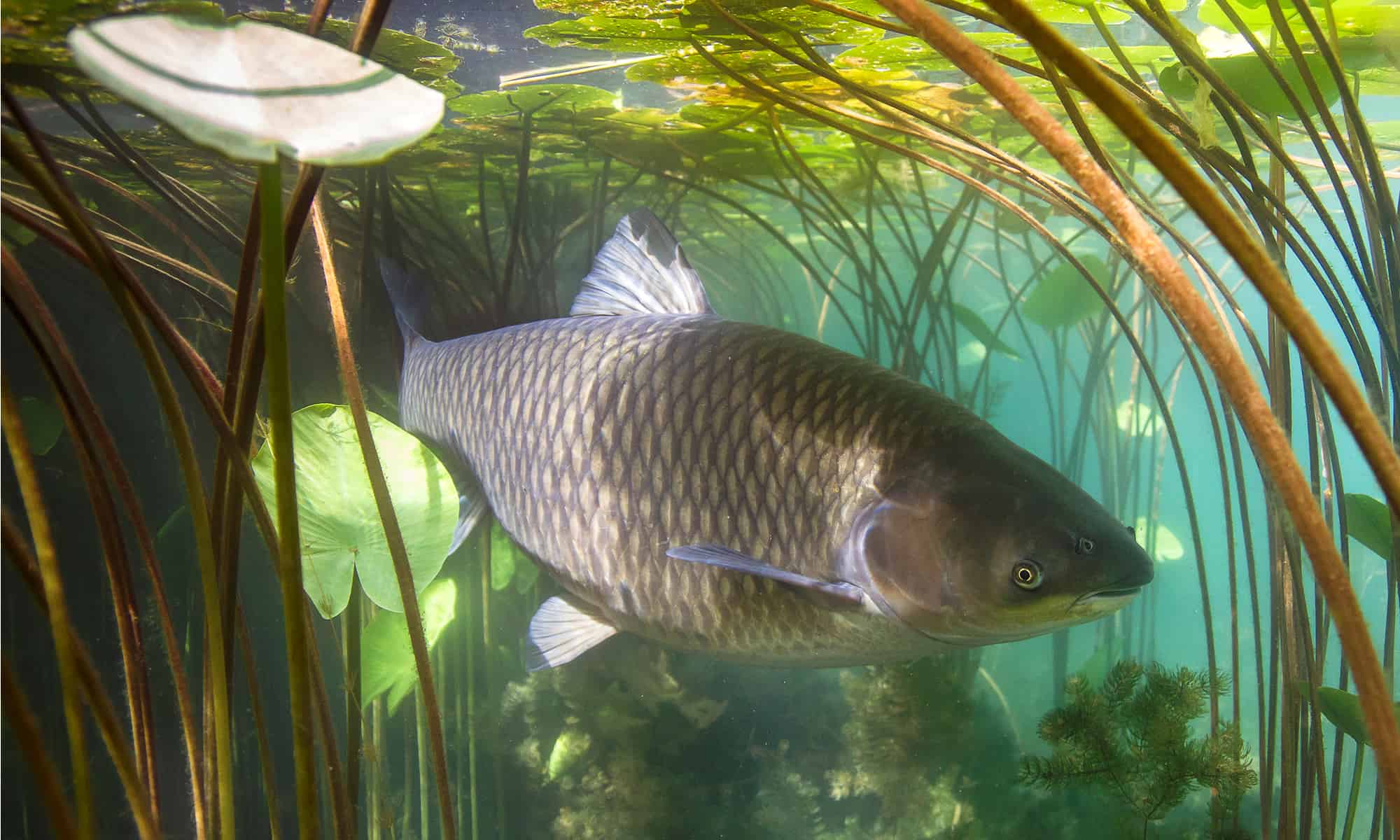 Originating from Asia, grass carp made their way to the United States in 1963 to help manage macrophytes in aquaculture facilities. In Texas, the presence of breeding populations can be attributed to both legal experiments in Lake Conroe and unauthorized introductions.
The grass carp is one of the largest members of the minnow family. Its body is elongated, adorned with moderately large scales, while its head remains scale-free. The dorsal fin stands out with three simple and seven-branched rays. Distinguishing itself from the common carp, the grass carp displays a silvery to olive coloration, lacking the golden hue, and is devoid of barbels. A rapid growth rate characterizes these fish, reaching an average length of 23 to 40 inches.
In Texas, specific guidelines exist for acquiring grass carp, as they are labeled as invasive species, requiring permits for possession.
Invasive Issues
Explosive breeding tendencies and voracious appetites define the grass carp, capable of devouring 40 to 300% of their body weight in plant material daily. This insatiable behavior grants them a potential advantage over native species, enabling them to overtake new habitats.
Moreover, the grass carp's digestive system only processes approximately half of the plant material it consumes each day. The remaining waste is expelled into the water, increasing nutrient levels that can trigger algal blooms. These blooms adversely affect water clarity and the dissolved oxygen content.
In addition to ecological disruptions caused by nutrient imbalance, the grass carp may also introduce unfamiliar parasites to local species, potentially leading to extinction events and long-lasting changes in ecosystem dynamics.
While grass carps favor spawning in large rivers, they can adapt to slower-moving waters if necessary. This ability poses a significant risk as major rivers flow through multiple states, facilitating the spread of this invasive species.
Silver Carp (Hypophthalmichthys molitrix)
Silver carp, originally from eastern Asia, was introduced to the United States in 1973 to assist in controlling phytoplankton in fish farms located in Arkansas. However, these fish soon became an invasive species that posed a significant threat to native fish populations in lakes and rivers. 
To combat their spread, Texas has implemented strict regulations that require immediate disposal of any caught silver carp, either by beheading, gutting, gill-cutting, or other methods, and prohibits their possession.
Visually, silver carp display a shiny silver color with a hint of green on their backs. One remarkable behavior of these fish is their ability to leap up to an astonishing 10 feet out of the water when startled by the sound of watercraft. This peculiar trait, although impressive, can pose dangers to boaters and water skiers and even cause damage to boats and onboard equipment.
Invasive Issues
The invasive nature of silver carp is deeply concerning due to the detrimental impact they have on native fish populations. They possess a competitive advantage over other fish species, leading to the depletion of food resources and limited space in lakes and rivers.
Silver carp are filter feeders, consuming large amounts of phytoplankton and suspended organic matter from the water column. Their feeding behavior can lead to competition with native fish species that rely on similar food resources.
Moreover, their presence can significantly reduce water quality, jeopardizing the survival of sensitive organisms such as native freshwater mussels. In some cases, invasive carp have successfully overtaken entire streams, forcing out the native species and disrupting the natural balance of ecosystems.
Besides Texas, silver carp have disturbing consequences in other parts of the country. In particular, the potential consequences of silver carp spreading into the Great Lakes are particularly alarming. The region's thriving fishing industry, which generates an impressive $7 billion annually, could face severe negative effects. Additionally, if these fish continue to increase in Texas, they could pose a serious threat to the resort and sport fishing sectors. By outcompeting native fish species for essential resources and habitat, silver carp have the potential to diminish the populations of beloved fish species, greatly impacting anglers' experiences.
Bighead Carp (Hypophthalmichthys nobilis)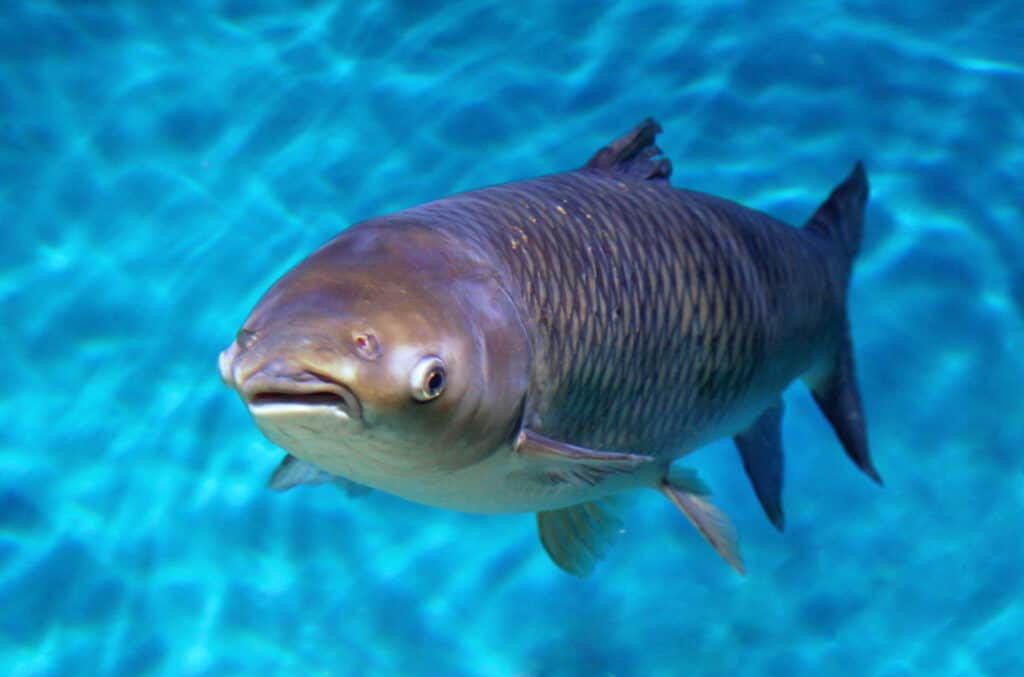 In Texas, there's a problem with bighead carp invasions. These fish were initially bred for fish farming and water quality improvement in retention ponds and sewage lagoons. They are originally from China and were brought to the United States in the early 1970s.
Bighead carp are fascinating filter-feeding fish that can grow up to an impressive 60 inches long. They have a dark gray color with distinct black blotches on their back and sides, making them quite a sight to see.
Just like silver carp, bighead carp are considered prohibited exotic species in Texas. If you possess these fish, you need to take immediate measures to kill them, like beheading, gutting, gill-cutting, or other appropriate methods. Keeping them alive is strictly forbidden.
Invasive Issues
Bighead carp pose a significant risk to novel ecosystems due to a few key factors. First, they are not only large but also highly aggressive, making them tough competitors for native fish when it comes to resources.
Bighead carp are opportunistic feeders and primarily herbivorous but can also feed on detritus and small invertebrates. Their diet includes a wide range of plant material, including algae, macrophytes, and submerged aquatic vegetation. This feeding behavior can have significant impacts on the food web and nutrient cycling within aquatic ecosystems.
Lastly, their remarkable reproductive capacity allows them to lay thousands of eggs at once, leading to rapid population growth.
The combination of their competitiveness, insatiable appetite, and rapid reproduction makes bighead carp a serious threat to the balance of ecosystems in Texas.
Armored Catfish (Hypostomus plecostomus)
The armored catfish, originally found in Central and South America, made its way into the United States during the 1950s through the aquarium trade. By 1964, they had established themselves in the waters of Texas.
These catfish are captivating species with their triangular shape and bony plates. They sport a leopard-like pattern and have a smooth underside. Interestingly, their mouth lacks teeth, but they possess a "suckermouth" that enables them to cling to surfaces even in strong currents. They utilize this unique feature to scrape algae from submerged tree trunks, rocks, and river bottoms.
In suitable conditions, these armored catfish can grow anywhere from 3 inches to over 3 feet in size – quite a range!
Armored catfish are highly adaptable and can tolerate a wide range of environmental conditions, including fluctuating water temperatures and low oxygen levels. This adaptability contributes to their successful establishment and spreads in various freshwater habitats.
However, their proliferation poses a significant threat to local indigenous species. The abundance of armored catfish can lead to intense competition, resulting in the reduction and potential collapse of freshwater fisheries.
Invasive Issues
Additionally, ecological dangers are evident. While initially introduced to control algae populations, it remains uncertain how effective they truly are in this role. Furthermore, their burrowing behavior along the riverbanks can cause erosion and destabilization.
One of the key issues with these invasive armored catfish is their lack of natural predators in the local ecosystem. The native wildlife has not evolved to effectively manage this exotic species, allowing them to reproduce prolifically over the years. 
Their dominance in resources also negatively impacts native wildlife by depriving them of essential elements. Moreover, their continuous destruction of lake and pond shorelines has been ongoing for decades.
Asian Swamp Eel (Monopterus albus)
The Asian swamp eel is a freshwater predator originating from Asia. It has a nocturnal nature, actively hunting various aquatic species. Interestingly, this eel was first spotted in Georgia, United States, back in 1994, and it is believed to have been introduced through an aquarium release.
What sets the Asian swamp eel apart is its cryptic coloring, typically ranging from dark brown to green. It has a distinctive v-shaped gill opening located beneath its throat, while its eyes are reduced in size and covered by a thin layer of skin. Unlike many other fish, it lacks scales and fins.
When fully grown, the Asian swamp eel can reach a length of approximately 40 inches. But its size is not the only remarkable feature. 
This eel possesses an incredible ability to survive in adverse conditions, adapting to both cold and hot environments. It can even endure through dry seasons when other non-native species struggle to survive. The Asian swamp eel can also tolerate a wide range of environmental conditions.
Additionally, this species has a unique reproductive strategy. All offspring are born female, leading to a high number of eggs being produced during each spawning event.
Invasive Issues
While the Asian swamp eel's adaptability is impressive, it poses a significant ecological threat. Its presence has been known to displace native species and contribute to the accelerated drying out of shallow waters due to its extensive burrow systems. 
Consequently, the American Fisheries Society is actively researching methods to control and eradicate this invasive species. This is crucial as the Asian swamp eel is a generalist predator capable of impacting native fishes, amphibians, and invertebrates, further disrupting the local ecosystem.
Blue Tilapia (Oreochromis aureus)
The blue tilapia, originally from North Africa and the Middle East, has become an unwelcome invader in the United States since its introduction in Florida during the 1960s. It didn't stop there, as blue tilapia were also introduced in Texas powerplant cooling reservoirs around the same time, spreading to various reservoirs and rivers across East, Central, and South Texas.
Adult blue tilapia display a captivating blend of blue-gray hues on their bodies, transitioning to white on the belly. What's striking is the red-to-pink borders adorning their dorsal and caudal fins, adding a touch of vibrancy to their appearance. Notably, their lateral line is broken, and the spiny dorsal fin is connected to the soft dorsal fin. In the United States, the average length of blue tilapia ranges from 10 to 18 inches.
Reproduction
Blue tilapia are prolific breeders, capable of reproducing rapidly and producing large numbers of offspring. They are mouthbrooders, with the female incubating the eggs in her mouth until they hatch. This reproductive strategy contributes to their population growth and the colonization of new areas.
Blue tilapia possess remarkable resilience, rapid growth, and a voracious appetite, which unfortunately comes at a cost. These fish, being adaptable generalists, can thrive even in less diverse and resource-rich environments. Their presence has led to the depletion of vital resources and habitats that native fish and freshwater mussels rely on.
Invasive Issues
The presence of blue tilapia can have severe effects on various plant, fish, shrimp, and native mussel populations, along with the degradation of habitats. Their extensive nesting activities have wreaked havoc on streams where Oreochromis aureus is abundant. In some cases, these streams have lost a significant portion of their vegetation, and native fish populations have dwindled.
Several states have observed profound changes in fish community structure due to the local abundance and high densities of blue tilapia. They engage in fierce competition with centrarchids, such as black bass, for food and spawning grounds. 
Moreover, blue tilapia have been known to affect catfish and various minnows and topminnows, including endangered species. 
Summary of 6 Invasive Fish You'll Find In Texas Lakes and Rivers
| Number | Fish | Origin |
| --- | --- | --- |
| 1 | Grass Carp | Asia |
| 2 | Silver Carp | Eastern Asia |
| 3 | Bighead Carp | China |
| 4 | Armored Catfish | Central & South America |
| 5 | Asian Swamp Eel | Asia |
| 6 | Blue Tilapia | Middle East & North Africa |
Summary Table of 6 Invasive Fish You'll Find In Texas Lakes and Rivers
---
The Featured Image
---