The axolotl is a type of salamander closely related to the Tiger Salamander. However, unlike other salamanders, they don't outgrow the water and instead remain aquatic their entire lives. Some of the rarest axolotl colors include piebald, copper, lavender, firefly, chimera, and mosaic. The rarest of these is mosaic, which means the axolotl has spots or patches throughout its body. In this article, we'll go through some rare axolotl colors from most common to most rare.
1. Copper
Copper axolotls are albino with beige bodies and darker orange-brown spots all over their bodies. This is because they lack the black color you see on many axolotls due to their albinism.
These axolotls are most common in the United States and Australia, but even in these countries, they are uncommon to see.
2. Piebald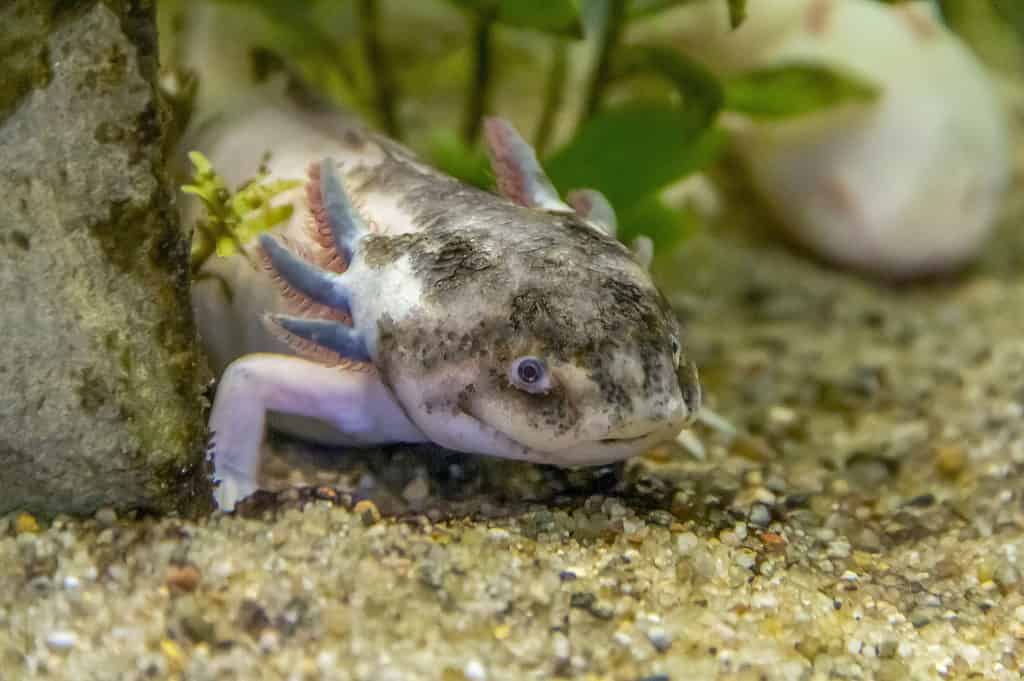 Piebald axolotls are white or clear with many black spots or markings along the body. They typically have a black line going down their back from head to tail, though it may not be solid and will have unpredictable edges rather than being a straight line.
This pigmentation is genetic, though it's unreliable. Unfortunately, this means piebald axolotls are still quite rare to see!
3. Lavender/Dalmatian
Lavender axolotls have purple skin with darker spots. These spots earned their nickname "Dalmatian axolotls.
They live in America, where they're still relatively rare — and also very lovely to look at!
4. Firefly
Firefly axolotls are controversial, as no axolotl is naturally born a firefly. Instead, these axolotls have dark pigment on their upper bodies and lighter-colored, glow-in-the-dark tails.
This is done on embryos by replacing the tail with that of another axolotl. This process began as an experiment, and now these axolotls make good pets.
5. Chimera
Chimera axolotls are half white and half black. This isn't passed down genetically, so reliably breeding them is difficult.
Instead, chimera axolotls are born when two eggs morph before hatching. Many of these eggs won't hatch, but those who do look like two axolotls fused together!
6. Mosaic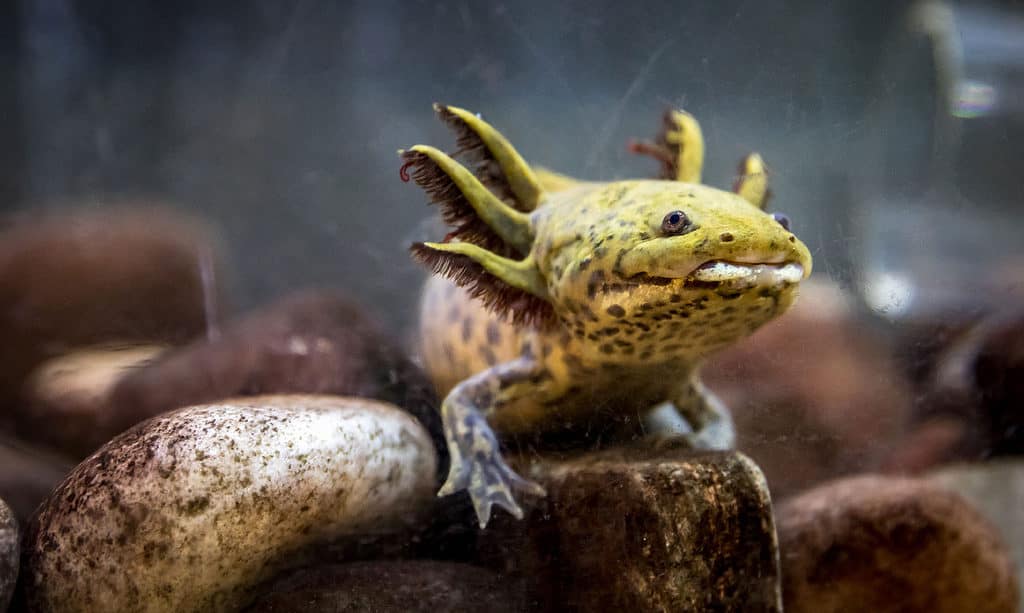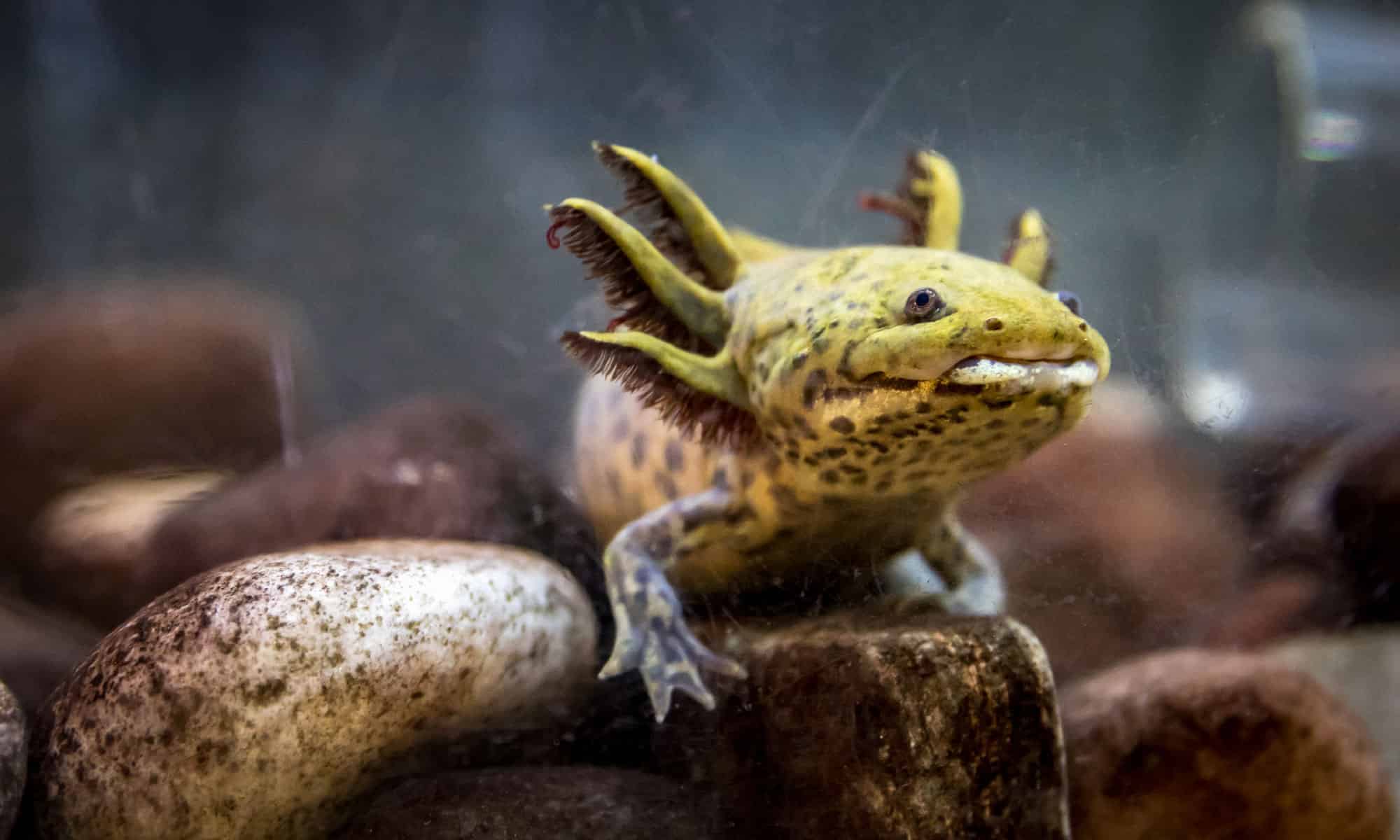 Mosaic axolotls are also born when two eggs fuse together, but their colors blend together instead of being split down the middle, creating a mottled appearance.
Like chimeras, mosaic axolotls are incredibly rare and can't be purposefully bred. They also cannot breed themselves due to being infertile.
Final Thoughts
I hope you've enjoyed seeing these rare and unique axolotl colors! For a more comprehensive list of axolotl morphs, see our article on ten types of axolotl morphs.
Summary of 6 Rare and Unique Axolotl Colors
| # | Axolotl Color | Appearance |
| --- | --- | --- |
| 1 | Copper | Albino with beige bodies and darker orange-brown spots all over |
| 2 | Piebald | White or clear with many black spots or markings along the body |
| 3 | Lavender/Dalmatian | Purple skin with darker spots |
| 4 | Firefly | Dark pigment on their upper bodies and lighter-colored, glow-in-the-dark tails |
| 5 | Chimera | Half black, half white |
| 6 | Mosaic | Mottled appearance |
The photo featured at the top of this post is © iStock.com/Lucia Martini
---