↓
Continue Reading To See This Amazing Video
It stinks to be the slowest bison in the herd, especially when you're being attacked by wolves. In this video, a pack of wolves is going after a bison as he tries to run away. There are quite a few wolves, at least seven that are clearly visible in the footage. Three or four of them stay close to the escaping bison and a few others hang back, ready to move in when there is space.
Bison are large animals and it seems like this one might just escape the smaller predators. Wolves often hunt in packs like this to take down larger animals. This bison just about escapes when his "friend" comes barreling in and literally tosses him to the wolves.
The larger bison pushes the smaller and slower animal aside with his head. Bison use their large heads and horns to forcefully move other animals, such as in this video.
The smaller bison falls to the ground and stays down. The wolves descend and the video cuts out before the inevitable circle of life takes place. It's possible that the smaller bison was already injured, given the proximity of the wolves initially. With easy prey incapacitated on the ground, the pack of wolves loses interest in the larger bison who is still running away. Even a small bison would be a large meal for these wolves. They don't need to continue the hunt.
Do Wolves Hunt Bison?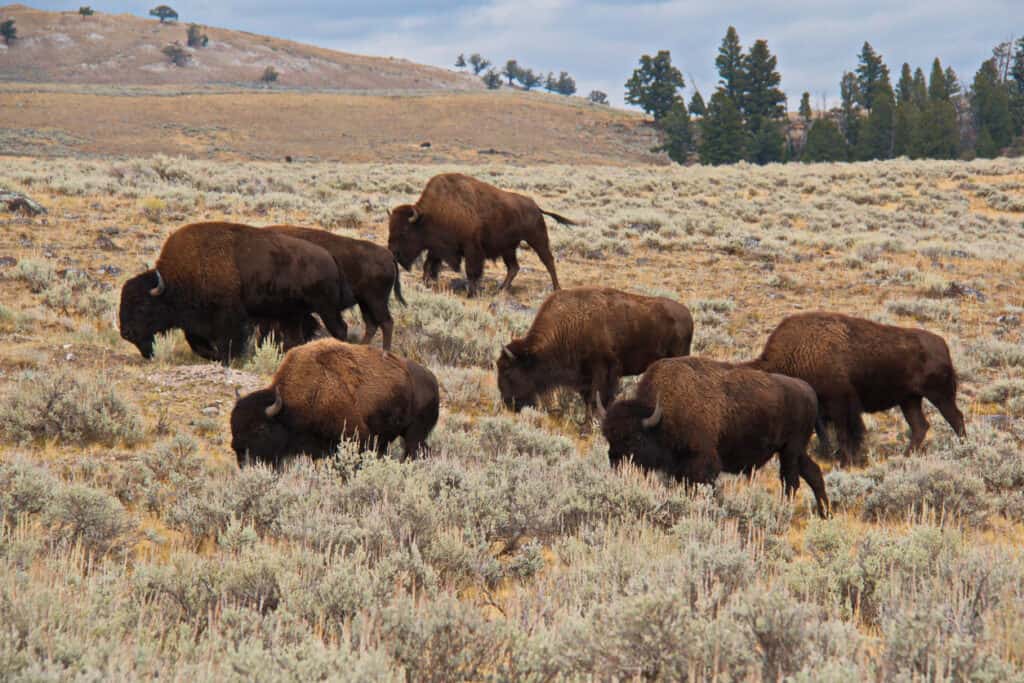 Bison can run very fast, up to 40 mph. This makes it hard for other predators in their environment to catch them. Their large bodies and two big horns are enough to keep any other animals that do get too close from making them into a meal.
Wolves are much smaller but use their pack mentality to work together to take down large animals like bison. An interesting study done at Yellowstone National Park, where both species live side-by-side, found that wolves actually learned how to hunt bison. In the study, wolves that were reintroduced to the park and had not interacted with bison previously learned how to hunt them, resulting in more bison kills over time. The majority of bison killed by wolves were young or injured. It's possible that the bison in this video was young, injured, or both.
Young bison, called calves, typically stay with their mothers for the first two or three years of life. After that, young male bison, called bulls, join an all-male herd. This video only shows two bison but it's safe to assume that there are others nearby that are part of the herd. We can only hope that they made it away from the predatory wolves safely!
More Amazing Wolf Videos You Might Enjoy
Wolves are one of nature's most fascinating predators, using their highly attuned intelligence and a strong sense of loyalty to their pack to take down much larger prey. From grizzly bears to giant elk, to buffalo, there's almost no creature too intimidating for wolves to try and defeat.
Up Next:
More from A-Z Animals
---
The Featured Image
---